SOLUTIONS
The Guaranteed Success Program
Want to get 10+ interviews or a suitable job offer for your
Top Job
, guaranteed?
Keep reading!

DESCRIPTION
What is the Guaranteed Success Program?
An end-to-end, all-inclusive, and managed job search solution with guaranteed results. Available only for selected candidates based on their profile and goals.
Tell Me More ...
We get it. When people invest in job search solutions, vague benefits aren't enough. People are looking for real job search results. They need a job search partner who is ready to take responsibility and guarantee successful delivery. So, this is exactly what we offer.
The Guaranteed Success Program is an end-to-end solution, from defining your goals to applying for relevant opportunities to interviewing and negotiating successfully. Also, it is an all-inclusive program that covers all tasks, activities, and phases of a job search. Additionally, it is a managed job search solution, as we do all the heavy lifting for you, saving you time, effort, and energy.
We guarantee we will get you 10+ relevant interviews or a suitable job offer for your Top Job within defined timelines. If we don't, we will give you a refund.
BENEFITS
Why You Should Care?
Here are some benefits of the GSP compared to a DIY job search
Make your job search effortless
Maximize your compensation
Build a high-potential career
Land a relevant job offer faster
Let's Find You The Job You Deserve!
ROI
What is the Potential Return on Investment?
Let us help you understand the RoI with the help of an illustration.
Helen, one of our clients, is a Product Manager with eight years of experience, who was looking to switch jobs as she felt underpaid and burnt out in her previous role. She signed up for the GSP, and within 9 weeks, she had 7 relevant interview opportunities.
Within 15 weeks from the GSP start date, she converted 2 opportunities into offers and decided to go for the higher-paying Product Director role in the industry she was targeting.
Tell Me More ...
She earned USD 214K per annum in her previous job. Her new salary is USD 293K per annum, which is a 37% increase, i.e., USD 79K per annum and USD 6.6K per month, from her old salary.
The enrollment cost for the Guaranteed Success Program was only USD 4,990 + 3% of her new compensation, i.e., USD 13.78K (USD 4.99K + 8.79K). This means she earned back her investment in less than three months (USD 6.6K per month increment).
Moreover, her first-year return on investment is approx 573% before tax ([293K – 214K]/13.78K * 100 = 573%).
If she decides to stay in the same role for the next five years, she will have an extra income of USD 395K (USD 79K*5), assuming she doesn't get any increments in those five years.
In addition to the above monetary gains, Helen will be working for one of her employers of choice, one of the fastest-growing tech start-ups. Among other benefits, she has the flexibility to work from anywhere at least 3 days a week, paid time off to volunteer, and personal wellness programs. Winning!
Your efforts are not recognized
Your job isn't aligned with your skills
You don't have the flexibility you need
You are looking to fire your boss
You are looking to make a change
You feel your career path lacks future prospects

We take clients through the below phases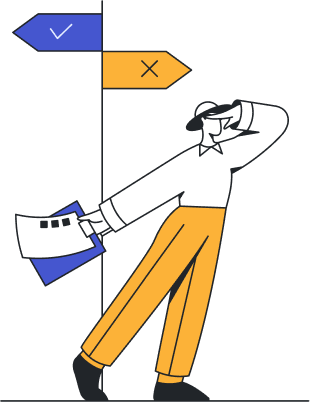 We enable candidates to find their
Top Job
We land relevant interviews for our candidates
We help candidates to convert interviews to suitable offers
Tell Me More ...
Phase 1
We understand your needs and strengths. Then, we recommend the best jobs, employers, and industries in the market for you.
Phase 2
We draft your job search docs. Then, we search for the best jobs out there and apply on your behalf on an ongoing basis. We communicate with potential employers on your behalf and schedule interviews. Also, we run email and LinkedIn campaigns to help you stand out.
Phase 3
We provide you with specific interview advice and coach you to negotiate job offers effectively. Then, we role-play together in mock interview sessions to ensure you're interview-ready.
WE'RE DIFFERENT
Why Work With Us
We make your job search stress-free and effortless by doing the heavy lifting for you
We help you discover and secure a job that meets your needs, preferences, and expectations
We use a holistic approach to land people Top Jobs
We offer a results guarantee or a refund
We have strong job search, recruitment, coaching, consulting, and content creation capability
We are committed to offering a top client experience
We're humbled to have received excellent reviews from ex-clients
REVIEWS
What Do Clients Say

"CareerHigher takes the time to understand the details of the job and gets it done well. I was impressed by the great level of expertise"

In just 3 months I had an offer in hand from a global firm in the position I was seeking and with a 35% increase in my compensation."

It was a great experience, and the treatment was so professional. The communication was clear, and the delivery of the work on time. I highly recommend working with CareerHigher
COST
How Much Does It Cost?
Pricing is results-based so that you can always enjoy a great RoI:
10+ relevant interviews: 2,490 USD | 1,990 GBP | 2,290 EUR + 3% of target compensation.
Suitable job offer: 4,990 USD | 4,190 GBP | 4,590 EUR + 3% of new compensation.
No results = No payment
Payment Process
Client deposit 4,990 USD | 4,190 GBP | 4,590 EUR + 3% of target compensation to TrustAp, a top-rated 3rd party escrow provider.
TrustAp is liable for the client's funds throughout the GSP delivery.

CareerHigher delivers the Guaranteed Success Programme.

If a success metric is met while the program is ongoing, TrustAp will release the respective funds to CareerHigher based on the GSP ToS.
Upon program completion, TrustAp use the GSP ToS to release the remaining funds accordingly.

Simple, secure, and clear!
INFORMATION
Frequently Asked Questions
1. How do you find jobs for candidates?
We manage the end-to-end job search for candidates. First, We work with them to ensure we target the right opportunities based on their needs and strengths. Then, identify relevant jobs, market them using some of the best practices, and get them interviews. Lastly, we coach them to convert interviews to suitable offers.
2. What type of companies do you target?
Our process is industry-and-employer-agnostic. We can target any company or industry based on the needs of our clients.
3. How do you guarantee results?
We have built a proven job search process with a high success rate for candidates who meet the program criteria.
We screen people to ensure we're a good fit and we can help them before accepting them into the Guaranteed Success program. This allows us to run projects with a very high success rate.
However, in the unlikely event that an engagement is not successful, we offer a refund aligned with the GSP terms of services.
4. How do you screen candidates?
To help candidates under this program, we use a specific process that unfortunately doesn't work for everyone. We screen candidates based on their profile and goals. If someone's profile and goals are aligned with our criteria and they are ready to invest in the program, we take them on.
5. Have you refunded any clients in the past?
The vast majority of our projects have been successful. However, in the unlikely event that a client is not happy and they are entitled to a refund, we have refunded them.
6. What is the process for refunds?
In the unlikely event that the GSP doesn't yield the guaranteed results, clients can request a refund that will be processed by TrustAp, our 3rd party escrow partner, based on the GSP Terms of Service.
Also, clients can terminate the GSP at any time without cause. In this case, they will only cover the cost of services provided to date and TrustAp will provide a full refund for all unused services based on the GSP Terms of Service.
7. What type of role and company would you target for me?
We don't decide the target jobs for candidates. Instead, we empower them to make a decision for themselves by asking the right questions and offering relevant advice.
8. Do I need to communicate with employers during the program?
Our team will be responsible for all communications with employers via email and LinkedIn. We will set up a new email address for you and use it on your behalf to manage all communications. We will also use your LinkedIn profile as your social media marketer and executive assistant to facilitate communications with your target audience, such as recruiters and hiring managers. This makes the job search hassle-free and time-efficient for our clients.
9. How will CareerHigher represent me during my job search?
CareerHigher represents GSP participants by communicating with employers to land interviews and job offers. However, in all cases, we are fully transparent with our process and ask for the approval of our clients for the copy and documents we create to ensure they are comfortable.
10. What is your data privacy and security policy?
CareerHigher will collect and process the client's personal data to perform services set out in these T&Cs in accordance with the privacy notice which is on the CareerHigher website at: https://www.careerhigher.co/privacy-policy/.
11. How do I know my funds are secure?
We know that a simple, secure, and risk-free payment process is key for our clients. So we have partnered with TrustAp, an external reliable escrow provider that is liable for your funds throughout the program. When a success metric is achieved or the program has been completed, TrustAp releases the funds as required based on the GSP Terms of Service.
12. How is CareerHigher different from recruiters?
Recruiters: 
Work for employers.

Manage specific vacancies.

Reach out to you only if they consider you a good fit for a role.

Aren't interested in candidates.
CareerHigher: 
Work with candidates.

Help candidates land any role they want.

Help all candidates.

Are on a mission to enable candidates land their Top Job.
13. Who pays for the service?
We partner with candidates, helping them to land any role they want based on their needs.  Since we work for candidates, we get paid by them too. 
Our ex-clients have said that they got a great RoI from our services, as we helped them maximize their earning potential.
14. When is the payment processed?
Clients make an up front transfer of 4,990 USD | 4,190 GBP | 4,590 EUR + 3% of target compensation to TrustAp, a 3rd party top-rated escrow provider. TrustAp is liable for the funds throughout the GSP. When a success metric is achieved or the program has been completed, TrustAp release the funds as required based on the GSP Terms of Service.
15. What are the payment options?
4,990 USD | 4,190 GBP | 4,590 EUR + 3% of target compensation to TrustAp, a 3rd party top-rated escrow provider.  Funds are held safely and securely until a success metric is achieved or the program has been completed. Then, funds are released by TrustAp as needed based on the GSP Terms of Service.
The project is broken down into 3 milestones. Clients make an up front transfer for each milestone to TrustAp, a 3rd party top-rated escrow provider. Funds are held safely and securely until a success metric is achieved or the program has been completed. Then, funds are released by TrustAp as needed based on the GSP ToS. The additional cost for this setup is 2%.
16. What makes you qualified to do this?
We have extensive experience in careers and recruitment. After helping many candidates through our a la carte services, we understood that candidates want results. So, we created the GSP to respond to this need and take responsibility for the job search of the candidates. We have enabled many candidates to land their best role and we'd love to explore how we can do this for you, too.
17. Can you do this for different geographies?
Our approach is geography-agnostic. We have a deep understanding of all major markets including the US and the UK.
18. What roles or industries do you specialize in?
Our approach is industry-and-role-agnostic. We have a deep understanding of all major markets industries including Tech, Finance, Energy, Insurance, Professional Services, and more. We have consultants specialized in different geographies and have helped candidates from all job functions.
19. What is required from clients?
CareerHigher does the heavy lifting throughout the Guaranteed Success Program. However, there are activities where client involvement is required. For example, clients decide their target jobs, approve our job application work, and interview with employers. We try to keep effort to a minimum for clients but they are expected to help when needed so that we can help them.
20. Can I pay using my first salary?
While we'd love to be flexible, this is not possible. We understand that the Guaranteed Success Program is a big investment for our clients and know that requires heavy effort and cost for CareerHigher. So, we have designed clear, risk-free, and up-front payment arrangements to ensure we can all have peace of mind. If liquidity is an issue for you, the GSP can also be broken down into multiple milestones, which are paid upfront.
21. Who will work on my projects?
We have a qualified team of professional Resume Writers, Cover Letter and LinkedIn Experts, Interview Preparation Coaches, Salary Negotiation Specialists, and Job Application Consultants who will work with you depending on your project scope. You can meet our team here.
22. How much effort is required to deliver the program?
Delivering the program requires approximately 300 hours of skilled work, including coaching, consulting, writing, project management, and virtual assistance.
23. Do you have any more questions?