B2B SOLUTIONS
Job Search Optimization for Careers Businesses
Want to enable your clients to land their best job? Keep reading!

We partner with career-related businesses and provide them with job search optimization solutions enabling their clients to land their best job.
Tell Me More ...
Our services include:
The Guaranteed Success Program
Career clarity coaching
Job search document writing (incl resume, cover letter, LinkedIn, and more)
Job search management
Interview preparation & salary negotiation
BENEFITS
Why You Should Care
Enable your clients to land their target job
Help your clients expedite their job search success
Ensure your clients are happy with your support, boosting your brand further
Minimize reputational risks related to unhappy clients
Save time and effort by outsourcing job search optimization
Help your clients rock their job search!
You offer career services but not job search optimization solutions
You are looking to offer job search optimization solutions but not in house
Your could benefit from external job search optimization expertise
Your job search optimization team could use some support
Your job search optimization solutions don't yield the expected results
Your are looking to support your clients further
SUCCESS
Candidates hired by

We take clients through the below phases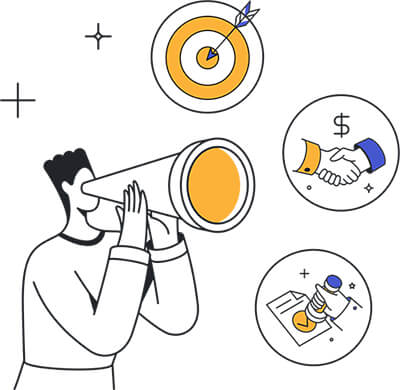 We understand the unique needs of your business and your clients and submit a tailored proposal
You select how to partner with us based on your budget and requirements
We work with you to design or refine your job search optimization strategy and process
We engage directly with your clients managing their job search
You provide feedback and we ensure all deliverables meet your requirements
You provide feedback and we ensure all deliverables meet your requirements
Your clients land their best job and give you a 5-star rating
WE'RE DIFFERENT
Why CareerHigher
We are Recruitment & Careers SMEs
We're humbled to have received excellent reviews
We have career coaching, writing, and consulting expertise
We are obsessed with providing a high-quality client experience
We offer customized solutions based on your needs
We offer solutions with strong value for money
REVIEWS
What Do Clients Say

"CareerHigher takes the time to understand the details of the job and gets it done well. I was impressed by the great level of expertise"

In just 3 months I had an offer in hand from a global firm in the position I was seeking and with a 35% increase in my compensation."

It was a great experience, and the treatment was so professional. The communication was clear, and the delivery of the work on time. I highly recommend working with CareerHigher
Help your clients achieve success
INFORMATION
Frequently Asked Questions
1. Who will be my point of contact?
We assign a designated engagement manager to each business client to keep things simple, fast, and personal for them. Your engagement manager will get a deep understanding of your unique business needs and the needs of your leavers and work internally with the team to make sure your requirements are met.
2. Who will work with our clients?
We have a skilled team of professional Career Coaches, Resume Writers, LinkedIn Experts, Interview Preparation Specialists, and Job Application Consultants who will help your clients depending on your project scope. You can meet our team here.
3. How do you identify the best consultant for each project?
While every member of the team has significant experience in job search optimization, each consultant specializes in different types of projects. We consider each client's professional background, experience, and expertise to pair them up with the most aligned resource that can deliver a high-quality service.
4. What is the cost of your services?
We offer customized solutions to make sure we meet your needs. Pricing is calculated on this basis considering the effort needed to deliver the work required. However, we always consider value for money, so that you can enjoy high-quality service at a competitive price.
Also, business clients can benefit from special discounted pricing. If you might be interested in working with us, we'd love to understand your needs and pull together a tailored and specific proposal.
5. What are the next steps?
If you might need outplacement support, we'd love to hear from you. Please reach out to info@careerhigher.co, and we will get back to you asap.