Interviews are an important part of any employee selection process. They enable decision-makers to assess your skill, experience, and personality beyond what's on paper. While it may not be possible to predict and prepare for every question you may face in an interview, there are a few key ones that are recruiter favorites. One among them is the elusive, future-sight question, "where do you see yourself in 5 years?"
Why do employers ask "Where do you see yourself in 5 years?"
If you're wondering whether recruiters expect you to accurately predict what you'd be doing in 5 years, you can set those concerns aside. You are not expected to share specific details of what you might be doing or give an answer that will not change over the course of time.
Rather, recruiters are looking to understand if the job is aligned with your desired career trajectory. If this is the case, it also means you are likely to stay with the company in the long run, which makes you a worthwhile investment. Here's what recruiters seek to assess:
1) Are your goals aligned with the company?
Hiring new employees is a big investment for companies. They spend a lot of time, effort, and resources on finding the right people. That's why they want to hire people who are committed to sticking around for the long run. To do that, companies want to understand your values, goals, and aspirations to see if they align with their mission and vision. If you share their vision, you're more likely to fit in well with the company culture. You'll also have better opportunities for growth and success in the long run.
For instance, if you are interviewing for a financial analyst role and express your desire to lead complex financial deals in the future, it shows the employer that you have a clear plan for professional development that the company can support. Conversely, if you are interviewing for a sales role, and your goal is to become a software designer in the future, this may not be the ideal fit for the company.
Your career goals can also reveal if your interests align with the company's industry and product scope. Therefore, it is important to be honest and authentic about your career goals during the interview process and ensure they align with the company's vision and values to demonstrate your commitment and increase your chances of success.
2) Are you genuinely interested in the role?
During an interview, when asked the question "Where do you see yourself in 5 years?", employers are not only interested in learning about your future plans but also assessing your level of interest in the role. By understanding your passions and interests, employers can evaluate how you might contribute to the company and ensure that the role will provide a fulfilling experience for you. For instance, if your interests lie in sales but you're applying for a content writing role, you may not be a good fit for the position. When answering this question, it is essential to convey your enthusiasm for the job and highlight any relevant skills you hope to acquire in the coming years.
A survey showed that the average tenure of an employee at a company is around 4.3 years. This means that they may have to start the hiring process again for the same position within a five-year period, which would be a bad use of time. Recruiters would rather hire employees who are likely to stay long-term. So, they are essentially looking to understand how you see yourself growing in the role. It is a means for them to decipher if you will stay on the job.
Variations of the question
The question "where do you see yourself in 5 years" is fairly direct. However, since its implications are many, you may be faced with a variation of this question. While they may sound different, they yield the same response & therefore, the same result. You can answer any of the following questions using the same guidelines:
What are your goals for the next five years?

Describe your ideal career for the future

What are your long-term goals?

What do you hope to achieve at this job?

What is your vision for yourself in this role?

Where do you want to be in five years?

What does your ideal future look like?

How do you see yourself advancing within the company?
Based on the specific connotation of the question, you may choose to modify the guidelines below to craft a suitable answer. That said, the goal is for you to draw them a picture of what your future looks like with the company.
How to Answer the Question "Where do you see yourself in 5 years?"
When answering the question, you need to ensure that you are able to demonstrate how you intend to grow and evolve in this role. You will need to draw parallels between your goals and the role, highlight ambitions to show that you are driven, stay grounded in reality, and finally leave room for opportunity. While you may not have made elaborate plans for the years to come, all you need to do is follow a few simple steps to arrive at a great answer to this question.
1) Dig deep into the job role
When preparing for a job interview, it's important that you gain a clear understanding of the role you're applying for. To do this, you should do your homework to get a sense of the company's culture, what they offer, and any recent developments or news. We also suggest connecting with experts in your field and employees from the company you're interested in applying to. This will give you an insider perspective on the job responsibilities and potential areas for advancement. Through detailed research, you'll have a better understanding of what the company is looking for, enabling you to fine-tune your answers accordingly. To kick off your research, consider these questions to guide you:
Are there projects you'd like to work on?

Are there leaders/individuals within the company that you look forward to working with?

What are the specific learning opportunities within the job?

Is there a scope for promotion? If so, what does it look like?

Are there any industry awards or certificates you could pursue?
2) Match your goals with the company's needs 
Before you began your job search, you would have likely considered what your short-term and long-term career goals are.  Now is the time to take stock of these goals and understand how they match with the scope of the job role you're seeking, and the company you're applying for. Analyze and identify which of your aspirations, skills, interests, and qualifications match the needs of the company and its vision. This will help you determine what to focus on in your answer. For example,
"One of my goals is to hone my marketing skills, specifically in <specific skill>. I understand that <company name> is continuously expanding its digital marketing efforts, and I would be thrilled to have the opportunity to learn and grow with the company."
3) Think of how your goals may evolve over time
While it is critical for you to show that you are ambitious and have well-defined goals, it is also not necessary for you to have everything figured out right at the start. Recruiters understand that both you and the job role may evolve over time. Therefore, it is important to keep your final answer slightly general and open to change. This means:
Not drawing precise timelines

Not going into too much detail on the career path

Not attaching specific numbers to achievements, revenue, or team sizes

This leaves a lot of open possibilities for you and for the company. If your goals are too narrow and precise, it could lead recruiters to conclude that the company cannot cater to your needs

Your goals should evolve in line with the outlook of the position and the needs of the company. For example, if you're applying for a marketing associate position, you could say that you aspire to lead the company's digital campaigns in the next 5 years. By keeping your goals slightly general and open to change, you can demonstrate your flexibility and adaptability to new circumstances
4) Structure your answer
Now that you have all your information gathered and organized, you can begin structuring your answer. Your answer need not be strictly adherent to the structure but should ideally cover the pivotal data mentioned in the formula. You can create your ideal response in just three steps:

Pick two key career goals

– Choose two career goals that are aligned with the job role and explain how they are relevant. For example, if you are applying for a content writer job and your goal is to become a content marketer, you could say, "One of my career goals is to become a content marketer, focusing on strategy and management. I see this as a natural progression from my current role as a content writer.

"

Discuss how you plan to achieve your goals-

Recruiters want to know if you've thought about your goals seriously. Continue your answer by explaining how you plan to achieve your goals. You might say, "By working as a <role>, I will have gained experience in <areas of focus>. Additionally, by undertaking <certifications/training> I hope to become an expert in the subject matter".

Show that you are open to change

– Talk about an alternate path that your career could take that might also interest you. However, make sure that it fits with the company goals and is related to the job you are applying for. For example, if you're applying for a digital marketing role, you could say, "While my professional goals are important to me, I am also keen to explore new opportunities that may arise. If I discover that I have a knack for writing content, I may consider transitioning to a career in content marketing."
Keep your answer clear and concise, aim to wrap it up in 120 seconds. It might also be advisable to practice delivering the response with a friend or a career coach. This could add to your confidence when answering questions. 
Example Answers for "Where do you see yourself in 5 years"
Example1: If you're experienced in the field
"I am excited about the opportunity to work with <company name> and contribute to its mission of <company's vision/mission/objectives>. I have always been passionate about <job role/skill> and have enjoyed working in this field over the last couple of years. I greatly admire <company's name> commitment to <specific aspect of industry>

Going forward, I  see myself focusing on skills such as <skill 1 & skill 2> and applying them to projects such as <name of company's projects>. I am particularly excited to work with expert mentors like < name of the expert mentors from the company>  as I believe learning from them will be invaluable in fostering my leadership potential. 

I am also eager to learn cross-functional skills that may help me take on different responsibilities in the future. I believe that this job could provide me with the experience I require to get there.

Overall, I see myself as a long-term contributor to <company name> and its goals, and I am excited about the prospect of growing with the company over the coming years."
Example 2: If you're a fresher
"I am excited about the opportunity to apply my passion for <skills> to the job role at <company name>, and I am eager to learn from experienced mentors and become a skilled <job role> over the next five years.

Having recently graduated, I am excited to work on a diverse set of projects at <company name> and gain exposure to different aspects of the industry. I believe that this will enable me to pick up a wider range of skills and knowledge required in the field, and ultimately decide which niche I'd like to focus on and further hone my expertise.

I am thrilled about the prospect of growing with the company and being part of a team that is dedicated to innovation and excellence <area of focus>. I believe that <company name> will provide me with the right resources, guidance, and opportunities to advance my career and bring about a meaningful change."
Example 3: If you're switching careers
"I have had the opportunity to work in <field> for <years> years. While it has been great, the experience has led me to conclude that my interests would be better served in <new field>.

My background in <field> has provided me with valuable skills and knowledge that I believe will be useful to <new field>. As <company name> looks to expand its footprint in the <company goals>, I am confident that I can bring a unique perspective and ideas to support this growth.

In the next five years, I hope to develop an advanced understanding of <key responsibility areas> and take on increasing levels of responsibility at <company name>. Ultimately, I aspire to transition into a <target position> role, where I can make a meaningful impact and contribute to the company's mission of <mention about company's mission>."
What not to say when asked, "Where do you see yourself in 5 years"
While answering 'Where do you see yourself in 5 years?', it is important to provide a realistic and well-thought-out answer. Remember, it is just as important to avoid certain responses as it is to give the correct ones. Giving vague, unrealistic, or unclear answers can put your candidacy in jeopardy. In the following section, we'll explore some common pitfalls to avoid when answering this question.
1) Not having clear goals
While talking about your 5-year career goal during a job interview, it is important to have a clear and well-reasoned answer. Stating that you aren't sure about your career goals can signal a lack of ambition and disinterest in the job to recruiters. It may also imply that you haven't done your research on the company, role or industry, which could be a major red flag.
Example:
"Five years is a long time ahead… I am not sure. I don't like to think that far ahead. I hope that I will make some progress in my career. Maybe even figure out what I want to do."
2) Talking about switching jobs
Your goal is to make the employer feel like you are a long-term hire. Hence, mentioning interests in different roles or departments could put them off. In fact, talking about being at a different company shows the recruiter that there is an inherent lack of loyalty. You'd want to avoid these issues.
Example:
"I think I'd like to move to a different department. I am more interested in X but I don't know much about it yet. Since I have some experience with Y, I feel like it's better for me to choose this job for now and then pick up on skills I require for X. So, five years later, I'd be in my dream job."
3) Not doing appropriate research
If you've not carried out thorough and realistic research, you may end up talking about goals that are not achievable. It can also lead you to talk about roles, skills or scenarios that may not come up within this job. It tips the interviewer off that you may not be truly interested in the position. We strongly recommend putting forward well-researched points and ensuring you don't sound too generic.
Example:
"I think I would be a senior manager in this role. I am a team player and also love to take on challenges. In five years, I should have gathered sufficient skills to warrant a promotion."
4) Talking about lofty goals
Whether as a joke or even out of nervousness, some candidates tend to respond to this question with lofty, unattainable goals. This could be a comment about becoming the CEO or about "sitting on the other side of the table." Saying something like that makes you seem overconfident and unaware of your own skills. You'd want to stick to talking about achievable goals. 
Example:
"In five years? Haha. I think I will be on the other side of the table, interviewing people for my team. I am certain I have what it takes to make it!"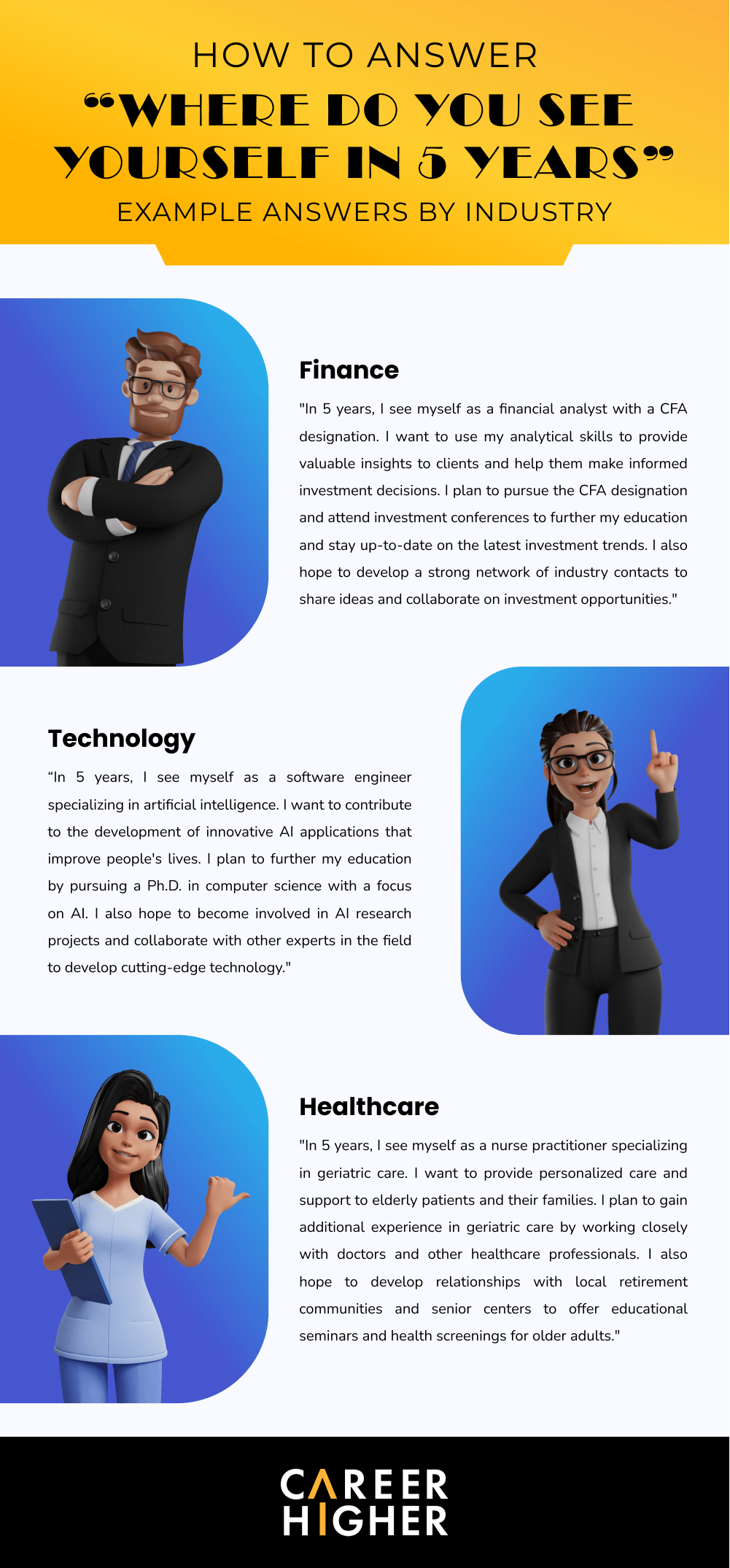 Preparing your answer for this question not only gets you ready for your interview but also lets you introspect and get started with a career plan. Once you're through with the entire process, you are left with a path for yourself, an idea of the skills you'd like to develop, and an expected trajectory for the job itself. You are also left with a clear response that is bound to impress the interviewer. If you are still unsure about your answer and require additional assistance, we would be happy to support you. You could also head to our library to find articles that could help you answer other challenging interview questions.
*This article was co-authored by @DeeshaN