Jenny is an experienced web developer and has received an interview invitation for her dream job. She turns to her friend with big excitement to seek advice on how to structure her interview prep. "Well, don't forget about the interview etiquette," her friend replies. But what is interview etiquette, and how can it impact your overall performance?
In brief, interview etiquette is the "Savoir Vivre" of interviewing. It's the code of conduct you should follow during an interview to ensure maximal results. Even though your skills, experience, and potential are the most critical factors to get a job, your manners and attitude will also affect your interviewer's judgment.
Top interview etiquette rules: Preparation is key
So, what behavioral manners should you have as an interviewee to draw your interviewer's attention? Find them all in the list below.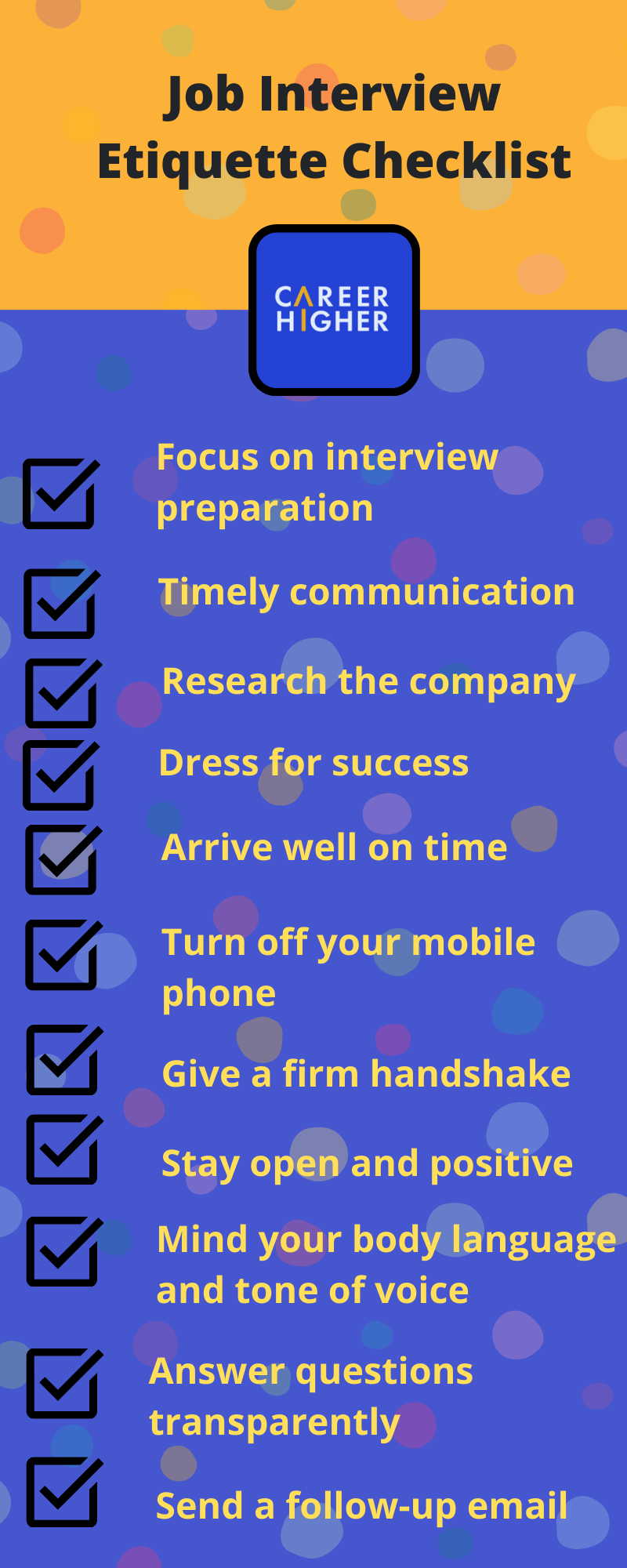 1. Focus on interview preparation
First of all, a successful job interview starts with great interview preparation. So rehearse some of the most common interview questions for the role and get some printed copies of your resume or portfolio for the interviewer. In general, the interview prep will enable you to be more relaxed and focus your full energy on what matters.
Moreover, you can prepare some questions you'd like to ask the interviewer. For example, you can request more information about company values or certain job responsibilities. This initiative will show the hiring team that you have done your homework, and you know exactly what you are looking for in a job.
2. Be available and timely in your communications
When interviewing for a company, you usually communicate with the recruiting team by email or over the phone. Always respond politely to emails or phone calls and express your willingness to connect. If the recruiter or hiring manager has trouble reaching you, they may think that you are indifferent or disengaged – and this is not the best first impression.
Timeliness is another crucial factor when interacting with a company, showing both your availability and professionalism. We strongly recommend saving the company's phone number on your contact list and checking your email spam folder regularly if you have recently applied for a new role. Moreover, remember to move to a quiet and distraction-free place to answer their calls, and sense-check your email responses before sending them out.
3. Research the company and the interviewer
Before the interview day, it's important to look at the company website and social media to understand more about their services and culture. In most cases, employers want to learn what interests you about the company and how you can contribute to their success. You should prepare those answers thoughtfully, as they can become your golden ticket to getting the job.
Plus, it's also helpful to learn more about the interviewer and their previous experience before the meeting. For instance, you can check their LinkedIn profile and even send them a connection request if you see fit. Lastly, make sure to memorize their name to personalize your interaction during your greeting.
4. Dress for success
Another interview preparation part is finding the appropriate clothes to wear on the interview day. In short, try to adapt to the company dress code as much as possible. If you are not certain about what you should wear, you can look at the company website to read about their culture or contact HR. In all cases, choose a neat and clean outfit that makes you feel comfortable.
5. Arrive well on time
It's important to be punctual and right on time for your interview. Go to the interview center approximately 15 minutes earlier to make yourself comfortable and show that you're professional. However, arriving too early can be a red flag, as it could indicate a lack of time management skills. Consequently, if something goes wrong and you cannot make it on time, inform your interviewer in a transparent and apologetic tone as soon as you can.
6. Turn off your mobile phone
Before entering the meeting room, remember to turn off your phone to limit unnecessary distractions. If you forget, avoid answering it if it rings and put it quickly on silent mode. Thus, you'll make the interviewer understand that your attention is solely on them and the interviewing process.
7. Give a firm handshake
A firm handshake with your interviewer at the beginning of the interview is a must to gain their trust. Shake hands with confidence, smile, and look them in the eye before you take a seat. Remember, first impressions matter a lot. However, let the interviewer give you their hand first as they are the host(ess) of this meeting. Otherwise, you may seem a bit authoritative.
8. Stay open and positive
It's significant to adopt an open and positive mindset during the interview, showing a will to develop and learn. Express positive emotions, like curiosity and assertiveness, and avoid negative statements and remarks. For example, blaming a previous employer during the interview is a red flag for the recruiting team, as it's inappropriate to share such private information.
An open mindset is visible even in the slightest moments. For instance, during the first interview minutes, the interviewers usually offer the candidate something to drink. The answer to this offer should always be "Yes, thank you!". This way, candidates start their interaction positively and openly.
9. Mind your body language and tone of voice
Based on research, our communication efficiency doesn't rely only on what we say. More specifically, 55% of our communication depends on non-verbal cues, and 33% on the tone of voice. That's why it's imperative to be mindful of these communication channels during the interview. Read our comprehensive body language guide for tips.
10. Answer questions transparently
As mentioned earlier, there are some common interview questions to expect as an interviewee, ranging from "Tell us about yourself" to "Which project management tool do you use?". These questions vary based on profession or seniority, and you can usually find them online for free. However, it's still possible to receive a question you had no thought of beforehand. If this happens, take your time to think and be transparent in case you have no answer. The interviewer will most likely appreciate your honesty.
Also, certain techniques can help you structure more efficient answers, such as the STAR model, which stands for Situation, Task, Action, Result. This is an excellent method that usually applies to behavioral interview questions. For example, you can implement the STAR model to explain to your potential future employer how you overcame adversity in your previous roles.
11. Send a follow-up email
When the meeting is over, it's a good practice to send a follow-up thank-you note to the interviewer. This way, you can express your gratitude for the time they spent with you and show them that this job truly matters to you. And if you decide that this role is not suitable for you, you can still gain some valuable network connections for future reference.
About the virtual interview etiquette
Interview etiquette is still applicable to other interview types, such as virtual interviews. However, the rules may slightly differ based on context. For example, you can easily conclude that there won't be a handshake but a smile, and you're the one that will get yourself a glass of water before the interview starts.
The rest can be adjusted to the virtual experience accordingly. Wear your best clothes, log on to the platform a few minutes earlier, and minimize distractions to replicate the same experience online. Furthermore, don't forget to check your internet connection to avoid hiccups and look at the camera when you talk to make eye contact the digital way.
Similar recommendations apply to phone interviews. Keep a steady and warm tone of voice during the call, and use vocal affirmations when the interviewer talks to show that you pay attention. Also, prepare common interview questions in advance, and reduce potential disruptions (e.g., low phone battery).
Conclusion
Jenny's friend was right. Job interview etiquette is significant to secure your interview success. By all means, be polite and express your will to learn more about the business. Follow these rules diligently, and the role will be yours. If you're still worried about your performance, you can schedule a consulting session with a career specialist to support you.