Receiving an offer after a challenging job search can feel like hitting the jackpot in a lottery for the chosen candidate. While it can be tempting to say yes on the spot, you need to take a deep breath and contain your excitement. Remember that the decision you'll make will determine your career, success, and future. So, it would make sense to take your time and carefully evaluate the offer before sealing the deal. In this blog, we'll discuss how to make an informed choice while assessing a job offer.
How to evaluate a job offer: key factors to consider
In the following section, we will delve into various factors that you should analyze while considering a job offer: 
1) Scope of work 
While considering a job offer, it's important to understand what kind of projects you'd be involved in, and what your day-to-day responsibilities would look like. A lot of this information is available in the job description posted by the employer. But, we also suggest asking your employer directly and reaching out to employees in the company to gain further insights. If the opportunities in the new job seem exciting to you, it's a positive indication that the job might be a good fit.
2) Evaluating compensation
If you began your job search to earn a higher salary, this factor is especially important to make an informed decision of whether or not the offer on the table is worth it. In most cases, professionals who find a new job would typically have a "magic number" of what they are worth in mind. For instance, you are a Business Development Manager who earns an annual salary of $83,000. It would be natural for you to expect a salary that is around this figure or higher.
Using your previous role's salary as a baseline seems logical and realistic. But this is not always the case. Keep in mind that companies' pay for similar job titles may differ. So, doing your research to validate your assumption is a must. Some of the tools you may find useful include Glassdoor, Salary.com, and PayScale.
When conducting your research, identify what salaries look like for similar roles in the same or comparable industry and location. You also need to consider how the job's responsibilities and requirements align with your level of expertise and experience. Having the right data will provide you with a better understanding of your value.
Based on the data you gathered, does the job offer match what you should be paid? If your answer is yes, then it's time to close the deal. On the other hand, don't lose your hope just yet if the offer is a bit off. Most employers typically have some flexibility around salary and compensation offers. In such a case, be prepared for salary negotiation and attempt to establish a mutually beneficial agreement.
3) Take your personal needs into account
Your personal needs are another factor you need to consider when deciding whether to accept a job offer or not. Let's be realistic. Unless you're a cave dweller, you need money for your personal needs. Your new job should ideally generate the resources you need to pay for your necessities and support your other personal financial needs.
To determine if the offer is enough, identify your potential expenses when you accept the job. How much would you need for your rent, food, clothing, healthcare, and other needs? If you're offered to work remotely due to the pandemic, will you be required to report to the office when things get better eventually? If so, would the job require a move or a longer commute? If you're a parent, would you need to spend money on daycare to supervise your child while you're at work?
What starts as a lucrative offer can slowly be eaten away by unforeseen expenditures. It may seem a lot to think about, especially if numbers are not your cup of tea. However, understanding your potential expenses ensures the offer on the table would suffice for the things you need and are important to you. It will also allow you to determine whether the non-monetary benefits are beneficial for you or not.
4) Consider both monetary and non-monetary elements
When it comes to evaluating a job offer, pay is generally the number one factor most candidates consider when making a decision. However, there's more to a job offer than the salary elements. It also comes with perks and non-monetary benefits. In fact, non-monetary benefits make up 31.3% of a compensation package. So, if you're judging the worth of the offer by the salary element alone, then you're leaving money on the table.
Here are some of the things you can consider other than the salary.
How many vacation days will you get per year?

Does the company offer a flexible working arrangement?

Will you be eligible to receive a severance package when you leave the company unwillingly?

What kind of healthcare benefit does the company provide?

Does the company offer parental perks like paternal or maternal leave and childcare support?

Does the employer provide incentives such as bonuses and raises?

If you decide to pursue an advanced degree or take a certification, will the company reimburse the cost?



5) Think about the company culture
While competitive salaries and benefits are great, staying happy and feeling fulfilled at work takes much more. Although it may sound cliché, company culture plays an essential role in this aspect. Imagine you're a fun-loving person, and you work for an all-work and no-play type of organization. Would you enjoy going to work every day? We doubt you'd say yes.
Working for an organization with a culture that aligns with your personal values and working style encourages productivity and creativity. This would allow you to do your best work and grow in your career. So, when weighing a job offer, take time to examine your personal values and see how those align with your prospective employer's culture. Here's how you can get some insight into the organization's culture.
Reach out to the people in your network who work in the same company and ask for insights.
6) Determine alignment with your long-term career goal
Ideally, each job on your career ladder should take you a step closer to your long-term career goal. This means your new job will play a critical role in your career progression. So, taking a step back and reflecting on the following questions is essential before making a decision.
Does the presented set of responsibilities sound like something you would enjoy doing every day?

Does the role fit your long-term career goals, or could it be a stepping stone to reach them?

Could you gain valuable experience from the job?

Can you see yourself committing to the job in the next 12 months or longer?
7) Consider your feelings
After carefully considering all of the tangible factors of your new job offer, take note of any gut feelings you experience when thinking about the offer. If you feel positive about the offer you are likely going to make the right choice by accepting it. Otherwise, continue researching the company and ask any additional questions to resolve any uncertainties.
Making a decision about your job offer
After assessing different aspects of a job offer, it's time to make a decision! Every job opportunity is likely to offer a mix of advantages and drawbacks, and it's important for you to decide whether a specific opportunity aligns with your individual goals and needs. Here are some tips to help you aid the decision-making process: 
a) Create a pros and cons list: We suggest creating a list of the pros and cons of the job offer at hand. For example, the pros of a job could include positive aspects like a higher salary, flexible working hours, the reputation of the company, etc. In the cons section, list the challenges associated with the job role, such as long commutes, low vacation days, etc. 
Remember, not all factors are likely to carry equal importance in your life. Consider how critical a factor might be to you, and assign a weight to it accordingly. After preparing your list, evaluate it objectively. If the pros outweigh the cons, it might be a good idea to accept the job offer. Conversely, if the cons outweigh the pros, you should reconsider the job offer.
b) Consider a second opinion: We suggest reaching out to a trusted friend, family member, or a professional career coach who can understand your aspirations and experiences. Their fresh perspective might offer you some valuable insights, which could make the decision-making process smoother for you.
c) Reflect, don't rush: Good decision-making happens with a clear head. Sometimes, you may feel nervous or excited when receiving a job offer which could cloud your judgment. Remember to take your time to make a decision you're comfortable with that aligns with your long-term personal and professional goals. If you're feeling rushed, consider requesting your employer for some more time.
Job offer scenarios
In this section, we present a series of different job scenarios that a candidate may encounter during the job search process. These scenarios may resonate with your current situation and could help you in making a decision.
Scenario 1 – The candidate has received a job offer, but the opportunity is not fully aligned with their goals.
a) Candidate is in financial need
If you are not in a strong financial position, it is okay to accept a job offer even if it is not for your dream role. This will enable you to meet your short-term financial needs, which may be an immediate issue. At the same time, you can continue planning your long-term career in line with your wider needs, applying to relevant roles as required. However, if you have ethical concerns about an employer or hiring manager, it is recommended to stay away at all times.

b) Candidate has the luxury of being selective
If your circumstances allow you to be selective, then we recommend sticking with your initial plan and looking for an opportunity that fulfills all your essential criteria. If you are concerned the offer you have received is not a good fit, don't be afraid to pass, even if this is a tough job market. Any red flags about the hiring manager, the culture, or the performance of the business should be considered carefully, as they can develop into major issues along the way.
Scenario 2 – The candidate has received a job offer and is waiting to hear from another employer.
a) You have received an offer for your target job
If you have already received an offer for one of your top preferences, you should accept it on the spot as long as it is aligned with your salary expectations. Having other potential offers in the pipeline can make it tempting for you to wait, however, this is not a risk-free strategy. Requesting for time can lead to the employer reconsidering their offer and should not be used unless there is a specific reason.
b) You expect you will receive an offer for your target job
If you have other open applications in the pipeline that you would prefer over the job offer you have received, here is what to do:
(i) Request for more time: Reach out to your point of contact from the employer who has extended the offer, requesting some time to make a decision. You can ask for as much time as you need, however, asking for more than a few days can be risky, as employers can legally retract an offer in this case. Also, contact the employer you are waiting to hear from, inform them about the job offer you have received, and request them to expedite their decision if possible.
(ii) Compare the job offers: If you get more than one offer, compare them to see which one adds more value to your professional career. You can do this using the following criteria:
Role

Salary

Company Brand

Company Culture

Opportunities for growth
(iii) Respond to companies: No matter what you decide, don't burn any bridges. Make sure you respond timely and maintain a positive relationship with all parties, including employers you have decided to reject. As they say, your network is your net worth!
Scenario 3: The candidate has received a job offer from a startup/less-established company
a) You are comfortable with the risk-reward potential of a startup business
Start-ups offer amazing opportunities for personal growth and innovation. If you thrive in fast-paced environments and enjoy being at the cutting edge of industry developments, joining a start-up could be ideal. But, before accepting the offer, it is crucial that you conduct thorough research on the company and fully comprehend its business model, financial health status, and leadership team members. This can give an overall sense of the venture's prospects as well as any associated risks.
Also, be mindful of your current life stage and responsibilities. For instance, if you have significant familial obligations, working for a start-up might not be a wise choice. Conversely, if you are starting your career and can take risks without worrying, start-up life could provide great learning opportunities. 
b) You prefer an established company
On the other hand, established companies often provide stability and predictable growth opportunities with clearly laid out career growth pathways, reliable incomes, robust benefits packages, and set work schedules. If you value these aspects, consider an offer from a startup with caution.
However, if the only offer you've received is from a start-up, and you are feeling hesitant, don't reject it outrightly. Remember, that it doesn't have to be a permanent commitment.  Instead, consider the opportunity as a stepping stone while you continue to hunt for roles at more established firms.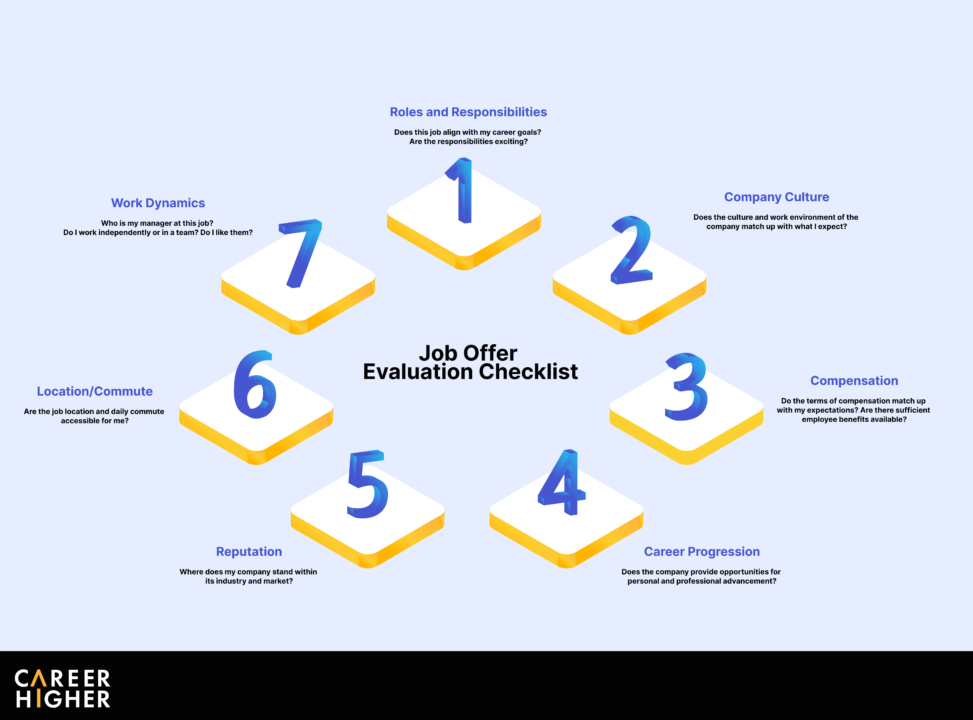 As they say, there is no such thing as perfect. The same is true when finding a new job. It's unlikely that there is "the one job" that will meet one hundred percent of your requirements. Hence, it's essential to take a holistic approach when evaluating a job offer. Think about what really matters to you. Knowing your priorities and carefully assessing the job offer will enable you to make an informed decision about whether the job opportunity will be worth your while or not.