You did it! You went through the grueling job application process, and the company finally extended a job offer. Phew, you are done, right? Not exactly. Accepting an offer isn't as simple as saying, "Thanks! I'll take it". You need to make sure you are happy with all the employment terms, you and your employer are on the same page, and everything is formalized. This article discusses how to respond to and accept a job offer the right way, and provides acceptance templates.
The job offer process
In the process of offering you a job position, there are a few steps that your employer will likely take. Typically, they will first make an informal job offer verbally or via the recruiter. Once you have confirmed your interest and accepted the terms, the employer will send you a written official letter. Although, keep in mind that the job offer process and communication style tend to vary from company to company.
1) Informal job offer 
When the hiring decision-makers inform the candidates via phone or in person that they wish to hire them for a particular job position, they essentially give them a verbal or an informal job offer. At this time, they may also mention key details of the job role, such as salary, work hours, and job title. They are also likely to gauge your interest in the role.
2) Formal job offer
Once the candidate has indicated their acceptance, a written job offer is likely to follow. This formal document will officially offer you the job position and will typically outline all the key details of the employment agreement, such as compensation, position type, benefits, etc. The offer letter also serves as proof of confirmation of all the agreed employment details, and the employer will normally ask you to sign it.
Can an employer withdraw a job offer before you actually start working?
In many cases, companies can revoke a job offer for almost any cause, even after you have accepted it. However, employers can't rescind a job offer for statutorily prohibited reasons (for example, discrimination based on gender, race, religion, age, etc.). When the employer withdraws a job offer because of unsatisfactory background checks, failed drug screening, or misrepresentation in the application, there is often no legal action you can take.
Thus, waiting until you have met all the conditions listed in the job offer is advisable before submitting your resignation. In some cases, candidates can potentially claim damages against the employer if they can prove they have suffered financial or emotional harm due to a withdrawn job offer. It is important to keep in mind the outcome of a rescinded job offer is subjective to your circumstances, the laws of your state, and the terms of the job proposal.
How to respond to a job offer?
When you get a job offer, you may be tempted to say "Yes!" right then. After all, wasn't that the goal of your months of job searching? But, to make an informed choice, it is important to respond to a job offer strategically. Here are a few tips on how to do so:
a) Ask for more time: Once you've received the job offer, you don't have to accept it immediately. If you need some time to decide, it is okay to ask for it. You don't want to be stuck with an offer that doesn't satisfy you. So, express your gratitude to the employer and ask for a timeframe of when you can respond.
Typically, you can ask for a few days to consider the job offer. You could say, "I appreciate the offer, but I would like to take some time to consider it. Can I get back to you by Wednesday?". Buying some time will enable you to research and carefully assess the proposed terms before making a counteroffer.
b) Evaluate the job offer: Use your time wisely to evaluate whether the job offer aligns with your needs and expectations. Make sure you are happy with the compensation being offered and are getting paid what you're worth. While evaluating the offer, we suggest considering it holistically. Thus, besides salary, do also consider the benefits, company culture, pension plans, work hours, and growth prospects, etc. If you are unhappy with some employment terms and responsibilities, you could consider negotiating them with your employer.
      Read more: How to Evaluate a Job Offer
c) Prepare to negotiate: Negotiating a job offer is typically common in the hiring process. If the offered compensation doesn't meet your expectations, request the hiring manager for a conversation to discuss this. You could say, "I have reviewed the offer and would like to discuss some details further. Let me know when it's a suitable time to speak." Before entering into the negotiation, do your homework. Research the market pay for the role, develop your negotiation strategy, and practice your pitch. If you're struggling with the same, our salary negotiation solution may help.
How to accept a job offer: verbal or written acceptance?
So, you have decided to accept your dream role? Congratulations! But before you sit back and relax, there is one more step you should take: writing your job acceptance letter/email. Many candidates ask, "I have said yes to the hiring manager on the phone. Do I still need to write a job acceptance letter?" The answer is a resounding yes.
Even if you have verbally replied in the affirmative, it is good to follow up with a written job acceptance email/letter. Not only is it courteous and professional, but it also enables you to make sure there are no misunderstandings about the terms of the employment. Besides, it'll allow you to express gratitude to the hiring manager and convey your enthusiasm for the new role.
How to write a job offer acceptance email or letter: step-by-step guide
Since the job offer acceptance email/letter is a formal piece of business communication, it should be well-structured, professional, and without errors. This is also a chance to showcase your professionalism and set a positive tone with your new employer. Here's what the body of your message should include: 
1) Write a clear subject line
Write a professional and concise subject line indicating exactly why you are writing the email. A simple yet effective subject line could be "Job offer acceptance- [your name]" or "Accepting [company name] offer-[your name]". Such a crisp and clear subject line will let the recipient know at a glance what the email is about and who the sender is.
2) Express your gratitude
Start your job offer acceptance document by thanking the employer for offering you the opportunity to work with the company. We also suggest mentioning the job title and the company's name. For example, you could say, "Thank you for offering the role of (job title) at (name of the company)."
3) Formal acceptance of the offer
Next, your official acceptance of the company's employment offer should follow. Optionally, you could also add how you look forward to your upcoming employment. For example, you could say, "I am happy to accept your job offer officially. I am eager to work with everyone and contribute positively at (name of the company)."
4) Clarify terms of employment
If you've already received all the terms of employment (agreed salary, benefits, job title, etc.) in the official offer letter, you can use this space to accept the terms formally. However, suppose you negotiated some terms with the hiring manager after receiving the offer. In that case, you can use the acceptance email to document these in writing and ensure you are on the same page. For example, you could say, "As discussed on the call, my starting salary is [$XXX| and I will be working from home twice a week."
5) State your start date
To avoid confusion, reconfirm your start date and the notice period in your acceptance letter/email. For example, you could write, "I am required to serve a six-week notice period with my present company, and I can confirm my start will be Tuesday, March 19th." Also, remember that if you're changing jobs and are required to work out a notice period, it's a good idea to inform your future employer beforehand instead of announcing it in the acceptance letter.
6) Conclude and sign
Conclude your letter positively by saying you are looking forward to your new role. Also, include a closing salutation, such as "Best Regards" or "Sincerely" and add your full name below. You could also include your digital signature at the end.
We suggest conveying your acceptance using the same medium that your employer used. Typically, the company will send the official job offer through email. Thus, we recommend sending your acceptance via email too. In rare cases, the employer may send you the offer letter via post. If this happens, we advise you to send a hard copy of the acceptance letter to the employer.
Job offer acceptance templates
To draft an effective job acceptance email or letter, simply follow the above-mentioned steps. Remember to keep your writing professional, concise, and to the point. To help you get started, we have provided samples below: 
1) Job offer acceptance email
Download Word Sample | Download PDF Sample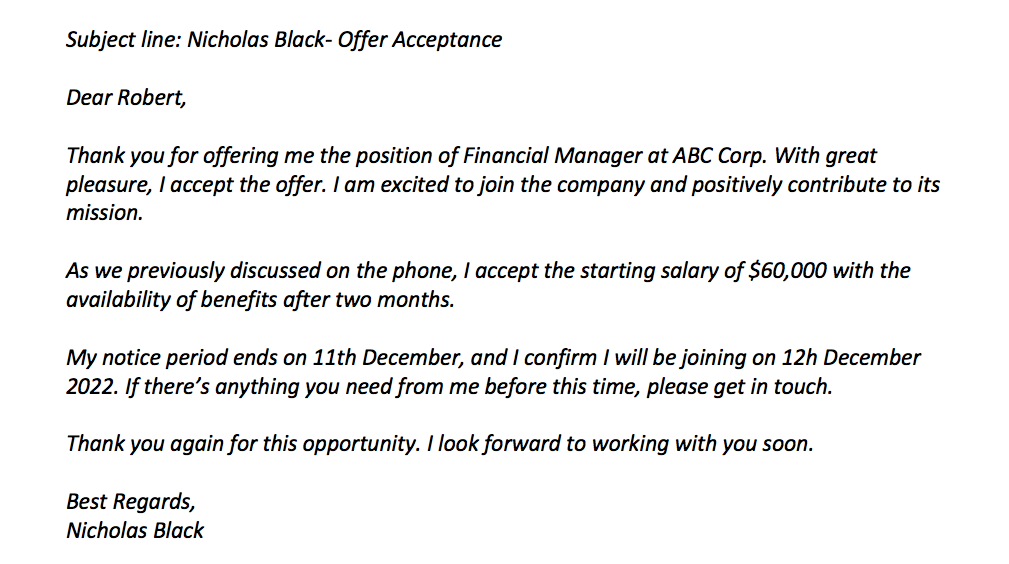 2) Job offer acceptance letter
Download Word Sample | Download PDF Sample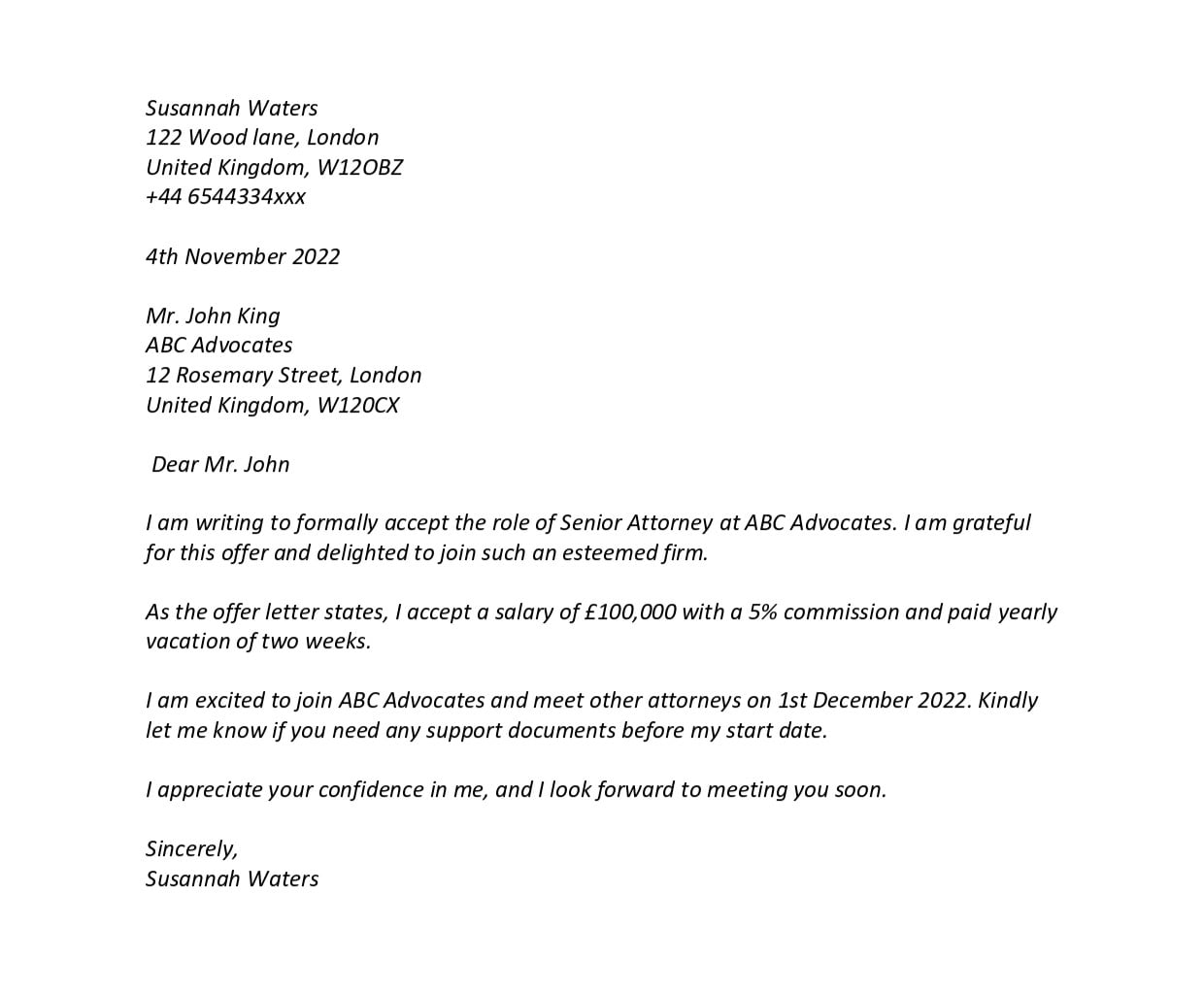 Accepting a job offer is exciting. It marks the onset of a new chapter in your professional life. So make sure to do it the right way. It is best to accept a job offer through a written formal document. Remember to proofread the email/letter before sending it to your future employer. If you have any questions about your career choices, feel free to reach out to us for help.