SOLUTIONS
Salary Negotiation
Want to negotiate your salary like a pro and get paid what you are worth? Let Us Help You!

We offer salary negotiation advice to help professionals negotiate offers like a pro maximizing their compensation.
Tell Me More ...
Every offer is negotiable! In fact, 70% of hiring managers expect candidates to negotiate salary (Robert Half). However, many professionals miss out on an offer they deserve due to a lack of awareness, constant hesitation, and a fear of rejection. 1 out of 4 people do not negotiate salaries because they don't know how to and 1 in 10 are scared of salary negotiation consequences (Intuit).
Our salary negotiation solution is aimed at helping professionals like you take the first step towards getting the compensation you deserve. We share with you our proven negotiation process, help you build a business case, and provide specific advice, so that you can get what you deserve.
BENEFITS
Why Partner with a CareerHigher Salary Negotiation Specialist
Get other relevant monetary and non-monetary compensation elements
Maximize your long-term earning potential
Let's Get You The Salary You Deserve!
You aren't sure if you negotiate your compensation in the best way
You dread salary negotiations

We Take People Through The Below Phases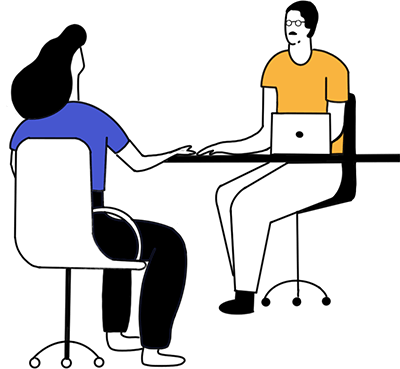 We speak on a discovery call to understand your needs
We send you a tailored salary negotiation success workbook to prepare for our discussion
Our salary negotiation specialist provides specific advice and answers your questions
You ace your salary discussion
WE'RE DIFFERENT
Why Work With Us
We have helped multiple experienced professionals improve their compensation packages
We have designed a best-practice compensation negotiation process that allows us to maximize your income
We have strong recruitment, coaching, and career consulting capability
We are committed to offering a top client experience
We're humbled to have received excellent reviews from ex-clients
REVIEWS
What Do Clients Say

"CareerHigher provides top-quality career advancement services. I've worked with them during the pandemic and their services have enabled me to get closer to my career goals"

"Great quality of work and strong customer experience"

"In just 3 months I had an offer in hand from a global firm in the position I was seeking and with a 35% increase in my compensation"
INFORMATION
Frequently Asked Questions
Who will work on my projects?
We have a skilled team of Salary Negotiation Specialists who work on your negotiation technique, style, and content. Our experts are highly qualified with years of industry experience. You can meet our team here.
Can I request more salary negotiation discussions?
We usually have 2 interview practice sessions and 1 salary negotiation session. However, this may vary based on a client's needs.
Do I have to buy packaged solutions or do you offer standalone services as well, e.g. resume writing only?
Depending on the solution, we may offer it independently. In most cases, we offer related solutions as a package. For more information, please check with us directly.
Do you have any more questions?