One of the most common yet dreaded questions in the interview process remains, "Tell me about yourself". Despite being among the most predictable interview questions, it still holds the power to knock off even the most seasoned professionals. Whether it's the preliminary screening phone call or the final interview round, the question has the habit of popping up everywhere.
The question often stumps the job interviewees because it is open-ended and broad. Thus, they often stress about what the interviewer actually wants to hear and how much information they should give away. Fortunately, with proper interview preparation and practice, you can use this common prompt to your advantage and set the tone for a successful interview.
Why Interviewers Ask "Tell Me About Yourself"
Before diving into the process of crafting your response, it is vital to understand why the interviewers love to ask this question. In reality, more than a question, "Tell me about yourself" is an excellent starting point for a productive conversation. It helps break the ice between the hiring manager and the candidate, creating room for small talk. It lays a solid groundwork before the interviewer moves to behavioral or competency-based questions.
By asking the question, the interviewer receives the opportunity to gauge the candidate's profile quickly. They gain crucial insights into what the candidate considers noteworthy about themselves. By learning this, the interviewer can evaluate how prepared the candidate is and what they consider to be important for the target position. It also helps them frame the follow-up questions and assess the candidate's confidence level. Thus, by answering the question well, you can leave a good first impression and persuade the interviewer in your favor.
Best Practice Formulas for Answering "Tell Me About Yourself"
a) Cover all bases with P.A.P
To formulate a well-balanced answer, you should cover the following three aspects in your response:
Professional

– Focus on your present and previous job experiences, work accomplishments, skills you've acquired, and your key career moves. This section should make up 80 to 85% of your answer. 

Academic

– Talk about your educational background. You could mention your degree, the university you attended, your field of study, and any academic achievements. This section should contribute to 5 to 10% of your answer.

Personal

– About 5% of your answer should be about your personality. You can highlight your personal interests, hobbies, and values.
Remember, though, that the percentage of each section is not set in stone. The specifics of each part will vary depending on the amount and type of work experience you have. For example, if you are a professional with experience, your answer could be primarily based on your career. If you are a graduate with no work experience, you could talk more about your academic trajectory and co-scholastic activities. A strategically crafted response will help you communicate your personal brand effectively.
Sample answer of an experienced professional
I've been passionate about startups since I was a child. My mother, an entrepreneur, set up her own handicrafts business to support our family. Watching her journey, I evinced a keen interest in running new business ventures. I studied B.S. in Management at ABC University and graduated 5 years ago.

Since college, I have worked with young startups across a range of technology, fashion, and education sectors. I have gained strong cross-sectoral exposure, which has broadened my outlook. Currently, I am working as a Business Development Manager at a fintech startup in New York. Here, I have been involved in the company's 3 key strategic partnerships. My experience has built up my expertise in networking, customer acquisition, and negotiation. I have set up the company's lead generation processes, resulting in a 27% increase in revenues. The opportunity to work with ambitious individuals on building something from scratch has been enriching.

Moving forward, I hope to work at an innovative consumer banking startup like yours, which is revolutionizing the banking space. I believe my expertise and drive to create an impact will allow me to add value to your company in the role of the Growth Head. Outside of work, I love reading about Robotics, Artificial Intelligence, and Innovation.
Sample answer of a fresh graduate
In high school, having undertaken a case study on McDonald's globalization strategy, I developed a deep fascination with International Business. Thus, I chose to pursue B.A. in International Management at ABC University. I recently graduated with a 3.8 GPA and was in the top 5% of my cohort.

I also served as the Treasurer for the Student Welfare Association and organized 12+ events annually. I loved being part of a student club, as it enabled me to test my skills in real-world situations. I enjoyed networking with other students and sharing growth ideas.

I am now keen to implement my learnings in the professional world. I wish to work in the international trade sector and understand the nuances of the global marketplace. Thus, I am interested in working at XYZ Company.
b) Structure your response chronologically
For your response to be clear and compelling, we recommend structuring it using either of the following two formats: "Present-Past-Future" or "Past-Present-Future".  Both of these orders work well, but you may choose one over the other based on what's more natural to you and the relevance of your previous experiences. Irrespective of the format, your answer should focus on the following three aspects:
Past

:

What is your background? What are your previous experiences? What brought you here? 

Present

:

What is your current role? What are your job and duties? What are your impressive accomplishments?

Future

:

 

What do you want to do? Why are you applying for this particular position? What are your career ambitions?
If your present role is closely related to the desired job, and you have impressive accomplishments to share from your current position, you could adopt the "Present-Past-Future" format. If you have a powerful story that brought you here, or your previous experiences are more aligned with the target role, you should follow the "Past-Present-Future" format. This structure will help you organize your thoughts easily, as it follows a chronological order. Thus, we recommend using this framework.
Sample answer using the "Present-Past-Future" format
Hello, sure I'd be glad to introduce myself. I am Grace Kelly, a Recruiting Manager at ABC Company. I have been working at ABC  for the past 3 years and have led the end-to-end recruiting cycle for executive positions for 5 multinational companies. I have successfully closed 25+ executive placements every year. I enjoy interacting with and helping candidates. I love the impact I am able to create on people's lives and companies.

Before this job, I worked in an Administration role at XYZ Company. I hold a Bachelor's degree in Business Management from X University. Outside of work, I love doing yoga and meditation to relax myself.

I am excited to commence a new chapter in my professional life. I believe I can leverage my recruitment experience and relationship-building skills to add value to your recruiting agency in the Senior Manager role.
Sample answer using the "Past-Present-Future" format
I pursued a Bachelor's in Business Administration at XYX University, where I studied Marketing, Advertising, and Brand Management modules. I became extremely fascinated with these disciplines. Thus, for my final year thesis, I decided to research how brands influence our purchase behavior using innovative strategies and received an award for the same.

Upon graduation, I started working with a leading technology company in a business development role. I am currently spearheading a project for onboarding new service partners and have already generated $200,000 in sales. Although my experience has been enriching, I believe my true interest lies in Brand Marketing.

To further solidify my interests, I have undertaken freelance marketing gigs in my free time. I am now eager to grow my career full-time in this field. I would love to work for a creative marketing agency like yours and help clients build their brand equity.
Tips and Tricks for Answering "Tell Me About Yourself"
a) Weave in your passion
Human beings are wired to connect to stories. Research confirms that through effective storytelling, one can forge a more trustworthy and memorable relationship with the listener. Thus, while answering the question, don't provide factual information about your life history. Instead, infuse your response with honest and powerful anecdotes to evoke the recruiters' interest. You can adopt the S.T.A.R technique to frame your stories.
To build a compelling narrative, first, take a step back and evaluate yourself. Think about your upbringing, personal and professional experiences, and the people who have impacted you. Identify what fostered your passion for the field. Reflect on the attributes and talents that have made you successful in your life and how you acquired them. Weave these meaningful instances into your response to answer the question effectively.
Sample answer highlighting personal anecdote
My father is an Olympian archer. He encouraged me to participate in sports from a young age. As the basketball team captain, I always motivated my team members, organized practices, and fostered team spirit. I've successfully applied a lot of these learnings in my professional life. In my current role as a Project Manager at ABC company, I constantly encourage my team members, resolve conflicts, and build synergy to achieve project goals. I have spearheaded the implementation of the highly successful agile training project for 2 years, resulting in cost savings of $1.5 million. I am excited to now advance my career as a Senior Project Manager at XYZ Company.
b) Be concise
While answering the question, you don't have to state every detail of your career trajectory. Stick to the key points of your story, and aim to wrap up your answer in under 90 to 120 seconds. Also, observe your interviewer's body language. If you feel the interviewer looks distracted or bored, take it as a cue to wrap up your answer quickly.
c) Know your listener
We are all better communicators when we concentrate less on ourselves and more on the listener. While responding to the question, you should keep in mind who you are conversing with. This will help you build rapport with the interviewers and understand their expectations. For example, let's assume you are a software developer being interviewed by the hiring manager. If you go deep into the technicalities of your experiences, the hiring manager might find it difficult to follow. On the contrary, if your interviewer is the technology head, you can use technical jargon freely. Thus, it is important to know your audience.
d) Practice makes perfect
Answering this classic question might feel intimidating, but all you need is enough practice. Don't just draft your response. Instead, say it aloud in front of the mirror. We strongly suggest practicing your answers through a mock interview with a friend, mentor or career strategist. This will be highly useful in gaining constructive feedback and working on your areas of improvement. You will feel more confident and prepared for the actual interview. Also, don't memorize your answers, as they may sound scripted. Instead, focus on remembering the key points and structure and let the rest flow naturally.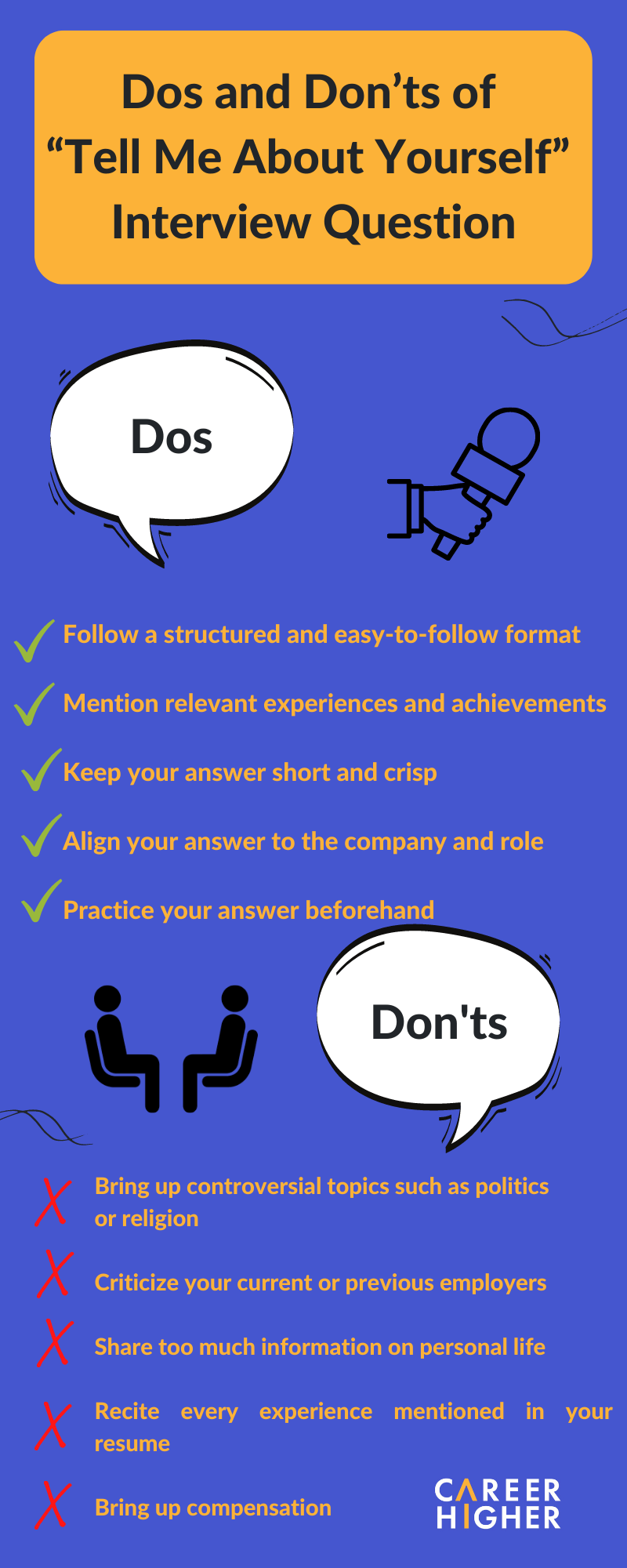 Key Takeaways
"Tell me about yourself" is a typical question that is likely to appear at the beginning of the interview, so it pays to prepare for this answer and practice it beforehand.

A good answer should cover your life's past, present, and future aspects. You can format it in a way that makes sense to you. Mention high points from your academic, professional, and personal life and tie them to the job you're applying for.

To give an impressive response, remember to keep your answer brief and interesting. It will be beneficial for you to tailor your answer to the company you are applying to and the person who is taking your interview.