Remote work has been around for years. But the last two years have been a transformative time for remote work as it gained a surge in popularity. In 2019, only less than 6% of American workers were working primarily at home. Now, this number remarkably grew as the pandemic outbreak prompted many employers to shift to a remote work model for the safety and well-being of their employees. This phenomenon has made employees and candidates redefine what they want in their future jobs – and that's more opportunities for flexibility. In this article, we will have a closer look at the current state and trends of remote work and how it can impact the employment market in the future.
The Current State & Trends of Remote Work
1. Employee interest in remote work has increased
The continuous growth of remote work in the last ten years is undeniable, reaching an all-time high during and post-pandemic. This is due to the fact that even though some companies are now requiring their employees to return to the office as economies reopen, the majority of them are still opting for the remote work model. In fact, a FlexJobs survey revealed that among 2,100 employees who worked remotely during the pandemic, 58% of them wouldn't hesitate to resign and look for a new job if they couldn't continue working remotely in their current role. Below, we present you different charts of how candidate interest in remote work has significantly increased in the last decade. 
Chart no. 1: Google Trends for the Keyword "Remote Jobs"
The chart shows the data for Google trends of the keyword "Remote Jobs" in the jobs and education category for 2012 to 2022. The US, Canada, UAE, Australia, and Germany have the highest search interest worldwide.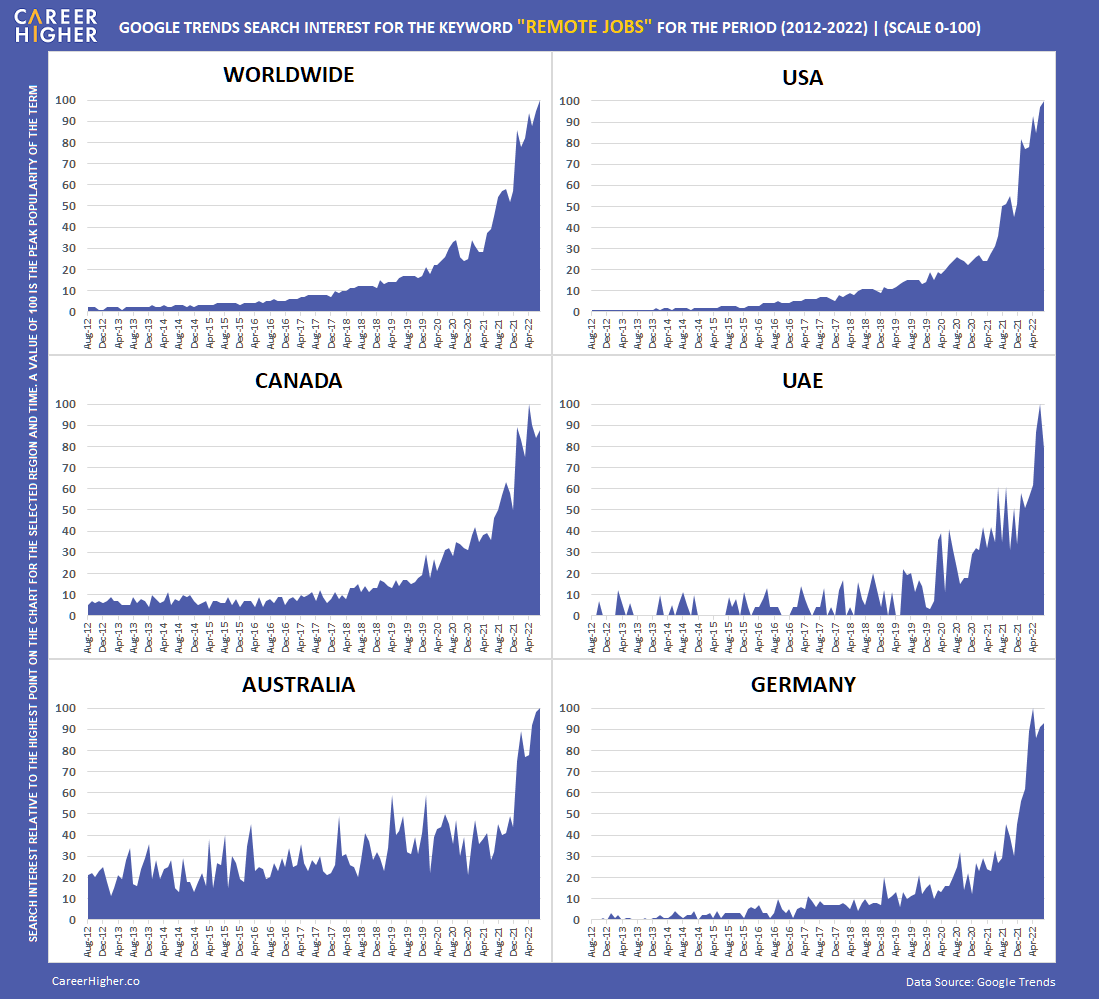 Chart no. 2: Search Volume for the Keyword "Remote Jobs"
We've extracted the data for the monthly average search volume of the keyword "Remote Jobs" from ahrefs.com for 2015 to 2022. The US, the UK, Canada, and India are the four countries that presented the highest search volume globally.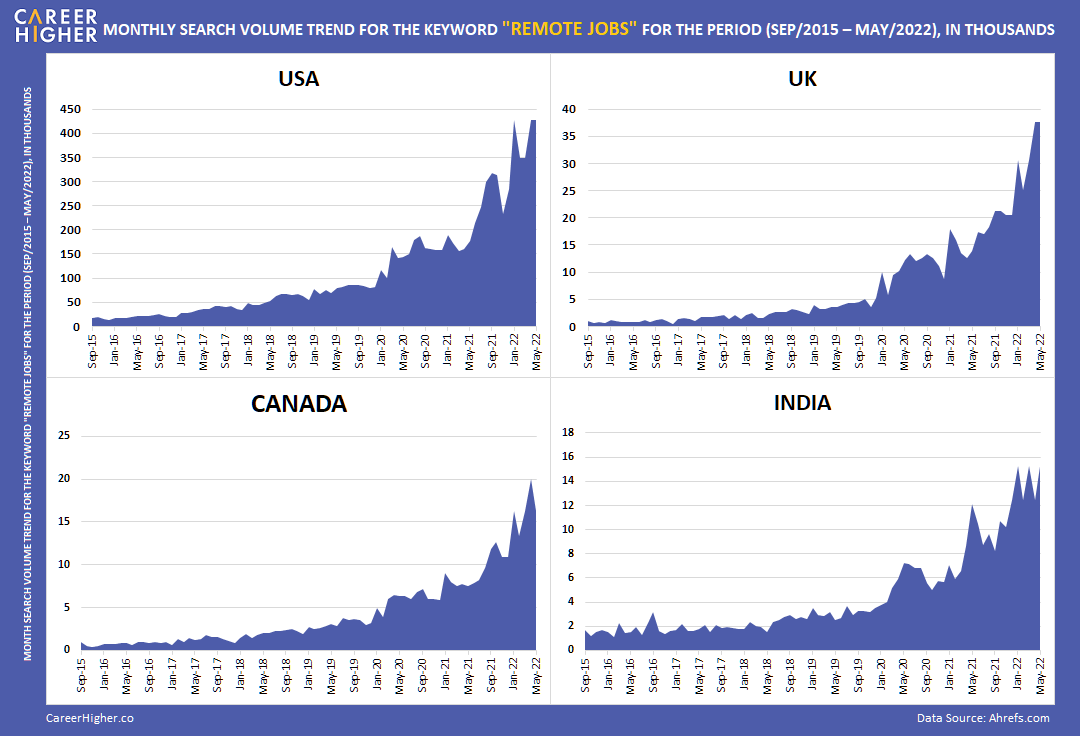 Chart no. 3: Search Volume for the Keyword "Work from home jobs"
This time, we extracted the monthly average search volume data using the keyword "Work from home Jobs" from ahrefs.com for the past seven years. The countries that showed the highest search volume worldwide are, again, the US, the UK, Canada, and India.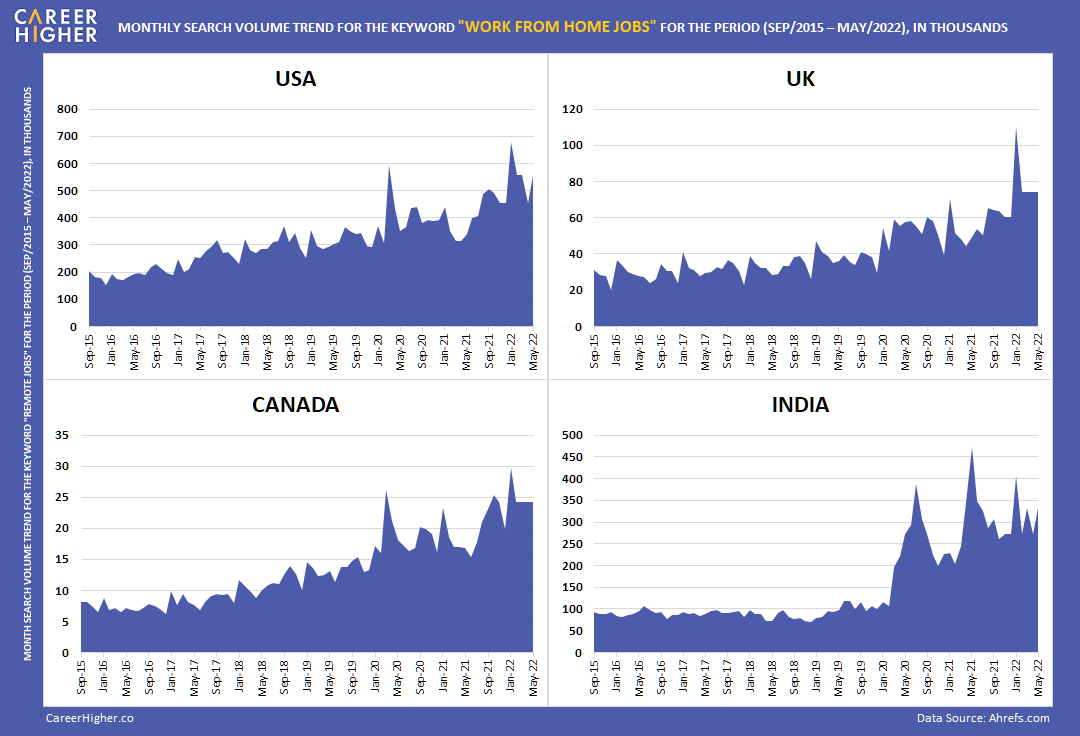 Chart no. 4: Remote Jobs Website Traffic Trends
We've identified the three leading remote-only job search websites, which are FlexJobs, Weworkremotely, and Remote.co, based on our in-depth research. Then we extracted the data showcasing the increase in organic traffic for the keyword "Remote Jobs" and the number of pages in their search engine results – which indicates the remote jobs posted on the website for 2015 to 2022.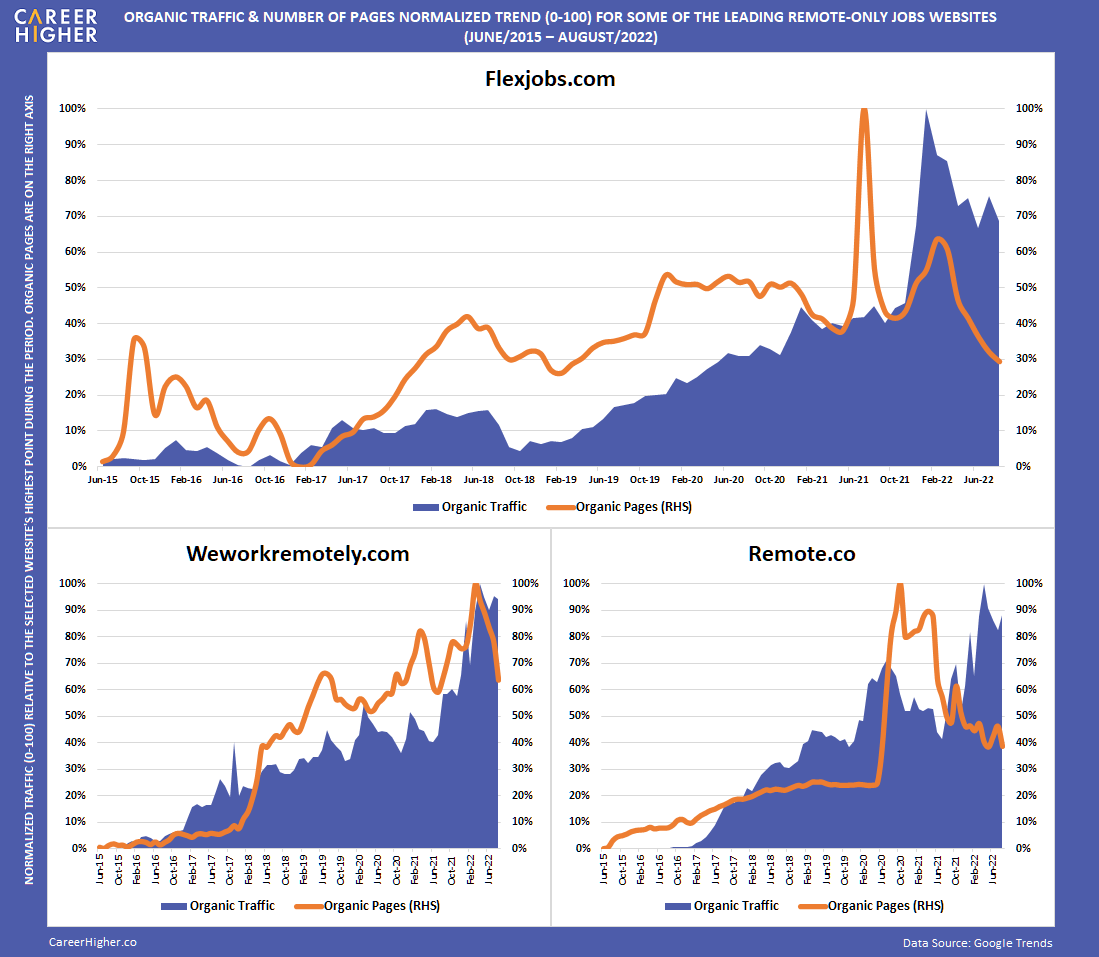 With the data presented above, we can infer that employee expectations have permanently shifted. They now demand greater flexibility, work-life balance, and autonomy more than ever. In fact, another FlexJobs survey revealed that 97% of over 4,600 people said they want some kind of flexible work arrangement in their jobs. OWL Labs proved this data to be true with their own research showing that 84% of 2,050 full-time workers stated that working remotely would make them happier, with many even willing to take more than a 10% cut on their salaries to be able to do so. Have a look at the table below for further details.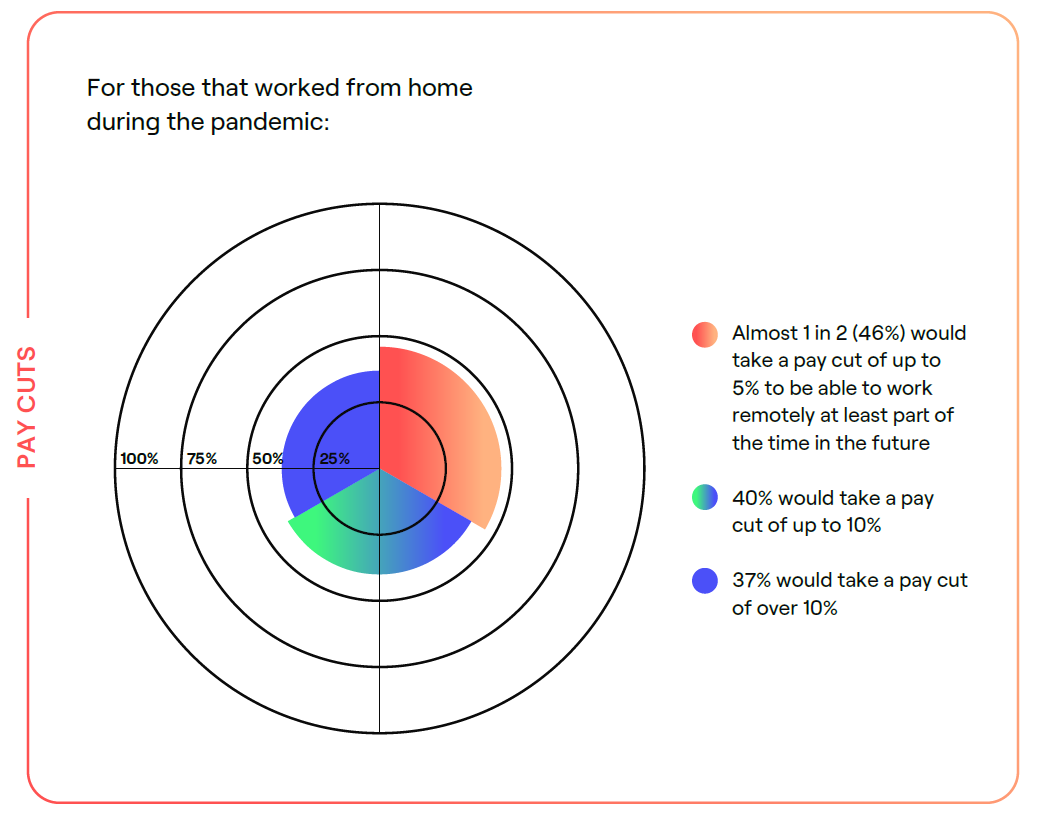 Image from OWL Labs: State of Remote Work 2021
2. Employers are continuously adopting remote work models
Companies that offer flexible work options to employees have higher chances of attracting those who are excited to work outside a traditional office routine. On the contrary, those that do not provide such an opportunity would likely be turned down, even if it is a prestigious company or a company offering more vacation time. In relation to this, research showed that 80% of US workers would not accept a job offer without flexible work options.
With this in mind, we can say that remote work now provides a competitive advantage in terms of employee recruitment and retention when offered as a benefit or incentive. So as employees show growing interest in remote work, employers are also starting to embrace this trend to stay competitive. In fact, among the 530 companies surveyed by KPMG, 89% of them have already introduced or currently considering implementing remote working models. The findings showed that the companies' main reasons for doing this are more employee-related than external or business-related. This is great news for employees and job seekers because this means a higher number of remote opportunities are opening for them.
Key Reasons Employers Adopt Remote Work Models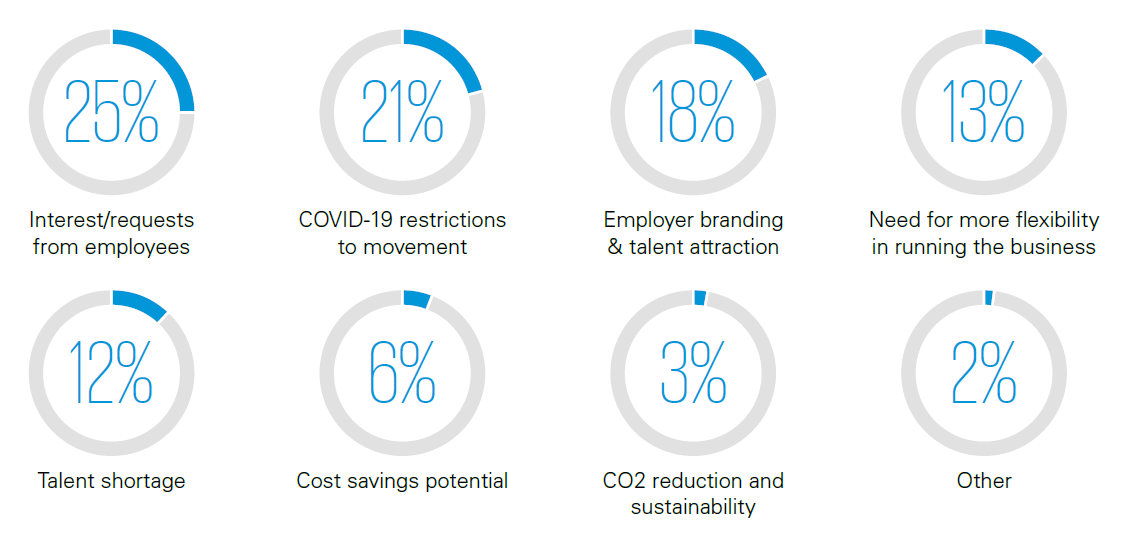 Image from KPMG: Current Trends in Remote Working
The Future of Remote Work
Remote working is proving to be a mutually beneficial arrangement for both employees and employers, with no signs of slowing down any time soon. The last two years may be considered the year of remote work. However, it is just the beginning as we see the trend continuing in the years to come.
As more and more companies embrace the concept, it's becoming clearer that the workplace is not returning to the way it was before. In other words, remote work is the way things are going to be for the foreseeable future. With this in mind, let's discuss some top insights into the future of remote work.
1. Remote work will become permanent
According to NPR research, approximately 50% of the US workforce is already working remotely at least one day a week. This number is only expected to increase as most employees stated that they would continue to work remotely, at least for some time or for the rest of their careers. In addition to this, the younger generations, specifically Gen Z, began entering the workforce these past years, which according to an Upwork report, will continue to fuel the remote work trend. Hence, they projected that by the year 2028, 73% of all teams would have remote workers.
Remote positions are growing, and the majority of existing jobs are going remote. In fact, Ladder's Weekly Remote Work Report revealed that 3 million jobs have already been moved to being permanently remote in the last quarter of 2021. In relation to this, they predicted that 25% of the most high-paying jobs would also be fully remote by 2023. With all this mind-blowing data, one thing's for sure – the trend toward remote work is definitely here to stay. It will become more mainstream and accepted by all generations. 
2. Not all industries offer the same potential for future remote work
Despite a growing trend towards remote work and an increased number of positions being offered in this format, not all industries have the same potential to grow in this direction. In McKinsey's study of 2,000 tasks, 800 jobs, and 9 countries, they found that tasks and activities within occupations determine the potential for remote work. This means industries and occupations with highly repetitive tasks and processes would not make the best candidates for remote work. This is because these types of jobs typically involve a lot of manual work that must be done on-site or in person. These include using specialized equipment or machinery, providing care, and constructing buildings and infrastructures.
Sectors with the least potential for remote work
Agriculture

Food services

Construction

Transportation and Warehousing

Mining
On the other hand, industries that are more conceptual or jobs that require only a lot of creativity and cognitive skills are most likely to benefit from the remote work trend. These are knowledge-intensive roles that can usually be done using computer software and with less physical effort. These may include teaching college students, creating design layouts for print publications, and generating reports, among others.
Sectors with the highest potential for remote work
Finance and Insurance

Management

Professional/Technical/Scientific services

IT and telecoms

Education

Wholesale trade
Here's a table we extracted from McKinsey's study where they use the time spent on different activities within occupations in order to determine a job or a sector's overall potential for remote work.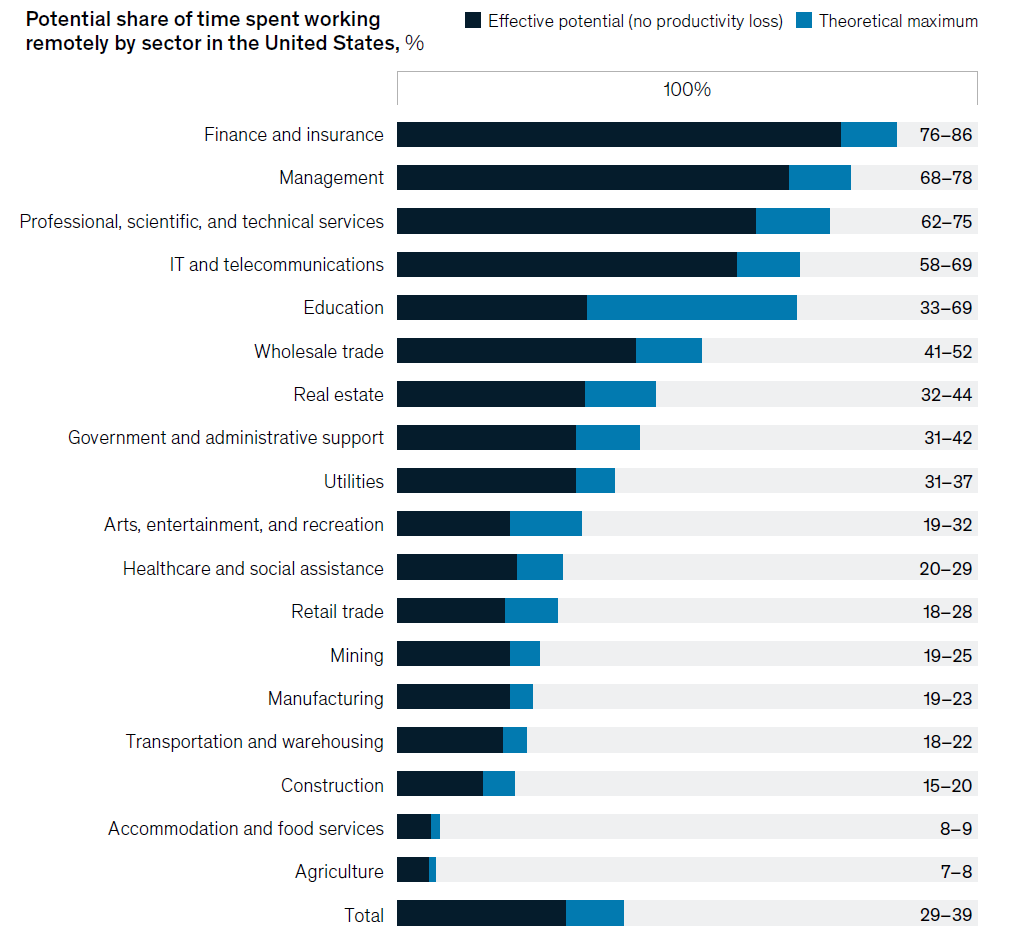 Image from McKinsey: What's next for remote work: An analysis of 2,000 tasks, 800 jobs, and nine countries
3. Large physical office spaces will become a thing of the past
Companies that shifted and currently shifting to flexible work arrangements are reconsidering the size, location, and design of their offices to better suit both the needs of employees and the business. A CBRE's 2022 survey that involved 185 companies of all office sizes in the US stated that 52% are planning to reduce their office space by up to 25% over the next three years. Another report showed that almost 74% of Fortune 500 companies also expect to reduce their headquarters. In fact, Twitter and Pinterest started subleasing some of their office spaces. But this is just the beginning, as other large companies will follow and expect an office-space pullback in the next few years. This means these employers will continue to allow their people to work remotely for an extended time or even forever and probably look for new remote employees in the future.
4. Remote work arrangements will be the best way to go
Despite companies calling employees back to the office, not everyone is back and will not be coming back. Employees love the autonomy, flexibility, and safety that come with working remotely. Some common reasons for not wanting to return include the risk of getting infected and long commutes. Some even opt to resign instead of going back to the office full-time. So to prevent the risk of losing your valuable employees, offering remote work arrangements is the best way to go.
The majority of people prefer full-time remote work based on the data we gathered. However, not all companies can do without physical offices. Certain industries still need workers on site, even if it's not for eight hours a day or five days a week. This fact has given rise to the notion of hybrid work as a compromise between a company's business demands and its employees' desires. Thus, experts predict that more companies will embrace this type of remote work arrangement.
Recent research showed that 74% of US companies are already using or planning to transition to a permanent hybrid work model. More importantly, over half of these companies give or will give their employees the freedom to choose when and how often they wish to come into the office. While the result may vary, some companies that have implemented this type of work arrangement expressed that their workforce has become stronger and more productive. Hence, companies see this as a great response to the ongoing demand for flexibility in the labor market.
Different Remote Work Options
With several advantages remote work has to offer, it's no surprise that it quickly becomes one of the most desirable benefits employees and job seekers want from employers. The freedom to work wherever they want with more flexible hours is a great motivation for workers who wish to focus on other things that matter to them outside of the office or those who can't simply stand the sterility and monotony of office life. According to The Wallstreet Journal's survey of over 10,000 workers, 95% want to set their own working hours, and 78% want location flexibility.
There are a number of different remote work options available to professionals today, and each has its own set of benefits depending on the company, industry, or geography. But according to a poll, 67% of 23,000 Americans would prefer to work 10 hours daily for four days a week, especially if their pay remained the same. This is because they believe they would be more productive with this type of flexible work arrangement. While this is the case, people have their own preferences, and they would probably choose the remote work model that best fits their needs, interests, and unique circumstances. Here are some of the different remote work models.
a) Fully remote. This is a working style that allows employees to work wherever they deem fit. They may also set their own working schedule and are not required to be physically present at traditional office space to get their work done.
b) Hybrid work. This is mixed of in-person and remote work models. Meaning employees work on-site on some days of the week and remotely anywhere they can be productive on other days. Some employers allow employees to choose which days they can come to the office and when they will work remotely. Nonetheless, this arrangement is set up based on a company's requirements.
c) Flextime. This remote work model gives employees the freedom to customize their own working schedule as long as they meet their contracted number of hours a day. This arrangement is typically set based on the agreed-upon limits that have been discussed with the employer. For example, if an employee is required to work 8 hours each day, instead of working from 9 am to 5 pm, they may opt to work from 8 am to 4 pm on one day and from 1 pm to 9 pm on another. However, this may require them to go to the office some or all of the time.
d) Part-time schedule. The part-time remote work model requires less than 40 hours of work per week. While it may vary depending on the location, it typically ranges from one hour to 34 hours weekly. Employees can work whenever they want on a temporary or permanent basis, depending on employer circumstances. But this may also require some time in the office.
e) Condensed Workweek. A compressed workweek schedule allows employees to work a full 40-hour week in less than the normal five days. The most common format of this arrangement is the four-day work week, where employees work 10 hours daily for four days. The common reason why employees prefer this is that it enables an extended three-day weekend instead of simply having two days.
f) Work from Anywhere (WFA). This arrangement gives the employees the full freedom to work wherever they choose. However, the work schedule may depend on what the employee and the employer have agreed upon.
g) Alternative schedule. An alternative work arrangement uses different remote working styles. It provides options for employees, which typically involve flextime, compressed workweek, job sharing, and hybrid work. This gives employees a chance to choose which one works best for them while taking into consideration the company's needs.
h) Freelance contract. A professional who works in a freelance contract is not considered an employee of a certain company. They work and are paid on a per-job or per-task basis, usually short-term or temporary. They have full control of their time and work location as long as they deliver the job within the agreed-upon timeframe.
FlexJobs asked 7,300 people what flexible work options they prefer, and here's the result.
Fully remote (76%)

Flextime (72%)

Part-time schedule (46%)

Alternative schedule (45%)

Hybrid work (43%)

Freelance contract (39%)
Benefits of Remote Work for Employees
As employees have experienced and adapted to new ways of working, they have discovered many new benefits and improvements from these changes, not only for their careers but also for their personal lives. For this reason, the majority of them are making a conscious decision to work remotely rather than just out of necessity. When Pew Research Center conducted a survey of over 5,800 workers, 61% said they're working from home because they chose to do so, and just a few cited concerns about being exposed to the coronavirus.
Employees are clearly seeing and feeling the benefits of working remotely. Remote work eliminates most of the traditional aspects of going to work five days a week, such as commuting and following a strict dress code. While there are also some challenges, like reduced social interaction or the risk of feeling isolated, unavoidable distractions, and technology failures, these can be resolved by being physically and mentally prepared as much as possible, and here are how.
Remote work can sometimes feel isolating due to the absence of in-person contact, which can result in mental health issues or unproductivity. To deal with this, consider including social breaks in your schedule and working in co-working spaces to communicate with people and establish meaningful connections. You can also practice being proactive in connecting with your teammates through video calls to engage more often and build rapport.

When working outside a traditional office, you cannot avoid getting distracted by the smallest things around you. So, it is important to have consistent working hours and a dedicated workspace in your home that you will use strictly for work. Also, keep the things you need close at hand as much as possible, so you don't have to move around more than you have to. If you prefer working away from home, make sure to choose a noise-free environment to keep distractions at bay.
Collaboration can be challenging when you and your team are working across different time zones. So to keep everything on track, plan your tasks efficiently and provide updates to your team on a regular basis. Also, set expectations about your availability by sharing your preferred time zones with your team. Lastly, make sure to take advantage of the tools available that will allow you to work productively with your co-workers despite time zone differences.

Technical hiccups can happen anytime. To ensure your device and software are all reliable, have them checked frequently. If you are not tech-savvy and cannot do it on your own, ask a technical expert. It is also a good idea to have backup devices such as an extra laptop or tablet to ensure you are prepared for the worst-case scenario.
In addition, based on the data we gathered, we believe that the benefits still far outweigh these challenges for most employees. Here are some of the benefits of working remotely, which may also be the top reasons why people are continuously seeking flexible work options in their current roles and future jobs.
Work-life balance

More family time

Time and money savings

Less/no commute stress

Not having to deal with office politics

Opportunity to travel

Better mental health

More time to exercise and better eating habits

Being able to provide better care for family members

Better/global job opportunities
Here's a table from FlexJobs showcasing other factors why people are chasing remote job opportunities.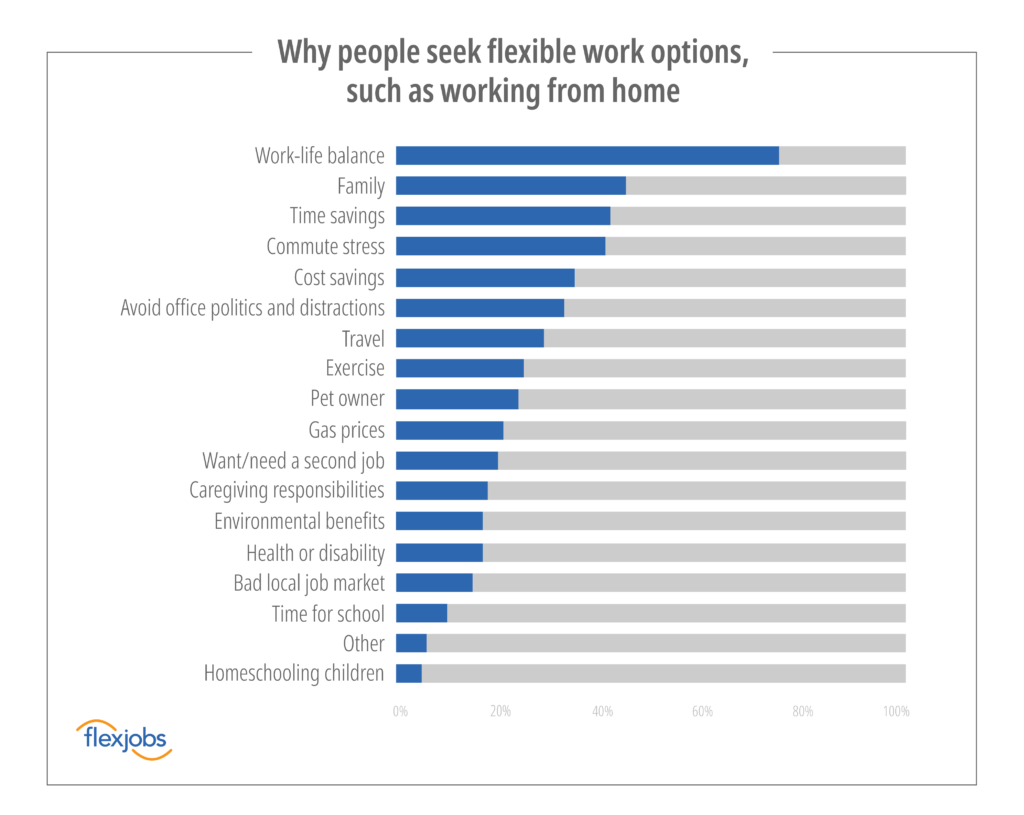 Image from FlexJobs 2019 Annual Survey: Flexible Work Plays Big Role in Job Choices
Benefits of Remote Work for Employers
Some employers are still hesitant about adopting remote work in their culture. In the same KPMG survey mentioned above, 5% or one in 20 companies do not have the plan to offer any kind of remote work model at all. This is primarily due to communication, productivity, and security concerns. In addition, they found that keeping track of employee activities, facilitating team building, and finding the right employees that thrive in a remote environment can be challenging. But these concerns can be mitigated with proper planning, processes, and tools in place.
Moreover, for most companies, the benefits of introducing a remote work model far outweigh any concerns that are commonly raised. This is based on PwC's survey of 133 companies, where 83% of them claimed that their shift into remote work had been an overwhelming success for both them and their employees. Their findings also showed that 6% more employee respondents said that they had become more productive after the full transition. In addition to productivity, remote work gives companies access to a wider, more diverse talent pool and helps build a stronger employer brand. With all of these, we can see that remote work is not going anywhere. In fact, companies may even prioritize this as a key part of their strategy to find the right employee their business needs the most.

Conclusion
Remote work has arrived in almost every sector and occupation. As a result, most companies have now acknowledged that it is no longer an option but a necessity in order to retain their valued employees, attract qualified talents, and survive the rapidly changing business environment. With the increasing number of employers shifting to these new ways of working, more opportunities are becoming available to remote job seekers like you. So, if you are looking to land your best remote work, whether a full-time or part-time remote job, we are here to support you. Reach out to us so we can tailor a solution that best fits your needs.