Remote work isn't new at all. But as the global pandemic dramatically changed the work landscape, it has become increasingly popular and is predicted to be a permanent fixture in the years to come. In fact, the Ladders projected that by the end of 2022, 25% of jobs in North America would become remote, and the opportunities will continue to rise through 2023.
With the data projection, we can say that many companies are now fully embracing the idea of remote working. They started offering flexible work arrangements not only to make their current employees safe and happy but also to attract the best candidates. If you haven't worked remotely before and are planning to move into this type of job, you may find yourself asking so many questions. What does it really mean to work remotely? How does it work? What types of jobs can be done remotely? In this article, we will provide answers to help you understand and adapt to remote work.
1. What is remote work?
Remote work is a flexible working style allowing employees to work outside of a traditional office environment. This can include working in the comforts of your home or traveling to work. This concept has proved that work does not need to be done in a certain place to be executed successfully. With the pandemic affecting so many lives, remote work provides an ideal solution for companies and individuals who need to keep their jobs and businesses running.
2. Types of remote work
Today, there are several ways to work remotely, and the options keep growing. From a fully remote job, where you set your own schedule and don't have to physically go to an office, to a mix of in-person and remote work, often called the hybrid-remote work model. While it also allows you to do your work wherever and whenever you want, it requires some time in the company's office. Not only does it provide the flexibility you may be looking for in a job, but it also gives you a chance to collaborate with co-workers in face-to-face interactions.
3. Comparison between remote working and other working styles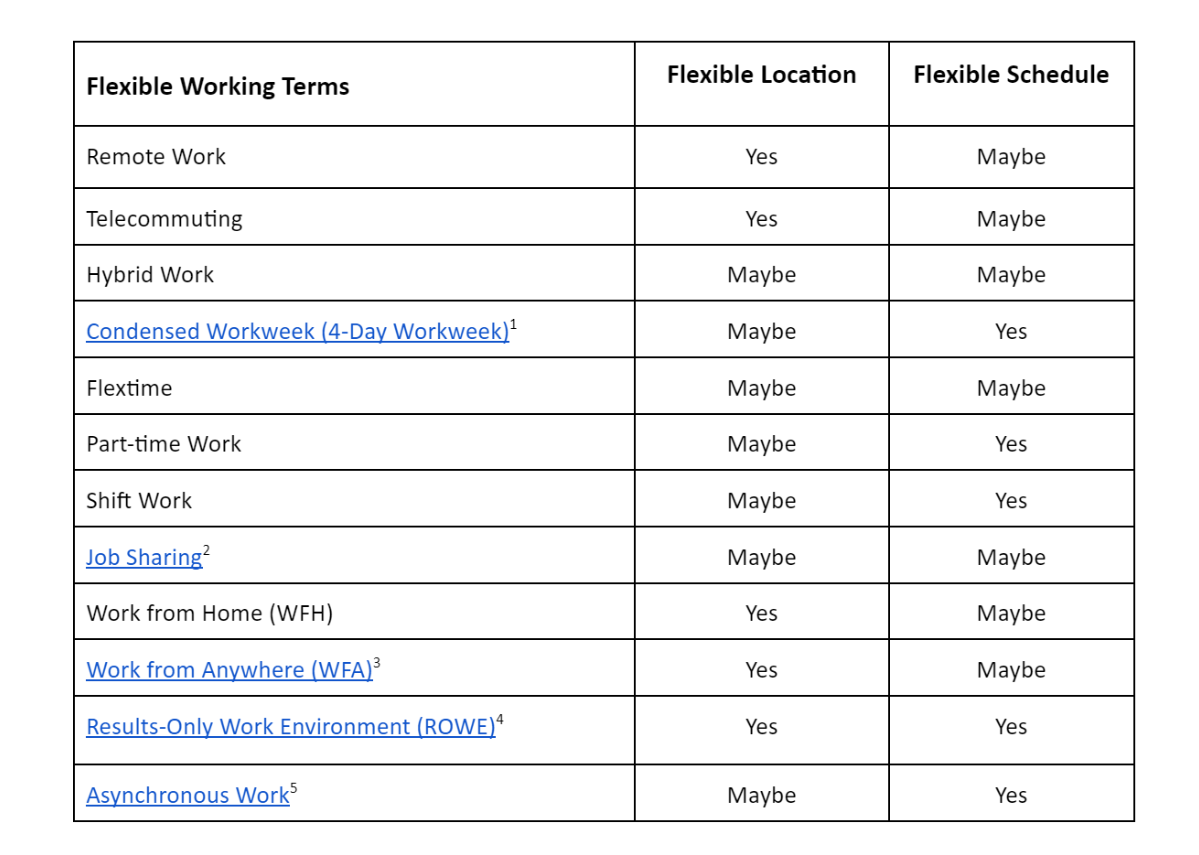 Table notes/Further readings: Note1 |  Note2  |  Note3  |  Note4  | Note5
We often hear several different terms being used interchangeably to refer to remote work. Some call it work-from-home or flex work, and some say telecommuting. However, while they may have a few similarities, there are some distinct differences too. We have created a comparison table that you can refer to for clarity.
4. Advantages of remote work
After many companies were forced to quickly shift to a fully remote work environment due to the pandemic, people saw its benefits and advantages. Now, most professionals prefer to work remotely even if it's safe again to return to the traditional office routine. In fact, one out of three job seekers would choose roles with remote work options over better job or salary offers. In addition, 80% said they would reject any company that does not provide such opportunities, and we know why. Here are some benefits remote work offers that almost all job seekers cannot afford to miss.
Offers better work-life balance, reducing stress and risk of burnout

Improves your physical and mental health

Eliminates lengthy commutes, leading to significant time and money savings

Gives you more safety as there's less risk of getting into accidents while traveling or getting exposed to a sick person

Enables you to set up and personalize your workspace in whatever way that works best for you

Allows you to focus better, increasing productivity

Offers better salary as employers pay for your skills, not based on your geographic location

Provides more access to job opportunities across the word

Gives you the freedom to relocate or travel more even without taking vacation leave

Reduces risks of office politics

Promotes inclusivity

– gives equal access to opportunities for every professional regardless of differences, including those with disabilities or belong to other minority groups

Improves sustainability and gives positive impacts on the environment – e.g., reduced pollution, traffic, and congestion
5. Challenges of working remotely & how to solve them
Even with all the above-mentioned benefits, some potential issues and challenges come with remote working. It is not always smooth sailing as you might think. So, before making the change and entering the remote work environment, make sure you are more than ready to face and overcome them in order to succeed. Here are a few of the challenges we are talking about and how you can overcome them.
a) Missed opportunities for meaningful in-person collaboration and knowledge-sharing
If you don't want to miss out on any opportunities that will help you improve your productivity at individual and team levels, consider the hybrid remote work model. As mentioned above, this offers a mix of remote work and traditional office routines. However, if you really prefer to work full remotely, you can take advantage of the available digital technology, allowing you to collaborate, share ideas, and communicate in real time.
b) Risk of feeling isolated and lonely working on your own
Lack of human interactions can lead to feelings of isolation and loneliness. To prevent you from feeling this way, make sure to include social breaks in your schedule. You can also consider working at co-working spaces and other places that can make you feel like you're working with your co-workers face-to-face. Lastly, converse with your remote team. Go beyond work-related discussions and project updates from time to time. This will not only make you feel less lonely but will also help build trust and high-quality relationships within your team.
c) Constant interruptions or distractions
Distractions such as kids playing, unexpected visitors, or noises from a group of people when working outside your home can't be avoided, causing you to lose focus on your work. While there's no way to avoid all interruptions at home, having a dedicated workspace and schedule can be beneficial. Set up a space you will only use for work and keep consistent working hours. If you prefer to work away from home, make sure to find a place that will allow you to focus and get your stuff done – somewhere quiet, tidy, minimal, and practical.
d) Time zone differences
It can be challenging to have immediate access to your co-workers when working from different locations and time zones. This means you can't always expect them to be available to help you address an immediate need. To solve this, make sure to plan your tasks and projects properly and efficiently. Optimize the tools you have to ensure everyone stays on track with the progress of your work and what's coming for them. This will allow for more effective collaboration and higher productivity.
e) Sudden breakdown of tools and equipment
Unexpected equipment failure, technical issues on apps, and internet outages are other remote work challenges you may encounter that can affect the productivity of the whole team. To avoid work delays, have a backup plan. Backup devices like a computer, tablet, or mobile hotspot can get you through the day until everything gets fixed. Also, make sure that your devices are regularly checked and updated, if necessary, to maintain reliability and prevent sudden breakdown.
6. What types of jobs can be done remotely?
Remote jobs are now available in a wide variety of industries and career categories. This is because of the continuous evolution of technology allowing many more jobs to be executed remotely. However, not all of these industries are fast to adapt and evolve in their capacity to offer remote work possibilities. In this case, you may want to focus your search for such opportunities in some major industries with various remote work potential, including the following.
Information Technology/Cybersecurity

Customer Service

Digital Marketing

Banking and Finance

Education

Health and Wellness

Pharmacology

Medical Science

Arts and Entertainment

Legal
7. High-earning remote jobs
Remote job salary varies depending on the title, experience level, industry, or company size. Nonetheless, there are remote jobs that offer a great salary regardless of these factors. In this section, we've created a list of these remote jobs that will not only allow you to work full remote or hybrid but also pay well. While these occupations need at least a four-year degree, they are in demand and have high earning potential. Here are the top 15 high-paying remote jobs you may be interested in applying for.
Of course, these are not the only remote jobs that pay well – the list goes on. If you are trying to find the one that best suits your expertise, aligns with your interests, and offers a decent salary, our team of experts can definitely help you. We at CareerHigher provide comprehensive and tailored solutions for unfulfilled career changers looking to go remote. Also, we've listed a few tips and resources in this article to help you get started. So, keep on reading.
8. Tips on how to find the best remote job
Job searching is never easy, regardless of what types of jobs you're looking for. But don't worry, we got you! As we are on a mission to help job seekers do what they love, we are providing you with some practical tips to increase your chances of finding the remote job of your dreams.
9. Must-have skills to work remotely
Remote work can be a huge adjustment for anyone. While having specific industry expertise and experience is key to doing the job duties well, they may not be enough. In order to remain productive and successful in this type of work, it is also important to recognize what it takes to be able to balance your workload and overcome the handful of challenges that come along with working remotely. To achieve maximum productivity, you need to have some additional essential skills, such as the following:
a) Technical knowledge and skills
Remote work requires you to use various tools to manage your job efficiently and communicate with your team. While you don't need to have in-depth knowledge of every type of technology, you must be comfortable accessing the platforms and software your company uses every day. Also, you should always be ready to try out and adapt to new tools to stay connected and prepared in case you experience technical issues with your current tools.
b) Ability to work independently
As mentioned above, one of the challenges when working remotely is you might not be able to get an immediate response from your team whenever you have concerns. Hence, working and making decisions independently is important to ensure you do the job well as expected. In certain cases, you must be able to continue working with little or no assistance at all.
c) Verbal and written communication skills
The majority of communication when working remotely happens through video conferencing, email, and chat. So, it is important for you to have the ability to communicate clearly with a diverse group of people, both verbally and in writing. This will prevent miscommunication, save a significant amount of time, and improve productivity.
d) Collaboration and teamwork
Working remotely doesn't imply working alone. You're still part of a team but spread across geographies and time zones. This is why collaboration and teamwork are more important than ever. You must be able to collaborate and constantly stay connected with your co-workers despite working from different locations and times to solve problems and get important things done.
e) Organization and time management skills
Keeping things organized when working remotely can be challenging. You need to find ways to prioritize your own tasks and ensure all your work gets finished on time. Without a manager to monitor your progress, you can lead to overworking. So, to be a successful remote employee, you must be able to identify your priorities and create a system to manage your time and work output effectively.
10. Ten most popular job boards to find a remote job
As remote work's popularity increases, more and more job search sites dedicated to remote work are becoming available. However, these don't really make the search for remote jobs simpler. Because of so many different options, knowing where to look first can be confusing. So, to help you get started, we've listed the 10 most popular remote job boards that are proven to be user-friendly, have up-to-date listings of job opportunities unrestricted by geography, and offer different career resources that can be beneficial to your job search. Let's explore each one of them below.
1) We Work Remotely: We Work Remotely is one of the largest and longest-running remote job boards focused primarily on programming jobs. They have grown over the years and now feature other job categories, such as copywriting, sales, marketing, and product management. They have a track record of connecting more than 130,000 users with remote opportunities monthly.
2) FlexJobs: Having more than 50 remote job categories, FlexJobs is considered to be one of the best job boards for remote work opportunities. They are also known for featuring only legitimate and high-quality remote jobs because they have a team that vets jobs and companies before actually listing them on their job board. They currently host over 25,000 full-time remote, hybrid, and option for remote job postings.
3) Remote.co: Remote.co is actually part of FlexJobs but provides additional remote job postings. They cover a wide variety of remote job categories, including accounting, writing, programming, web design, legal, and more. They also have great resources of articles about remote working and a Q&A section where you can find answers to some frequently asked questions about remote jobs and companies.
4) Jobspresso: Aside from having a high volume of remote job listings, Jobspresso is a popular job board because they post new remote jobs every day. They also vet every single of them before posting them, so you never have to worry about scams and fake job opportunities. Also, their listing is color-coded by categories, allowing for easy job searches.
5) AngelList (Currently Wellfound): If you are interested in working remotely at one of the world's most innovative start-ups, AngelList should be your go-to job board. They update their job listings daily. Using their job board is free, but you need to create an account to access their full job database. Your profile will serve as your resume, so make sure it stands out. Doing so increases your chances of getting contacted by potential employers.
6) Working Nomads: Working Nomads is one of the best job boards for someone who wants to be a true digital nomad and explore the world while earning. They list various digital job opportunities from companies globally, which are curated from other remote job boards and similar employment sites. Their site has a great tag system and very easy-to-navigate features to allow you to easily search for remote jobs that interest you.
7) JustRemote: JustRemote lists hundreds of remote jobs from more than 15 countries worldwide every day. Their job listings range from entry to management and executive-level positions across various functionalities, such as writing, customer service, business, social media, recruiting, and more. You can subscribe to their weekly remote job alerts by simply registering your email to receive immediate notifications about jobs of interest in your inbox.
8) Hubstaff Talent: Hubstaff Talent is another great source of remote job opportunities, whether full-time, part-time, or hybrid. Their mission is to connect companies with the best remote talents. Hence, they offer features that allow you to find the job posts that most interest you and align with your experience and skill sets. You can filter jobs by type, skill, pay rate, employer budget, experience, and country.
9) Remote OK: Remote OK offers an extensive database of tech-focused remote jobs. Nonetheless, there are also some positions in other categories, such as finance and medical. Their job listings are tagged and categorized by colorful and convenient labels, making job hunting easier for you. You can use their advanced filters to search by category, salary, benefits offered, and location.
10) Remotive: Remotive is not your ordinary remote job board, as they consider themselves a community for remote workers. They feature various hand-picked remote job opportunities from leading companies, such as Zapier, Stripe, Square, and Shopify. In addition, they offer a place where job seekers like you can network, build connections, and ask remote work-related questions. You can also sign up for free, allowing you to receive an email whenever new jobs in your category are posted.
11. Best companies for remote work
More and more companies are embracing the new normal of remote working. But of course, we've only listed the best ones based on the remote work options and benefits they can offer you. Have a look at the list of leading and well-known companies below and see if one of them is your dream employer.
10 best fully-remote companies
Zapier: A technology company,

See full-time remote job openings

Shopify: An eCommerce company,

 

See full-time remote job openings

Cisco: A software development company,

 

See full-time remote job openings

Automattic: A technology company,

 

See full-time remote job openings

CVS Health: A w

ellness and fitness services company, 

See full-time remote job openings

GitLab: an

IT services and IT consulting company,

See full-time remote job openings

Dell Technologies: An 

IT Services and IT Consulting company, 

See full-time remote job openings

EF Education First:

An education administration company, 

See full-time remote job openings

Stryker: A m

edical equipment manufacturing company; see

 full-time remote job openings
10 Best hybrid companies
12. Requirements for successful remote working
"How does remote working work?" you ask. Well, there is no single best approach for this type of work because every company's remote work culture is different. It may also depend on other different factors like the company's industry and operational work type or the time zone the employees work in. Nonetheless, if you are moving into remote work, there are some basic yet critical things you should prepare and understand to make it work for you.
a) Good understanding of the company's remote work guidelines
Before applying to a particular company with remote work opportunities, it is best to know and understand their guidelines and ground rules. Some companies published this online to detail how they conduct remote work, including their approach and philosophy. But if you can't find it online, make sure to ask them about it before sending an application. Having a good understanding of how remote working works for your target company will allow you to determine whether they are aligned with your interest and lifestyle.
b) Strong, fast, and reliable internet connection
In this day and age of remote work, a good internet connection that can support intensive use is more important than ever. It will enable you to collaborate conveniently, participate in video conferencing or webinars without any issues, and access the necessary files quickly and easily. In a nutshell, a reliable internet connection is essential for productivity, allowing you to get things done more efficiently.
c) Reliable device and software tools
Some companies provide the tech and tools required to handle your work remotely, including a laptop and the necessary applications. However, there are also cases where remote employees have to use their own devices. So, make sure you have reliable equipment ready to get your work done. While some communication and collaboration tools are free, you may also consider investing in other high-quality applications and programs for a more efficient remote work experience. 
d) Functional workspace
Finding the right remote workspace is another key to having a successful remote work experience. While you can always work from your favorite spot or any location of your choice, it is also important to ensure that the environment will allow you to focus and be productive. Apart from setting up a comfortable work area at your home, you may also consider libraries, quiet cafes, in-house restaurants, and galleries as your remote workspace.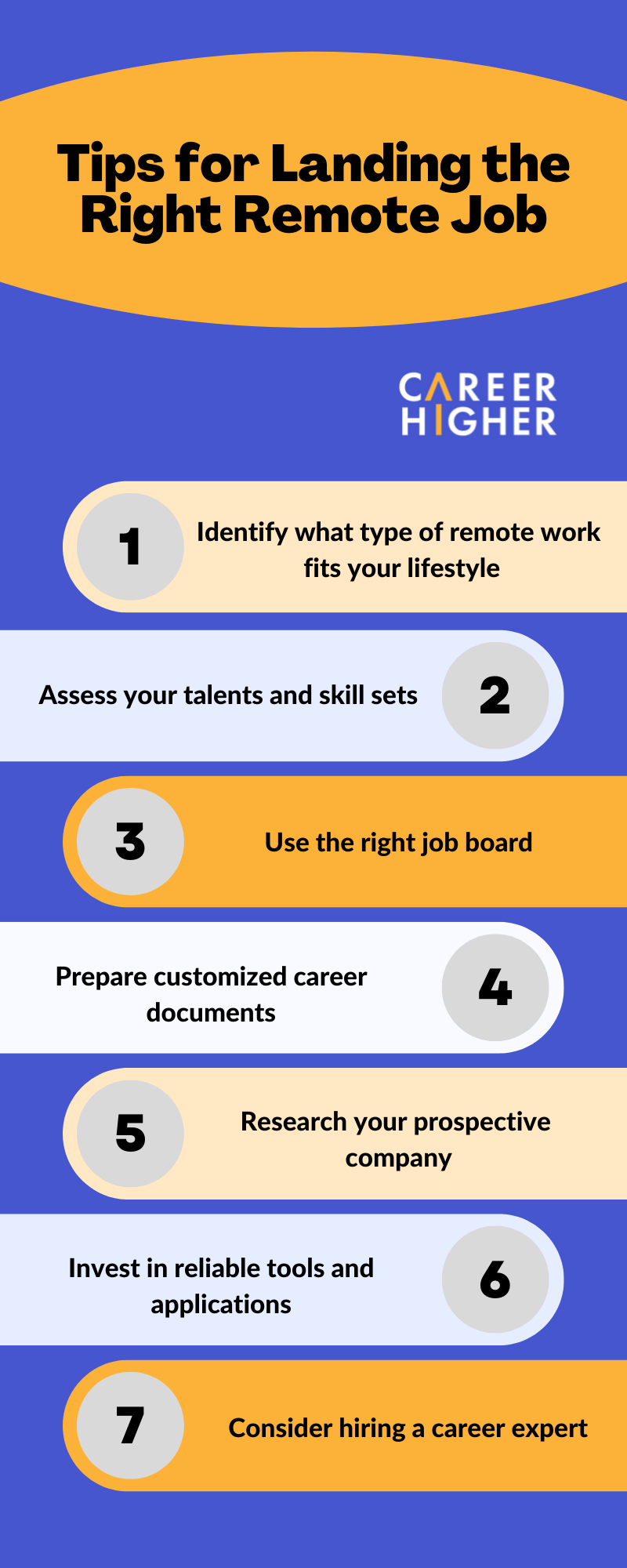 Conclusion
With the flexibility, work-life balance, and other benefits remote work offers, it is no wonder that many professionals are considering transitioning to this type of work model. However, it won't be easy as pie because it also comes with a few challenges that you must be ready to face and overcome. Nevertheless, we would happily support you in every phase of your career transition – from identifying your dream remote job and tailoring best-practice career documents to preparing for interviews. Reach out to us, so we can create a solution that best fits your need.