"Why are you interested in this position?" is one of the most common interview questions asked by employers. Although it may appear like an innocent question from a curious interviewer, your response could influence the outcome of your interview. Employers use this question to differentiate applicants who are motivated to work with them from those who simply submitted a random application.
Your response could be the determining factor in whether or not you progress to the next stage of the hiring process. Hence, providing an answer that demonstrates your genuine interest in the role, company, and industry is imperative. To help you nail your response, we have some helpful tips on how to answer "Why are you interested in this position?".
Why Interviewers Ask "Why Are You Interested in This Position?"
To craft an effective response, it is vital to understand why interviewers ask this question and what they are expecting to hear from you. While relevant skills, experience, and credentials are important, employers are also looking to hire candidates who are genuinely interested in working with them and ready to put in the effort required to succeed. By asking the question, employers gain critical insights into your interest in the job, the company, and the industry.
More specifically, interviewers are looking to confirm your understanding of the position you're applying for and how it aligns with your experience and career aspirations. This allows them to evaluate your level of motivation, as well as your priorities and preferences. As a candidate, this is an excellent opportunity for you to demonstrate that your application is part of a well-thought-out career plan and persuade the employer that you are prepared to work hard and be successful.
Tips and Tricks for Answering "Why Are You Interested in This Position?"
Preparation primarily entails taking the time to thoughtfully consider your goals and qualifications relative to the position and the employer. By being prepared, you obtain a better understanding of what your interests and priorities are, how they relate to your target role, and why you would be a good fit for what the employer is looking to hire. Thus, allowing you to come up with a compelling response and perform at your best during the job interview. Let us take a look at some of the tips and tricks on how you can prepare and structure a response effectively.

a) Get to know the job
Before the interview, revisit the job description and read it carefully to understand the responsibilities of the role. Then, identify the most important elements of the role, such as the job's key requirements and must-have skills. Based on this, think about how your background, interest, and skill set align with the position you're applying for. This information is crucial for effectively articulating your motivation for applying and understanding which of your qualifications are most pertinent to the role.
b) Research the company
Apart from your qualifications, the interviewers are also interested in understanding if you share and align with the company's culture. Hence, researching the company is also vital in composing a genuine and informed response. Getting to know the company will make it easier for you to communicate specific interests when asked during the interview. Below are some great resources you can use to learn more about the company.
When researching the company, check their values, mission, and culture, as well as the products and services they offer. Do their products and services align with your interests? Does their mission resonate with your passion? Use what you have learned about the company to effectively communicate why the company is your employer of choice.
c) Reflect on your career trajectory
The job you're applying for will play a vital role in the achievement of your career goals. Hence, considering where you want to see yourself in the future is essential. By reflecting on your career trajectory, you will be able to visualize how your target job fits into your broader career plan. Sharing this with the interviewer will allow them to gauge whether there is an alignment between your plans and what they are looking for. Here are some questions to ask yourself that may help you reflect on your long-term professional goals and aspirations.
Where do you want to be in two, five, and ten years?

What kind of industry and employer do you want to work for?

What are the key things you enjoyed the most about your past or current jobs?

Are there things you didn't like doing in your previous or current roles?

What are your preferred ways of working?

What are you really good at?

Which of your skills need improvement?
4) Structure your answer into three parts: professional, cultural, and personal fit
Now that you have gained a better understanding of the role, the company, and your career aspirations, it's time to bring it all together. To formulate a compelling response, we recommend showing them that you're the best candidate for the job in terms of professional, culture, and personal fit. Covering these three aspects can help boost your chances of persuading the interviewer that you have a genuine connection with the company and a passion for the role you applied for.
Professional fit

– Focus on relevant skills that will enable you to help the company accomplish its goals. This will allow you to communicate your excitement about what you will accomplish for them while emphasizing how you can positively contribute to the business.

Cultural fit

– Name a couple of things about the company that captivated your interest, making them your employer of choice. This can be related to their mission, vision, values, culture, and/or brand.

Personal fit

– Close off your answer by briefly mentioning one to two things that make the job or company appealing to you at a personal level. Some examples may include the company being in a favorable location or wanting to be part of a product/service you've always used and loved.
What to avoid
Apart from learning how to answer "Why Are You Interested in This Position", understanding what to avoid is also important. This helps you maintain awareness of the things you should not say that may suggest a lack of enthusiasm and sabotage your success. Here are some of them.
Specifying an

attractive compensation

package as the main reason for being interested in the company and the position

Providing generic answers such as, "Company X seems like a great workplace.", "The job sounds interesting", or "I just need a job."

Seeing the role as a stepping stone for better career opportunities

Badmouthing your previous or current employer
"Why Are You Interested in This Position?" Sample Answers
Here are a few examples of how you can put the above tips and tricks into practice.
"I am interested in this job because I get to utilize my project management expertise. I am also excited about the opportunity to be involved in digital transformation projects, which I am very passionate about. After doing some research about Company ABC, I've discovered how our overall values closely align. As a Senior Project Manager for the last five years, I have developed cost-effective strategies for executing small to large-scale projects, and I look forward to bringing these strategies to your company. Also, this job is in a great location for me, which is a big plus."
"I was drawn to the position because it aligns with my overall experience and passion for finance and data analytics. More specifically, developing financial models, forecasting revenue, and preparing cost projections were key parts of my day-to-day functions as a Financial Analyst. Also, I've discovered in my research that Company ABC was named among the best companies to work for. I am excited at the prospect of working with one of the top companies and putting my skills to good use in order to help enhance financial efficiency."
"I have always enjoyed working in a product management function as I believe it provides a unique opportunity to combine technology and commercial acumen to drive business impact. From the job description, it looks like you are looking to hire someone with outstanding multitasking skills, which aligns with my expertise. The multifaceted nature of my job has made me an excellent multitasker today, allowing me to balance multiple responsibilities while maintaining high-quality work. I'm also looking for a role at a company like yours that promotes environmentally friendly and sustainable products, which I am very passionate about."
Other Ways Employers May Ask "Why Are You Interested in This Position?"
There are various ways interviewers may ask this question. While they may seem to vary, there is no need to reinvent the wheel. All varieties of the interview question "Why Are You Interested in This Position?" require a similar response. Hence, the same tips and tricks discussed above also apply. Here are the other ways employers may ask you the question.
Why do you want to work here?

Why are you a great match for this role?

Why do you want the position?

Why are you applying for this position?

What interests you most about this position?

Why this company?

What makes you a good fit for this position?

Why should we hire you?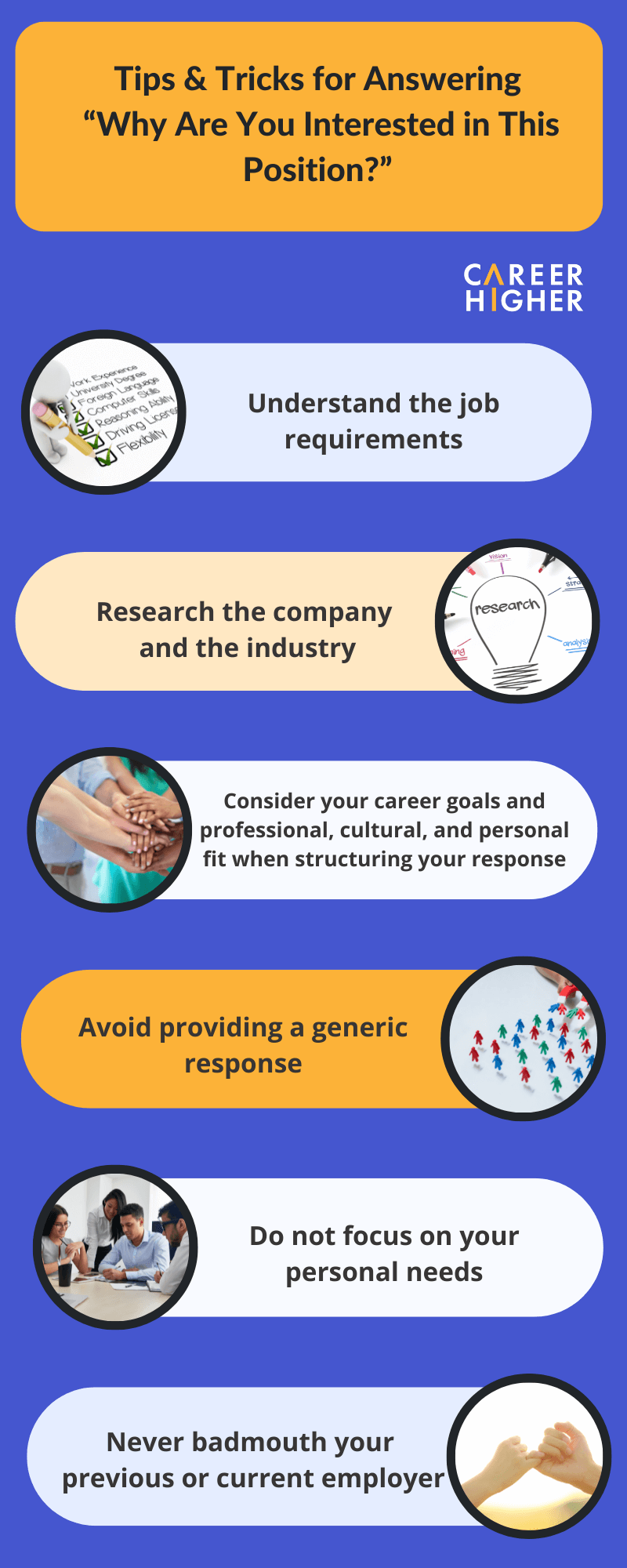 Employers ask "Why Are You Interested in This Position?" to learn more about your motivation for applying. While you may have various reasons for wanting a new role, it is imperative that you provide a response that will serve you best in the interview. By following our tips and tricks above, you could be viewed as a more desirable and deserving candidate. If you need help with interview preparation, feel free to reach out to us.