Like many job seekers, you may also be looking for a job opportunity on LinkedIn. And why not? With over 58 million companies and over 87% of recruiters regularly using LinkedIn, it is no surprise. LinkedIn, when used correctly, could get you your next job.
While most candidates apply for jobs through LinkedIn's job boards, reaching out to recruiters directly can give you a competitive edge. However, it is crucial to do it the right way. In this blog, we'll discuss the most effective strategies for reaching out to recruiters on LinkedIn, so you can stand out from the crowd and land your dream role.
Should You Connect with Recruiters on LinkedIn?
Absolutely, yes! It is a widely accepted practice for job seekers to reach out to recruiters on LinkedIn. Better yet, it can act as a catalyst for your application by putting you a step ahead of others. Connecting with recruiters on LinkedIn helps you in the following ways:
Shows Effort: It shows the recruiter that you are genuinely interested in the job and have carried out some research on it.
Increases Visibility: LinkedIn job posts receive hundreds of applicants. Connecting with the recruiter directly can get you noticed.
Tip: Be polite and professional throughout the process!
To create a strong first impression, you may also want to ensure that your LinkedIn profile is optimized for your target job before you reach out to recruiters. Next, let's look into the process of making these pivotal connections.
How to Connect with Recruiters on LinkedIn
You can connect with recruiters or hiring managers on LinkedIn either by reaching out to them directly or optimizing your profile to attract their interest. While both these approaches require different steps, the end goal is to catch the recruiter's attention and make them take notice of your profile. Thus, a great place to start would be to craft a perfect LinkedIn profile, which accurately reflects your skills, achievements, and career trajectory. Let's explore these two approaches in more depth below.
1) Let Recruiters Find You
Optimizing your LinkedIn profile should be your first approach when trying to connect with recruiters on LinkedIn. While this approach may seem more passive, it greatly increases your chances of being found by recruiters searching for a skillset similar to yours. It is important to keep in mind that this is a continuous effort, and you should frequently update your profile to showcase your new skills and achievements.
a) Carry out keyword research
When optimizing your profile for a job hunt, start by carrying out thorough keyword research on your target job and industry. Once you have identified relevant keywords, incorporate them into your LinkedIn profile. This will enhance the visibility of your profile and help the right people find it.
Here is how you can find the right keywords:
Start by identifying the target roles that you're interested in. To do this, you can look up job postings on various job search sites or check out the company websites. This will give you a good idea of the different types of roles that are available. 

Once you have identified some target roles, analyze the roles by reading through the job descriptions provided.

As you analyze the job postings, identify keywords and important skills that appear across the listings. These sets of skills are most relevant to your target job.

Go through the list and understand how you can incorporate these keywords into your profile.
b) Create a great LinkedIn profile
Once you have carried out your keyword research, the next step is to use this information to create a great LinkedIn profile. Here are the key areas to focus on:
c) Make connections 
A strong network can take you a long way. To enhance your visibility on LinkedIn, connect with professionals and experts from your industry. These could be people that work in similar job roles, employees of your target company or subject matter experts from your target industry. Also, consider joining relevant LinkedIn groups, which are related to your field of interest. This can not only help you catch the recruiters' attention but also help you stay informed about job openings. 
d) Be more visible 
By engaging effectively on LinkedIn, you can increase your visibility and position yourself as a valuable asset to potential employers. To do so, be active in the LinkedIn groups you join, engage in group conversations, share your expertise, and offer to help wherever you can. Additionally, share useful content related to your industry and add your own insights and opinions. If you enjoy writing, publishing articles on LinkedIn can also help build your reputation and enhance your visibility on the platform. These actions can help you get noticed and build relationships with recruiters.
Once your profile is out there, you are likely to receive incoming requests from recruiters and other professionals in the field. Then, it is as simple as striking up a conversation. You can also share your resume and build a relationship with recruiters. You could reach out to them at a later time when a relevant job becomes available.
2) Reach out to the recruiters directly 
If you need to expedite your job search process, it's a good idea to reach out to the relevant recruiters directly. This is a more direct and active approach and can be particularly useful if you've already found your target job. Let's explore the approach in greater detail: 
a) Find recruiters
When you're looking for a job, connecting with the right people can be a great way to get your foot in the door. However, it can be challenging to identify who these "right connections" are during your job search. In the following section, we will explore various scenarios that can arise during your job hunt and provide tips on how to find and connect with the right people. 
If you found your target job on LinkedIn's job board

: Take a look at the job post to find out who posted the job. The name and LinkedIn profile of the user should be visible beneath the job title. Generally, it's a recruiter or the hiring manager who shares the job. 

If you've identified your target company but not a target job:

Suppose the recruiter is not mentioned in the post or you have just identified your preferred company, you can search for people that work within the company and then filter it down by job roles such as: "Recruiter," "Hiring Manager," "HR Manager," "Head of Talent Acquisition," and "Recruitment Consultant," etc. Better yet, if you know someone in the company, you can speak to them and find out who you should be speaking to.

If you are uncertain of which job or industry is right for you

, start by researching recruiters who specialize in your field or who have experience working within related industries. For instance, if your interest is in marketing, search for recruiters specializing in that role. Once you've identified the relevant individuals, reach out to them and ask their advice on potential job openings that fit best with your skills and interests.
Now that you've found the right recruiters and headhunters, you'd want to reach out to them. Start by sending out a connection request to them with a customized message. When you send a personalized message, it shows you've done your research and are genuinely interested in the job opportunity. This can set you apart from other individuals who send generic connection requests. Let's look at how we can do that. 
b) Send a Connection Request
Connecting with the right recruiters and hiring managers on LinkedIn is a crucial step in your job search journey. It's a simple and straightforward process that begins with clicking the "connect" button on the person's profile. However, it's not enough to simply send a connection request – the message you include with it can make all the difference.
There are two primary ways to reach out to people on LinkedIn:
InMail

– If you have a premium LinkedIn account, you can reach out directly with an InMail message. InMail is a feature that lets you send a direct message to those outside of your network. You can send out an InMail message just before you send in a connection request. InMail will appear directly in the LinkedIn inbox of the recruiter. 

Connection Message

– If you do not have InMail, you'll have to send a connection request and then add a personalized message to it. You can do this by choosing the 'Add a note' option that LinkedIn shows post a connection request. This message will appear beneath your connection request when the recruiter looks at their network tab. 
Whether you get noticed or not depends on how effective your first message is. So you'd want to put your best foot forward. Later in this article, we have shared some templates to help you send effective messages. However, there are a few general rules to keep in mind when you're crafting your message.
Keep it short

– If you're sending a connection request message, you have to adhere to the character limit placed by LinkedIn. Even if you're sending a direct message, it should be precise, as recruiters possibly receive thousands of messages a day. So you'd want to get to the point fast. 

Be clear

– Don't beat around the bush or overwhelm the recruiter with abundant information right at the start. Your goal is to simply get the conversation started. Be clear about your intentions, start with a crisp introduction, and then inform them why you're making the connection. Also, ensure that you don't make any grammatical errors or spelling mistakes. 

Add a Call to Action-

It is imperative that you provide the recruiter with a clear "next step forward". You could go with something as simple as "Let's connect", or "Hoping to hear back from you soon." 
c) Follow up with the recruiter
If you haven't received a reply to your message, it's okay to follow up after a few days. For InMail messages, you can ask the recruiter if they've seen your message or if the job role is still open. For connection request messages, the recruiter may have accepted your request but missed your message. You can send a simple 'thankyou' message and express your interest in continuing the discussion. In any case, avoid complex follow-ups that divert the attention from your original text. 
Top Tips for Maintaining Relationships with Recruiters on LinkedIn
Connecting with the recruiter or hiring manager is just the first step in building a relationship that could benefit your career in the long run. Even if they aren't able to help you immediately, don't give up! Outside of a straightforward recruitment process, you would want to keep in touch with recruiters in case a relevant opportunity comes along at a later time. There are a few key situations where this can come in handy: 
a) Follow Up Regularly
Stay in contact with your recruiter on a regular basis. You can send them a quick message or email every few weeks or months to maintain the relationship.
b) Provide Value
Share industry insights and articles that the recruiter may find beneficial. Doing this helps you establish yourself as a valuable resource and keeps you at the top of their mind.
c) Be Courteous and Professional
Make sure to always maintain a professional demeanor when dealing with recruiters. Doing so will help build trust and rapport, making it more likely that they will remember you in the future.
d) Offer Help
When you come across job openings that might interest the recruiter or their network, don't hesitate to share the details with them. Being generous on LinkedIn and offering assistance can go a long way towards building and maintaining relationships.
Connection Request Message Templates
Now that you've learned how to connect with recruiters on LinkedIn, we'll share some examples of LinkedIn messages that can catch the reader's attention. However, remember to tailor your message to the specific person, job opportunity, and your own unique experiences and qualifications. Here are some LinkedIn message examples that can generate responses: 
1) After sending a job application
Hello <Name>,

My name is <Your Name>. I currently work as a <position> at <company>. I recently applied for a job vacancy (add a reference number if any) shared by you on LinkedIn. I would love to connect with you and learn more about the role and organization, while also taking the opportunity to discuss how my skills & experience make me a good fit for this role.

Hoping to hear back from you soon.

Thanks,

<Your Name>
2) Looking for new opportunities
Hello <Name>,

My name is <Your Name>. I am a <job role> with <years> years of experience. I am currently looking for opportunities in <field or role> to further my career journey. Would you be open to having a chat about any relevant opportunities?

Thanks,

<Your Name>
3) Building your network
Hello <Name>, 

My name is <Your Name>. I am currently working as a <position> with over <years> years of experience. I am looking to expand my professional network and connect with like-minded people from the field. I would love to connect with you and learn more about your work.

Hope to hear from you soon.

Thanks,

<Your Name>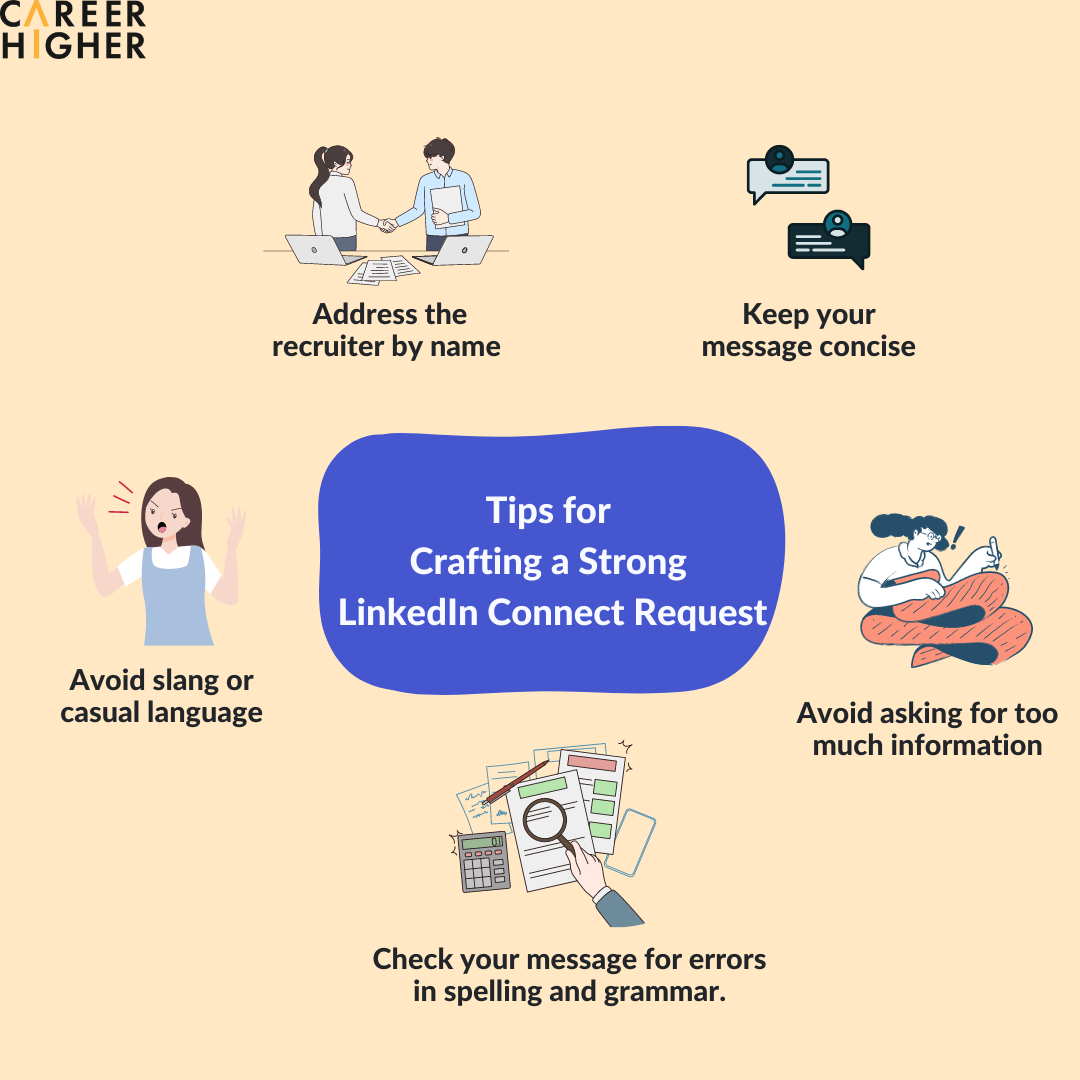 Connecting with recruiters on LinkedIn is increasingly becoming crucial in today's competitive job market. While it may not be a step in the traditional job hunting process, doing so can greatly increase your chances of landing your dream role. If you're confused about how to leverage LinkedIn to your advantage, check out our expert career solutions for personalized guidance and effective LinkedIn strategy development.
This article is co-authored by Deesha N.