No matter how stellar your educational qualifications or work history is, how you communicate with potential employers plays a vital role in a successful job search. The impression you leave on the hiring manager or the potential employer impacts your chances of being called for an interview and, ultimately, securing the job position. However, applicants often underscore the importance of professional communication in the job-hunting phase.
If you struggle with engaging with employers or can't find the time to compose effective messages, this blog is for you! We'll discuss how you can utilize ChatGPT's capabilities to improve your interactions with employers and confidently navigate the job search maze. So, keep reading!
What are the benefits of using ChatGPT in job search correspondence?
Before you start using ChatGPT, it's important to understand how it can help you improve your communication process with employers. Here are some key benefits of using ChatGPT:

Increased efficiency:

ChatGPT can not only support but also accelerate your communication process. It can offer valuable suggestions and generate responses quickly, saving you time and effort in writing personalized emails, thank-you notes, and pitches. 

Better quality:

ChatGPT can help you improve the quality and effectiveness of your conversation. It offers suggestions, prompts, and examples to enhance your correspondence. As a result, you'll feel more confident and at ease while interacting with target companies. 

Customized content:

ChatGPT can help create tailored content per your individual needs and goals, such as creating a customized elevator pitch for a specific job or sending personalized thank-you emails. Thus, you can quickly adapt your communication for different job roles, industries and recipients.

Improved writing:

ChatGPT can assist you in improving your language usage, grammar, and overall writing quality, especially if English isn't your native tongue. By suggesting alternative phrases, sentence structures, or word choices, ChatGPT can help you maintain polished and professional communication. 

Stimulates creativity:

If you're feeling stuck or confused, ChatGPT can be an excellent tool for generating new ideas. It can offer suggestions or advice you may not have considered, helping you stand out among other job candidates.
How to use ChatGPT to improve applicant-employer communication?
With ChatGPT, you can improve your communication with employers, make a positive impression, and boost your chances of finding a job. In this section, we'll explore a variety of situations in which you can leverage the AI tool's capabilities to optimize your interactions with your potential employer. 
1) Creating an effective pitch with ChatGPT
Creating a captivating elevator pitch is extremely useful for successful networking during your job search. An elevator pitch, also called a networking pitch, allows you to sell yourself as a professional, providing a compelling synopsis of your experiences, skills, and achievements. Whether you're reaching out to people on LinkedIn or via email, or attending networking events, an effective elevator pitch can help you pique the interest of your potential employers.

Your pitch should include a clear introduction about yourself, your reason for reaching out to the specific person, and a compelling call to action. Here is a ChatGPT prompt you could use for the same:

Prompt: Create a concise, professional and compelling elevator pitch for <insert job title> role at <insert company name>.

I am reaching out to <insert name>. Here are my key achievements: <mention relevant achievements>

Here is my resume: <insert resume>.


Here is the job posting: <insert job description here>.

I have already applied directly but I am keen to discuss this opportunity further.
Here are the results generated by ChatGPT: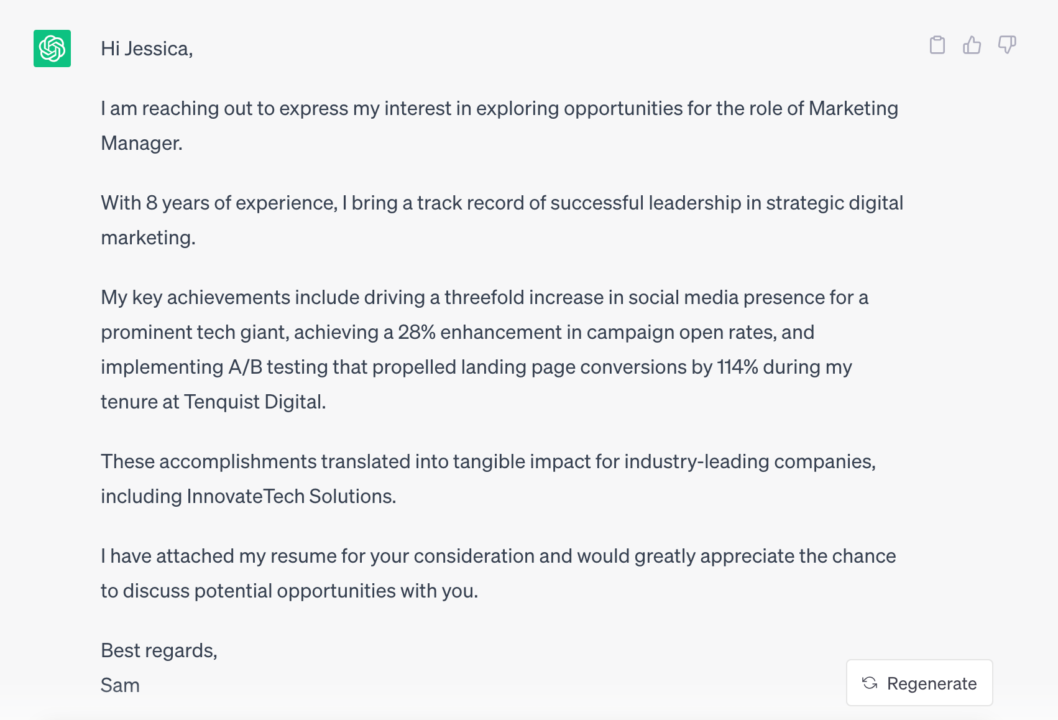 Remember to customize your pitch based on your specific situation, your target job, and the person you're contacting. For example, if you're reaching out to someone on LinkedIn, you'll have to create a shorter pitch to adhere to LinkedIn's character limit. If you're contacting a recruitment agency, you should emphasize your experience, skills, and qualifications more than your target jobs.
In this context, it's worth noting that while requesting ChatGPT to create concise content, it occasionally tends to produce responses that are lengthier than intended. To address this, you can follow up with prompts to make the content sharper or specify a word count to achieve the desired results. Just remember that while crafting your elevator pitch, it's crucial to consider your audience and the medium you're using to connect with them. Feel free to tailor the provided prompt according to your needs to generate the precise outcome you're aiming for.
2) Following up with an employer
Sometimes, the recruitment process can drag on for weeks (and even months). During this time, waiting for a response from a potential employer can be frustrating. But remember, it's not only acceptable but often appreciated if an applicant follows up, provided you do so after giving a reasonable amount of time to the hiring manager.
According to a study, 73% of hiring managers stated that a job seeker should follow up if they are still waiting to hear back one to three weeks after submitting their resume or appearing for an interview. Here is a ChatGPT prompt you can use to draft a follow-up email after submitting your job application:
Prompt: Write a polite, sharp and succinct follow-up email for my job application at <insert company name> for <insert position title>, where I applied <insert application date>. Reiterate why I could be a good fit for the role given my expertise in <mention specific skills or experiences that align with the job role>.


Here is my resume <paste resume>


Here is the job description <paste job posting>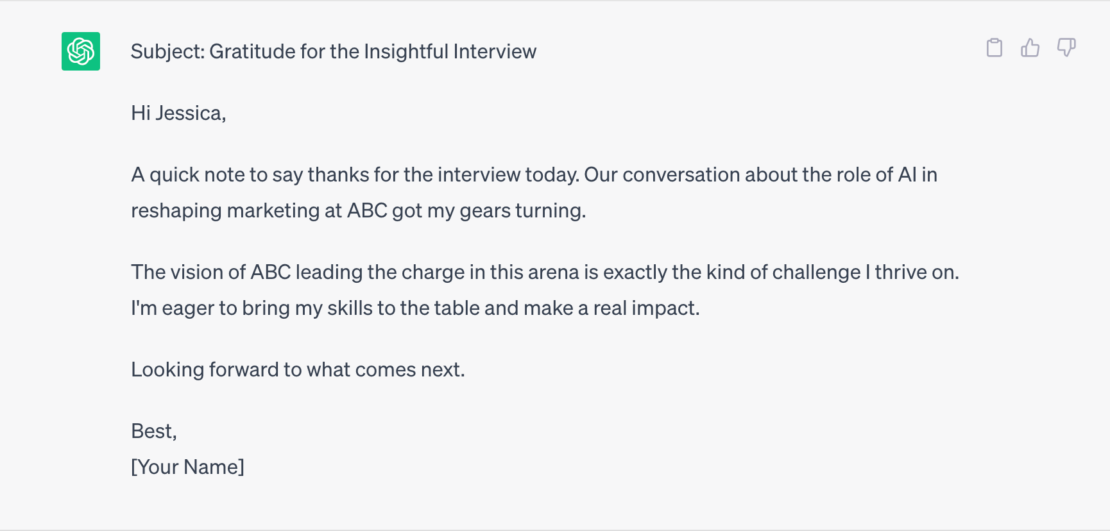 If you have appeared for a job interview, but haven't heard back from the company yet, you can tailor the above prompt to create a follow-up email as per your circumstances.
3) Writing a thank you email after an interview
In the job interview, you have the opportunity to showcase yourself as the ideal candidate for the desired position. By sending a thank-you note after your job interview, you can solidify that positive image in the eyes of your potential employer. Your thank-you note should include a personalized greeting, an expression of gratitude, highlight any key points discussed during the interview, and reiterate your interest in the company.

Here is a ChatGPT prompt to help you draft your thankyou email:

Prompt: Draft a succinct and sharp thank you email to <insert name of the interviewer> at <insert company name> following my interview for <insert job title> position. During the interview, we discussed <insert standout points of discussion>.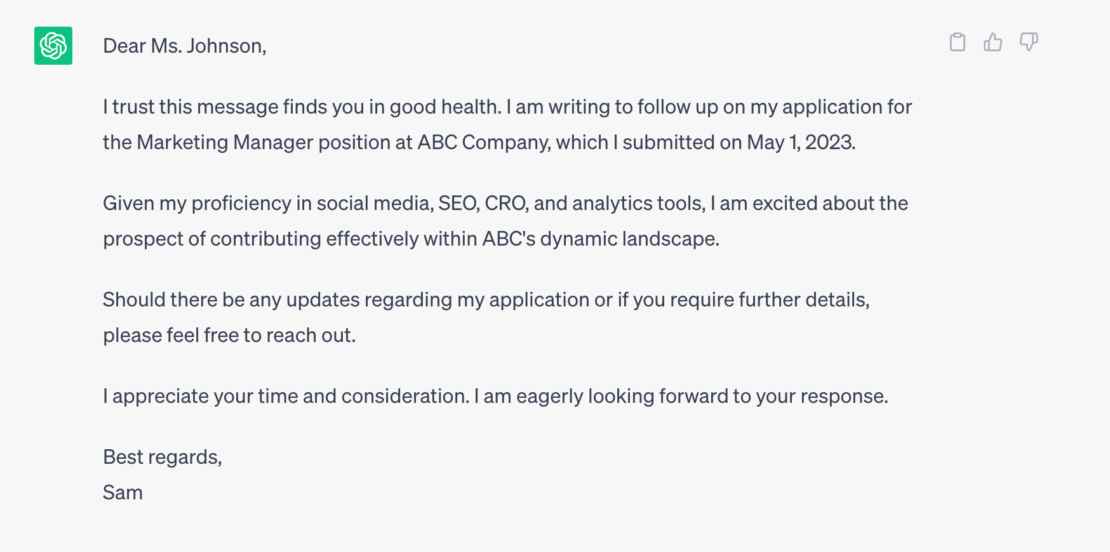 In the above example, ChatGPT does a good job of generating a personalized and compelling thank-you email. However, sometimes ChatGPT may exaggerate information. Thus, it's important to review and refine the generated result to ensure it aligns with your interview experience and demonstrates genuine appreciation to the interviewer. Additionally, ChatGPT may sometimes produce lengthy responses. We suggest editing the generated output to keep your follow-up email concise and to the point.

4) Responding to employer emails
During your job application process, the hiring manager is likely to contact you for different reasons, such as sending an interview invite, asking for additional information or extending a job offer. It's crucial that you respond to these emails professionally, courteously and promptly. 
We understand that there may be times when you find it challenging to express your thoughts effectively. In these situations, ChatGPT can serve as a helpful guide and assist you in generating well-crafted responses. 
Let's explore some typical scenarios:

a) Replying to an interview invite
When the hiring manager invites you for an interview, you should send an email confirming your attendance in a timely and professional manner. In your confirmation email, besides communicating your availability, you can ask any questions you may have regarding the interview. For example, you may want to check with the hiring manager about the interview format, who you'll be meeting with, or if you are required to bring any documents.
Here is a ChatGPT prompt you could use:
Prompt: I have received the following interview invitation <copy-paste interview invite email>. Help me draft a professional and concise reply to the same. Also, ask <insert any questions or clarifications>. 
b) Responding to a job offer

Receiving a job offer is one of the most exciting aspects of your job search, and you may be tempted to respond immediately. However, it's important to take a step back and critically evaluate the offer before responding. You may want to accept the job offer, you may need some time to consider it, or you may choose to decline it. No matter what the situation, you should respond with professionalism and grace. Here is a ChatGPT prompt to help you:
Prompt: I have received the following job offer: <copy-paste job offer>.

I have decided to <mention whether you want to accept it, request for more time, or decline it>. Help me draft a professional and courteous email conveying my decision and thanking the employer for the opportunity.
c) Dealing with a rejection email
The job search process can be challenging and disheartening, especially if you face a rejection. But it's important to accept and respond to these situations gracefully. How you respond to rejection can influence your future relationship with the potential employer. With ChatGPT's assistance, you can craft a professional and thoughtful follow-up or response that leaves a positive impression and keeps the door open for future opportunities.
Prompt: ChatGPT, I have received the following rejection letter <copy-paste reject letter>. Please help me draft a professional and concise email expressing my appreciation for their time and my continued interest in the company. 
What are the limitations of using ChatGPT in job search communication?
Although ChatGPT can be a helpful tool in job search communication, it's crucial to acknowledge its limitations and rely on your personal judgment. Here are a few limitations you should keep in mind when using ChatGPT:

a) Lacks contextual understanding: ChatGPT uses patterns from previous interactions to generate responses. Thus, it may not always fully understand the context of your particular situation. It's important to review and refine the AI-generated result to ensure that it aligns with your unique needs, experiences, and the job role.
b) May produce inaccurate results: Since ChatGPT generates responses based on preexisting data, it may sometimes suggest inaccurate or outdated information. Remember to fact-check any information before incorporating it into your emails.
c) Generic writing style: The content created by ChatGPT can sometimes sound generic or robotic. Also, ChatGPT may not always match your personal writing style or tone. Thus, infusing your personality and unique voice into the content is crucial so your final message sounds authentic and reflects your unique voice.
Taking care of your mental health during your job search
The job search can be challenging and daunting, resulting in increased stress and anxiety. It is crucial to prioritize your mental health throughout this journey. Effective communication involves not only the words you choose in your communication but also your mindset and emotional well-being during each interaction.
It is essential to recognize the impact of mental health on your communication skills since it can affect your confidence, clarity, and ability to articulate your thoughts effectively. Taking care of your mental health will improve your communication skills and enhance your overall well-being during the job search.
At CareerHigher, we recognize the difficulties and pressures that accompany the job search process. We strive to be your trusted partner throughout your job search journey, offering professional guidance and emotional support to help you confidently navigate the job market.
 
Effective communication is crucial in a job search. Every interaction you have, from expressing your interest in a job role to responding to an interview request, can impact your chances of landing your dream role. Remember to always be clear, concise, and respectful in your communication.
When using ChatGPT, it is important to combine your own knowledge and writing style to create a professional and personalized message that appeals to your potential employer. If you are short on time or need expert guidance, check out our job search management solution. We not only help you create professional documents but also manage your communication with potential employers so that you can be at ease and concentrate on other aspects of your life.