With the onset of the global pandemic, companies had to embrace newer ways of working, paving the way for remote culture. As a result, the job market witnessed a huge spike in demand for virtual roles. Among these, the position of a virtual assistant became highly sought after.
If you have strong organization skills, and are looking to work from the comfort of your home, a virtual assistant job may just be the right fit for you. As more and more employers recognize the benefits of tapping a greater talent pool and reduced costs, the demand for remote virtual roles continues to rise. In this blog post, we'll guide you through finding the perfect virtual assistant position for you. Let's get started!
Who is a virtual assistant?
A virtual assistant (VA) is a professional who offers administrative, technical, and creative assistance to clients from a remote location. Most VAs work from their home or office and communicate with clients via phone, email, or online communication tools. The role of the VA can vary significantly. Their duties may include managing emails, scheduling appointments, creating presentations, conducting research, and managing social media accounts among others.
In many cases, virtual assistants may be independent contractors who work for a company remotely. Thus, they may not be considered employees of the company but rather their clients. Generally, law firms, real estate agencies, and small business owners hire virtual assistants. 
What do remote virtual jobs entail?
Virtual assistant roles typically involve a variety of administrative and support functions. The specific duties and responsibilities will vary depending on the position, company, and industry. Thus, it's a good idea to refer to the job description of the job role to get a clear idea of what the position will entail. However, generally, the role includes responsibilities such as:
Writing emails

Making phone calls

Organizing calendars

Making reservations and booking

Planning out work and scheduling

Data entry where needed

Organizing events for the company

Copywriting

Accounting

Finance

Social Media Management
Skills required for virtual assistant jobs
As a virtual assistant, you would be required to carry out a wide variety of tasks for your remote employer. Employers often seek candidates with a mix of certain soft and hard skills. Here is a list of the most popular skills for a virtual assistant position:
Tech-savviness:

Being proficient with software and online tools such as Microsoft Office Suite, and Google Workspace, project management programs, such as Trello or Asana, and communication platforms like Slack or Zoom is essential to succeed in a virtual assistant job position.

Typing:

In a virtual assistant position, a lot of tasks require you to type, be it accounting, data entry or even emailing. Thus, typing is a crucial skill for this position. Employers look for candidates with moderate to high typing proficiency. Sometimes, they may even ask you to take a typing test.

Communication:

A virtual assistant is usually responsible for managing correspondence and conveying information with clients or internal stakeholders through various mediums such as emails, phone calls, text messages, and video chats. Thus, having strong

verbal and written communication skills

is critical for being a good VA.

Time management:

A virtual assistant is often required to juggle multiple tasks simultaneously. You might even be tasked with managing and organizing the schedules for your employer. As a result, it's important for the candidate to have good time management skills.

Analytical:

VAs often have to attend several phone calls and read through heaps of emails and documents, and extract useful information from them to be presented to their employer. Thus, good analytical skills are highly sought after in this role.

Self-motivation:

This is a job where you would be working without any direct physical supervision, from the comfort of your home. Thus, employers prefer candidates who are self-motivated and can work well without constant guidance.

Adaptability:

Being flexible and adaptable are important traits for remote assistants to succeed in today's fast-paced work environment. These abilities enable them to handle various tasks, cater to various clients, and adjust to various work settings while continuing to grow and learn.
Top Agencies to Check Out for Virtual Assistant Jobs
One way to find virtual assistant jobs is to search traditional job boards. However, for a virtual assistant role, you can explore another approach that could be more effective. You can directly apply to companies that specialize in providing virtual assistant services. These companies function as intermediaries, connecting registered assistants to various companies. Some of such top agencies are:
1) OkayRelax
OkayRelax is a US-based agency that offers virtual assistant services to any individual or company that chooses to subscribe. They source and screen virtual personal assistants. They then match registered assistants with job requirements and send out profiles for recruitment. OkayRelax has offices in Tampa, Manila, Mumbai, and Karachi. However, the jobs they offer are fully remote.
Sign up as a Virtual Assistant on OkayRelax
2) Prialto
Prialto is a portal that provides managed virtual assistant services to teams of any size. They pride themselves on providing continuous support and enterprise-level security. Their goal is to help professionals maximize their potential by providing them with dedicated, well-trained virtual assistants. Prialto also provides training once you're selected.
Become a "Prialtoan" and find virtual assistant jobs
3) Boldly
Boldly is a premium remote-staffing solution that enables businesses to select remote employees including virtual assistants. The service works on a subscription basis. The company presents its hiring requirements to Boldly. Boldly assigns their talent pool to the job and the company simply makes a monthly subscription payment. As a candidate, you would need to apply on the website, go through the selection process, choose companies you'd like to work with and receive regular tasks via Boldly.
Join Boldly talent pool as a virtual assistant
4) Beacon Hill Staffing
Beacon Hill Staffing is a platform that identifies, recruits, and trains candidates for various remote positions. From generalists to specialists with a niche, this platform has room for everyone. They offer contracts on a temporary, permanent, and monthly basis. So you can find a job that works for you. Beacon Hill's recruitment process is unique and involves one-on-one engagement with recruiters who help you identify jobs that will suit your preferences and expectations.
Get started with Beacon Hill's recruitment team
5) Time ETC
Time ETC is one of the most popular virtual assistant services in the U.S. When you join Time ETC as a virtual assistant, you will get the chance to work with up-and-coming entrepreneurs, as well as established companies. Time ETC manages incoming requests and pairing. All you need to do is apply and clear the interview. They will manage payments, assignments, and everything else for you.
Become a virtual assistant with Time ETC
6) WoodBows
Woodbows is an outsourcing company that provides virtual services like graphic design, content creation, application development, and more. They are most popular for their virtual assistant services. They are dedicated to matching businesses with remote assistants with over 10 years of experience. So if you're an experienced professional looking to switch jobs, joining them would be great. You could get to work with amazing companies such as NBC, CBS, FOX Network, and more.
Reach out to join Woodbows as an experienced virtual assistant
7) Magic
Magic prides itself on providing businesses with a selection of pre-vetted virtual assistants to choose from. They further categorize their talent pool by area of expertise. This includes marketing, sales, accounting, design, and such. You can sign up on their platform as a freelancer, or for full-time roles.
Drop your resume for remote virtual assistant roles here
8) Wishup
Wishup helps businesses build remote teams by providing them with vetted software developers and virtual assistants. Their virtual assistant portal is extremely popular, with over five hundred companies picking out of their talent pool. Becoming a virtual assistant on Wishup is fairly simple. You'd have to submit your application first after which you will need to go through two screen tests. Once you're done, you will go through some basic training to make you hiring-ready. Your profile will then be sent to potential employers for recruitment.
Sign up to be a virtual assistant with Wishup
Online Job Boards to Find Virtual Assistant Jobs
Another way of finding virtual assistant job roles is to search popular job search platforms like LinkedIn. On these job boards, you could apply filters for remote or virtual assistant positions to narrow down your search. You could also check out remote-specific job boards like Flexjobs. Here are the top platforms you could explore:
1) LinkedIn
LinkedIn is not just a professional networking site anymore. It is also one of the most popular job boards where you can find any opportunity you want. You can find several listings for virtual assistant jobs on LinkedIn. If you already have a thriving LinkedIn profile, starting here might be a great choice.
Find virtual assistant roles on LinkedIn
2) Indeed
Indeed hosts over 20 million job posts on its portal, several of which are for virtual assistants. All you need to do is head to Indeed, look up the relevant listings, and send your application. If you don't have the perfect resume ready, you can create one directly on Indeed. This will be sent out to recruiters on the portal.
Virtual assistant job listings on Indeed
3) Flexjobs
Flexjobs is a website that hosts fully-remote job opportunities. You can find both full-time and part-time opportunities here. Flexjobs is trusted by several large companies including Apple, Pearson, SAP, and more. There are hundreds of opportunities for you to choose from.
Find a virtual assistant job that suits you
4) WeWorkRemotely
Founded in 2011, WeWorkRemotely (WWR) is a digital job platform with one of the largest remote postings. Many leading employers such as Amazon, Google, and Basecamp advertise remote vacancies on the platform. WWR scans and carefully posts trusted job postings, thus ensuring that you can find reliable positions.
Find virtual assistant roles on WeWorkRemotely
Freelance Platforms to Find Virtual Assistant Jobs 
You can also explore virtual assistant job opportunities on freelance platforms. These platforms typically advertise work opportunities that are available on a contractual or project basis. Some of the top freelance platforms are: 
1) Upwork
Upwork is a great place to start if you're looking to get started as a virtual assistant. It is one of the most popular freelancing websites and caters to thousands of incoming requests for remote assistants. To get started on Upwork, you will need to register, create your profile, and await approval. Once approved, you can set your preferred rate and your listing will be shown to companies that are looking for virtual assistants. Your profile will then appear on the listing pages.
Join Upwork as a virtual assistant
2) Fiverr
Fiverr is a great choice if you're just getting started and want to dip your toes into being a virtual assistant. Join Fiverr's growing community of freelancers by setting up your profile and creating a listing for yourself as a remote assistant. Potential clients will find your profile through Fiverr and approach you on the platform. Fiverr will handle everything including project deliveries and payments. You can find the listings for virtual assistants here.
Put yourself on Fiverr as a remote assistant
How to find virtual assistant jobs: Tips and tricks
While the above-mentioned job boards and platforms are a great way to identify virtual assistant job vacancies, there are a few tips you should consider to make your application successful. While applying for a virtual assistant job position, keep the following points in mind:
Create a compelling resume:

While

writing a resume

for a virtual assistant job role, remember to incorporate the key skills that the employer is looking for. It's a good idea to go over the job description to identify these skills. Even if you're applying for your first job, it's likely that you have done some common virtual assistant tasks before, such as making travel arrangements, managing someone's schedule, handling communications, and more. Focus on these

transferable skills

in your resume to impress your potential employer.
Take up relevant certifications:

If you have zero to minimal experience, it could be a good idea to take up virtual assistant training and relevant certifications to strengthen your candidacy. Many self-paced courses are available online which can help you build your profile. For example, if you're looking to strengthen foundational knowledge, you could check out

generalist virtual assistant courses

. If you're looking to specialize in a niche, such as helping a business improve its marketing efforts, you could undertake courses like the

Google Digital Marketing and E-commerce Professional Certificate

.
Make use of your networking skills

: Networking is a great way to find your next dream job. If you already have contacts within the VA industry, reach out to them and look for opportunities. If you can get a referral, it'll make your job search easier. Another great way to

leverage your networking capabilities

is via LinkedIn. You can find and reach out to relevant recruiters through LinkedIn and land the job. You can also join an

association for VAs

where you can find like-minded people and relevant opportunities.
Create an online presence

: Many virtual assistants work as independent contractors or on a project basis. Thus, marketing yourself online is a great way to attract potential clients. Consider setting up a website, making profiles on various talent marketplaces, promoting yourself on social media, and maintaining an online portfolio. Also, we recommend advertising positive testimonials from previous clients, listing your skills and services, and writing a compelling value proposition.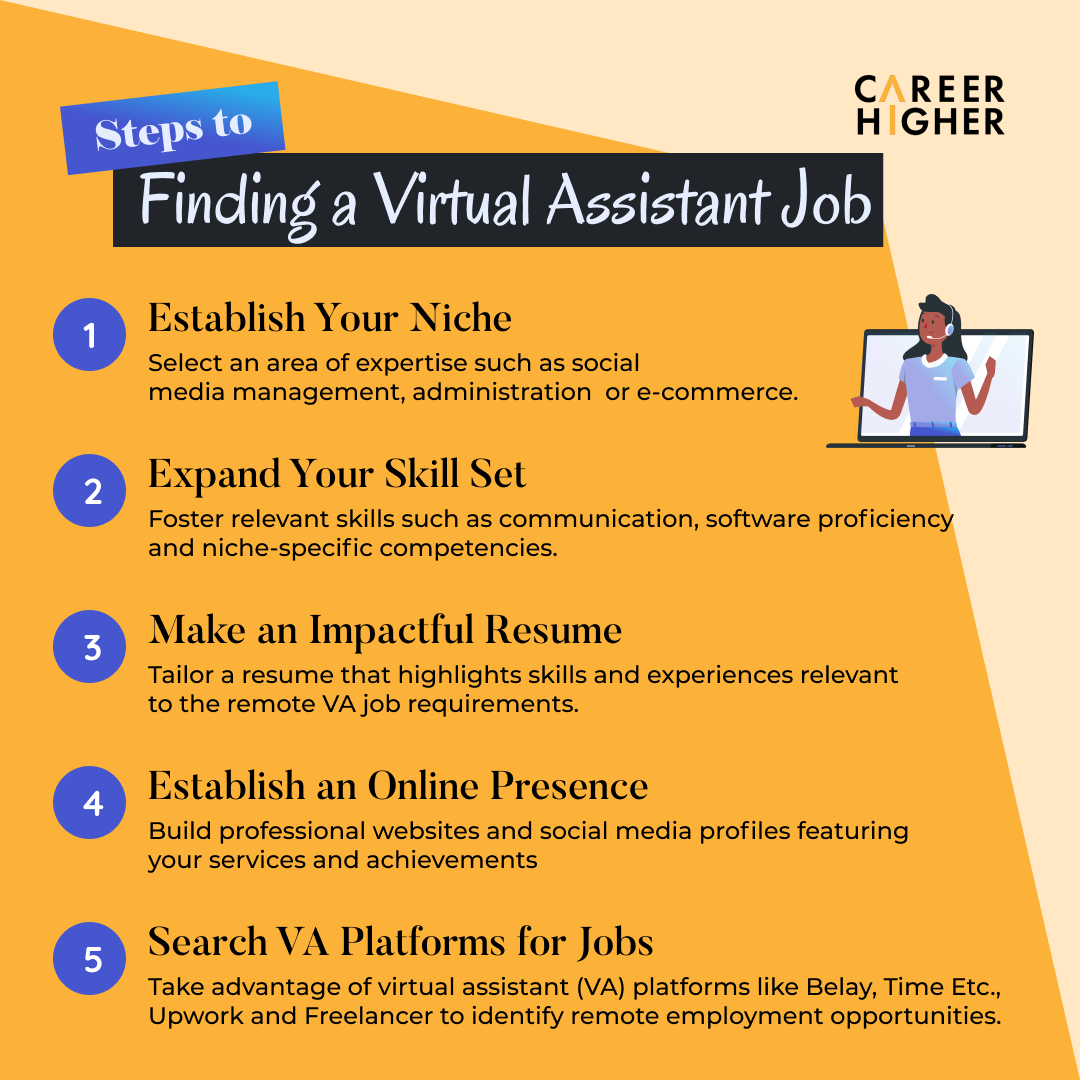 A virtual assistant is a great role to kickstart your career or achieve a better work-life balance. If you're still undecided on your career path forward or just need assistance in finding a job that gives you freedom and piques your interest, you can set up a call with one of our experts. They can help you identify the best opportunities for you. What's more? They can assist you with landing your dream job!