As the world becomes increasingly digital and mobile-driven, more and more people are turning to the internet as their main source of income. In fact, research found that there are more than 35 million digital nomads across the world. By 2035, the number of people embracing a location-independent career and a technology-enabled lifestyle is expected to grow by one billion.

With the rising trend and interest in digital nomadism, more people are looking for ways to transition to this lifestyle. If you're one of them, this blog post is for you! In this article, we will talk about what it takes to be a digital nomad and how you can become one yourself.
What is a Digital Nomad?
Before we talk about how to become a digital nomad, let's take a moment to understand what a digital nomad is. A digital nomad is someone who works remotely from a location of their choice and spends most of their time traveling around the world. They are not bound by a 9-to-5 schedule or fixed office location. This allows them greater flexibility and freedom to pursue their passion and live a lifestyle they love while earning a living at the same time. Being a digital nomad isn't only a lifestyle choice but also a great career option for people looking to escape the traditional work model and pursue work that aligns with their values and priorities.
Digital Nomads vs. Remote Workers
The line between remote workers, and digital nomads is blurry. This is because they share some of the same characteristics, such as working remotely, scheduling flexibility, and the ability to earn an income outside of a traditional full-time job. However, there are some key differences that make them different from one another.
Digital Nomads

– People who choose to work as digital nomads typically have no fixed location for their work and are continuously traveling and working all around the world. They usually have the option to work from anywhere, as long as they have a reliable and fast internet connection. They also have the freedom to decide where and when they want to work based on their preferences, interests, and current travel plans.

Remote Workers

– These are individuals who work for a company outside their current residence or work from their home office most of the time. However, they travel occasionally to attend meetings and events. They may live in the same city as their employer or in a different country altogether.
Pros and cons of being a digital nomad
A location-independent career is not all sunshine and rainbows. It's a lot of hard work too! Having the freedom to work from anywhere might sound like a dream come true, but it's not all fun and games. There are both pros and cons of being a digital nomad, and you need to weigh them up before deciding if this is the right career path for you. Here are some of the benefits of working as a digital nomad as well as the downsides.
The benefits
Flexibility to live anywhere you want

– Since you're not tied to a specific place of work, you can live anywhere in the world and enjoy all the attractions it has to offer without having to worry about finding a job there. You still get to earn a living while exploring new and exciting places.

Opportunity to network with different professionals-

Location-independent workers enjoy the flexibility to choose where they work from. Cafes and co-working spaces are some popular workplace choices for remote professionals. These places often act as hubs for networking. Many professionals are open to socializing and forming meaningful connections.

Cost savings:

Relocating to certain countries may be cheaper than keeping a fixed residence in developed nations; digital nomads can take advantage of this cost-cutting measure and save up on living expenses.

Opportunity to experience diverse cultures-

As a digital nomad, you have the chance to travel across the world, meet interesting people, and try out new things. This can help expand your horizons and lead to both personal and professional development.
The challenges
Your productivity can suffer –

Adapting to a digital nomad lifestyle can present challenges in maintaining optimal productivity, primarily due to the absence of a fixed workspace and a consistent environment. It can be hard to focus if you don't have a clear structure in place to help you manage your time effectively.

Unreliable internet connection-

Location-independent workers may sometimes face challenges when it comes to accessing stable and high-speed internet, depending on their work location. Slow internet can hinder productivity.

Battling the feeling of loneliness –

Working as a digital nomad can be isolating at times because you usually work alone and not interact with people face to face every day. This can make you feel lonely and cut off from the rest of the world.

Dealing with time zone differences

– Dealing with time zone differences can sometimes be tricky and may affect your work-life balance, especially when working with people across different regions. It's important to be mindful of this when collaborating with clients or teams located in different countries.
Tips for becoming a digital nomad
Getting started as a digital nomad can be intimidating and challenging, especially if you're unsure where to start or what to expect. That's why it's a good idea to take the time to plan ahead and think carefully about your goals and aspirations before you take the plunge and become a digital nomad. Below are some tips to keep in mind if you're interested in pursuing this career path.
1) Explore different types of remote work opportunities
A good place to start is to think about the type of remote job you would like to pursue. You should look for jobs that match your skills and experience as well as your preferences and lifestyle. This will help you find the perfect opportunity for you to achieve your goals and live your dream life as a digital nomad. Let's take a look at some of the best digital nomad jobs out there to help you decide what type of career is right for you.
Web developer

– This involves building and maintaining websites for companies and clients all over the world.

Freelance writer

– The work of a freelance writer typically involves producing high-quality content for a wide variety of purposes, including blogs, articles, social media content, press releases, and more.

Virtual assistant

– The primary responsibility of a virtual assistant is to help businesses manage their day-to-day operations by handling administrative tasks, such as bookkeeping, scheduling appointments, organizing projects, etc.

Graphic designer

–

A graphic designer's main task is to create visual designs for various applications, such as brochures, logos, websites, social media posts, and more.

Translator

– This job involves translating written material from one language to another.

Digital marketer –

Your job will involve creating and promoting online content for businesses to create brand awareness and help drive business growth.

Video editor –

As the name suggests, a video editor creates and edits videos for a variety of purposes, such as vlogs, product demonstrations, and marketing campaigns.

Consulting

– As a consultant, your job will be to provide professional advice and guidance to clients based on their specific needs and goals.

Photography

– The main task involves taking photos of various subjects for use on social media, websites, brochures, magazines, and more.

Online business owner –

This entails selling products and services online, giving you the flexibility to operate your business from anywhere in the world.
2) Find your clients
Once you've decided what kind of work you'd like to do as a digital nomad, it's time to start searching for clients. Utilizing your current network might be the best way to get started. Make a list of who might be able to help you out. Then, reach out to them to see if they would be willing to refer you to some of their contacts.
Starting your own website is another great way to reach out to potential clients. Having an online presence for your business can help establish your brand, as well as increase your credibility with potential customers. Nowadays, you can easily create a professional-looking website using open-source website creation platforms like WordPress. If you're new to web design or aren't sure how to put one together yourself, you might want to hire a web designer to do the job for you.
Another effective way to find clients is by advertising your services on digital nomad job search websites to reach out to a wider audience. These sites offer a well-curated selection of online jobs from a variety of categories, such as tech, marketing, design, and development among others. Some of them also feature useful job search resources to help you land your next gig as a digital nomad. Here are a few of the best remote job sites to get you started.
3) Prepare for the logistics of the nomadic life
When starting your nomadic journey, it is important to be well-prepared to ensure that you thrive in your new environment. This means preparing both financially and logistically to get the most out of your life on the road. Below are some of the key things to keep in mind when transitioning to the digital nomad lifestyle.
a) Staying connected
As a digital nomad, you will need to stay connected to the world while on the road in order to keep your business running effectively. You will therefore need to have a reliable internet connection wherever you go. For shorter trips, this might not be too much of a problem. However, for longer journeys or when you are traveling around remote regions, this can be a bit tricky. The easiest way to get around this is to get a SIM card from a local provider in your destination country. Make sure to do your research beforehand to see which providers offer the best service in the area you are visiting.
b) Getting insurance
How you go about doing this will depend on where you are located and what type of coverage you are looking for. If you are going to be traveling internationally, you should consider getting travel insurance that covers accidents, theft, and other unexpected events. If your employer does not provide health insurance for you, you should look into buying your own health insurance plan. This will allow you to access quality medical care without having to worry about high medical expenses. Safety Wing and World Nomads are two of the good health insurance options specifically for digital nomads.
c) Sorting out your banking operations
As a full-time digital nomad, you will be spending a lot of time on the go, and you will need a reliable bank account that you can use conveniently no matter where you are in the world. Fortunately, there are a number of banks and financial institutions that offer digital nomad-friendly banking services that can be accessed from any device. This allows you to receive payments for your services and manage your finances with ease. Some of the popular options for digital nomads include PayPal, Wise, and Payoneer.
d) Collecting mail
Setting up a virtual mailing address will help you maintain a steady flow of incoming mail and packages while you are traveling the world. Virtual mailboxes like Earth Class Mail provide a number of useful features that will make your life as a digital nomad more convenient and hassle-free. These include forwarding and scanning services that allow you to receive your mail or packages from anywhere in the world.
e) Paying taxes
Tax laws vary depending on where you are located. In order to keep your affairs in order while you are traveling the world, it is important that you understand how taxation works in your destination country. Since tax rules and regulations can be quite complex, it is a good idea to get professional advice on your particular situation. A good accountant or tax consultant will be able to advise on the best way to structure your business and minimize your tax liability.
f) Finding accommodations
Finding accommodation when you travel can be a difficult and time-consuming process. Luckily, there are a number of websites that can help you quickly find an affordable place based on your requirements and budget. These sites feature a wide range of accommodation options that range from luxury sites to shared dorms. Some examples include Booking.com, airbnb.com, and Coliving.com.
g) Choose your destination country wisely
Before you start planning your trip, it is a good idea to do research and select a destination that suits your lifestyle and preferences. This will help you to avoid unpleasant surprises later on and help you to get the most out of your trip. When choosing your travel destination, it is important to consider factors such as the availability of internet connections, local tax laws, and cost of living. There are countries that offer special visas for digital nomads that allow them to live and work in the country without requiring them to obtain a work permit.
These visas are usually valid for a certain period of time and can be renewed upon expiry. Depending on the country you are planning to visit, you will need to meet certain requirements to be eligible. This may include having a stable source of income, providing proof of health insurance, and being free from criminal records. To ensure that you have everything you need to apply for a visa in your destination country, you should do your research in advance. Some of the best digital nomad countries that offer such visa programs include:
Thailand

Indonesia

Mexico

Portugal

Hungary

Spain

Colombia

Estonia

Georgia

Barbados

Bermuda

Croatia
h) Join a community of like-minded individuals
Having a network of people who understand the challenges of living a nomadic lifestyle can be extremely helpful during your time on the road. Joining a digital nomad community is a great way to connect with other travelers and discover new places to check out on your journey. These communities also offer members the opportunity to share advice and swap stories with other digital nomads. This gives you an opportunity to engage and learn from others, as well as share your ideas and solutions.
There are numerous meetups organized by digital nomad groups around the world. Finding one that suits you best is simple as browsing meetup.com, Facebook groups, or doing a quick Google search. Once you have found a group that interests you, it is a good idea to attend a few meetings before you make a final decision to join. This way, you'll have the chance to interact with the members of the group and see if the fit is right for you. Below, you will find a few of the popular meetup groups you can join if you're heading to any of the best digital nomad cities listed below.
Apart from joining a meetup group, you can also join online communities to discuss and share tips about working in foreign countries. These communities provide a platform where people can discuss practical aspects of their nomadic lifestyle, such as employment opportunities, places to visit, and how to finance your adventure. Here is a list of the top online forums where you can connect with fellow digital nomads.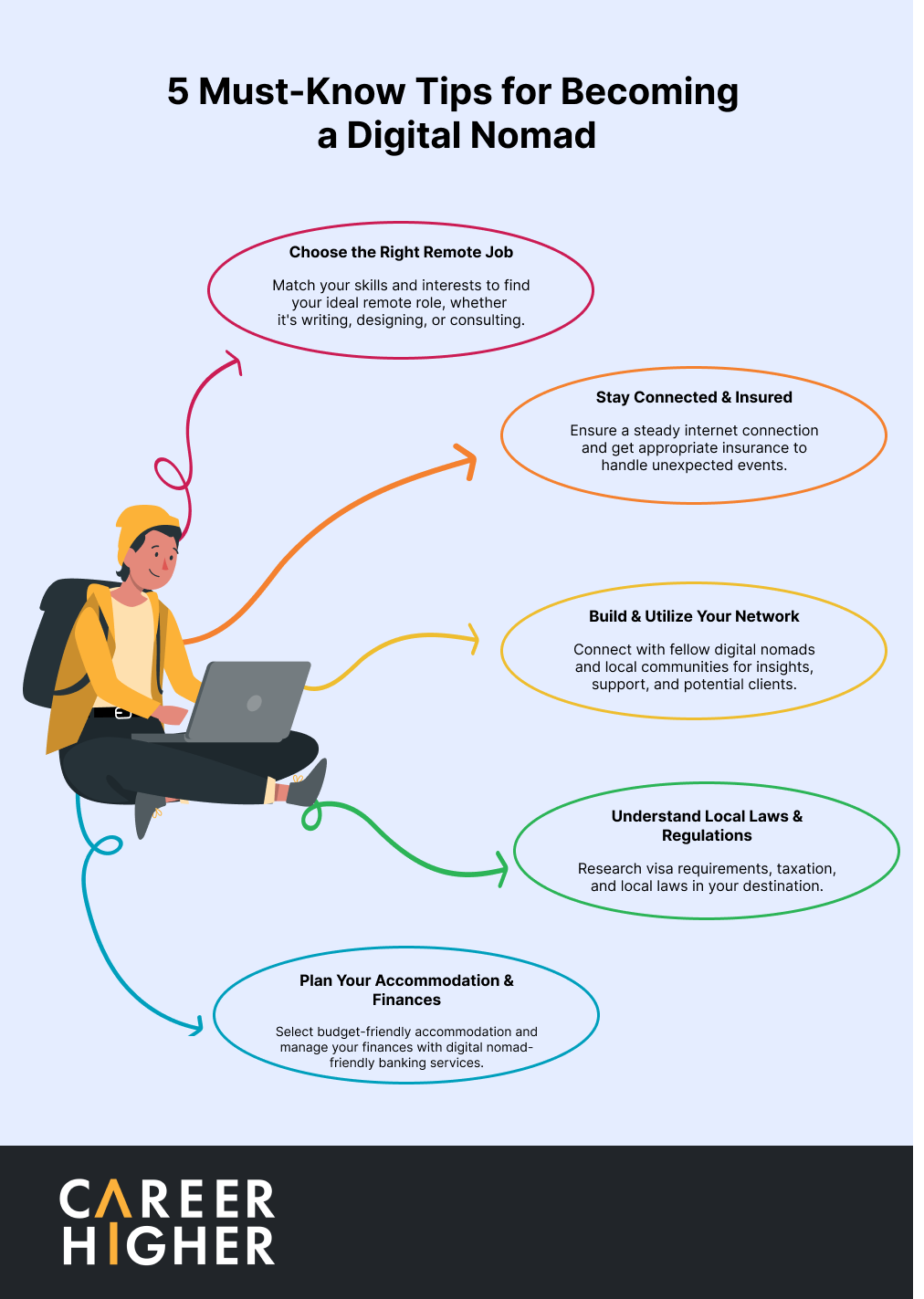 Conclusion
Digital nomadism is increasingly popular as a career and lifestyle choice. The rapid advancement of technology has opened up new opportunities for people to work from anywhere in the world using a laptop and an internet connection. This makes it a great alternative to traditional employment and allows people the freedom to travel as they please while earning money. However, the digital nomad lifestyle isn't for everyone. There are pros and cons associated with the digital nomad lifestyle, so it is important to think about them carefully before making your decision. If you need more clarity before embarking on this journey, you can always reach out to us for help.