The internet has changed the way we work. People can do many online jobs from the comfort of their homes that require minimum experience. Whether you are a recent graduate, a stay-at-home parent, or a carer of a loved one at home, you can find an online job aligned with your needs and preferences.
Working from home has benefits for everyone. It is a great way to spend more time with your family and save money on transportation. Additionally, it is suited for people who want to work on their own schedule or travel the world as digital nomads. This article will provide the necessary information to help you choose a job according to your unique needs, avoid online scams, and present trustworthy websites for online work.
Popular online entry-level jobs
The following list presents the most established entry-level jobs that can become your full-time occupation. To find out if you are compatible with the job, we suggest looking at the necessary skills added to each job. If you are ready to enter the remote workforce, you can look for one of the following roles:
1. Customer service representative
Pay Range: $15 – $24/hr
Customer service representatives are tasked to support customers online, usually through a chat tool, email, or via phone. Many of these jobs are easily performed from online offices and accept candidates with little or no experience. Professionals with communication skills, typing skills, and the ability to calmly deal with customer problems are often considered to be good candidates for customer service positions.
2. Virtual administrative assistant
Pay Range: $19- $26/hr
Administrative assistants or virtual assistants are tasked with supporting others and performing duties such as scheduling meetings, organizing travel arrangements, and answering calls and emails. Clear communication skills and time efficiency are preferred as they make a favorable impression on potential clients and employers. If you are an organized person and find joy in helping others, those are vital transferable skills that can be mentioned in your interview for these positions.
3. Data entry
Pay Range: $16 – $26/hr
Data input professionals guarantee seamless and effective processing of large volumes of information and data. Most online data input tasks can be easily made from a personal computer at home. Data input positions include data entry into a computer system or in a secure file system type. The ideal candidate for this position is self-sufficient and capable of adhering to deadlines for tasks and deliverables.
4. Sales representative
Pay Range: $21 – $29/hr
If you are interested in sales or have worked in retail, a job as an online seller might be a good fit for you. Entry-level salespeople typically make inbound or outbound calls to sell products or services from their home office. According to talent.com, entry-level positions start at $34,519 per year, while most experienced workers make more than $100,000 per year.
Apart from the usual sales rep roles that work in big organizations, there are other variations that could be ideal for you. For people who enjoy sales and helping others, selling insurance could be ideal. If you want to work for yourself and enjoy all the rewards, you can sell through Pinterest, set up an Etsy store, become an Amazon FBA seller or sell items through market flipping. Some key skills required for a successful salesperson are communication, problem-solving, conflict management, and resilience.
Pay Range: $19 – $38/hr
You probably have seen how businesses promote their brand online if you have learned much about social media while using Twitter or scrolling endlessly through Instagram and TikTok. Entry-level social media jobs are quite commonly listed on job boards. Since you can manage social media from your phone or laptop in hand, this job can be done from anywhere.
Simultaneously, you can find many job opportunities as a social media evaluator. Social media is necessary to evaluate the quality of information posted in form of advertisements or news. Such jobs usually offer a lot of schedule flexibility. Creativity with marketing and adaptability to different kinds of content (video, audio, and photography) are very important for successful employment in this role.
6. Tutor
Pay Range: $19 – $34/hr
Education is always valued in our society and being a great tutor is a job that withstands the changes in the job market. For those of you who have an aptitude for a certain subject, tutoring is a great way to share this experience and earn money while working from home. During the pandemic, teachers stayed relevant and made virtual classes to communicate with students via video or chat so experience with various communication tools is required. 
Teaching skills such as patience, communication, and supporting your students are essential. Marketing your personal brand through social media is vital if you are a freelance tutor. To start your tutoring job, you can register on platforms like Udemy and TutorMe to start immediately. If you don't like real-time coaching, you can create high-quality videos through Course Hero, Skillshare, and Teachable, and enjoy a passive income.
7. Writer
Pay Range: $17 – $42/hr
If you love to write, you can work as a freelance writer from anywhere. Writers are responsible for writing all the content you read online and offline every day. These jobs can be done online full-time or part-time on a contract basis or as a freelancer. For all types of online writing jobs, you need strong writing skills and high-quality samples to show during the hiring process. You could be a copywriter for a media outlet or a blogger by creating your own blog. If you publish your work online, knowing basic Search Engine Optimization (SEO) practices, such as keyword optimization and Google rankings can be a huge advantage. You can find great opportunities with organizations like Business Insider, Harvard Business Review, and Forbes.
8. Interpreter
Pay Range: $16 – $37/hr
If you are fluent at least in one language, you will be surprised by how many job opportunities exist for you. You can coach people that want to learn a new language through Upwork or you can work for an online translation job on sites like Rev. Transcription is another job field where you can offer your services in the desired languages.
You can learn more about such opportunities through sites like TranscribeMe. Although a language degree could benefit bigger projects, you can now start on small translation or tutor gigs on freelance sites like Fiverr, Upwork, and Freelancer.com. Being professional and commanding your known languages will make you stand out from the competition in this line of work.
9. Travel consultant
Pay Range: $14 – $30/hr
Travel consultants or coordinators usually help clients or customers make travel plans. Booking travel, hotels, and car rentals are some common tasks. Good people skills and the ability to easily learn new software programs qualify you for a remote travel consultant position.
10. Proofreading
Pay Range: $24 – $49/hr
If you have good reading comprehension and you are a person of detail, you can find work in the proofreading business. By checking documents for mistakes or typos, you can earn your pay from the comfort of your house. Job opportunities can be found on dedicated sites like ProofRead Anywhere, PaperTrue, and Scribendi.
Additional online job opportunities
You may not want to fully commit to the online job world and just want to test the waters of the working environment. Or perhaps, you already work somewhere, and you want your work transition to be smoother. Hence, you are looking for something that requires a lower level of commitment from your end. In the following list, we introduce you to a various range of jobs, from part-time to full-time, that have the lowest time commitment.
1. Tech support
Pay Range: $15 – $33/hr
Tech-savvy people who are familiar with computers and the internet can make money working from home as technical support agents. These positions will fix problems with customers, guide them through solutions, and explain complicated technologies in an easy-to-understand way. Essential for a tech support professional is patience, the ability to educate yourself on new software, and cooperation with clients to meet their needs.
2. Online researcher
Pay Range: $17 – $38/hr
You can also become an online researcher if you enjoy searching and learning new things. This role does not require expertise, but you will need a keen eye for researching data online and a lot of patience. It's one of those zero-experience jobs that anyone can do. Different companies have different role descriptions, but the main responsibilities usually include collecting data and answering user questions. You don't necessarily need to be an expert in the field – just be able to dig deep and find authentic material. Companies that recruit researchers online are Wonder, 10EQS, FancyHands, and JustAnswer. 
3. Survey taker
Pay Range: $60 – $200/month
Online surveys are great for making extra money to keep the income stream until you get used to the work-from-home industry. They require a minimum time commitment from other jobs mentioned in our list. Many of them pay well, and the best part is that if you choose the highest-paid survey sites, you can earn as well as any other side job.
We suggest checking out the most trusted sites like Swagbucks, LifePoints, InboxDollars, and SurveyJunkie to get rewarded for every survey you complete. Most of these sites offer a $5 – $10 bonus for signing up. Additionally, we encourage you to familiarize yourself with their payment methods. These can range from free gift cards and coupons for redeeming points for cash through your PayPal account.
4. SEO evaluator
Pay Range: $12 – 15$/hr
With so many businesses online, companies want their web designs to be effective and high-quality. They can hire users to browse their websites and assess search engine optimization best practices for them. They offer you thorough instructions on evaluating specific things and value delivery on a deadline. You can look for opportunities on platforms like Appen, Lionbridge, and KarmaHub.
5. Copy editor
Pay Range: $26 – $45/hr
As a copy editor, you need to do more than just catch typos. Text editing extends to re-writing the content and re-structuring the flow depending on the employer's needs. Scribendi and Scribbr are popular editing services that value individuals with good reading and creative writing skills.
6. Bookkeeper
Pay Range: $14 – $34/hr
You might be surprised to learn that bookkeeping is one of the few online businesses that doesn't require any experience to get started. As a bookkeeper, you record all financial information, analyze it and explain business transactions to your customers. Time management, organization skills, and basic knowledge of the financial aspects of the company are required to qualify for this position. In-depth training courses such as 'Become a Bookkeeper' from LinkedIn Learning and Coursera can train you for this role and prepare you for a career in a successful accounting firm.
7. Voice actor
Pay Range: $19 – $47/hr
Voice acting is a fun and unique way to make money from home, even if you have no previous experience. As a voice actor, you lend your voice to characters in movies, ads, book narrations, and announcements. For this role, you would need equipment such as microphones, headphones, a pop filter, a microphone stand, and editing software like Audacity.
If you're new to voice acting and want to learn more about the job, earning potential, and skills you'll need, check out free courses on ΥouTube and on MOOC websites like Skillshare. Courses will give you all the information you need to decide if this is the right career for you. Don't get discouraged if some companies are looking for an experienced voice actor because many other companies hire entry-level voice-over actors, such as Voices.com, Voice123, and Bodalgo.
8. Online juror
Pay Range: $20 – $60 per trial
Lawyers often require a mock jury to get input and insights in trials. Since having a mock jury in person is expensive, cheaper online judges are a logical alternative. To become an online judge, you must register with several judging companies, which involves filling out a detailed questionnaire. You should also meet certain qualifications, which vary from country to country. Some online jury sites that you can use are eJury and Online Verdict.
While lawyers are looking for people who are apt for the role of jurors in real life, online adjudication firms ask candidates detailed questions. Companies usually pay online judges between $5 to $400, depending on the case. Since most online judging societies don't need many jurors, registering with multiple societies increases your chances of being selected for "juror duty."
9. Website or application tester
Pay Range: $15 – $50 per survey
If you have UX and UI design knowledge, you could be suitable for the job of a website tester. Such professionals can also find additional work for in-progress websites or mobile apps. A website or app review takes a couple of minutes and usually pays $10 – $20. The testers are paid only after the customer accepts their feedback. You can search for opportunities on websites like Userlytices, UserTesting, and IntelliZoomPanel.
10. Search engine evaluator
Pay Range: $10 – $15/hr
These professionals assess internet search results and provide feedback on accuracy, relevance, and spam levels. Generally, the evaluator should know about the new trends and the internet in general and be equipped with strong attention-to-detail skills. In some cases, a degree may be required, but professional experience in the field is not compulsory. Companies like Google, Appen, and Lionbridge offer research scoring opportunities.
Top job search websites for online jobs
Now that you have had a quick overview of the most popular and attractive job fields for online work, you should know where to find them. We suggest first browsing through the dedicated job search sites mentioned above to find the most aligned online jobs. Subsequently, you can try some other popular job search sites listed below.
Best tips on how to land an online job without relevant experience
1) Clarify what skills are needed for each job
After selecting a job field based on your interests, it is vital to do your homework. Before you figure out how to market yourself for a particular job, knowing who's hiring for that job and what jobs are similar to it is always helpful. Collect a few job descriptions for the type of job you're interested in and read them to find out the skills and experience recruiters typically want. In general, the following skills are vital to have for every online working experience:
a) Communication
Good communication skills are universally important in any field. You should be able to communicate clearly with your boss or manager and other teammates. Strong communication skills also allow you to actively participate in all online social events, meetings, and workshops. Additionally, strong written communication skills are equally important to communicate via email and chat.
b) Organization
Nobody checks on you constantly when you work from home. The manager only gives you a deadline to complete your assignment. Therefore, you need effective organizational skills to manage all your tasks daily. This could include planning tasks efficiently, prioritizing them, tracking progress, and delivering them on time.
c) Time management
Even when tracking your progress, it's easy to get overwhelmed by multiple tasks and deadlines that hamper your performance. To be an effective remote worker, you must be able to manage your time effectively. As you organize your deadlines, mark them on your calendar and schedule specific times for each task.
In an office, the environment is different, where most of the work is done during work hours. You can easily get distracted at home by the doorbell ringing, the sound of the TV in the next room, or slow internet. This may lead to delayed tasks, so it is essential to manage your time properly. For this, we also suggest working from an isolated place in your house and using any application which helps you block social media notifications.
d) Ability to work alone
You may be accustomed to office life and regular face-to-face meetings with other team members. Working from home can reduce your motivation to work if you enjoy such a social environment. Many companies that hire people to work from home assign tasks to individual employees rather than teams. Therefore, you need to prove to the recruiters that you can work independently, even if you are not used to such an environment.
2) Identify your transferable skills
Transferable skills are skills that can easily be transferred from one job to another without actually working in the industry or the domain. For example, you can justify project management skills if you oversaw a content marketing project, even when applying for a product marketing role. Add these skills to your resume, cover letter, and interview questions to let employers know you have the skills they're looking for.
3) Acquire new education
If there's a job you're interested in, but you don't have the skills, you can always learn those skills. Consider taking an online course or applying for an online internship. There are many free or low-cost options to help you learn marketable skills on sites like Coursera or LinkedIn Learning. You could also consider an online course or internship from a reputable university.
4) Show your work
A strong portfolio is essential for professionals like writers, designers, software engineers, and social media managers. Create an online portfolio or a personal website to show your best work in one place. You can link it directly to the application showcasing your personal brand. If you've never worked in this field before, you can demonstrate your skills and style to employers through graphics, articles, software projects, or anything else you create in your work.
5) Demonstrate that you are an experienced remote worker
Employers don't see each other in person daily when they hire someone. However, they want to know that you can be on time and won't struggle when left alone. So emphasize your communication, problem-solving, organizational, and time management skills during the hiring process, and be prepared to answer common interview questions.
Avoid online scams — How to tell if an online job is legitimate
a) Research the business
Always do your due diligence on the company and the job, a step crucial to your success in the interview process. Research the recruiter/hiring manager to determine if they are real and the company is legitimate. The Better Business Bureau and the Federal Trade Commission are necessary resources for spotting and reporting online job scams. For example, you can use the Better Business Bureau's fraud tracker to view and report fake employment opportunities. Additionally, you can use all the above tools in conjunction with the company's review from Google, LinkedIn, or Glassdoor to ensure that you have an honest offer.
b) Watch out for these red flags
Here is a list of some red flags that you should keep in mind to avoid falling for a remote scam:
At the beginning of the interview, you must share personal information such as your bank account details, home address, or other vital information.

The wage is a disproportionate amount of money for less work.

The company promotes clickbait stories that show a high-income lifestyle.

The job ad mentions quick cash or a sudden change in income.

The advertisement contains obvious grammatical errors.

You receive an email from a personal email address (harry.s12@gmail.com). Furthermore, the email responses are in unprofessional language.

This work requires a large upfront cost from the candidates. Compensation depends on the number of people you employ. A common occurrence for Multi Level Marketing (MLM) companies is that they appear legitimate

but are

pyramid schemes

.

The recruiter offers you the job without going through a regular hiring process.
Also, obvious signs can be noticed in the email communications, such as:
There is no standard branding.

Job ads require little to no education, experience, or background.

The link to the website looks similar to the real company but may have incorrect characters.

The website has HTTP website protocols. We suggest checking for URLs that begin

with "HTTPS" instead of "HTTP

."

While this doesn't necessarily mean the business is fake, non-HTTPS websites are at a greater risk of a personal data breach.
c) Listen to your instincts
If you are still unsure about the job vacancy, one of the best ways to avoid career fraud is to listen to your gut. However, we understand this can be difficult if you have been unemployed for a while. Remember, an important task for a recruiter is to make the candidate feel comfortable and answer any questions to the best of their ability. If something is awkward, or you feel uncomfortable, we strongly suggest walking away at any time.
In most cases, your intuition is right. So, if you feel something is wrong, that may be the case. There are many real online jobs to choose from. This won't be your only opportunity to work remotely, so don't feel intimidated or pressured into doing something you don't feel comfortable with.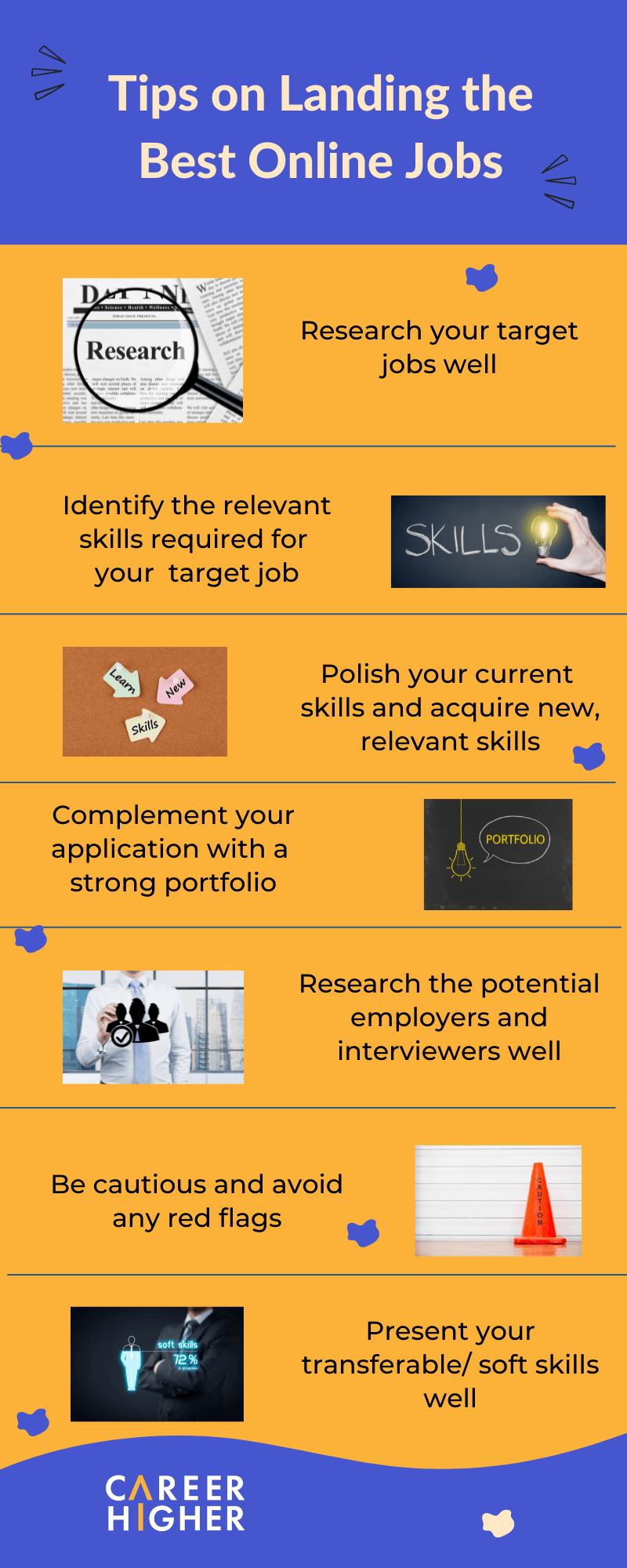 Performing a lifestyle change by entering into the remote-job world is a rewarding process that may take time. Using the above article as a guide, you can pinpoint the industry that suits you and increase your chances of working remotely. However, this may be time-consuming and effort-intensive, so patience is key. We would be happy to assist you if you would like professional guidance.