There are a variety of ways candidates can submit their job applications. According to Jobvite, job boards and career sites are among companies' top sources for recruiting. However, another study revealed that 85% of recruiters use email as their main channel for contacting and building relationships with candidates. So, if you are currently looking for new opportunities, there is a chance you might be asked by your potential employer to send your career documents through email.
Writing an email for a job application may sound as simple as sending your resume, and you're done. However, there are some things you need to keep in mind to ensure your email will be well received by your prospective employer. In this article, we will share tips on how to write an email for a job application to help you stand out from the competition.
1) Start with a concise and clear subject line
The subject line for a job application email is crucial as it is the first thing your prospective employer will see when you send them your resume. It makes the initial impression and may serve as the basis for whether or not the recipient will open your email. As a matter of fact, a study revealed that 64% of people open their emails based on the subject line. The recruiters and hiring managers are not an exemption. 
Job applications may sometimes provide directions for the email subject line. In such cases, make sure to follow the instructions provided. Otherwise, we highly recommend using a concise and clear subject line. Use a relevant subject line by stating your name and the position you're applying for. Recruiters typically receive hundreds of applications per job opening. Hence, it is important that your subject line is informative and gets to the point. Let's take a look at some of the examples below. 
Product Manager, Jane Smith
Referred by Joe Bloggs, Product Manager, Jane Smith
Job Application for Commissioning Specialist, Jane Smith
Requisition ID: XXX, Jane Smith
Job Application for Director, Jane Smith
2) Use an appropriate salutation
The salutation is the greeting at the start of your job application email. It is the first thing your prospective employer sees once they open your message. How you begin your email will define the tone of your message and may influence the recipient's perception of you. To start your email with the right tone, choosing an appropriate salutation is imperative.
We highly recommend using a professional but not too formal salutation. Try to figure out the contact person's name and address your email to them. In most cases, you can find this out by checking the job post, visiting the company's website, or contacting them directly. If you weren't able to find out the recipient's name, you may use a generic salutation. Some examples include "Dear Hiring Manager", "Dear Recruitment Team", or "Dear IT Department Hiring Team".
3) Explain the purpose of your email
Never assume that the recruiter knows why you are writing. Use the first paragraph to clearly state the intention of your email. We suggest mentioning the name of the role you're applying for, how you found the job opportunity, and what captivated your interest to apply. Here is an example of how you can do it in practice.
As a Product Management Leader with over 10 years of expertise, I am excited to apply for the VP Product position advertised on LinkedIn. I am passionate about creating and delivering commercially viable products that address customers' unspoken needs while maintaining alignment with the overall corporate strategy. With my passion and extensive expertise in product management, I believe I am in a great position to be a valuable asset to your company.
4) Demonstrate that you're a good fit
Use your email's second to third paragraphs to showcase why you are qualified for your target job. Avoid duplicating information from your resume. Instead, select the most relevant experience, skills, and accomplishments that make you a good fit for the role. Below is an example.
Seeing hidden opportunities and figuring out "what's next" for the real estate industry has always been my career aspiration. As an Independent Consultant for ABC Company, I have augmented the internal research team of Fortune 500 companies. I also helped well-established businesses with their market analysis and timely white papers that address market trends.

Throughout my career, I have spearheaded discussions and generated insights that supported billions of dollars in transactions and portfolio decisions. More specifically, my efforts have been pivotal in generating $XXM in revenue. If hired as the Global Head of Retail Research, I am confident I would be able to bring the same level of commitment and results along with me.
5) Thank the hiring manager
Thanking the recipient can help establish your reputation as a professional and courteous individual. Hence, we recommend closing off the body of your email by thanking the hiring manager for their time and considering your application. You can also use the final paragraph to mention that your resume and other documents are attached to the email. Here's how you can do it in practice.
Thank you for taking the time to consider my application. You can find more information on my candidate profile in the attached resume. If you have any questions about my application details, please don't hesitate to reach out. I am looking forward to speaking with you about my qualifications at your convenience.
6) End the email with an appropriate closing 
Use a professional closing to end your email. If you are using more than one word, capitalize only the first letter and make sure to use a comma after the closing. Then, write your first and last name on the next line. Here's what it looks like.
Example 1:
Yours faithfully,

First Last Name
Example 2:
Yours sincerely,

First Last Name
Example 3:
Best regards,

First Last Name
7) Be Focused and concise
Recruiters receive hundreds of applications for each vacancy. Hence, it is important to keep your email short and get to the point quickly. This makes it easy for the recruiters to understand what your email is about and why you're a good fit for the role. To keep your email concise, limit your email to up to four paragraphs with three to four sentences each. Cut out any details that are not relevant to your application.
8) Proofread your email before sending
Your job application email is the hiring manager's first impression of you as a potential employee. So, it is important that the content looks professional and polished. Grammatical errors, typos, and missing attachments may signal a lack of professionalism. Additionally, an unclear statement may entirely convey the wrong message. Hence, proofreading your email before sending it is a must. Here are some tips for you.
Use proofreading tools like Grammarly.

Check attachments to make sure nothing is missing.

Read your email out loud.

Ask a friend, family member, or colleague to proofread your email.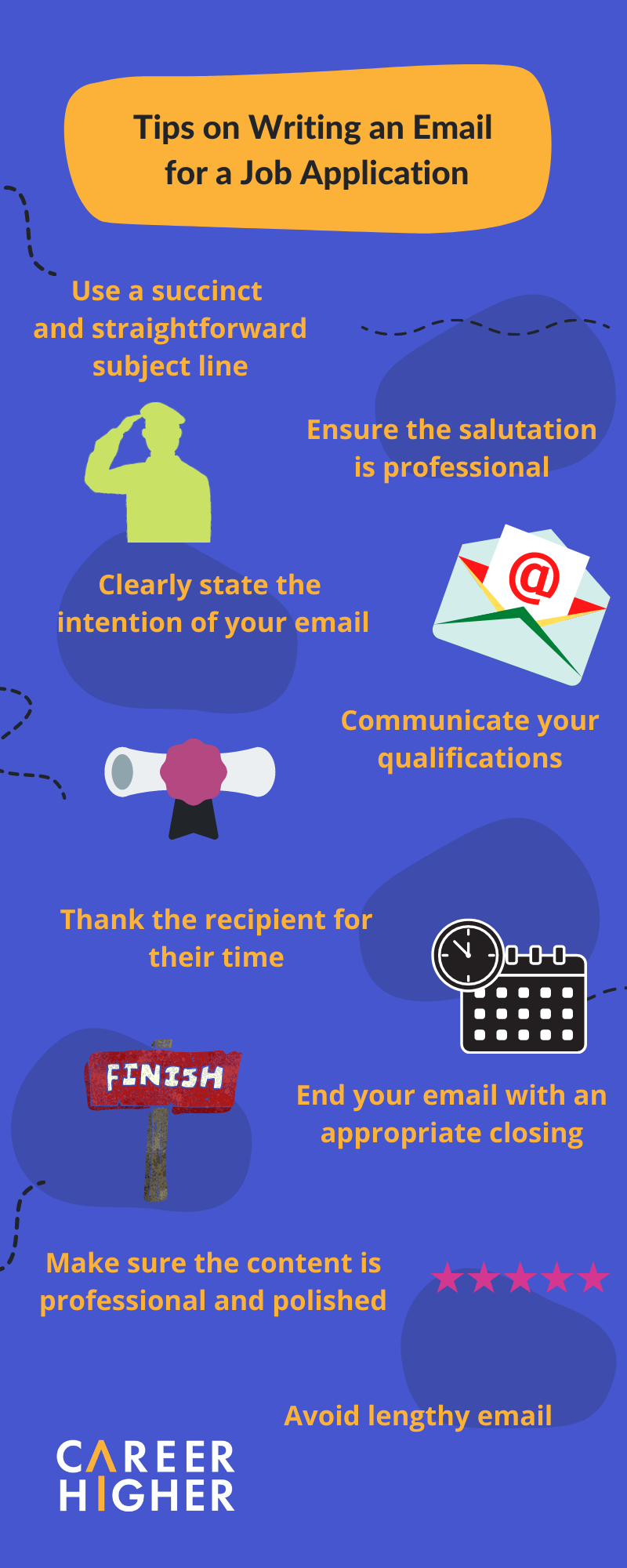 Nowadays, submitting your application for a job is simple and easy. Whether you are applying via LinkedIn or other online job platforms, your profile and resume get sent to your target employer in just one click. However, there aren't always shortcuts. In some cases, you may be asked to send your application by email. Hence, learning what to write in an email when sending a resume is critical to boosting your chances of progressing to the next stage of the recruitment process.