Do you enjoy talking to people, have a knack for problem-solving, and are looking to work from the comfort of your home? A remote customer service position may just be the right pick for you. Whether you are setting foot in the professional world or thinking about switching careers, plenty of opportunities are available in the domain across multiple industries.
Currently, 76% of customer service employers have the majority of their employees working remotely. According to Flexjobs, customer service is the most popular entry-level category for remote workers in 2022. In this article, we discuss how you can start your career in the remote customer service field.
What does a remote customer service representative do?
A remote/virtual customer service representative interacts with customers and assists them on behalf of a company. However, instead of working out of a traditional office, they work from home or another remote location. Typically, they are required to provide information about the company's offerings, resolve complaints, explain the company's policies and procedures, and process orders. Customers reach out to them through phone, email, or other communication mediums, such as live chat, social media, and community forums.
What do you need to become a remote customer service representative?
1) Education qualification
Typically, remote customer service positions don't require much formal education. Most companies only ask for a high school diploma or equivalent for entry-level roles. Although, some employers may prefer candidates with a bachelor's degree in a related field. During the onboarding process, the employer may require you to complete training and certification courses before starting the work.
2) Skills
Here are the top skills that employers look for in an ideal candidate for a remote customer service position:
a) Communication
Effective communication is vital to customer service as you'll be the company's voice whenever you speak to a client. Since your interactions would be over a remote medium, it can be challenging to understand the customers' needs and develop a connection with them. Thus, to succeed in this role, you need to be a good listener and proficient in communicating clearly and courteously.
b) Empathy
Dealing with angry, irritated, or unhappy customers can be challenging and stressful. Thus, empathy and maturity are important qualities to have in a good customer service specialist. Instead of taking things personally, you should be able to intuitively understand the customer's feelings and needs from a distance, placate them, and offer the right solutions.
c) Problem-solving
Employers often look for candidates with a problem-solving mindset. To be successful in this role, you should be able to diagnose the client's problem effectively and guide them to the relevant solution. You may be required to address order queries, help customers choose the right products/services, or explain company procedures.
d) Computing Skills
To work in a virtual position, being comfortable with technology is imperative. You aren't expected to be a computer wizard, but you should have sufficient IT knowledge to smoothly operate computers, mobile devices, or software applications as required by the role. Many companies will also provide training on their operating systems.
For your reference, we have added a remote customer service role's job description below.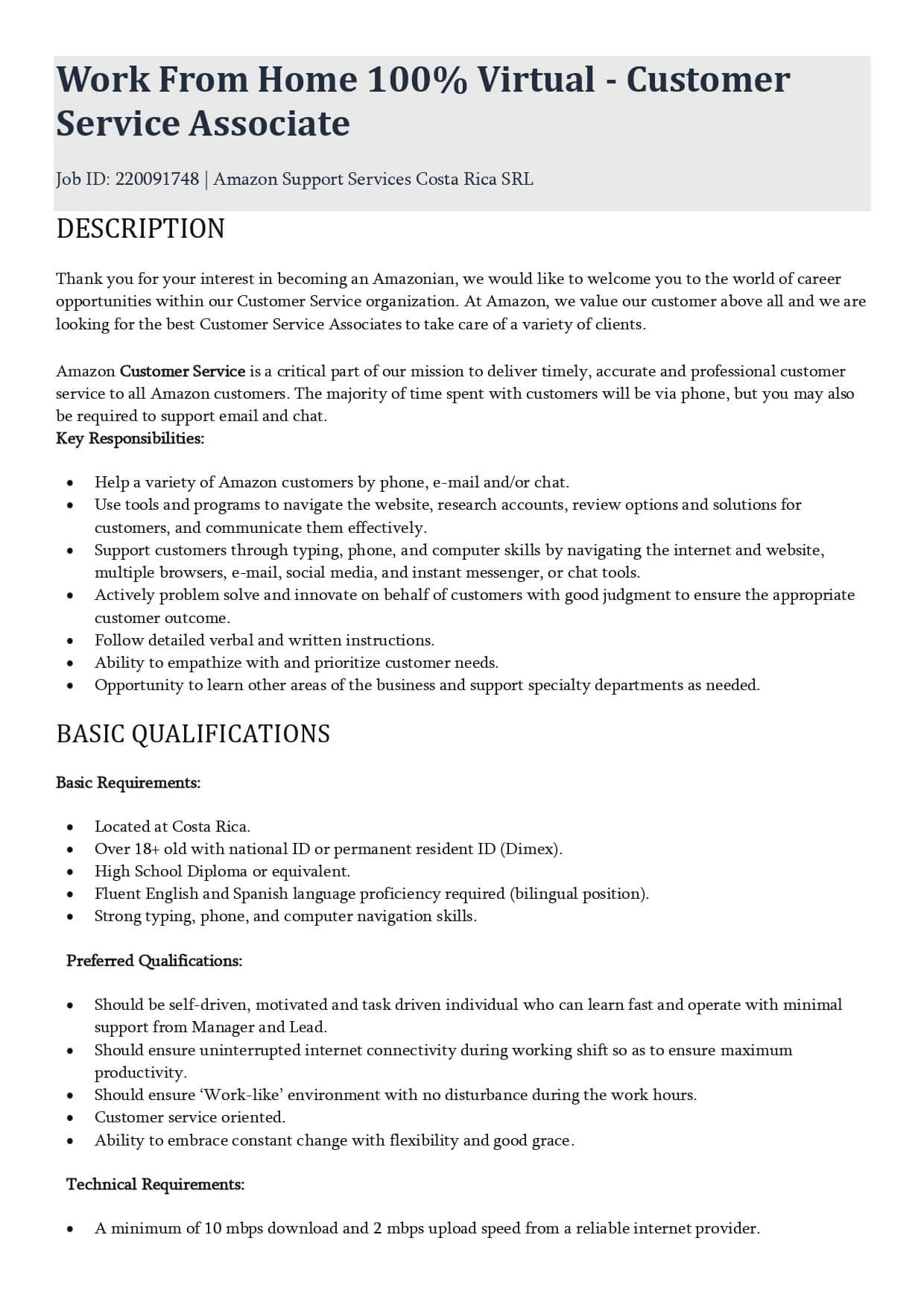 Tips on how to land a remote customer-service job
1) Consult a reliable job board
 Job search websites are one of the most popular and effective ways to search and apply for job vacancies. Some of the biggest global job search engines, such as LinkedIn, Indeed, and Monster, advertise many openings in the remote customer service domain. On LinkedIn, customer service is the most popular category for work-from-home opportunities, with approximately 64,000+ postings in this category across the United States. Besides, many reliable job boards specialize in work-from-home opportunities. Here are some of the best remote job search websites for customer service roles:
2) Keep track of the hiring companies
Before deep diving into the job applications, we recommend prioritizing the type of employers and the industry you wish to work for, to be more effective in your job search. Formalize a list of your target companies and keep track of the "Careers" or "Jobs" section on their websites to find relevant open positions. If you can't find any vacancies at the moment, you could also consider reaching out to the hiring manager and expressing your interest. Here is a list of top global companies that offer remote customer service positions:
3) Leverage your network
Professional networking may initially seem awkward and nerve-racking, but it is one of the most successful methods of finding a job. If you have previously worked in customer service, you may already know a few industry professionals who could provide relevant leads. Consider reaching out to them and expressing your interests. If you are new to the industry, check with your family, friends, and professional connections, and ask if they can introduce you to anyone in the industry.
4) Develop connections
Many employers organize or participate in customer service-focused conferences and fairs. Attending such events could be a great way to develop connections and discover work opportunities. Besides, you could also gain crucial insights and foster relationships through online communities like Support Driven, which focus on supporting customer service professionals.
5) Tailor your resume
When you start writing your resume, first analyze the job description of the target role to identify relevant keywords and skills the employer is focusing on and include these in your document. For jobseekers without direct experience, this process might prove to be a bit challenging. But you don't need to worry! You could still create a powerful resume by focusing on the transferable skills.
For example, suppose you served as a peer mentor at your university. You could say:
"Advised 50+ incoming students at XYZ University; assessed student's challenges and suggested relevant resources, enabling them to assimilate quickly into the campus life".
Even though you don't have direct customer experience, in such a case, you are highlighting strong communication and problem-solving skills, which are ideal for candidates in this role.
6) Earn relevant certifications
If you have been hunting for a remote customer service role for a long time, but haven't had much success, consider taking up a customer service certification. It can help you acquire the necessary skills and knowledge to boost your employability prospects. You could also take up an industry-specific certification to better understand the products and services that the company offers. Some online courses which could be helpful are:
Frequently asked questions
1) Which industries offer remote customer service positions?
Virtual customer service positions are offered almost across all industries. With more and more companies developing a digital presence, the demand for the role is multiplying as employees are needed to address customer inquiries and complaints. Typically, many hires are made across the technology, healthcare, insurance, financial services, and e-commerce sectors.
2) How much does a remote customer service representative make?
The salary of a virtual customer service representative is influenced by many factors, such as experience level, employer, industry, job location, and duties. According to Glassdoor, $33,654 is the average salary for a remote customer service representative in the United States.  Many customer service specialists are also paid by the hour, so the longer you'll work, the more money you can earn.
Low entry barriers, easy requirements, and the opportunity to work from home make remote customer service an increasingly desirable category for job seekers. Ample opportunities exist in the customer service field, but the trick is finding the right position for you. If you need support in the job search process, feel free to contact us for help.