Outshining a pool of qualified candidates is the toughest part of the job search process. In cases like this, it is no longer a secret that a cover letter is an effective tool that can help you distinguish yourself from everyone else. However, even experienced professionals may find it a struggle to create one. So, if, in any case, you also find it confusing how to format it properly and what details to include, you're in the right place. In this article, we will teach you how to write a great cover letter that can help you maximize your chances of landing an interview. But first, let's discuss in greater detail what is a cover letter and why you need to submit one during your job search.
What is a cover letter and why is it important?
A cover letter is a one-page document that details your interest in the position and the company you're applying to. It gives you an ultimate opportunity to communicate why you're the perfect fit over other applicants and make a positive first impression. While submitting one may not always be a requirement, most hiring managers still prefer to receive one as they use it to evaluate whether an applicant's skills and experience match the job requirements. So, even if it is optional, writing and sending a best practice cover letter is imperative to grab the attention of the hiring manager.
Tips for Writing a Great Cover Letter
Here are some effective tips on how to write a cover letter for your dream job.
1. Choose the right cover letter template
In a nutshell, it is highly suggested that you use a cover letter template that complements your resume. While this is the case, the more important thing to note when choosing a template is that simple and professional is your way to go. Using colorful and visually appealing ones with superfluous designs can be tempting. However, this can just cause a distraction to the readers, making it difficult for them to know where to start. So, to ensure you pick the right cover letter template, here's one example that is aligned with the best practice.
Download PDF Sample | Download Word Sample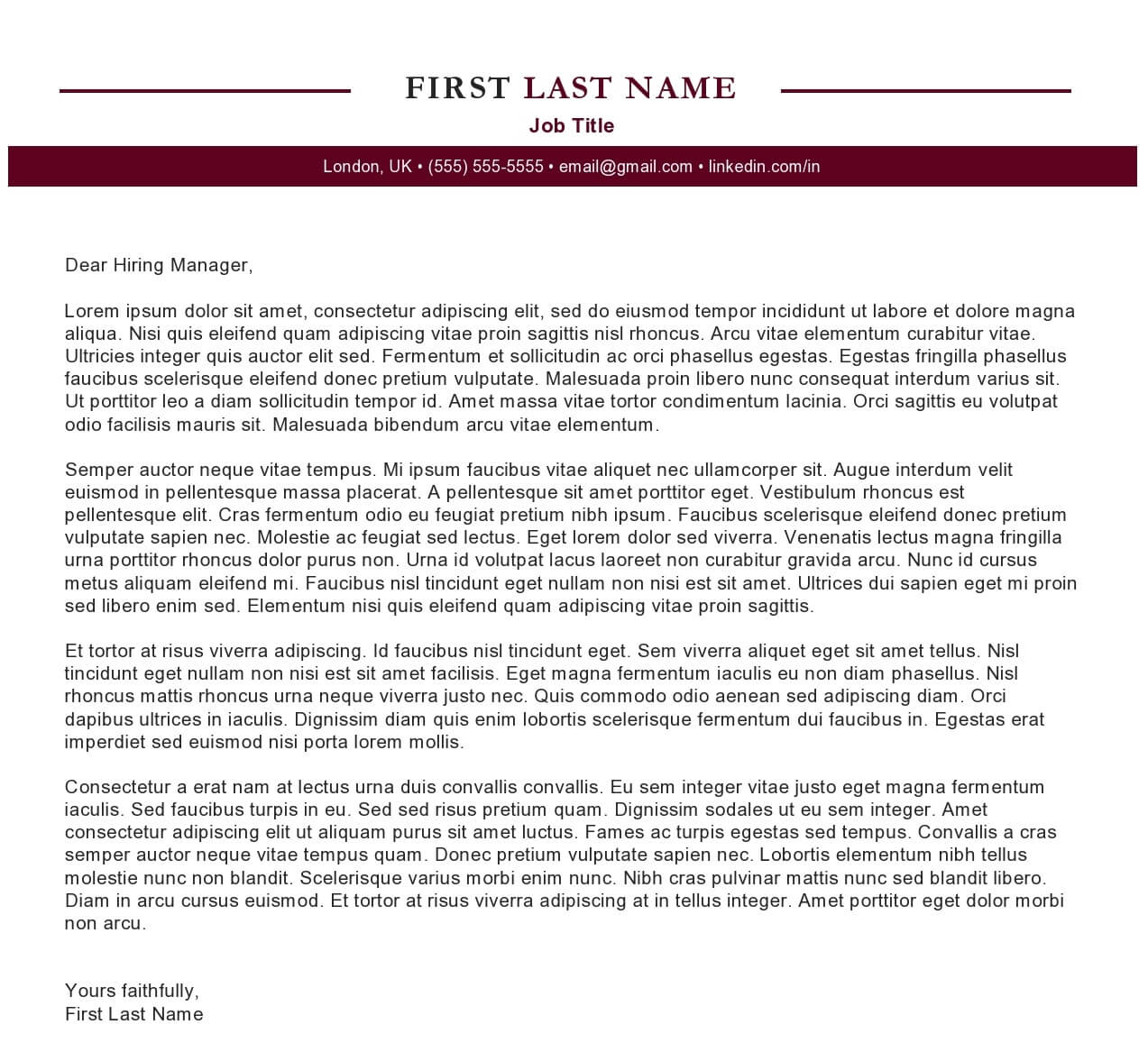 2. Use the tried-and-tested cover letter format and structure
Following a well-structured cover letter format is your first step to capturing the hiring manager's attention. This will allow you to ensure that your cover letter is highly organized and professional, with compelling content aligned with what the employer is looking for. Failing to create and submit a properly formatted one may lead them to decide not to read your cover letter at all. So, to avoid such scenarios, take note of everything you need to include in your cover letter, which we listed below.
Cover Letter Header:

A header includes your full name, address, phone number, professional email, and LinkedIn profile URL.

Salutation or Greeting:

A salutation is where you properly

address the recipient of your cover letter

, if possible, using their specific first name.

Cover Letter Body:

A cover letter body comprises up to five paragraphs detailing who you are, the value you offer, your notable accomplishments, and your genuine interest in the position and company.

Complimentary Close:

A cover letter closing is where you professionally

end and sign off your cover letter

.
Here's what a good cover letter format and structure should look like.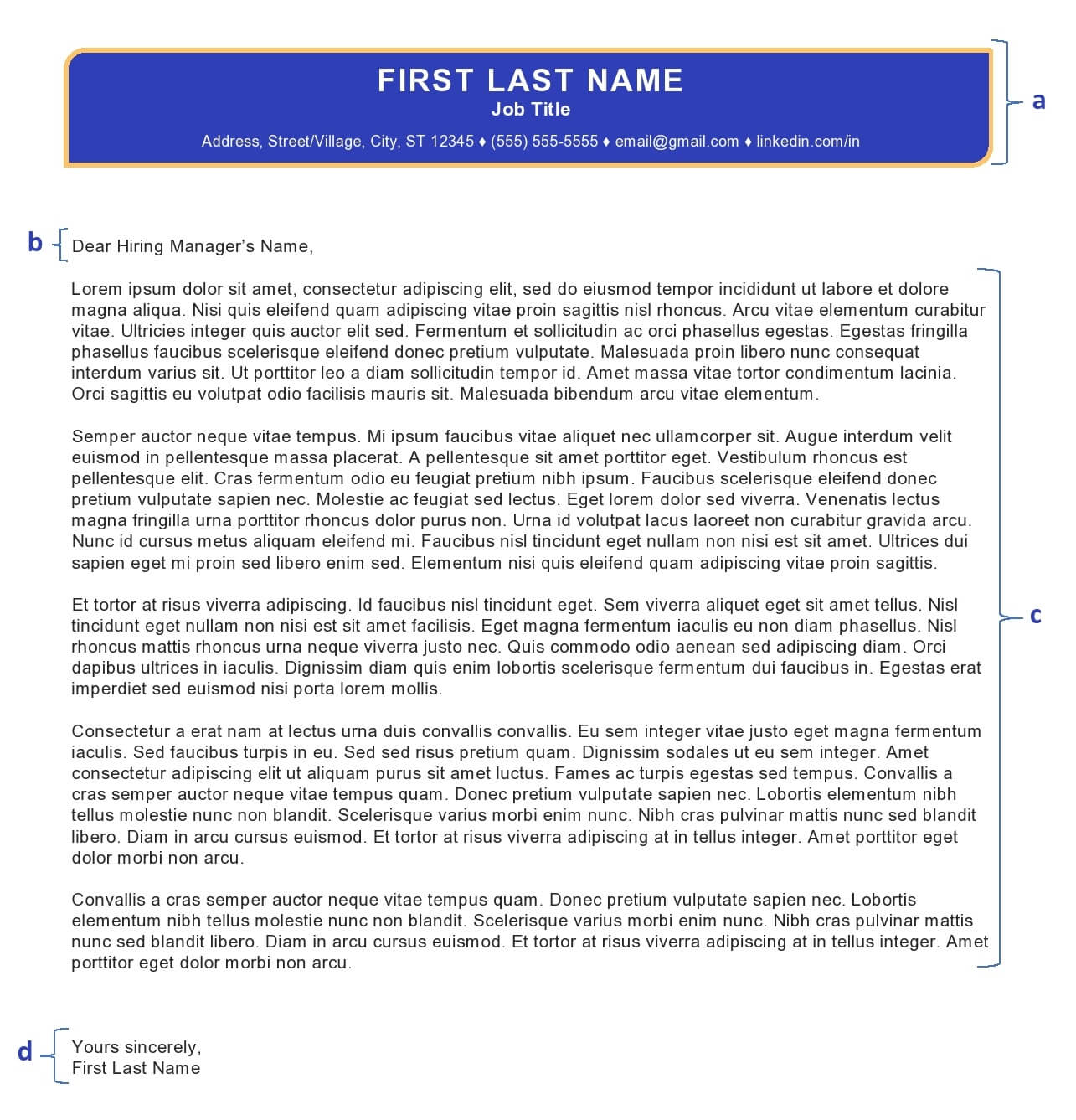 3. Start with a strong, captivating opening
You probably heard the line "first impression matters" multiple times. It may sound cringy, but it holds very true when it comes to job applications. As hiring managers receive thousands of applications daily, chances are, they won't be reading every single one to the end. Simply because they don't have time, and apparently, they won't be spending an extra second reading a cover letter from an applicant who doesn't meet their criteria. Thus, it is important that you make a good impression from the beginning.
You can start your cover letter by greeting the hiring manager using their first name. While you can use a more generic approach, doing this can go a long way to showcasing your genuine interest in the position. Then, introduce yourself in the first paragraph by briefly describing who you are, your expertise, and how you can add value to the company. Highlight your industry expertise that most reflects what the job is looking for. Take a look at the examples below. Which one do you think can captivate the attention of hiring managers in just a few seconds?
Example of a Bad Cover Letter Introduction
To whom it may concern:

My name is Jane, and I'm submitting my resume for your consideration for the Product Manager role posted on LinkedIn. With 8+ years of industry experience, I feel that I would be suitable for the position. I am hardworking and very willing to learn any new skills required to perform the job at hand successfully.
Example of a Good Cover Letter Introduction
Dear John,

I was excited to come across the Product Manager position at ABC Company. As a product management leader with 8+ years of experience, I have cultivated an aptitude for integrating well-researched consumer understanding and business goals into design and product decisions. I am confident that my product leadership capabilities and in-depth experience working in an Agile framework development environment make me a strong candidate for this unique opportunity.
4. Showcase your qualifications and achievements
Now it's time to prove that you have what it takes to succeed in the role. The second and third paragraphs are the best place in your cover letter to do this. But wait, have you done your research? Did you thoroughly review the job descriptions? By doing this, you can have a better grasp of what the job requires and what the company is looking for in a potential employee. Hence, you can identify and be specific about which skills and expertise to highlight in your cover letter. Then, make sure to provide examples of your past duties to demonstrate that you actually possess these qualifications.
To stand out as the strongest applicant, back up your qualifications with numbers and figures. Keep in mind that employers always want to see results, so don't hesitate to showcase the impact you've brought to your previous companies. This will help them gauge the value you can potentially deliver to their business. Thereby, increasing your chances of gaining the favor of the hiring manager. Let us give you an example of how you can do this in practice.
Developing and implementing globally consistent and locally relevant marketing campaigns is my professional objective and motivation. As the current Chief Marketing Officer (CMO) of ABC Company, I oversaw the strategic review of the China business. My efforts have played a pivotal role in the subsequent sale of the company's infant formula and child nutrition business for an implied enterprise value of $2.2B. Throughout my career, I have led the development and execution of brand marketing strategies for various fast-moving consumer goods. As a result, I have turned around business performance, increased net revenue by up to $3M, and brand penetration by 200% while building great brand affinity.

For the past 15+ years, I have served in many different capacities as a marketing leader in startups, private equity, and blue-chip companies. These experiences cultivated my comprehensive understanding of the fusion of business, cultural, and human insights. I leverage this knowledge to develop and integrate the brand into relevant tribes and communities, enabling me to deliver impactful business results. I believe my unique mix of marketing expertise and background would translate well into this role, making me a great ally to have on your team.
On the other hand, here's an example of cover letter content you should avoid.
Your job posting mentions that you are looking to hire a Chief Marketing Officer who understands the internet, digital marketing, and social media trends. During my time at ABC Company, I was tasked with boosting the company's Instagram followers. I explained to the Marketing Department Head that I would be happy to do so and that I would also work hard to increase follower participation as engagement has become a critical metric.
5. Explain why you are a strong cultural fit
Simply because you possess all the skills required by your target position doesn't necessarily mean that you are also a perfect cultural or team fit. One important thing you must keep in mind is that in addition to industry-specific skill sets, employers are also looking for personality and business attributes that match the values, beliefs, and behaviors upheld in their organization. This way, they can ensure that the candidate they are considering hiring is enthusiastic about contributing and growing along with the company in the long term. Thus, saving them time, effort, and additional costs.
To demonstrate that you are a perfect cultural fit, describe why the company is your employer of choice and why you are interested in the position in the fourth paragraph of your cover letter. To do this effectively, make sure to find out more about the company. This way, you can have a better sense of what they are doing, their accomplishments, and their current mission and goals. Then, explain which of these has the most appeal to you. You can also add statements about how their values and culture align with your passion and long-term career goals. Here's an excellent example:
Looking at my drinks counter, you can tell I am passionate about this category. Having been an advocate of non-alcoholic spirits for years, I was impressed by your revolutionary method of mimicking the fragrance and flavor of alcohol without the edge. I could see your brand taking the non-alcoholic drink category into its next chapter. I am convinced that the VP of Marketing role is the perfect step for me, as it would allow me to learn so much from you while adding tremendous value to the business through my experiences, successes, and lessons learned.
In contrast, here is a not-so-good example.
I am certain that my proven track record of strong work ethic, unmatched attention to detail, and high-level expertise in digital marketing campaigns and trends will allow me to contribute to your team's ongoing success.
6. End with a call to action and professional sign-off
Your cover letter should end with a simple gesture of gratitude to the reader for considering your application. Also, let them know that you are looking forward to meeting them for further discussion of the opportunity and ask them to contact you. You may include your phone number or email address in the last paragraph of your letter for them to know how to reach you easily. While doing so, make sure to be polite and remain professional. As this is your last chance to showcase your genuine interest in the job, you wouldn't want to ruin the good impression you've already established, right? Then, sign it off properly by using a professional complimentary close with your full name below it. Here's what it looks like.
Thank you for taking the time to read and consider my application. I am looking forward to the opportunity to showcase why I would be a good fit for the position by presenting some of my prior projects in person. You can contact me at (123) 456-7890 or via email at myemail@gmail.com.

Yours faithfully,

Full Name
On the contrary, a bad cover letter closing looks like this.
I have attached a copy of my resume. I look forward to hearing from you about this job.

Best wishes,

Full Name
Cover Letter Examples
Here are some best practice cover letter examples you can use as a reference while writing your own.
1. Cover letter example for a mid-management role
Download PDF Sample | Download Word Sample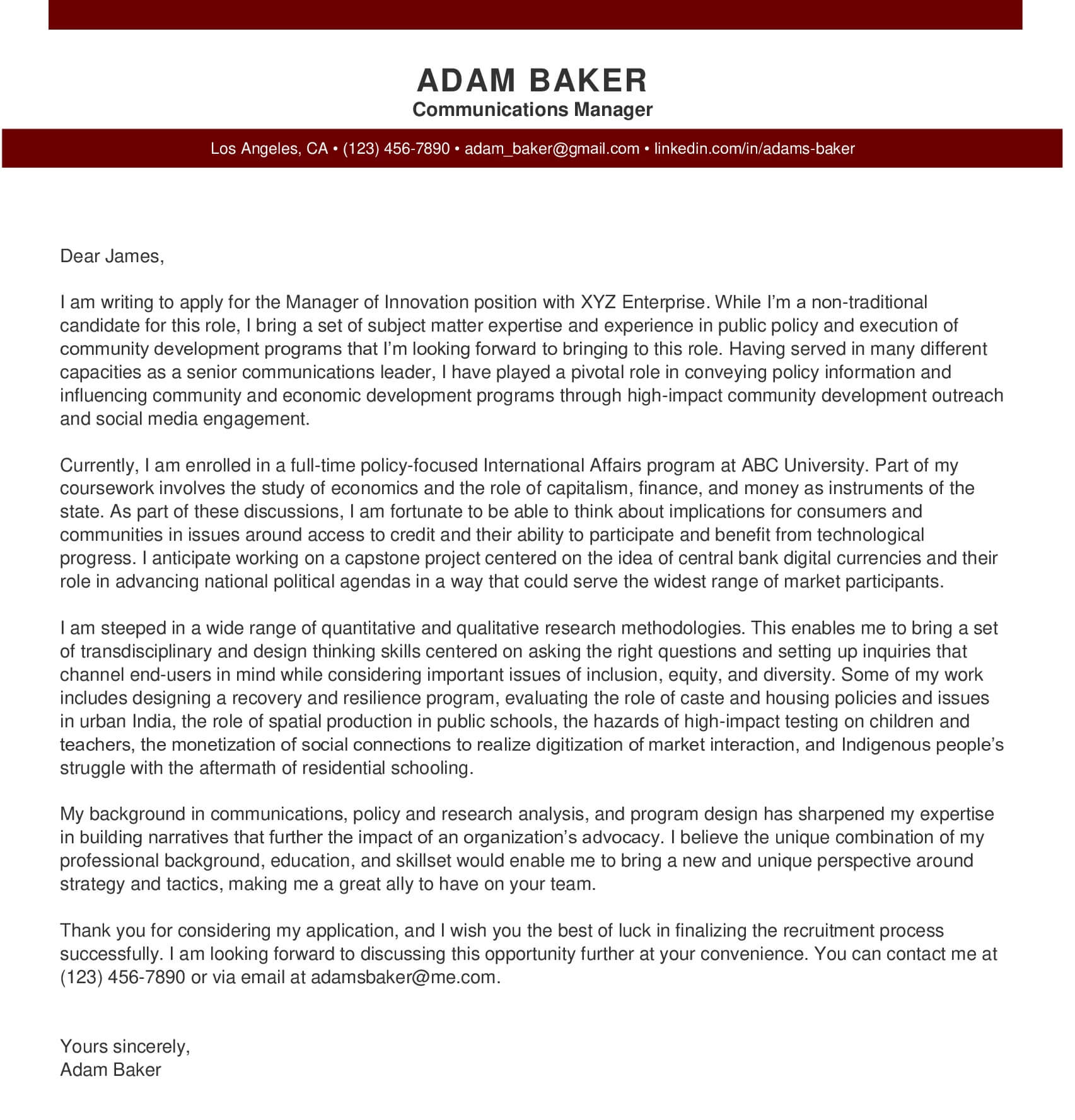 2. Cover letter example for a senior management role
Download PDF Sample | Download Word Sample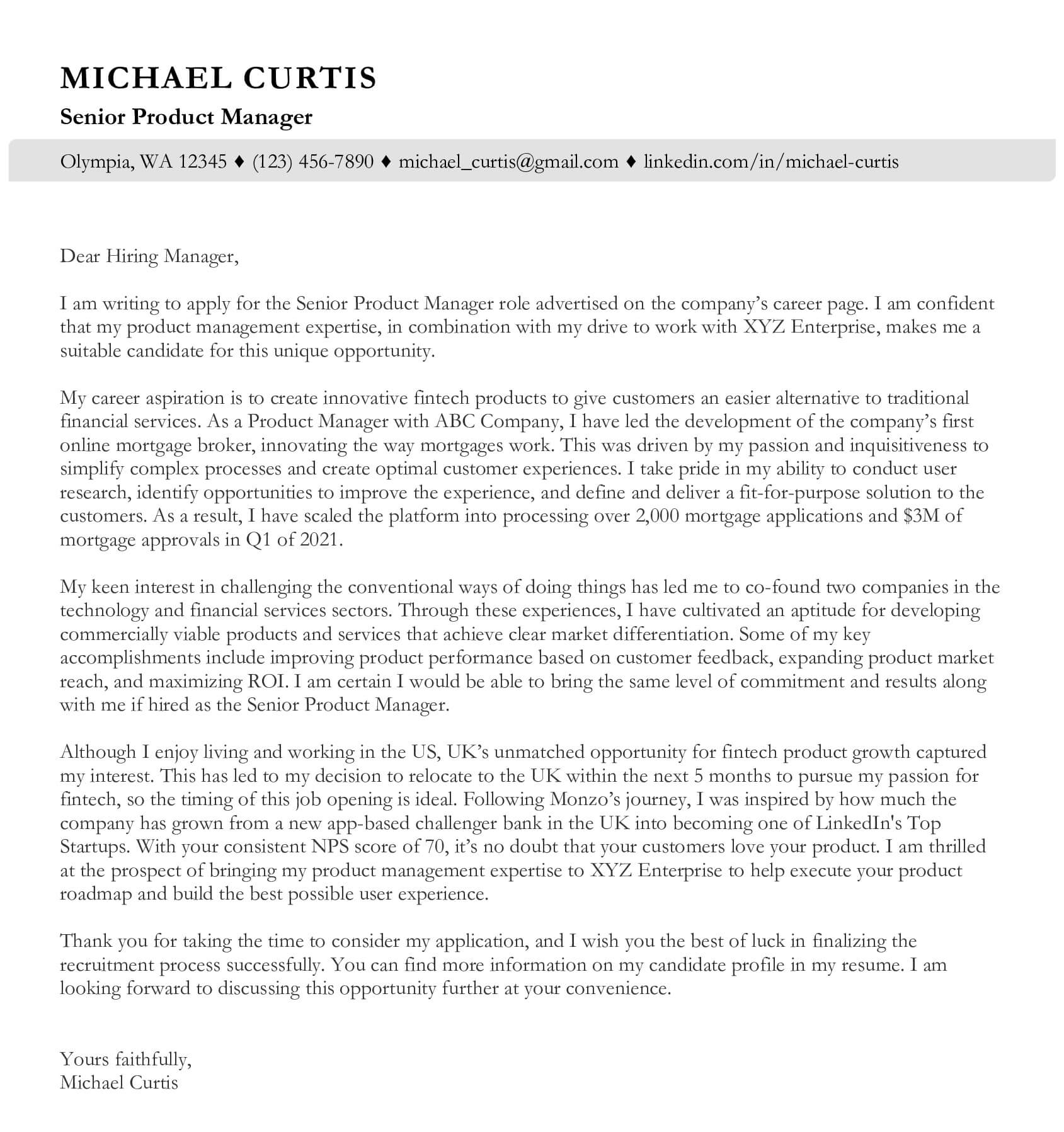 3. Cover letter example for an executive-level role
Download PDF Sample | Download Word Sample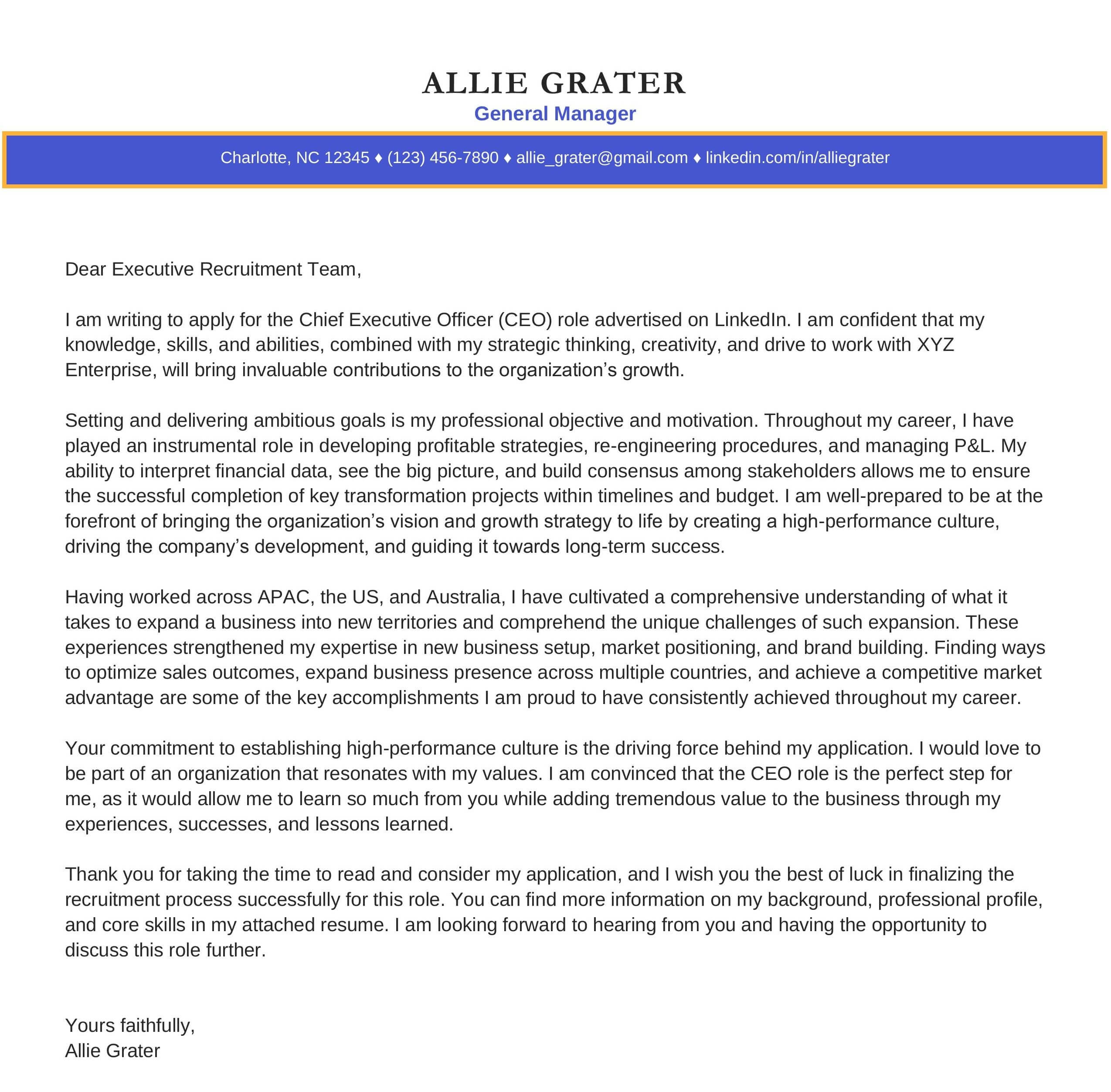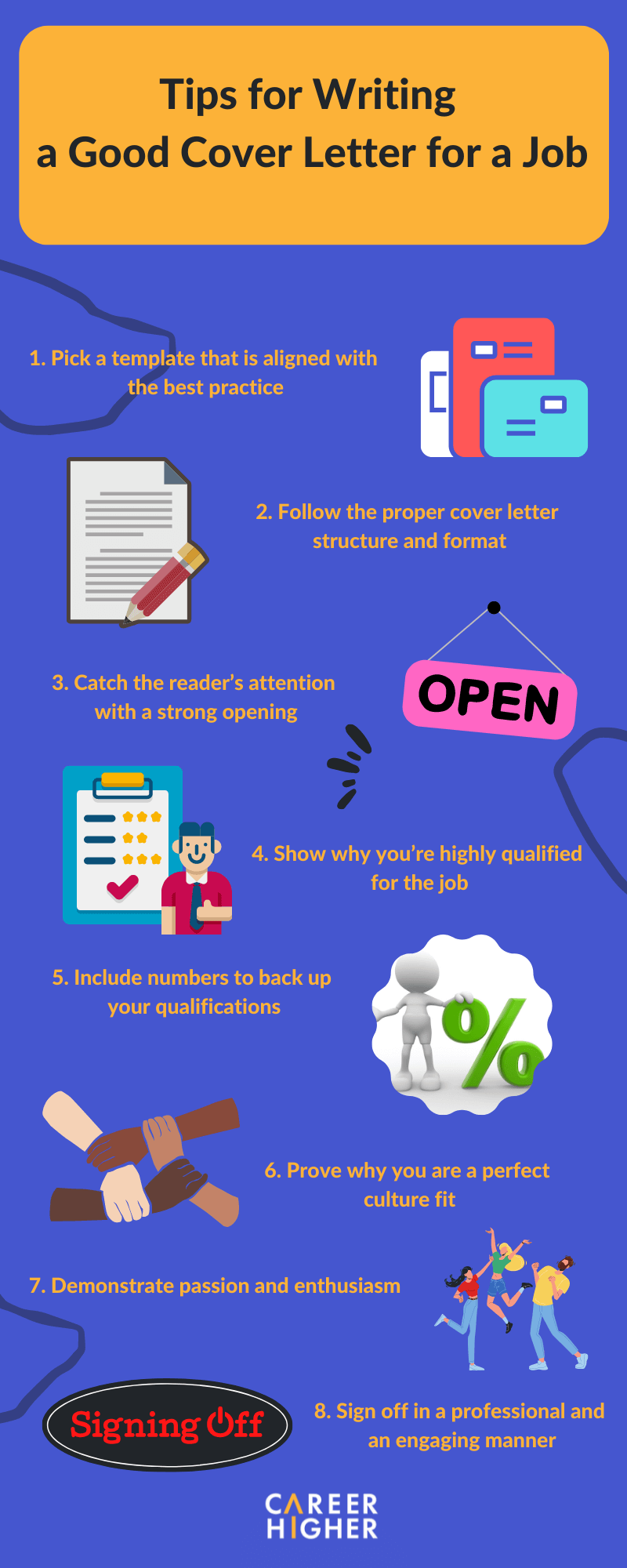 In today's competitive job market, setting yourself apart from everyone else is critical. To achieve this, we highly suggest submitting a cover letter for every job application. However, you may find that writing a good one that helps guarantee a job interview is not easy, as it takes extra time and effort. The tips we've shared in this article can help you get started, and for further support, you can always reach out to us.