Outshining the competition during a job application with a resume alone can be challenging. That is why a cover letter is a crucial tool to accompany your resume during this process. Although submitting one is not always a requirement, it allows you to provide further details on how and why you would be a good fit for the job. As a matter of fact, 26% of recruiters said that a cover letter is a critical component in their hiring decisions.
While the purpose of cover letters is evident, there may be things you are confused about. You may be wondering how long your cover letter should be. How many details of your past experiences do you have to write or share? Do you need to hit a specific number of words? Well, keep on reading to know the answers to these questions.
Ideal cover letter characteristics 
Here is a quick guideline on how long your cover letter should be:

What is the right cover letter length?
The length of cover letters is an important thing to consider when applying for your dream job. According to best practice, a cover letter should not be less than a half-page and no longer than one page. Too short cover letters can give the impression that you are not genuinely interested in the job or just applied in a rush. On the other hand, making it too long can cause hiring professionals to lose interest quickly.
As a job seeker, you should remember that hiring professionals don't always have the time to read lengthy cover letters. In fact, Saddleback College findings revealed that 70% of employers surveyed prefer a less than a page cover letter, and 25% said that the shorter the cover letter, the better. In addition, another study showed that people's attention span has markedly decreased over the past several years. Thus, it is vital to keep the cover letter concise and crisp to increase your chances of getting noticed.
How many words should a cover letter have?
Sometimes, the company may provide writing directions for the cover letter in the job advertisement. They may state a word limit or include a writing prompt or questions you need to answer. In such a case, remember to stick to the employer's instructions when writing your cover letter.
If no specific requirements are provided, there isn't a target number of words you need to hit when writing your cover letter. But as a general guideline, 350-400 words is a good range to follow. However, remember to focus more on the content than the word count itself.
How many paragraphs should a cover letter have? 
The body of a cover letter should consist of four to five paragraphs. To be clear and impactful, focus each paragraph on one central theme and include three to five short sentences in it. Here is how you can structure the body of the cover letter: 
1) First paragraph: Catchy Introduction
In the introductory paragraph, start with clearly stating the purpose of the cover letter and how you heard about the position. Then, highlight your value by sharing your most relevant experiences or achievements. Remember to keep the introduction sharp, direct, and informative so that the hiring manager is encouraged to read further. 
Opening example:
"I am writing to apply for the Crypto Associate role advertised on LinkedIn. I am confident that my expertise in managing digital assets, knowledge of the crypto sector, and my drive to work with XYZ firm make me a suitable candidate for this unique opportunity."
2) Second and third paragraphs: Relevant experiences and achievements
The middle section is the meat of your cover letter. It is your chance to showcase to the employer why you are the perfect choice for the role. Present a powerful and cohesive narrative aligned with the employer's needs. Share your most impressive and relevant career experiences, including your responsibilities, skills, and achievements. 
Middle section example:
 "My passion is to create innovative products that bring user satisfaction and drive the company's strategy to success. As a Product Manager with ABC company, I oversee the end-to-end development of platforms and foundational products that serve diverse customers across multiple geographies. I have led the innovation of an American retail brand's pricing and inventory system, which increased the company's price competitiveness by 14%. I also spearheaded the end-to-end development of a new promotion strategy, which boosted sales revenue by 23%.

Throughout my career, I have directed the vision, strategy, and design of highly compelling and differentiated products based on market needs, consumer value, organizational capability, technical feasibility, and returning value. My efforts have enabled companies to increase efficiency, deliver immediate wins, and surpass targeted goals. I take pride in my ability to leverage agile scrum and lean principles in facilitating new product innovation. I love my job and am ready to get out of my comfort zone to develop innovative products at XYZ company."
3) Fourth paragraph: Employer-specific details
Employers love candidates who are genuinely excited to work at their company. Thus, it's important to showcase your enthusiasm for the particular role and the company. To convey your motivation, you could refer to the company's offerings, mission, vision, or culture. We recommend also describing how the company matches your preferences, background, or values.
Enthusiasm for employer example:
"Reading about your mission, I was inspired by your egalitarian approach to promoting public healthcare through equitable vaccine distribution. I would love to be part of a company that resonates with my personal ethos of ensuring a healthy and secure life for all sections of society. I am convinced that the Data Analytics Manager role is the perfect step for me, as it would allow me to learn so much from you while adding tremendous value to the company through my experiences, skills, and ideas."
4) Fifth Paragraph: Closing and call-to-action
The concluding paragraph of your cover letter is crucial- it's what leaves the last impression of you with the reader. In the final section, summarize your strengths, express gratitude to the hiring manager for their time and consideration, and add a call to action.
Closing example:
"I believe my six years of business development experience, particularly in the finance industry, will be a great match for this position. I welcome the opportunity to discuss this further at your convenience. You can reach out to me at (911) XXX-XXX or johndoe@abc.com. Thank you for your time, and I wish you the best of luck in finalizing the recruitment process successfully."
How to achieve the ideal cover letter length?
So now you know what a perfect cover letter looks like. Are you struggling to keep your document to one page? Continue reading to find out how you can write a brief yet impactful cover letter. 
1) Highlight only relevant experiences
To keep your cover letter brief, focus only on the most relevant skills and experiences. Remember, you don't need to narrate your entire career trajectory or repeat everything on your resume. The best way to do this is to understand the requirements of the job you're applying for by going through the descriptions carefully. Then, match your qualifications to the needs the company and position are looking for. Highlight your most notable achievements to give employers concrete proof that you're a valuable addition to their team.
2) Getting the formatting right
Proper cover letter formatting can help you maintain the ideal cover letter length. Besides, a well-formatted cover letter will go a long way towards creating a favorable first impression on hiring managers. Here's everything you need to know about cover letter formatting:
Font:

A cover letter is a formal document. Thus, we recommend using professional fonts, such as Times New Roman, Arial, Helvetica, or Verdana. Regarding the font size, we suggest using a size no larger than 12 points and no smaller than 10 points. A smaller font size would be difficult for employers to read, whereas a larger one can make your document look unprofessional.

Margins:

Keeping proper margins will make your document readable and professional. We advise setting your cover letter margins between 1-inch and 1.5 inches. Depending on your cover letter's length, you can make minor alterations to the margins to keep the letter to one page. But don't overdo it, it'll make your document too dense or thin.

Spacing:

Remember, white space is your friend. A professional cover letter should be single-spaced to ensure the content is easy-to-read. You can maintain double spacing between each section/paragraph.
3) Write concisely
If you are struggling to keep your cover letter to one page, it's a good idea to review your writing style. An effective cover letter should be straightforward and succinct. To do so, use to-the-point language, avoid unnecessary phrases, write in an active voice, and eliminate filler words. Here is an example:
Wordy sentence example:
 Working with team members from different cultures was an important factor in the development of my current skill set regarding my ability to communicate well with others and in expanding my awareness of different factors.
Concise sentence example:
Working in a cross-cultural team at ABC company broadened my awareness and enhanced my communication skills.
4) Get a second opinion
Ask someone to read your cover letter and critique it. After a point, it can be challenging to enhance your cover letter by yourself. A fresh set of eyes can help you spot any redundancies or errors. You could reach out to a friend, family member, colleague, or a career professional.
Here is an example of what a good cover letter should look like:
Download Word Sample | Download PDF Sample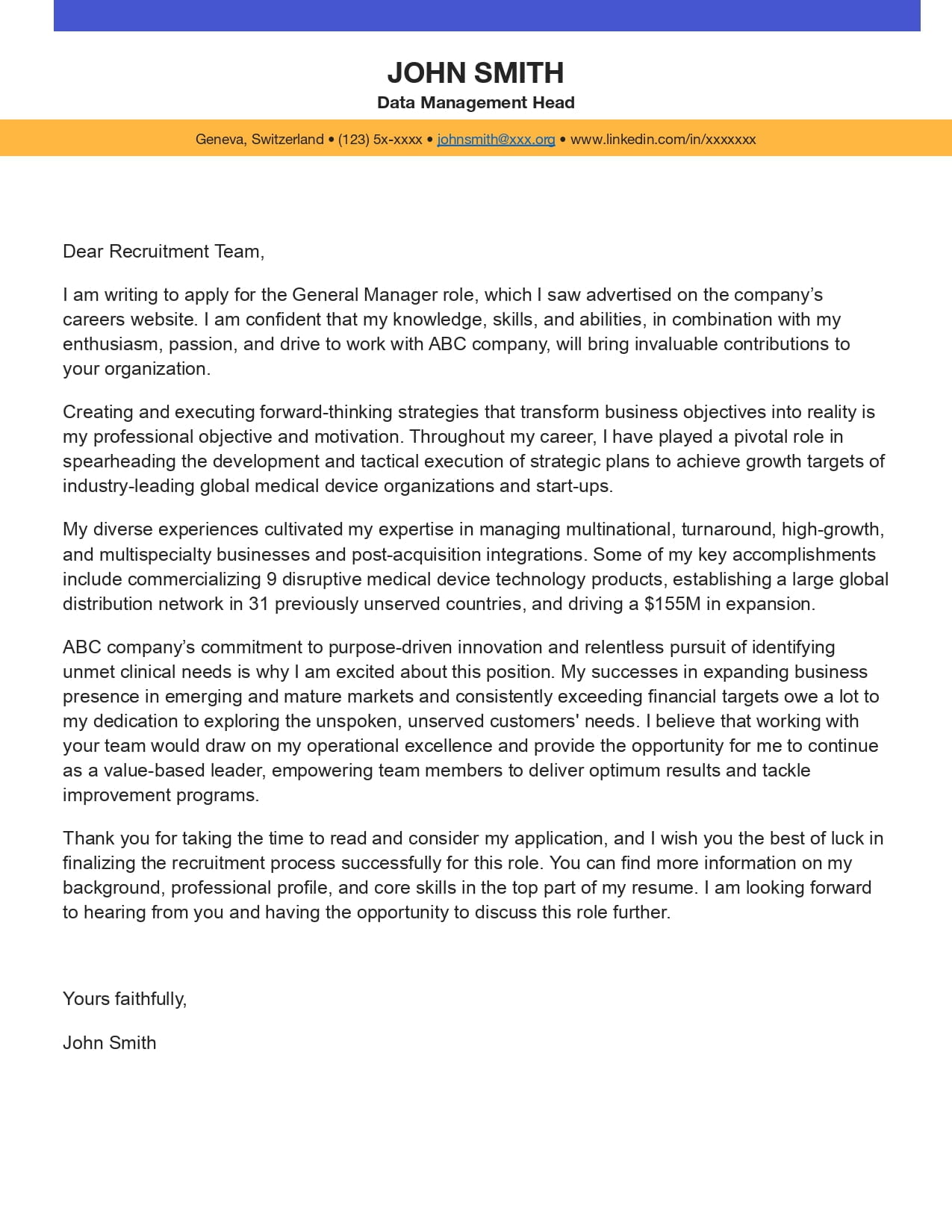 While it may be tempting to share all your past glories in your cover letter, avoid doing so. A compelling cover letter is one that has the right balance between information and readability. Remember, you want to catch the hiring decision-makers' attention, not bore them. If you are looking for expert advice on your cover letter, we are happy to help.