Regardless of your industry and career level, the importance of cover letters when applying for certain roles in today's job market is hard to deny. Including one on each application allows you to communicate the most relevant details about yourself and demonstrate your fitness for your target position in a way your resume can't. In addition, a recent study found that even if it's optional, 77% of employers still prefer candidates who submit a cover letter over those who don't. However, it is not always easy to create a cover letter that would convince potential employers that hiring you is a smart decision. So, to help you nail your job application, we will provide you with some cover letter samples along with effective writing tips and guidelines in this article.
Cover Letter Structure
When trying to write an effective cover letter, the first thing you must know is how to structure it clearly and efficiently. This might be a straightforward task, but it can sometimes be confusing. So, to ensure there aren't any important details missing on your cover letter, here is a checklist of what you should include in it.
a) Header: This section typically includes your complete name, title, mailing address, professional email address, contact number, and LinkedIn profile URL.
b) Greeting or Salutation: This is the proper section to professionally greet the hiring manager by addressing them using their specific first name. Nonetheless, you can also use a generic greeting like "Dear Recruitment Team" or "Dear Hiring Manager".
c) Body of the Cover Letter: The body of your cover letter should communicate who you are, why you are writing, and what value you can offer to employers. This section should include the following:
d) Complimentary Close: The last section is where you add a professional sign-off by using either "Yours sincerely" or "Yours faithfully" followed by your full name below it. While it's not mandatory, you can also add your signature over your name.
For more tips and detailed guidelines about how to effectively format your cover letter, you can read our full article here. But to give you a clearer picture of what a best practice cover letter should look like, here's an example.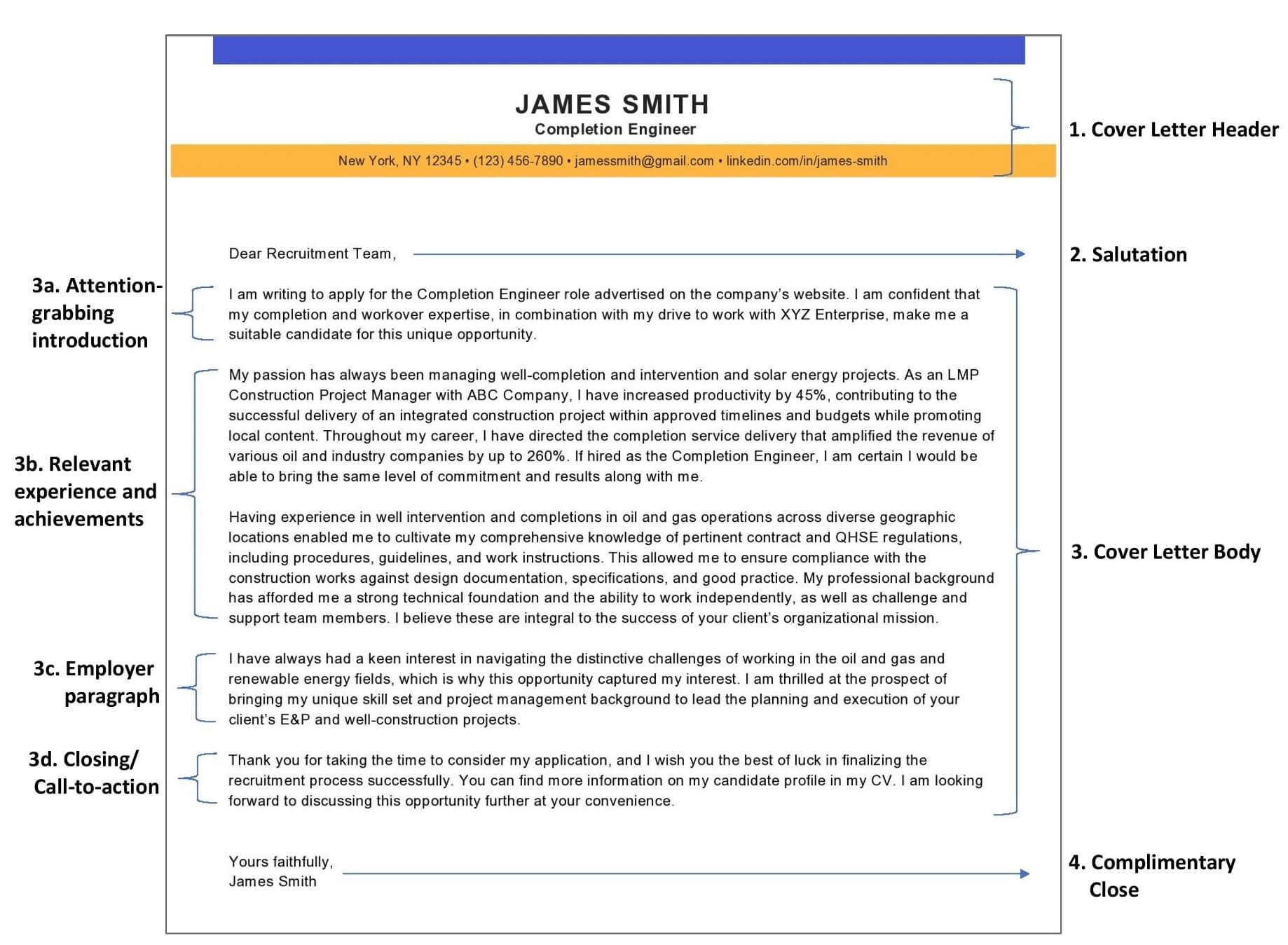 Cover Letter Examples & Templates
To give yourself the best chance of landing your dream job, a great cover letter is necessary. In case you're having a hard time writing one, it can be beneficial to look at some cover letter samples and templates. So, to help you out, here is a list of some full cover letter examples.
1. Cover letter example for fresh graduate/entry-level professionals

Download PDF Sample | Download Word Sample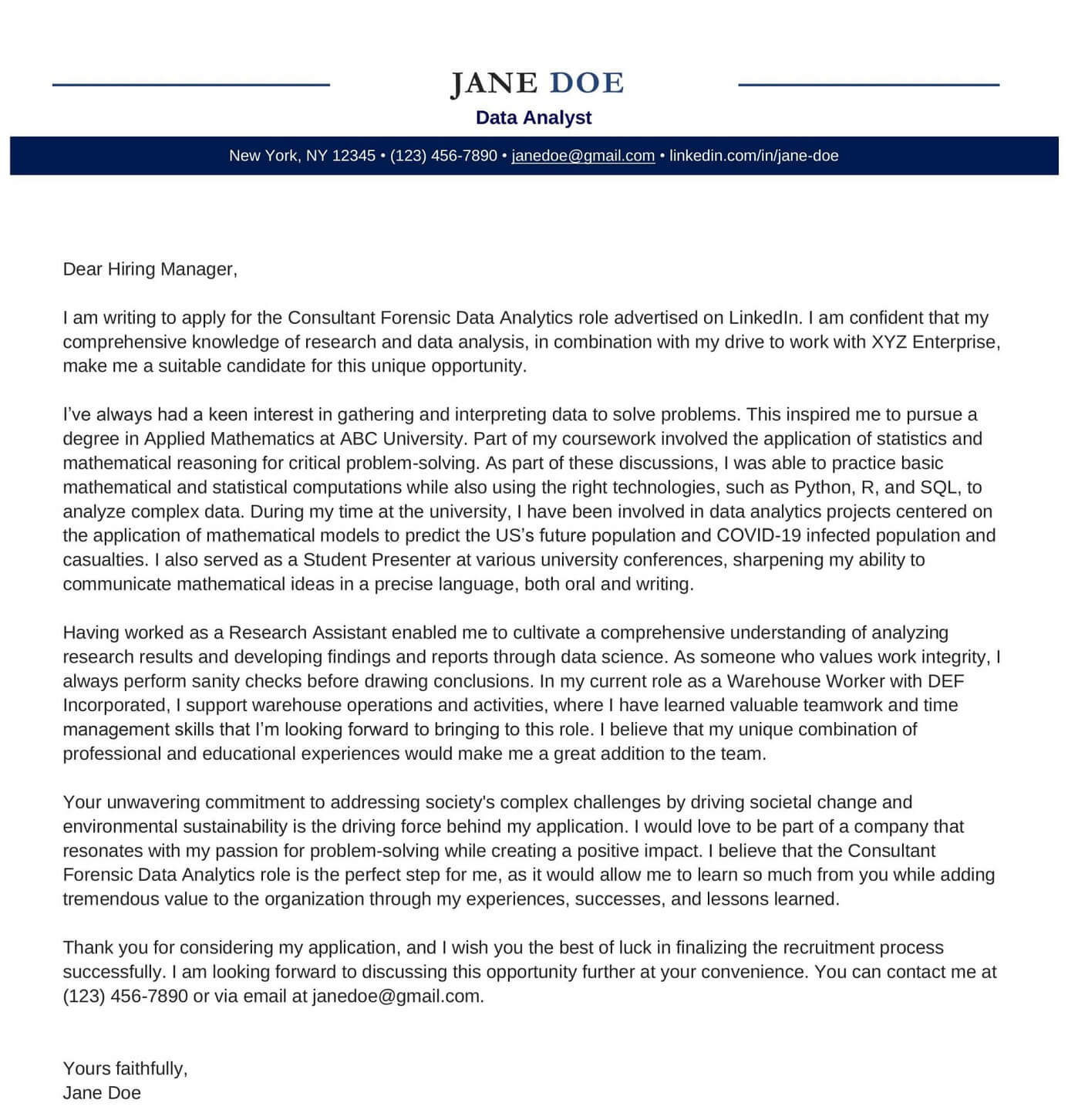 2. Cover letter example for mid-career professionals

Download PDF Sample | Download Word Sample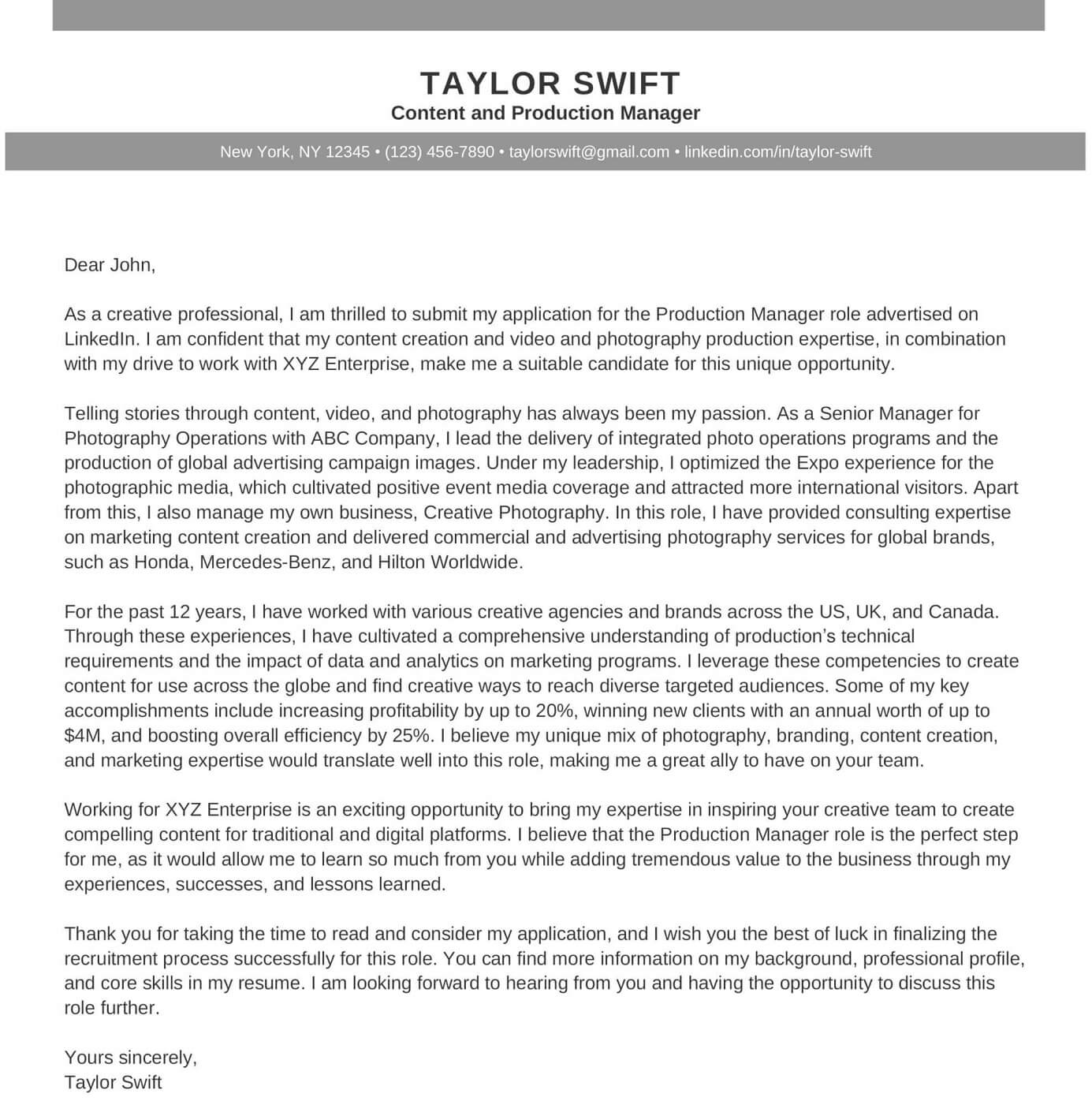 3. Cover letter example for senior-level professionals

Download PDF Sample | Download Word Sample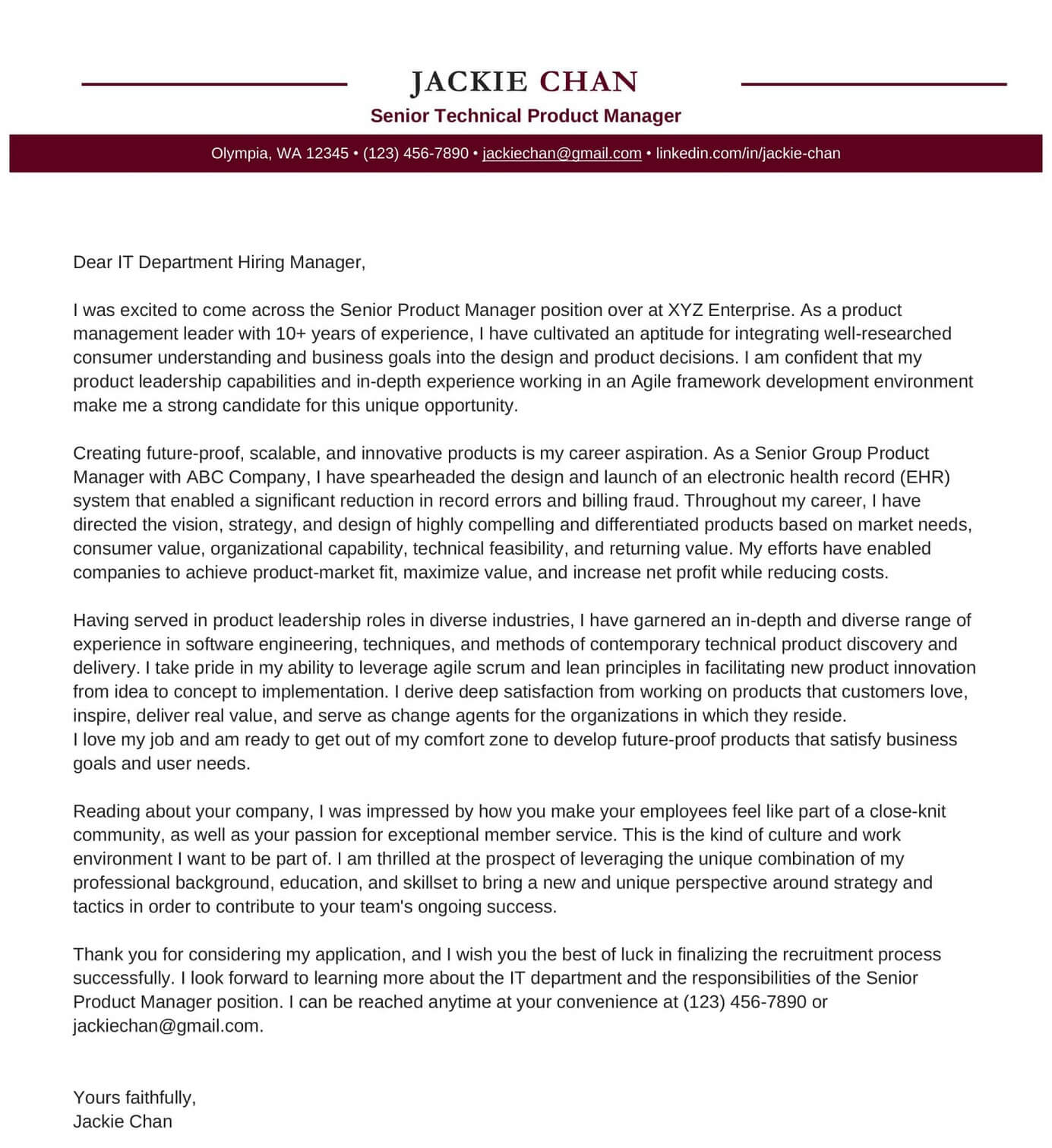 4. Cover letter example for executives

Download PDF Sample | Download Word Sample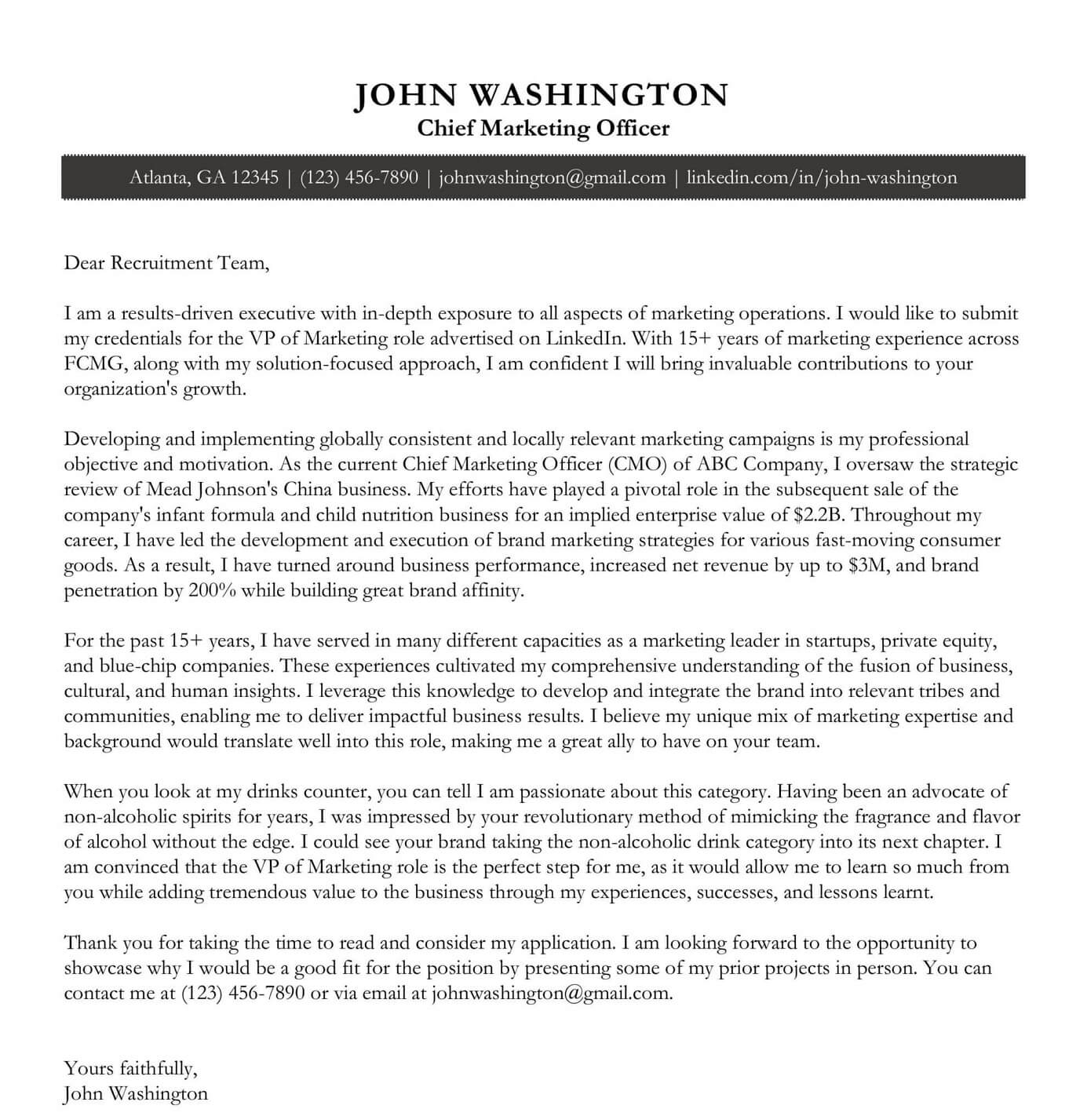 5. Cover letter example for career changers

Download PDF Sample | Download Word Sample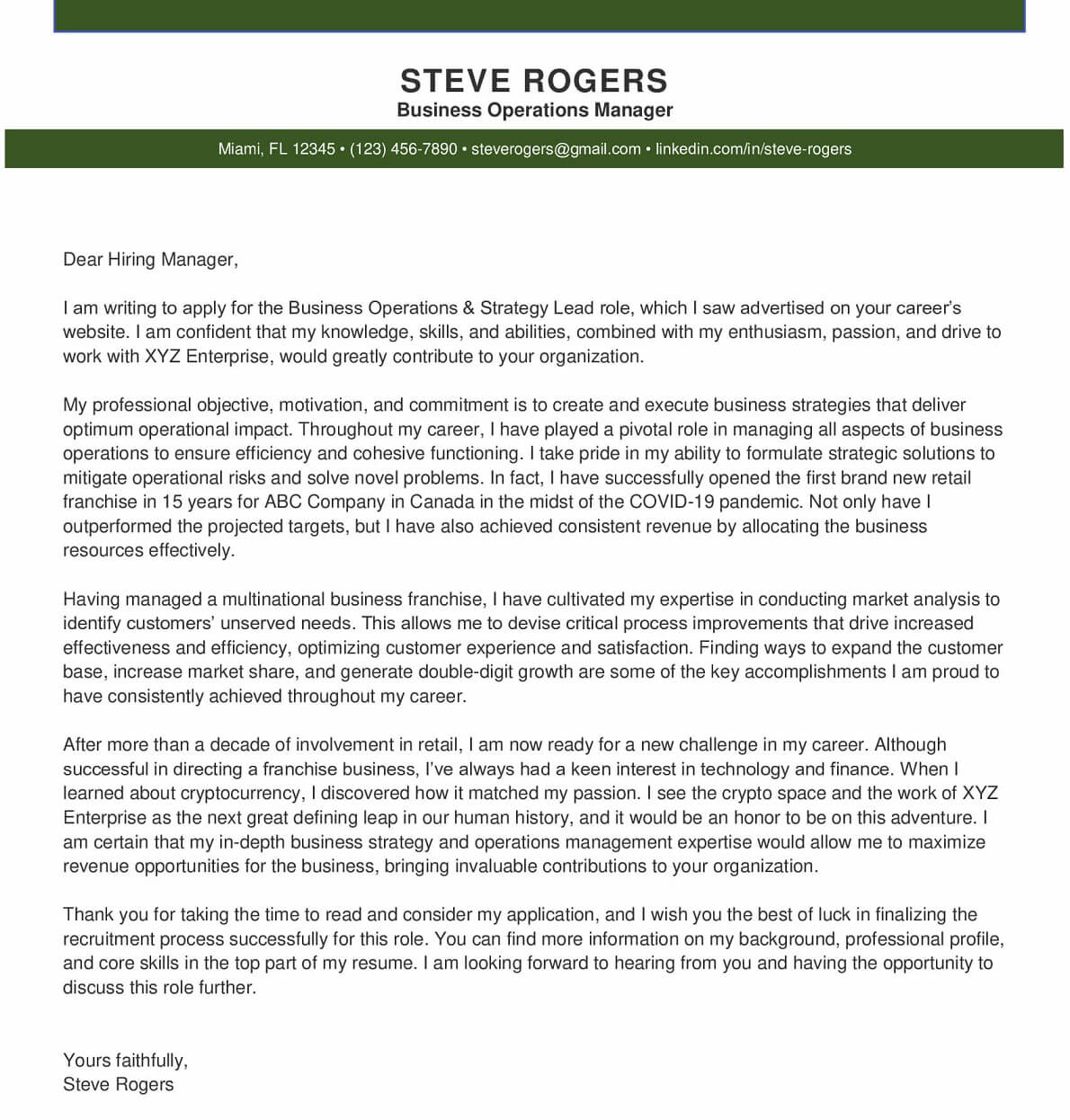 6. Relocation cover letter example

Download PDF Sample | Download Word Sample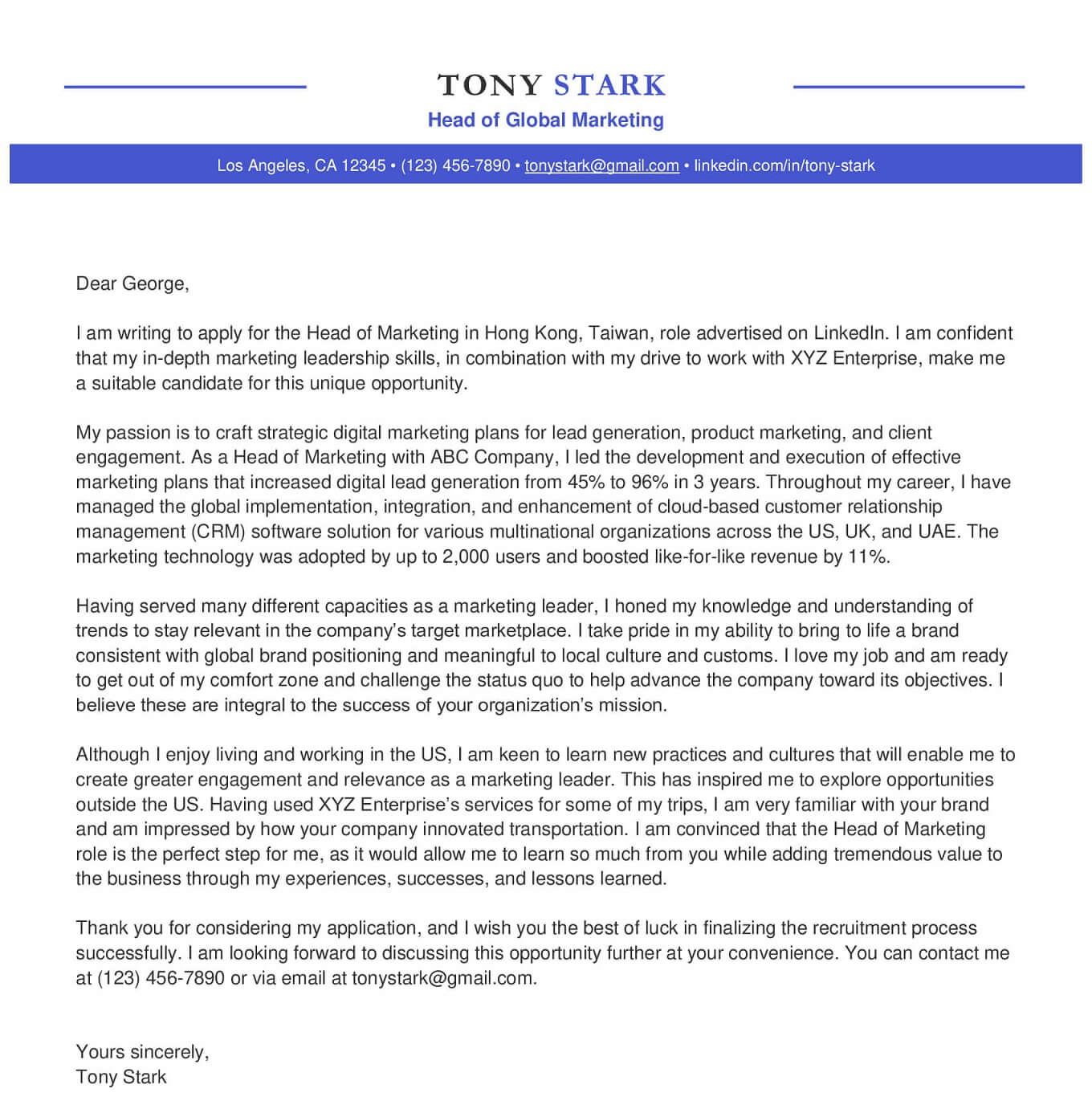 Cover Letter Writing Tips
Now that you've seen some great cover letter samples, are you ready to create one on your own? Keep in mind that the cover letter is your opportunity to make a great first impression and demonstrate why you would be a great hire, so make sure you don't put it to waste. If you still find it daunting, don't worry. We got you! Here are some general tips for writing a cover letter that can help you stand out as an applicant.
1. Use a template and format that complements your resume
Although the content of your cover letter is key to your application, the template and format play a big role too. When done right, it can go a long way to showcasing your professionalism and cohesiveness during your application. Consequently, allowing you to ensure that your first impression is a positive one. Hence, we highly suggest using a cover letter template and format similar to your resume. While they don't have to be completely identical, it is important to make sure they follow the same theme, including the design, color scheme, font size, and font name. Doing so will make your career documents look organized, clean, and polished.
2. Keep it short and straightforward
The standard cover letter length is one page consisting of four to five paragraphs. Anything more than that can cause your target employers to lose interest in reading it. Thus, it is imperative to keep it concise and on-point by focusing only on the most relevant information about you and the value you can offer as a potential employee. Remember, employers, are looking for specific experience, skills, and attributes to determine how you can help them achieve their goals. So, bombarding your cover letter with details about your entire work history won't do you any favor.
3. Tailor to the target job requirements
Each job role has different requirements depending on type, level, industry, or geography. Hence, a one-size-fits-all cover letter won't give you a maximum chance of securing a job interview. To impress potential employers, you must take your time to customize your cover letter, ensuring it reflects your genuine interest in the position and company you're applying to. To do this effectively, go through the job description carefully and note the most relevant skills and experience you know you have. This will enable you to match your qualifications to your target role easier. Thereby allowing you to prove to employers that you are highly qualified to do the job well.
4. Tell your success story
Simply claiming you possess the skills the job requires may not always be enough to convince potential employers to consider you for the position. Well, don't overthink and let your success stories do the talking. Including details about your past accomplishments and successes is the best way to demonstrate your ability to deliver a positive impact on the business. Use examples of your actual duties, and make sure to add numbers and figures whenever possible to make it more effective and convincing.
5. Don't repeat your resume
One of the common mistakes candidates make when writing a cover later is to rehash what's already on their resume. While it may seem understandable as they are enthusiastic about proving their qualifications for the job, it shouldn't be the case. Keep in mind that your cover letter should serve as a complement to your resume. It provides you with the opportunity to infuse a bit of your personality and share additional information about who you are that could add value to your candidacy. So instead of repeating the same details from your resume, use your cover letter to show your passion for what you do and enthusiasm for your target position. This can increase your chances of grabbing the employer's attention.
6. Use keywords
Keywords are critical to allowing employers to know that you possess the qualifications they seek in a potential employee. These keywords are typically the job-specific skills and industry expertise required by your target role and can easily be found in the job description. Including these in your cover letter will show employers why you are a perfect fit for the job, increasing your chances of ranking higher among your competition. However, be careful not to put too many keywords that can make your cover letter confusing to read. Make sure to only add them where relevant and natural.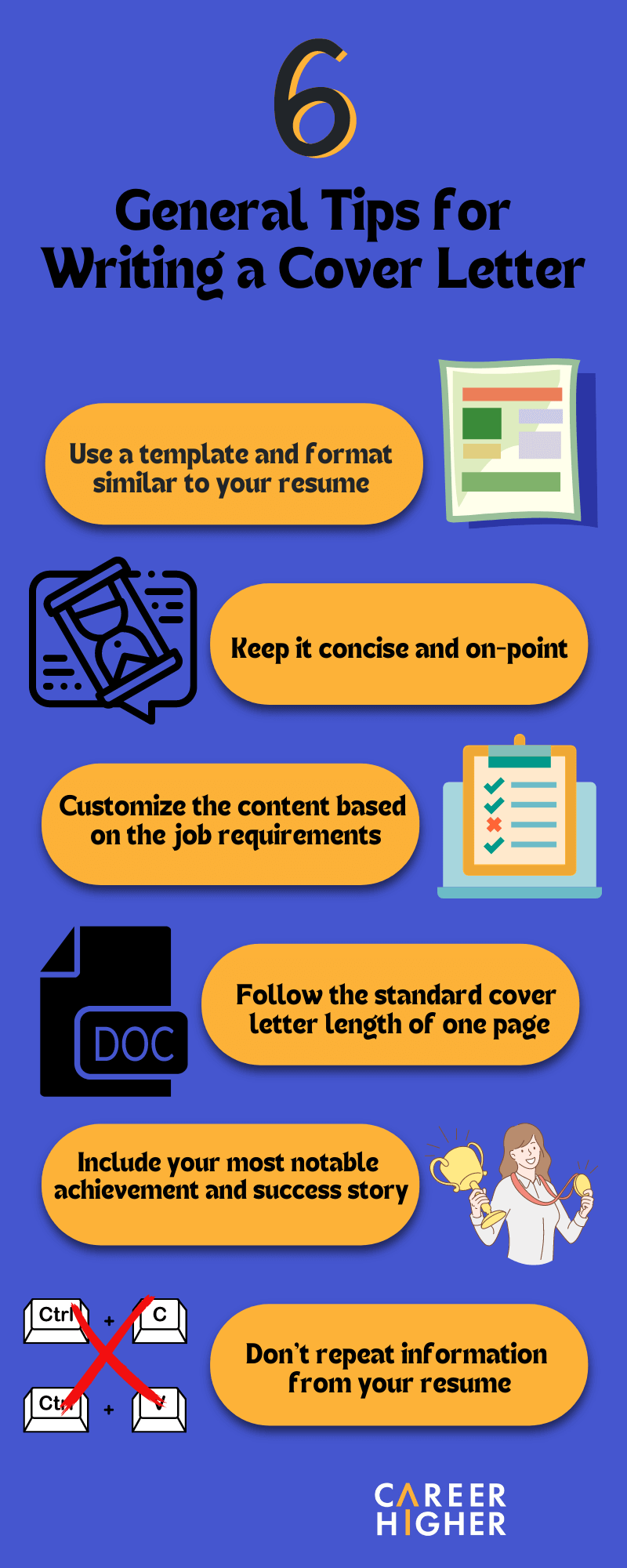 A cover letter is an essential tool that adds value to your application, whether you are fresh out of college or an executive-level professional. It gives you the best chance to make a good first impression and stand out as a strong candidate. To ensure you write a perfect cover letter for your desired job, use the examples and tips we've provided in this article. If you need further support, don't hesitate to reach out to our team of career experts.