A resume provides employers with an overview of a candidate's qualifications. It typically showcases relevant work experience, skills, education, and accomplishments. But if you're just about to set foot on your first job, what qualifications can you put on your resume? Tricky, right? Don't worry. This article will teach you how to create an interview-winning resume even if you're fresh out of college.
How to format a graduate resume?
If you want your resume to stand out, it is crucial to get your resume formatting right. After all, first impressions matter. Also, when you submit your application online, your resume might be pre-screened by the Applicant Tracking System (ATS) before a recruiter reviews it. To ensure your resume will be read and processed correctly, you should consider the ATS and human decision-makers. Keep the following tips in mind to create a well-formatted, ATS-friendly, and professional graduate resume:
What to include in a graduate resume?
Here is a list of sections you can include in your resume to stand out to employers:
1) Place your contact information at the top 
When writing your resume, the first thing you need to put down is your contact information at the top of the page. After all, you want to make it as convenient as possible for the hiring manager to contact you for an interview. Remember to avoid using any nicknames, and use an email address that is simple and professional. Your contact information section should include the following details: 
First and last name 

Phone number 

Email address

Link to a professional LinkedIn profile

(LinkedIn page URL and personal website, if you have one)
Contact information example:

2) Use a professional summary
A professional summary acts as a pitch for your resume. It communicates who you are and what you can bring to the table. For fresh graduates, the content should focus on academic projects, internships, or volunteer work. Avoid using an objective statement, as this shifts the focus from the employer to the candidate, making it less effective. To give you a clearer picture of how they differ, let us show you some examples.
Objective example
Cybersecurity graduate seeking an entry-level position in a reputable organization to expand my learnings, knowledge, and skills.
Professional summary example
Self-motivated and analytical Cybersecurity professional with internship experience in mitigating security gaps and cyber threats. Equipped with excellent communication skills to clearly present complex technical concepts to diverse audiences. Highly organized professional with the capacity to manage multiple tasks in a fast-paced environment. Possess strong critical thinking skills to analyze and resolve problems at both strategic and functional levels.
The objective example above mentioned the candidate's career goal. On the other hand, the second example conveyed what the candidate has to offer. If you're the recruiter, which introduction do you think will capture your attention better?
3) Highlight key skills
As a recent graduate, you don't need formal professional experience to have a solid key skills section. Yes, you heard that right!  Through your extracurricular activities, projects, sports, and other engagements, you've likely accumulated many marketable skills which you could mention.
The best way to do this is to first study the job description of the target role to identify what the employer is looking for in an ideal candidate. Then, match these with your experiences and include a healthy mix of hard(technical) and soft skills, as both are essential to job performance. According to the National Association of College and Employers, the top skills that employers look for in new graduates are:
Analytical skills

Team player

Written communication skills

Ability to take initiative

Good work ethic

Technical skills

Flexibility

Attention to detail

Ability to lead
Also, don't just mention the key skills in this section. Weave them into other parts of your resume too, like the professional summary and the experience section. By doing so, you can provide the employer with evidence of how you've developed and applied these skills.
Key skills section example:
4) Emphasize your education
As a recent graduate, your education is one of your biggest assets. We suggest placing your education section before the professional experience section. It should include the name of the institution, degree, and years attended. Here are some details you may include in your education section:
GPA:

If you graduated with honors or had a high GPA (3.5+), it's a good idea to feature that on your resume. It indicates your hard work and scholastic abilities. However, if you have a low GPA, we suggest omitting it altogether.

Coursework:

Coursework can be a great addition to your education section, as long as it is

relevant

. Any courses, modules, and projects you list must be related to the job position. Don't force this section if it doesn't make sense. The hiring manager is interested in how you can add value, not the number of classes you took.

Scholarships and grants:

 If you have received a merit-based scholarship or a grant, now is the time to show off. They indicate to employers that you are motivated and worth investing in.

High school education:

You only need to put your high-school details in your resume if you never went to college. If you have a Bachelor's or a Master's degree, you can avoid mentioning information about your high school.
Education section example if you've already graduated:

Education section example if your degree is in progress:

5) Document experiences earned during studies
For experienced professionals, the work experience section is the major chunk of the resume. So, what do you include if you haven't held a full-time job? In the experience section, you can include many relevant activities you've done while studying. We'll cover each of these in detail in this section.
When writing your experiences, we recommend using the STAR (Situation, Task, Action, Result) format. It uses a brief professional storytelling structure that includes your primary task, the key steps you took to accomplish the job, and the outcome of your work. Include numbers to quantify your accomplishments. Here's what you can include in the experience section: 
a) Internships
If you have done internships that are relevant to the job position you are applying for, now is the time to mention them. List your responsibilities and achievements using the STAR technique explained above. Remember to be as specific as possible. If you've done an internship in Human Resources, instead of just saying "Intern" on your resume, write "Human Resources Intern". Also, tailor your experiences and responsibilities to the role you're applying for.
Internship experience example: 
ABC Counseling | Brooklyn, NY                                 

Mental Health Counseling Intern                                                      Jun 2019 – May 2020

ABC Counseling is a medical practice compan focused on providing quality psychotherapeutic services. Responsible for leading patient intakes, conducting diagnoses, and modifying treatment plans to address clients' specific healthcare needs. Reported to a Licensed Mental Health Counselor and maintained a caseload of 15 to 20 clients. 

Directed strength-based, culturally competent assessments, such as mental health status examination, risk assessment, and psychometric scales; employed specialized questionnaires to gather information; enabled the creation of treatment plans aligned with client's therapy goals

Furnished client services in a sensitive manner; guided clients on effective therapeutic exercises integrated from CBT mindfulness-based practices; provided referrals on community service; achieved and maintained 95% client-satisfaction rating
b) Volunteer positions
Including your volunteering experiences is an excellent way to stand out from others. It not only shows you're community-minded but also provides a chance to show off your professional skills. Format your volunteer experience using the same structure as internships, but keep in mind to highlight your role as "volunteer" alongside any additional titles held. Here is an example: 
Volunteering experience example: 
ABC Organisation | London, United Kingdom                                             

Head Marketing Volunteer                                                         May 2020 – Nov 2020

Led a team of 30+ students to organize national and state-level awareness events, attracting 500+ students

Pioneered #XYZ campaign- a social chapter addressing the menstruation-related taboo, garnering a reach of 15000+ and recognition from the Principal & CSR Foundation
c) Projects
You can mention any relevant projects you were a part of in your university. It could be your graduation thesis, research projects, or presentations. For example, suppose you decide to include your final-year dissertation. In that case, in 2-3 bullet points, you could describe your research methodology, the challenges you overcame, key findings, and any awards you received for the project. If you have an online link for your project, you could also consider including that.
Research project example: 
Indian copyrights research project | Delhi University                                  Dec 2020

Conducted primary research of 200+ students via focus groups, questionnaires, and interviews to assess the exposure and understanding of copy infringement

Drafted report investigating printing and replication acts under the Indian Copyright Law System and presented it to professors; received the highest grade among 150+ students
d) Extra-curriculars
When you're entering the workforce for the first time, highlighting your extracurricular activities is especially important. By doing so, you can showcase your skills and prove to the hiring decision-maker that you're more capable than your lack of experience suggests. Whether you were a student government leader, an active club participant, or a sports team member, you've likely developed many transferable skills that employers will value.
If your responsibilities directly relate to the job you're applying for, mention your role in the experience section. For instance, if you were the Marketing Coordinator for a student club, and are applying for a Marketing position, outline your experience in the experience section. However, if your role loosely relates to the desired position, placing your experience in a separate section on your resume might be better.
Extracurriculars experience example: 
Latin American Cultural Club | University of Singapore     

Marketing Head                                                                                          May 2020-May 2021

Spearheaded the publicity campaign for the annual winter carnival; improved Year-over-Year (YoY) participation by 16%

Created innovative online and offline marketing strategies and managed 3 client-sponsor relationships, secured 12% more funding than the previous year
e) Include additional sections
While creating a resume as a fresh graduate, you typically have an advantage: extra space! You can use this to give your employer more reasons to hire you. Here are some sections you could include:
Certifications and Licenses:

If you have any certificates and licenses relevant to the job you're applying for, we suggest mentioning them. They can further prove your competency and indicate your motivation to develop professionally. However, refrain from including any irrelevant qualifications.

Languages:

Are you fluent in more than one language? Great! We recommend including it in your resume. As the economy globalizes across all sectors, employers increasingly value language skills, especially if they've mentioned so in their job descriptions. Also, remember to indicate your proficiency level.

Hobbies and Interests:

If your resume is light on the other aspects, you could include an interests section. You could use it to subtly hint at some relevant skills for the position. For example, if you're applying for a content marketing role, hobbies such as blogging and book collecting could indicate your passion for writing. Besides, you and your interviewer may share the same hobbies, which could

lead to an interesting conversation

.
Additional skills section example:

Graduate resume sample
Are you looking for inspiration to get started on your resume? Check out the sample below of a recently graduated job seeker. Don't forget to tailor your resume according to your own experiences and the target job role.
Download Word Sample | Download PDF Sample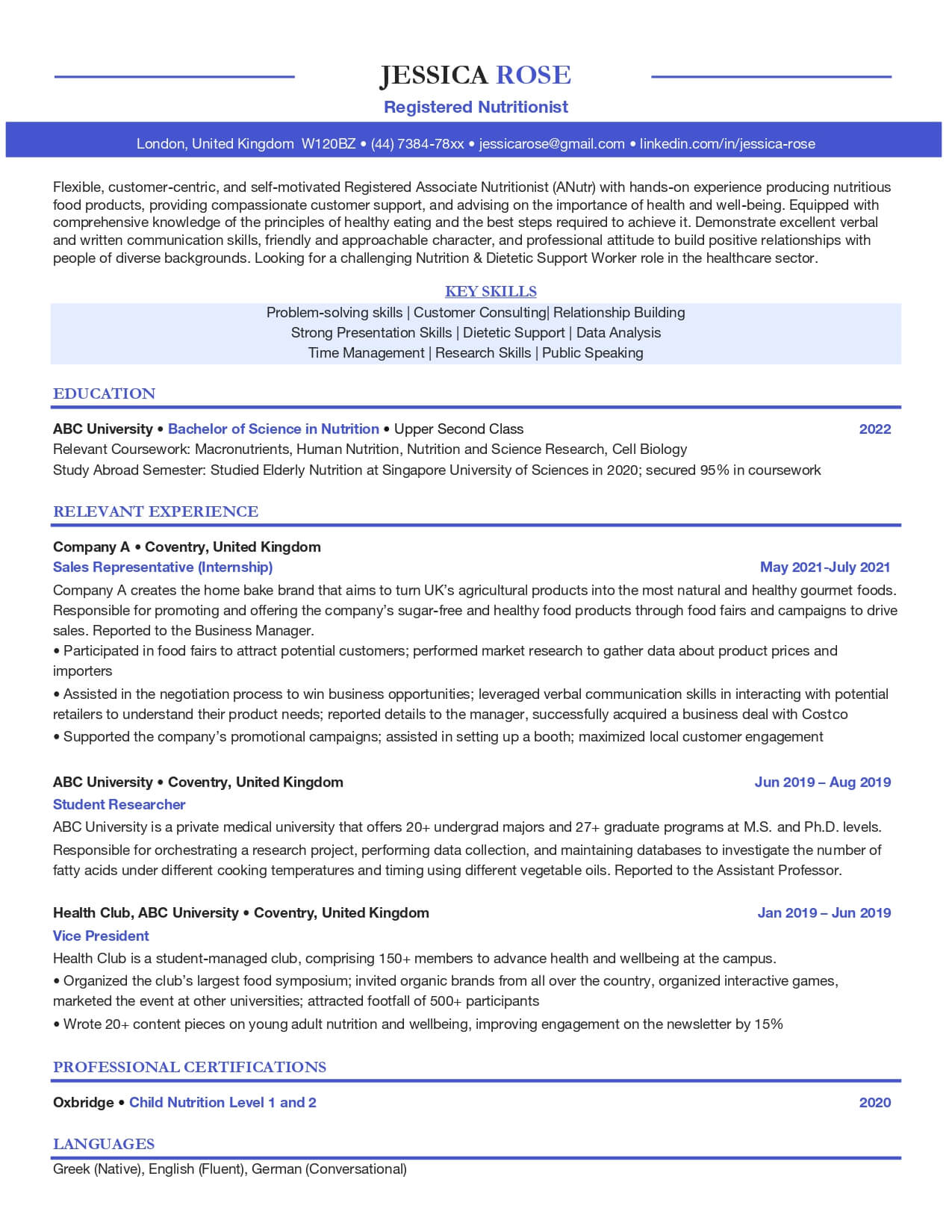 Write a convincing cover letter
In the process of perfecting their resumes, recent graduates often end up neglecting another critical element of the job application: the cover letter. While a cover letter may be optional for some positions, we recommend including one. It provides you an opportunity to tell your story, showcase what you have to offer, and convey your enthusiasm for the job. To maximize the impact, make sure to tailor your cover letter to the job position you're applying for. Employers love passionate, sincere candidates who will go the extra mile, so don't miss out on the opportunity to create a positive impression.
Your resume is your first chance to sell your qualifications to your target employer. This can be challenging for candidates with limited work experience. But keep in mind that everyone starts with zero experience. The resume writing guidelines outlined in this article should enable you to create a compelling resume even if you're breaking into the job market just out of college. If you're looking for professional support for resume writing, feel free to reach out to us.