While some get their first job in their 20s and 30s, some others start as young as 14 or 15. Irrespective of the age, it is essential to find the right job that aligns with your interests and experience. Teenage employment is quite common in the US. While the rate of employment at 14 or 15 has gone down over the years in the US, there are many today who take up some form of employment while at school.
According to a 2019 report, about 35% of the teenage population was a part of the US workforce. If you are in school and looking for a job, this article is for you. Here, we will go through the benefits of teenage employment, its guidelines, available jobs, and some top tips to find a job at 14 or 15 years of age.
How does employment help 14 or 15-year-olds?
Let's start by answering the most common question, why? Why should one be employed at 14 or 15, especially when they are dealing with school, classes, extra-curricular, and more? Well, employment at 14 or 15 brings a sense of accountability, letting teenagers take responsibility for their work. Additionally, employment of any type ensures a consistent stream of income allowing adolescents to take charge of their finances. Furthermore, it is a great opportunity to grow professionally and personally while taking up skills that would not only help you progress in your career but also build character.
Guidelines on employment at 14 or 15
While teenage employment is common, it should always be in line with the laws of the country. The Fair Labor Standards Act lays out some laws for teenage employees that should be followed by all US organizations while employing 14 or 15-year-olds. Let's have a look at some of these below.
1) A 14 or 15-year-old can work for:
3 hours per school day

18 hours per school week

8 hours per non-school day

40 hours per non-school week
2) The minimum wage rate is $4.25 per hour for employees aged less than 20 for a 90-day period.
3) Anybody below 14 years of age is not eligible to be employed for most non-farm employment opportunities.
4) The minimum working age differs based on the states in the US. You can find the minimum working age for your state in the below chart.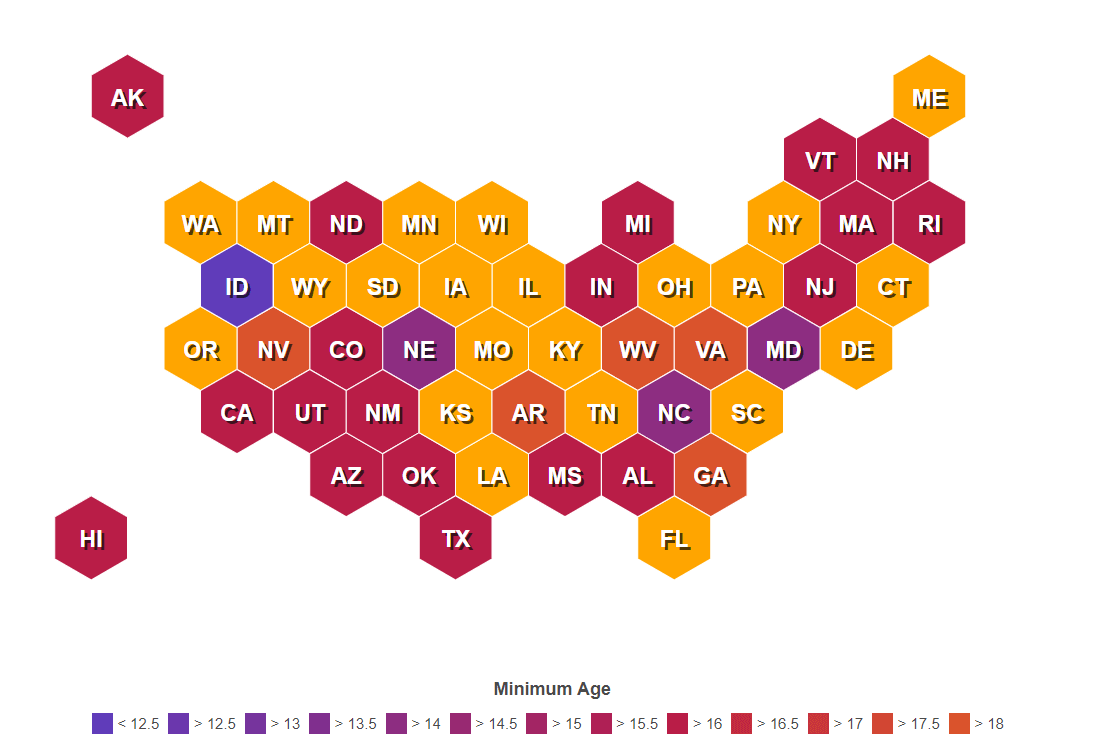 Minimum Working Age by State 2022
5) For the latest child labor standards impacting the employment of minors, check out the State Child Labor Standards Affecting Minors Under 18 in Non-farm Employment.
Jobs that hire at 14 or 15
Let's have a look at some jobs that hire 14 or 15 to help you kickstart your job search.
1) Barista
A Barista is a professional who takes orders from customers and makes and serves beverages like coffee, tea, smoothies, and more. Their core responsibilities include serving customers by providing them with their drinks and snacks. Additionally, they clean tables, the bar area, and keep a stock of utensils, appliances, and food items. They are required to comply with food and safety regulations and communicate effectively with customers, team members, and management.
Average salary– $16.26 per hour
Requirements– Related previous experience, high school diploma, experience in the food and beverages industry
Top skills required– Strong communication and customer service skills, team player, high level of attention to detail
2) Dishwasher
A dishwasher is responsible for supporting the kitchen staff by washing dishes in a food-serving institution. They prepare dining areas, workstations, and the kitchen for the next shifts by arranging and restocking. Additionally, they look after keeping the kitchen floors clean and maintain cleaning supplies. Occasionally, they also report any violations of the food and safety regulations from the kitchen staff.
Average salary- $13.87 per hour
Requirements- Previous experience working as a dishwasher or a waiting staff member, hands-on experience with cleaning equipment, and ability to work in shifts
Top skills required- Strong time management and attention to detail skills, team player, ability to lift heavy utensils
3) Busser
A busser's primary role is to support kitchen staff by ensuring the tables are set right with all crockery, silverware, and utensils being placed correctly. They ensure the dining area is prepared and decorated well before the guests arrive and settle. Additionally, depending on the customer needs, they re-fill beverages, take orders, serve welcome snacks and drinks, and clean and re-set tables after the guests leave.
Average salary- $13.65 per hour
Requirements- Previous experience as a busser, food runner, or waiter is expected, knowledge of health and safety measures is required, and education in hospitality is a plus
Top skills required- Ability to lift heavy objects, strong communication skills, flexibility to work in shifts
4) Grocery bagger
A bagger or a grocery bagger is a helper that primarily packs items into grocery bags and helps customers load groceries into their vehicles. Apart from packing groceries, a bagger may also be responsible for arranging shopping carts and putting back unsold products and goods on shelves. They support customers by answering any product-related questions and directing them to the right shelves.
Average salary- $13.75 per hour
Requirements- Basic numeracy and language skills are required with an ability to lift heavy items
Top skills required- Strong customer service and communication skills and a positive, can-do attitude
5) Cashier
A cashier is a person who scans the prices of the products, generates the invoice, and completes the payment process in stores and shops. Their primary role is to manage registers to ensure a hassle-free transaction and collect payments. Additionally, they may be required to cross-sell products, provide information to customers while resolving their complaints, and handle any return requests.
Average salary- $14.61 per hour
Requirements- Previous experience as a cashier and a high-school degree is required in most cases while good math skills and computer literacy are a must-have
Top skills required- Good communication skills, attention to detail, courteous approach to solving customer problems
6) Office Assistant
An office assistant plays a key role in supporting the ongoing operations of an office. While they may not be involved in strategic decision-making, they take care of the little things that build the foundation of larger things. As an office assistant, one is required to handle incoming calls and communications, organize the filing system, greet visitors, and provide them with the right information. They manage the database, process the incoming and outgoing emails, and keep a check on the office inventory as and when required.
Average salary- $19.13 per hour
Requirements- Previous experience in office administration, high school diploma, proficiency in MS Office, and ability to multitask and work independently
Top skills required- Strong communication, critical thinking, organizational, and time management skills
7) Home tutor
A home tutor is a professional who works with students to reach their academic goals. In the case of teenage employees, the students are usually primary and pre-primary school kids. Tutors review topics and subjects taught in school and help them resolve any conceptual doubts. They help students in completing their assignments and projects, prepare for tests, and provide feedback on current performance to improve. Additionally, they may also develop extra reading materials to support the growth of students and add value.
Average salary- $27.73 per hour
Requirements- Previous experience in teaching students with the ability to supervise students. A high school diploma is required in most cases with a strong academic background.
Top skills required- Strong communication and interpersonal skills, patience, and flexibility
8) Babysitters
A babysitter or a nanny supervises children when their parents or guardians are unable to watch them. In most cases, they provide their services at the child's home while sometimes they may be required to go to a third-party location. Their core responsibility is to understand the parents' instructions and clarify things before they leave. Based on their instructions, they feed the child, bathe and wash them, play with them, and put them to sleep.
Average salary- $21.76 per hour
Requirements- First-hand experience of babysitting, ability to do early and late-night shifts, must have Child and Infant CPR and First Aid certification, and submission to a background check
Top skills required- Nursing skills, responsible, first-aid skills, and conflict resolution skills
9) Bakery Assistant
Bakery assistants support chefs and bakers in the preparation of food products. They are responsible for quality control, procuring supplies, and keeping a check on the packaging and labeling of products. Bakery assistants keep the store stocked and are also responsible for greeting and serving customers as and when required. Tracking expiration dates, sorting products, maintaining a clean place, and managing customer complaints are some other things that bakery assistants orchestrate.
Average salary- $17.23 per hour
Requirements- Previous experience working in the food and hospitality industry is required in most cases. Baking coursework is an advantage. Proficiency in weighing, packaging, and pricing is desirable.
Top skills required- Attention to detail, excellent communication, and customer service skills, and the ability to multitask and follow instructions.
10) Newspaper carrier
A newspaper carrier is responsible for delivering newspapers on a given route every morning. Their responsibilities include loading the newspapers on a vehicle, a bike in case of teenage employees, stocking newspaper boxes, maintaining delivery records, and collecting payments. Newspaper carriers deal with customer issues while also delivering supplements such as business or sports magazines depending on customer preferences.
Average salary- $20.94 per hour
Requirements- Ability to ride a bike, work early mornings shifts, follow traffic protocols efficiently, and lift heavy weights
Top skills required- Strong communication skills, basic maths skills, and good organization skills
Top companies hiring 14 and 15-year-olds
Some top companies hiring 14 and 15-year-olds are:
Baskin Robbins

Pizza Hut

McDonald's

Dairy Queen

Kentucky Fried Chicken

Ben and Jerry's

Taco Bell

Chick-Fil-A

Rita's Italian Ice

Kroger
Top tips 14 or 15-year-olds should keep in mind while applying for a job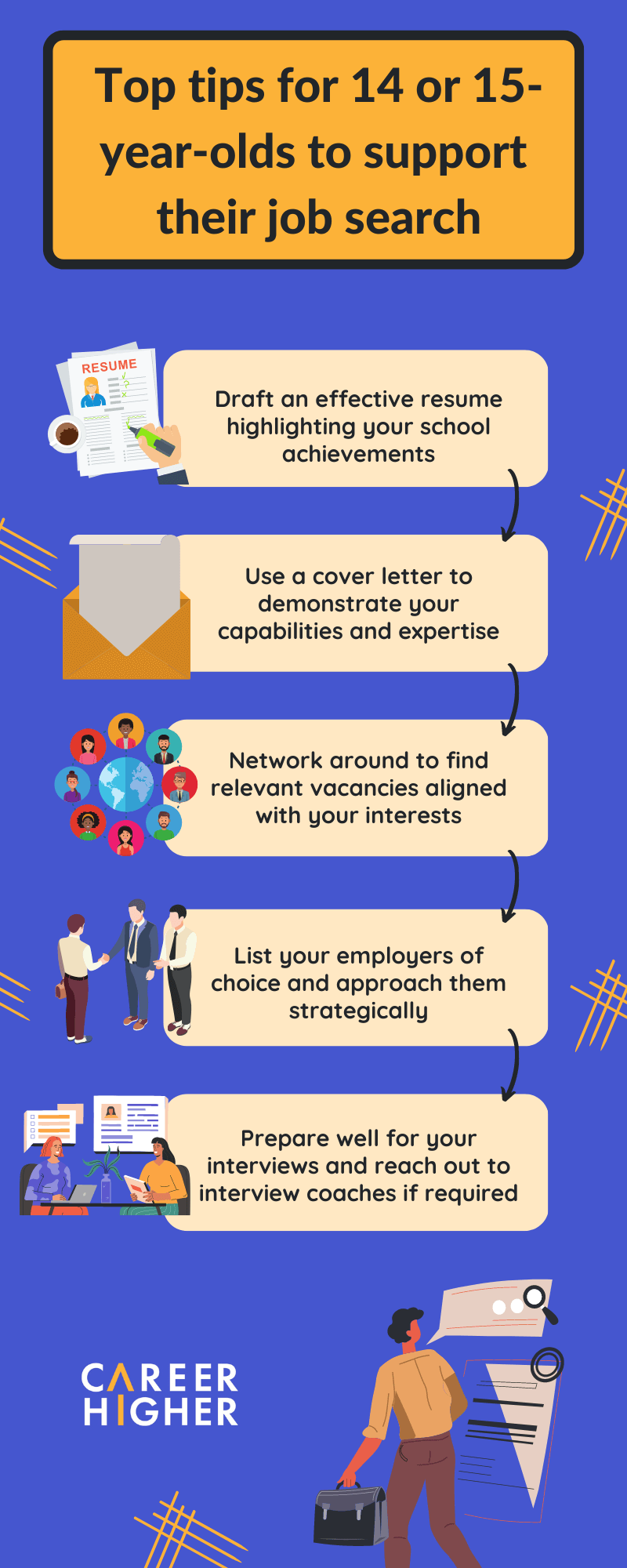 Finding the right fit for a job can be challenging for teenagers. So, we strongly recommend doing detailed research before rushing into any sort of employment for 14 or 15-year-olds. Employment at an early age has its advantages, but this is also the start of your career which will shape your professional life in the future. Hence, it is essential to do it the right way. While there is a lot of work available for 14 or 15-year-olds, make sure you choose what you feel suits your needs and preferences the best.