Changing careers is intimidating at any age. But, when you hit 50, career pivots become even more daunting as usually, by this time, you have established a professional identity and have a life full of family responsibilities. However, this should not dissuade you from chasing your dreams.
As the overall global population skews older, more and more people are working well beyond the typical retirement age. By 2025, a quarter of workers in the United Kingdom (UK) will be 55+ years of age. Over the last two decades, the employment rate for older workers has steadily risen in the UK. Thus, individuals over 50 still have many working years left and can choose to spend these on a new career.
Although the thought of starting a new career might feel overwhelming, you can successfully make the transition with an effective job search strategy, the right resources, and a positive attitude. This article discusses a comprehensive list of steps to make a career shift at 50 and explores some of the most popular post-50 career change options.
Should You Make a Career Switch at 50?
Perhaps, your current role doesn't excite you anymore, and you want to explore more options. Maybe, you are seeking a greater work-life balance or aren't earning enough. Whatever your reason might be, a career change at 50 is definitely worth the consideration. In fact, a study discovered that 83% of individuals over the age of 47 who wanted to make a career switch were successful in doing so and felt happier and more satisfied after it.
Job seekers at the age of 50 are uniquely qualified to break into a new industry. They have decades of experience that they can bring to the new career while still having the ability to acquire knowledge to start afresh. Moreover, at 50, candidates are likely to have greater access to financial, emotional, and career resources to make effective professional moves. Of course, a midlife career change shouldn't be an impulsive decision. Take some time to reflect on whether this transition makes sense for you and if you're in good mental, physical, and financial position to undergo such a change.
Advantages of a career change at 50:
1) Follow your passion
A new career allows you to pursue your passion and do something you genuinely enjoy. At 50, you are likely to have greater clarity on what gives meaning to your life. For many individuals, shifting industries is the best route to building a career out of their passion.
2) Reduced stress
Your job plays a significant role in your well-being. Despite the multitude of benefits attached to senior positions, many seasoned professionals find it challenging to continue at the highest level because of the extreme pressures of the job. Leaving a stressful job for a more relaxing one can offer more value to some than a lucrative salary.
3) New learning opportunities
A new career can offer you new learning opportunities. The prospect of doing something different can add more excitement to the job, boost your morale, and help you feel refreshed.
4) Your experience is an asset
Older job applicants tend to have a ton of experience and accomplishments they can present to their prospective employers. Instead of considering your age as a barrier, you could use it as an advantage to distinguish yourself from younger job seekers.
Challenges you may face during a career change at 50

:
1) Reduced pay
Some career transitions may come with reduced pay, especially if you move from a full-time to a part-time or a contractual role. If you are starting afresh in an industry, you may not initially earn as much money as you previously did.  For some career-changers, the non-monetary benefits such as reduced stress, a shorter commute, or greater flexibility may offset the pay cut. If you'd like to receive the same compensation level, you could consider switching to a similar industry, where your past expertise and skills are highly valued. Thus, before making the switch, it is crucial to evaluate if it's financially feasible for you.
2) You may face ageism
Older job applicants may experience ageism during interviews or discrimination at the workplace. Although age discrimination is prohibited under the employment act in many countries, it is still prevalent in many companies. We suggest avoiding including personal information in your resume to combat age discrimination. Also, it'll be helpful to approach your interviews with humility and showcase your enthusiasm for the job and a learning mindset to the interviewer.
3) Employers may think you're overqualified
Another problem you could experience while applying for jobs is that employers may consider you overqualified. They may assume you would be easily bored of a particular position or would want more money for it because you have too much experience. Communicating to the employer how passionate and excited you are about the particular job opportunity, and tailoring your resume to include only relevant experiences, can help you tackle this challenge.
4) You may need to learn more
Depending on the field you wish to enter and your previous qualifications, you might need to take up some additional courses and certifications to meet the job requirements. While this may not be a bad thing, it might not be ideal for your circumstances, and thus you should consider it before deciding to shift careers.
Signs It's Time for a Career Change
Shifting careers is not an easy decision. Taking such a giant leap in life requires a lot of courage and confidence. But how do you know when it is the right time to change careers? Here, we have listed some signs which indicate that you should rethink your career choice.
You feel increasingly disconnected from your work, company, and co-workers. You can't recall the last time you felt energized about a new project or an idea at your workplace.

Every day feels identical, and you are performing the same job functions day in and day out. You think you are wasting your time, and your skills aren't being put to good use.

Your paycheck might be good, but you feel it can no longer make up for the dissatisfaction you experience at the workplace. While you value your job's stability, you think it can't justify your discontentment.

Your work should be challenging but not draining. If you can't sleep, you're constantly complaining, or you can't make time for personal relationships, it means it's time for a change. The pressures of your work shouldn't chronically stress you.

You are constantly daydreaming about what you could have done in your life instead. You squirm when people ask you what you do because you wish it were something different.
How to Switch Careers at 50?
1) Know what you want
Before taking the giant leap, you should perform a self-assessment and identify your motives, passions, and needs. It is likely that when you began your career in your 20s, your decision to pursue your chosen path was based on certain factors that may no longer be relevant to you. For example, the drive to earn more money and the desire to have an exciting lifestyle could have been strong influences in your 20s. But, in your 50s, your priorities might have shifted to things such as greater flexibility and minimal stress.
One of the benefits of being in your 50s is that you already have rich experience and a mature outlook, which means you are more likely to be aware of what you want. If you are unsure of what you want to do, invest time in career research. Keep up with the industry news, understand how job functions have evolved, and explore positions of interest. At the end of your evaluation, you should have a list of potential career paths. If you are struggling with the same, we suggest reaching out to a career clarity coach.
2) Find common ground
Once you've determined a potential career, look for similarities between the job responsibilities of your former and desired roles. Even if you are making a drastic career change, there are bound to be multiple skills you possess that also apply to your new line of work.
Skills such as time management, communication, and organization cut across diverse roles. Identifying transferable skills and relevant strengths can help you sell yourself better to prospective employers and also give you an idea of gap areas where you could consider upskilling.
3) Update your skills and qualifications
Take a good look at the job postings in your targeted career field and identify what it will take to enter the new role. Take up the qualifications, licenses, and certifications that are either required or would make you a more competitive job candidate. It's never too late to learn something you're genuinely passionate about. Doing so can also convey to prospective employers that you are self-driven and open to continuous learning, which can help you combat the potential age bias during interviews.
4) Rebrand yourself
Before starting your job applications, you should consider revamping your professional image as per the expectations of the new field. This involves rebuilding your online profiles to make them more relevant, joining appropriate professional forums, and contributing to discussions. Identify the right people in your target industry and engage with them on social platforms.
LinkedIn is unarguably one of the most important job search tools in today's age. Thus, we strongly recommend optimizing your LinkedIn profile to boost your career prospects. Tailor your work experience section to showcase your skills and achievements which are relevant to the desired job role. This way, you can enhance your searchability and attract prospective employers to your profile.
5) Prepare a powerful resume
The idea of condensing decades of your work experience into one or two pages might seem challenging. However, you don't need to include your entire work history in your resume; focus only on your relevant experiences. When changing careers, it is vital to tailor your resume to the requirements of the target job position.
Also, remember to emphasize your technical skills on your resume. Although it is an unfair assumption, and age discrimination is prohibited under The Equality Act in the UK, some employers may have the presumption that job seekers over 50 aren't comfortable with technology.
6) Leverage your network
One of the biggest perks of being in your 50s is that you already have a robust network that you may have cultivated from your previous jobs, social/volunteering organizations that you've been a part of, or at your alma mater. You have a vast network of people who know you, have worked with you, and can vouch for you.
Reach out to these individuals, warm up your old ties and seek their assistance and support for planning your post-50 career. Professional networking is one of the most crucial elements that can boost your job search game. Thus, make sure to leverage your network effectively for your career development.
7) Test the waters
Before making the big switch, it is a good idea to first get a taste of the industry. Consider doing internships, contractual projects, or volunteering. The first-hand experience will help you confirm your decision and enable you to gain a foothold in the industry. After some time, you will develop a valuable professional network and have access to long-term career opportunities. You can check out websites such as Restless, Volunteermatch, and Upwork to find suitable options.
Best Career Change Options for the Over 50's
While you definitely want to pick a new career that appeals to you and leverages some of your previous experiences and skills, some fields are more primed for career changers in their 50s than others. Below are a few examples of popular careers that make for viable transitions for older job seekers:
Teaching:

A strong sense of fulfillment, an intellectually stimulating environment, and greater flexibility make teaching a popular choice amongst career changers. Besides, many universities actively encourage experienced professionals to apply for their teaching programs.

Real Estate:

If you enjoy engaging with people and have a passion for houses and architecture, becoming a real estate agent can be financially rewarding. To become a real estate agent, all you need to do is obtain a state license.

Accounting and Finance:

 If you love numbers and are great with people, you can explore bookkeeping, tax consulting, and wealth management jobs. In these roles, you'll be able to choose the number of clients you wish to work with. However, you could be required to take additional education and certifications to transition into this field.

Corporate Training:

Nowadays, many companies hire corporate trainers to conduct professional sessions for their employees and managers. You could consider becoming an in-house trainer or an independent subject area expert according to your needs and past experience.

Writer:

You don't need any special training or certifications to start a writing career. All you need is passion and the ability to write well. Many writers work on a freelance or a contractual basis. You can create documents to educate, entertain, or inform as per your interests.

Customer Service Representative: Typically, customer service jobs don't require formal qualifications, as most of the training is provided on the job. You would most likely be working at retail stores or call centers.

Customer service is a great option to consider if you have good communication skills and basic computing knowledge.

Travel Agent:

Travel agents plan trips and excursions for individuals, groups, and corporate clients. They are responsible for arranging their clients' tickets, accommodation bookings, and tours. Typically, travel agents aren't required to have a formal degree, and many take up certifications in tourism.

Administrative Assistant: If you have strong organizational and communication skills, you could consider a career in administration. Nowadays, plenty of virtual and flexible administrative positions are available. Thus, you can work from the comfort of your home and choose the number of clients you'd like to take on.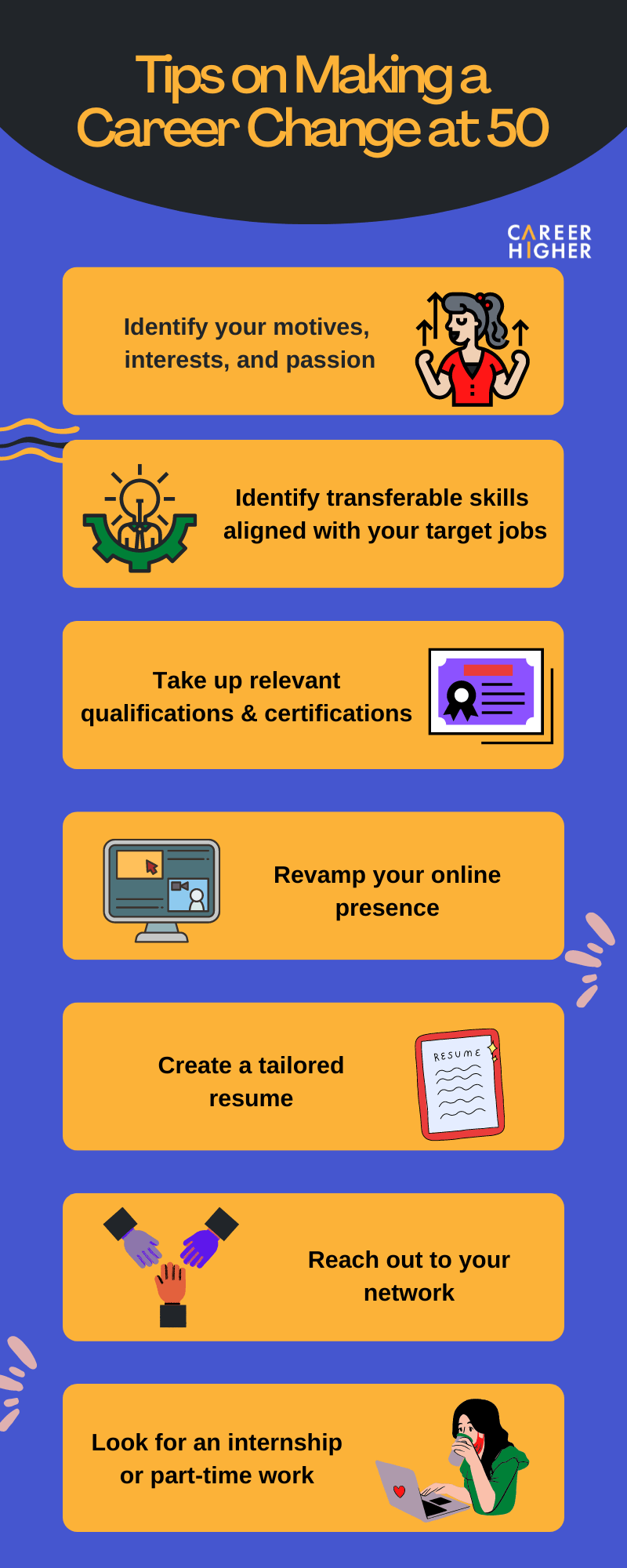 A career transition in the 50s can be tricky but not impossible. With a structured approach and effective planning and implementation, you can smoothly shift to a new career. If you are still stressed about changing your career, contact our professionals for support.