Whether you've realized that your passion lies in a different field or you're looking for some stability and work-life balance, a career change may be just what you need. However, to make the career shift, you need to have solid documents demonstrating your purpose, goals, and expertise to move to the chosen domain. The idea of writing a career change resume may seem daunting at first. With little or no experience in the field, how do you craft a standout resume that impresses recruiters to give you a chance? In this article, we will cover how to create a strong career change resume to boost your chances of landing an interview. But let's start with the first question that comes to mind.
How is a career change resume different from a normal resume?
You probably already have a resume lying around and you're wondering if you need to create a new one. Is it even necessary? Can you not use the existing one? The answer depends on your circumstances, that is your past experiences, skills, qualifications, and the new role you're targeting. Some candidates may be able to modify their existing resume to align it with their new professional goals, while others may need to draft one from scratch. A career change resume is different in the following ways:  
A career change resume should focus on transferable skills.

A career change resume should emphasize your relevant experiences, achievements, and education that demonstrate your adaptability and transferable knowledge.
With that in mind, let's look at how you can get started. 
Creating a career change resume
The goal of your resume is to convince the recruiter that you are suited for the job despite the absence of experience in the field. Every job varies and hence, each resume will vary to cater to it. However, there are a few non-negotiable pointers to keep in mind for your career change resume to be effective.
1) Choose the right resume format
When it comes to making a career change, selecting the right resume format is crucial to highlight your skills and experiences effectively. There are three common resume formats you can choose from: 
Chronological resume:

A chronological resume format places focus on the candidate's employment history. It lists their most recent job first, followed by relevant responsibilities and accomplishments, and then moves backward through their employment history. We recommend using this format if you have a steady employment history and want to showcase your career progression.
Functional resume:

A functional resume, also called a skills-based resume emphasizes your skills and areas of expertise rather than details of your employment history. In the functional resume, you list each of your skills and then back them up with examples of how you've applied those skills in previous roles. If you lack direct experience in the new field, you may opt for a functional resume. But, it's typically not recommended as employers expect to see a detailed employment history. 
Hybrid resume:

A hybrid resume combines elements of both functional and chronological resumes, with the skills section presented first, followed by the employment history section. We suggest this format for those candidates who have some relevant experience in the desired field and transferable skills that align with the new career path. Employers typically prefer this format as it showcases the applicant's skills and how they relate to the job requirements. 
2) Write a compelling professional summary
The professional summary section is placed at the top of your resume beneath your contact information. Since recruiters skim through hundreds of resumes, a compelling professional summary is the best way to get noticed. This section typically includes a summary of your skills and experiences. It should also effectively convey your next career goal.
For example, if you've been working as a software sales executive for several years and are now hoping to transition into marketing, you can speak about how your job in sales has given you deep insight into what customers want and that knowledge can be applied to market products better.
Let's see an example below. Here, a candidate has been working as a Management Consultant and is now looking to move into the niche role of a "Crypto Associate". Notice how the candidate has highlighted their personal learning experience within the summary.
"Entrepreneurial, driven, and innovative Consultant and Digital Asset Investor with demonstrated experience in formulating successful trading strategies and managing digital assets and investments. Provided advisory services to numerous crypto firms, leveraging expertise in cryptocurrency and blockchain technology to help them achieve their business objectives. Equipped with a track record of success in building businesses from scratch, establishing strategic partnerships, maximizing investment opportunities, and supporting diverse organizations to achieve sustainable business growth.Passionate about blockchain technology and cryptocurrency space, possess expertise in areas of  Decentralized Finance (DeFI), gaming metaverse, Non-Fungible Tokens (NFTs), and Decentralized Autonomous Organizations (DAOs) Looking for a challenging Crypto Associate role within the crypto industry."
3) Highlight relevant key skills in the skills sections
The skills section is a combination of both hard and soft skills. Though you may not have the exact set of skills that match the job description, you can add related skills to strengthen your candidacy.
Start by studying the job description to identify key skills or run it through a resume keyword scanner like Jobscan.  Once you have your list, match your experience and skill to the job's requirements. You'd want to maintain a healthy mix of hard and soft skills. Hard skills are essentially technical skills that relate directly to the job. Hence, adding technical skills become even more challenging in case of a career change. When it comes to soft skills, you'd have a little more leeway as several jobs share a few critical skills such as great communication, managerial skills, and so on. Here too, you'd want to pick skills applicable to your target job only.
Below is an example of a skills section in a career change resume following the chronological format. The candidate is an IT professional transitioning to a career in digital marketing.
Key skills section 

"Data Analysis, Graphic Design, Content Management systems, SEO, SEM, MS Office (Word, Excel, Powerpoint) Outlook, Salesforce, Critical Thinking, Problem Solving, Hootsuite"
If the same candidate was using a functional or hybrid format, the skills section in the career change resume would look like this:
Professional skills

1) Graphic Design 

Proficient in Adobe Creative Suite, managed graphic design and visual content creation for 50+ sales campaigns 

Spearheaded  website design and development for 12 webpages  using HTML, CSS, and JavaScript

2) Analytics

Skilled in using Google Analytics to track website traffic, user behavior, and conversions

Improved underperforming blog posts by doing better keyword research
4) Use the work experience section to highlight transferable skills
You may be worried about writing down your experience section when you do not have experience in your target field. However, there are ways you can represent your experience to better suit the job. Let's see some tips to help you align your experience below.
Focus on transferable skills in your previous roles that are applicable to the new position. This will highlight your relevance and potential to the employer. 

Focus on achievements that are directly related to your target job's key performance indicators (KPIs) to showcase to your potential employer your ability to deliver results. Wherever possible, support your achievements with numbers and figures.

Highlight your ability to adapt to and succeed in a new environment, and your commitment towards growth and development. This will help ease concerns about a career change.

 
Now, let's take a look at an example of a candidate who has been working as a Senior Graphic Designer and is now looking to transition to the role of Software Developer. Pay attention to how the candidate has highlighted experiences and skills, which will be relevant in the new field. Here's an excerpt from their experience section: 
ABC Company• Calgary, AB

Senior Graphic Designer   July 2021 – July 2022

ABC Company is a Canadian integrated marketing and public relations company with over 2K employees and $9.9M in revenue. Responsible for leading various creative projects and supporting the development of new software applications to deliver better client experience and boost the company brand. Report to the Marketing Manager and oversee 13+ direct reportees.
Developed back-end code for 6 client projects, collaborating closely with developers to ensure that design elements were implemented accurately

Worked closely with developers, project managers, and stakeholders to develop high-fidelity wireframes and interactive prototypes for new software applications, ensuring an accurate representation of functional requirements and technical feasibility using Adobe Creative Suite and Sketch

Designed, developed, and delivered 34+ websites by collaborating with software developers and UX/UI designers and creating visually appealing designs through WordPress, HTML, CSS, and JavaScript

Spearheaded 7+ client projects and maintained strong communication with clients, marketing experts, and designers; analyzed client's needs and priorities and collaborated with interdisciplinary teams of 10+ professionals to deliver projects worth $23 million within time, budget, and client expectations

Recruited and led a high-performing marketing team of 12 members; set clear goals and developed the team through effective coaching, mentoring, and performance management, resulted in 35% growth
5) List any relevant projects and certifications
This section can be especially useful when making a career change. If your job did not allow you to pick up the right skills, you may have done some exploration and learning on your own. This could include short or long-term courses, certifications, projects, and more. You can add these elements to a separate section to show your growing expertise in your target industry.
Traditionally, job seekers place this section at the bottom of their resume, after the professional experience section. However, if you're making a career change and have little or no relevant experience, it's recommended that you list relevant projects and certifications before the professional experience section. This is because your experience may not directly relate to your desired role, and the projects and certifications can help showcase your transferable skills and advancing proficiency in the specific field.
This example showcases how you can include your personal learning endeavors in an effective way. This section featured in a resume where the candidate hoped to bag a job in Crypto.
PROFESSIONAL CERTIFICATIONS

ABC University • Decentralized Finance (DeFi) Primitives 2022

ABC University • Decentralized Finance (DeFi) Infrastructure 2022

XYZ Online • Lending, Crowdfunding, and Modern Investing 2021

XYZ Online • Cryptocurrency and Blockchain: An Introduction to Digital Currencies 2021

XYZ Online • FinTech: Foundations, Payments, and Regulations 2021
6) Emphasize applicable education
For the most part, the education section would remain unchanged even in case of a career change. However, we'd suggest just one alteration. If you took any relevant projects or coursework through your school or university education, make sure to highlight them. Similar to the projects and certifications section, if you're making a career change and have little to no relevant experience, we suggest you list the education section before the work experience section.
Writing your education section is possibly the easiest part. Here's an example of a candidate transitioning from a marketing role to a finance role:
EDUCATION

ABC University, UK • B.A Hons 2020

Marketing (major) Finance (minor)

Relevant Coursework: Financial Management, Corporate Finance, Management Accounting

Finance Institute of London  • Financial Modeling 2019

LSE Summer School  • International Finance, Oxford Private Markets Investments Programme 2019

CFA Level 1 candidate, scheduled to sit for the exam on xx.xx.xxxx
How to update your existing resume for a career change
If you're making a big career shift, we recommend writing a resume from scratch, as you'll be able to completely tailor your document to the new job role. However, if you have sufficient relevant work experience, you could consider updating your existing resume to better align it with the new field. In this case, you could reorganize your resume, which could include moving different sections around and focusing on relevant experiences based on the job requirements. You may also need to adjust the language and formatting of your resume to align it with the new field.
Career change resume samples
To maximize your chances of transitioning into a new career, it's important to craft a resume that effectively conveys your ability to succeed in the new role to your potential employer. If you're struggling with this, it could be helpful to look at some career change resume samples. Here are two examples to get you started:
Example 1: Resume Career Change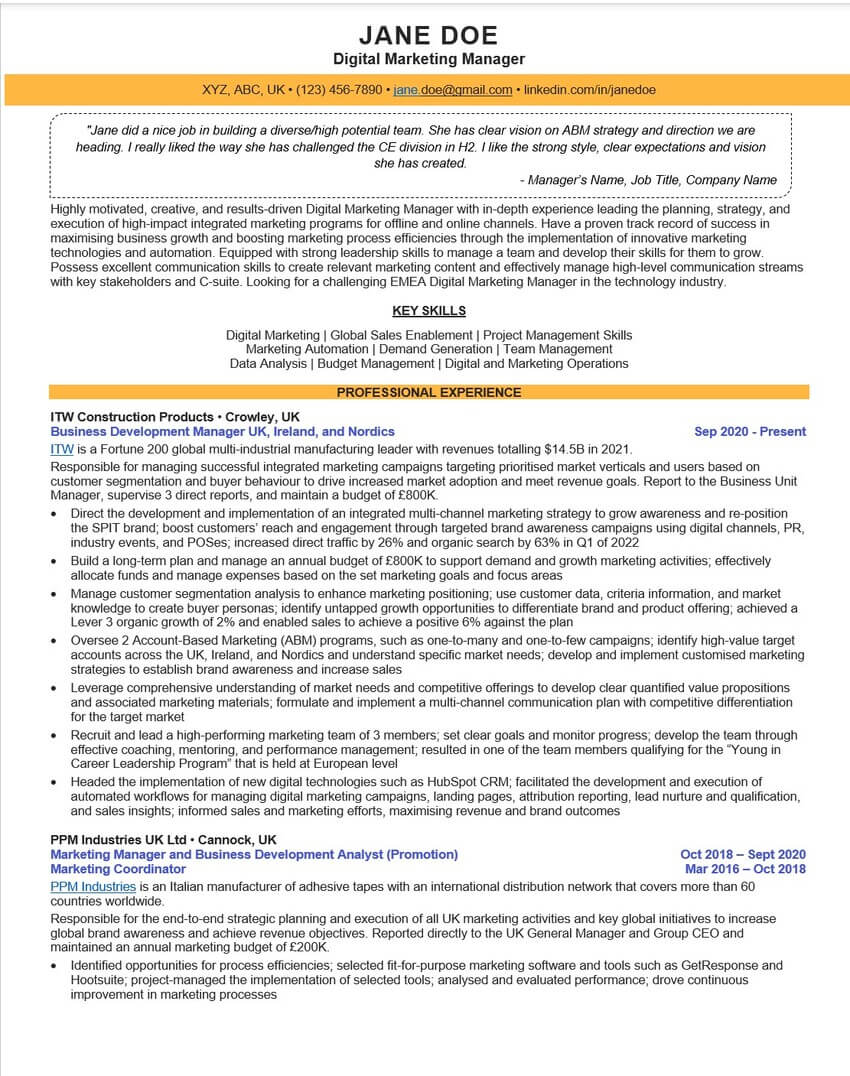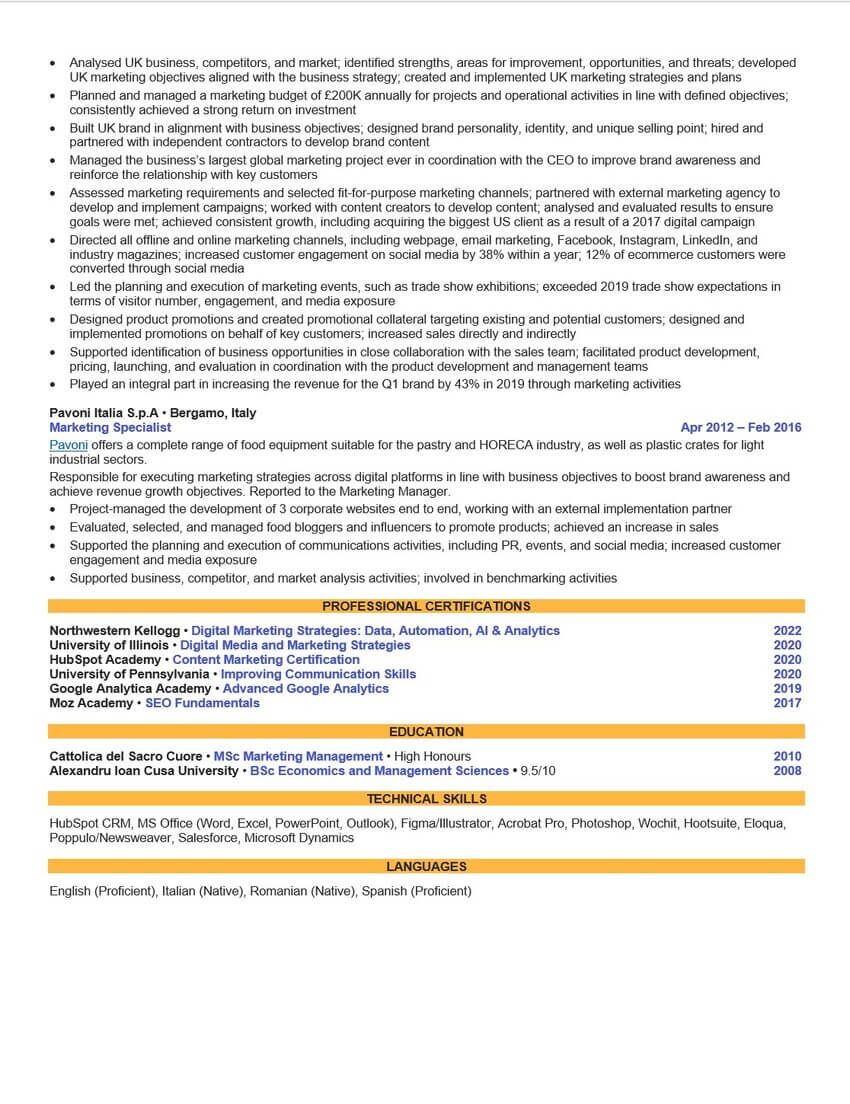 Download PDF Sample | Download Word Sample
Example 2: Resume Career Change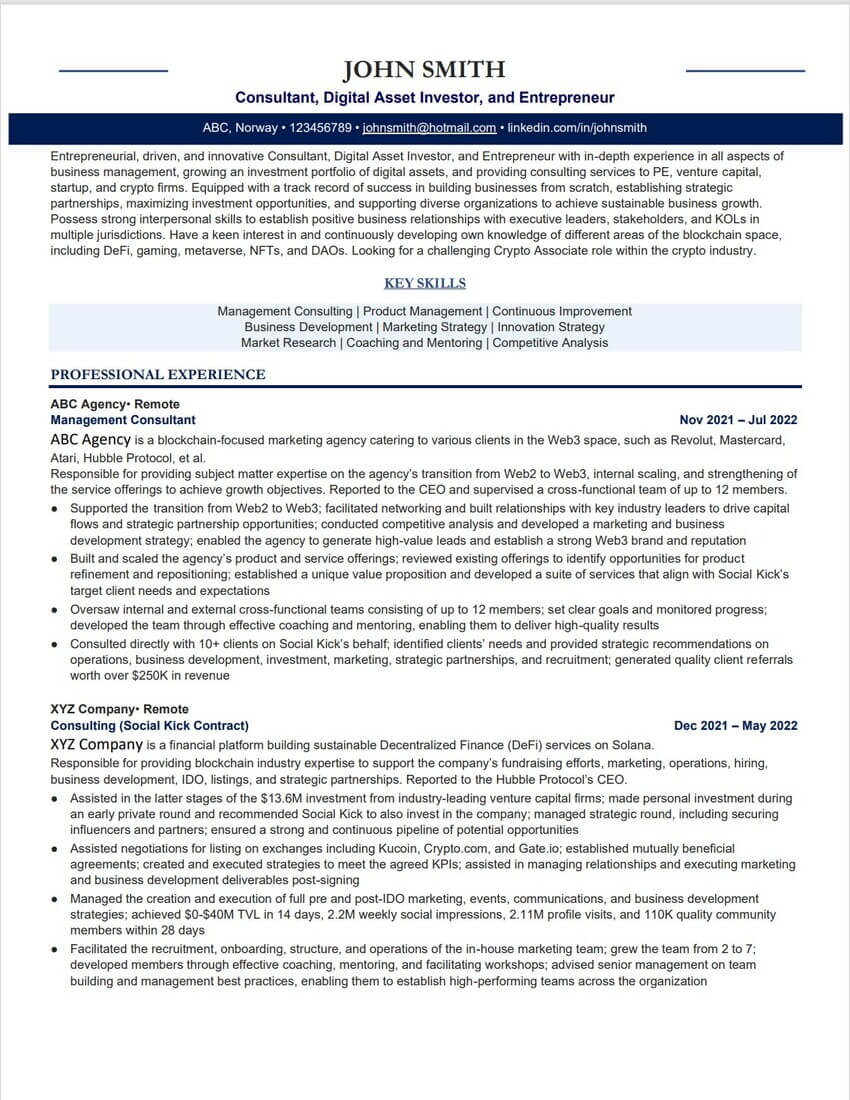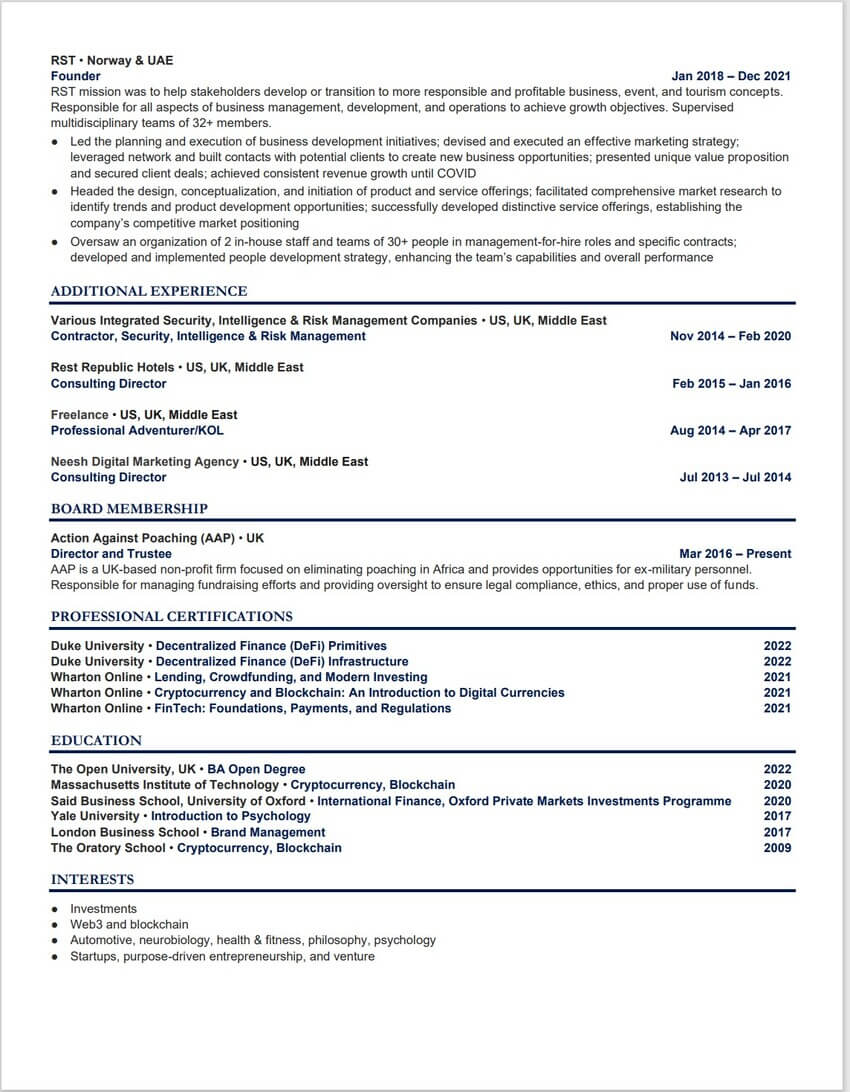 Download PDF Sample | Download Word Sample

To successfully undergo a career change, it is important to follow a strategic approach to resume writing. Remember, resilience and persistence are vital for success during this transitioning phase, and with a well-crafted resume in hand, you will be one step closer to starting the next chapter of your professional life. If you're looking for guidance with your job search or resume writing, you can always reach out to us, and we'll help make this career change smoothly.
This article is co-authored by Deesha N.