The United Arab Emirates (UAE) offers excellent employment opportunities across multiple industries. A high standard of living, tax-free salaries, and solid global exposure make the UAE an attractive destination for job seekers worldwide. Within the UAE, Dubai is a particularly appealing job destination and prevails as an international talent magnet.
If you are looking to land a job in Dubai successfully, we suggest focusing on understanding its recruitment processes and developing a strategic job application strategy. Writing an impressive Curriculum Vitae(CV) is one of the key steps of the job search process. In Dubai, the terms' CV' and 'resume' are often used interchangeably and refer to the same document. In this article, we will discuss all there is to know about creating an effective CV for the emirate's job market.
Best Practices for a Dubai CV format
1) Aim for the correct CV length
Generally, the recruiters in Dubai expect a longer and more detailed CV than their European or American counterparts. The recommended CV length in Dubai is two to three pages. A one-page CV is often considered too short. However, this is not set in stone, and the ideal length will vary depending on your amount of work experience, achievements, and education.
2) Include a professional photo when required
Job seekers are often confused about whether to include a photograph in their CVs. Your decision should be based on the expectations of your target employer. Typically, multinational companies in Dubai may follow global anti-discrimination hiring practices and may not want you to include a picture in your CV.
On the other hand, most local companies in Dubai expect to see a professional headshot in the CV. Use a high-resolution, passport-size photograph and place it at the top corner of your CV. Remember to dress professionally and avoid using selfies and group pictures.
3) Choose the right CV layout
Many CVs are dismissed at first glance because of poor formatting, structure, and template. Remember to use a neat, easy-to-scan CV layout with well-defined sections. You could incorporate some design elements to emphasize key information and make your CV look appealing. However, avoid using unusual fonts, bold graphics, and excessive colors. Normally, recruiters in the Gulf region prefer a more conservative CV template.
Your CV's design will also depend on the industry you are applying to. For traditional industries, we recommend using a conventional template. For progressive industries, you could use a more creative layout.
4) Write a detail-oriented CV
In many western countries, employers prefer to see a brief resume, focused on key skills and experiences only. On the other hand, employers appreciate a more informative CV in the Middle East region, as long as it is relevant to the target role. Thus, while crafting a CV for Dubai jobs, you could provide a more detailed synopsis of your career trajectory.
5) Use a reverse chronological order
While multiple CV formats are available, we suggest organizing your CV using the reverse-chronological order for Dubai. In this format, you need to mention your most recent job position first and then continue backwards from there. This format works well because it is simple, easy to understand, and provides the hiring decision-maker with a clear picture of your career trajectory.
What to include in a Dubai CV?
1) Contact details
We recommend having a contact details section at the top of your CV so that the hiring team can reach out to you easily. It should contain your full name, mobile number (with international country code), professional email address, and home address(if you are already in the UAE, we suggest mentioning your local address). You could also choose to include links to your online presence, such as your personal website or LinkedIn profile.
2) Personal information
In many western countries, the practice of including personal information in the CV is typically discouraged, as mentioning personal details could create unconscious bias during hiring. Thus, if you are targeting multinational companies in the UAE, you may not want to include a personal information section.
However, many local employers in the Middle East may expect a personal information section in the CV.  Also, you should carefully scan the job description of the target role to identify if any personal attributes are mentioned as a requirement. This section typically includes the following components:
Nationality:

Mention your passport nationality on your CV. This is often required for visa purposes, as, at times, the visas may only be granted to certain nationalities. If you have dual nationality, you should specify both.

Marital status:

It is important to state your marital status and the number of dependents in your CV, as many UAE companies sponsor employees' family visas and may also cover benefits such as family accommodation, medical insurance, and schooling.

Driving license

: This can be a crucial factor for specific job roles that require extensive travel in and around the city, such as sales or IT hardware support.

Visa status

: If you are already in the UAE when applying for a job, we recommend that you specify your visa status on your CV- whether you are on a tourist visa, employment visa, or living as a dependent.

Date of birth:

Some recruiters in the UAE may specify the age range they accept for certain job positions. Thus, including your date of birth can make it easier for the recruiter to filter you out as a potential employee.

Sex:

Some job postings in the UAE will ask for a specific gender. In these cases, mentioning your sex in the CV is recommended, especially if you have a gender-neutral name or appearance.
3) Professional summary and key skills
Employers in Dubai like to see a professional summary in the CV. This section provides an overview of your relevant experiences, skills, and accomplishments. The purpose of it is to showcase to the employer you're the right candidate for the job and convince them to read the rest of the document.
Below the professional summary, you can include a key skills section. However, you don't need to mention every skill you can think of. Instead, go over the job description of the target role carefully and identify the skills the employer is looking for. Include a mix of hard and soft skills relevant to your profile.
4) Work experience
The work experience section is unarguably one of the most crucial components of the CV. It constitutes the bulk of the CV and communicates to the prospective employers what you've done up until now,  which makes you qualified for the job. Thus, it is important to outline your experiences in a way that appeals to the hiring decision-makers.
Firstly, as mentioned before, list your job history in reverse-chronological order. Focus on the aspects of your work history which are most relevant to the target job position. Each job role should include the following elements:
Company overview:

Briefly describe your company's nature and size. This is particularly vital if you haven't worked in the UAE before. You may have worked for a reputable firm in your home country, but if the firm is unknown in Dubai, it may not add much weight. To address this, you could highlight your company's value in this section, for example, "XYZ Corporation- Largest home electronics company in Australia."

Job overview: 

Provide a 1-2 lines summary under each position outlining your role and responsibilities.

Bullets: 

Using the 

STAR format

, provide detailed information on your key responsibilities and accomplishments. Some job seekers make the mistake of downplaying their experiences and cloaking their achievements in dull words. This is a big no for Dubai employers, who like to see

power-packed

and impressive CVs.
5) Certificates and licenses
In your CV, mention the relevant certifications and licenses you have obtained, especially from internationally recognized bodies. They are more likely to be acknowledged in Dubai than your home country's local certifications. Dubai employers particularly value certificates issued by the US and UK professional bodies, such as CIMA for accounting and SHRM for human resources.
For certain professions, having a local Dubai license is a prerequisite. For example, to become a real estate agent in Dubai, you need to secure a RERA License. Doctors and nurses must have a DHA license to work in Dubai healthcare.
6) Education
Mention your highest education qualification first, along with the university's name, location, and graduation date. You could mention up to two of your most recent qualifications. Also, the university you attended might be highly ranked in your home country but could still be little known in Dubai. If this is the case, you could add a short description to convey this, for example, "XYZ University- No. 1 business school in Norway".
7) Additional information
You could insert an additional information section to strengthen your CV if it is relevant to the position you're applying for. This section may include languages, awards, volunteer experiences, and technical skills. In the UAE, English and Arabic are dominant business languages. Also, Hindi and Urdu are widely spoken. If you are proficient in these languages, you could mention it in your CV. If the job you are applying for requires a strong technical skill set, you should add a technical skill section.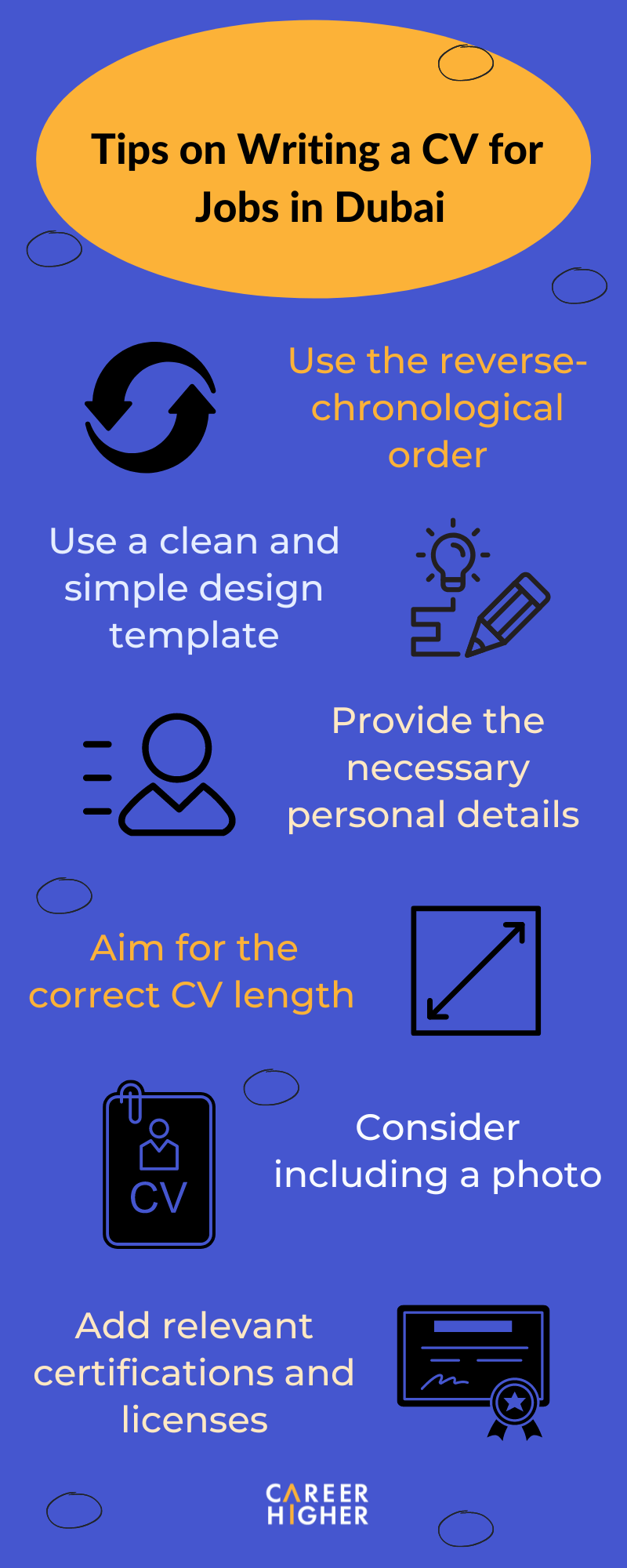 UAE/Dubai CV Samples & Templates
To give yourself the best chance of landing your dream job in the UAE, it is important to write a CV in accordance with the employers' expectations. In case you are struggling with the same, it can be beneficial to look at some CV samples and templates for the UAE market. Here, are some examples to get you going:
1) CV sample for a progressive industry
 Download PDF Sample | Download Word Sample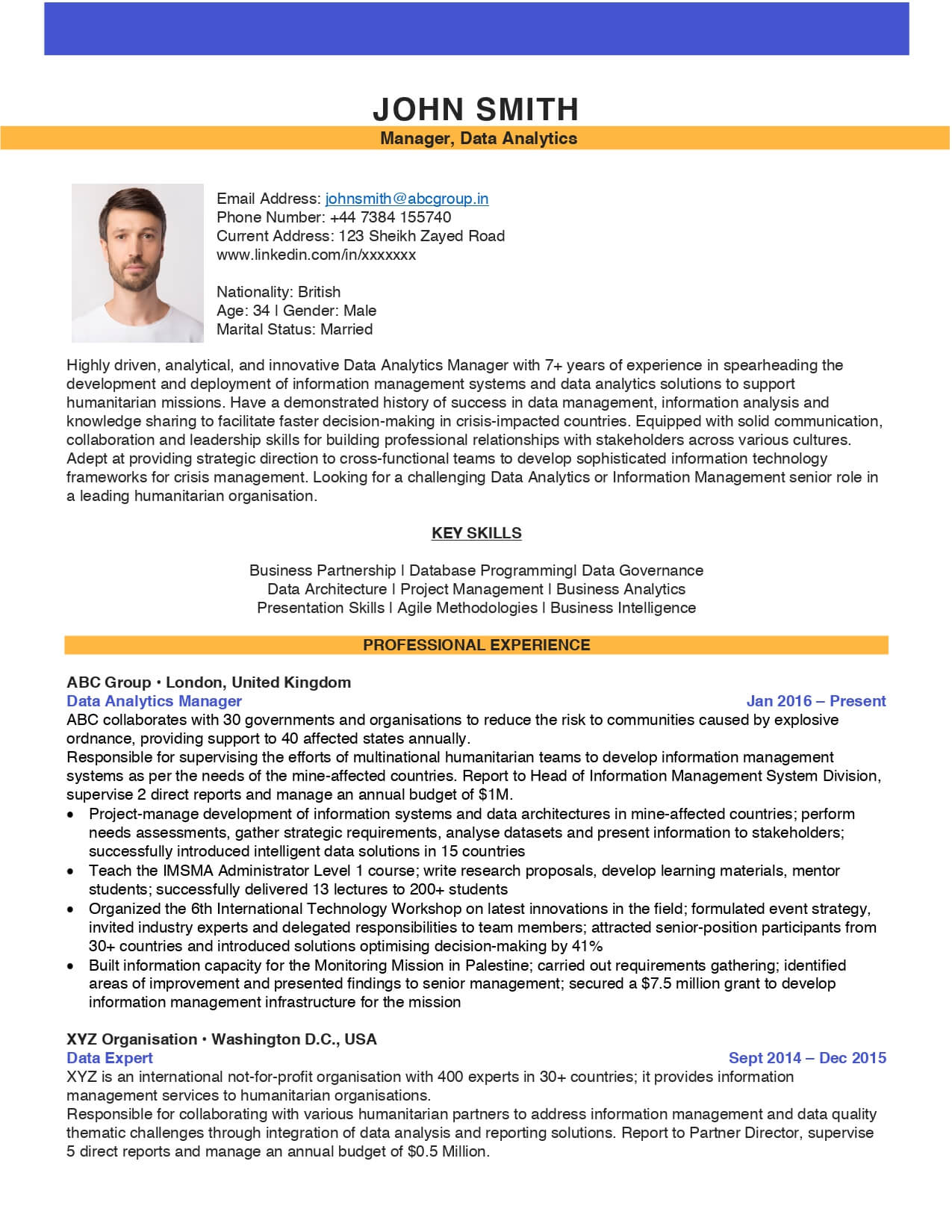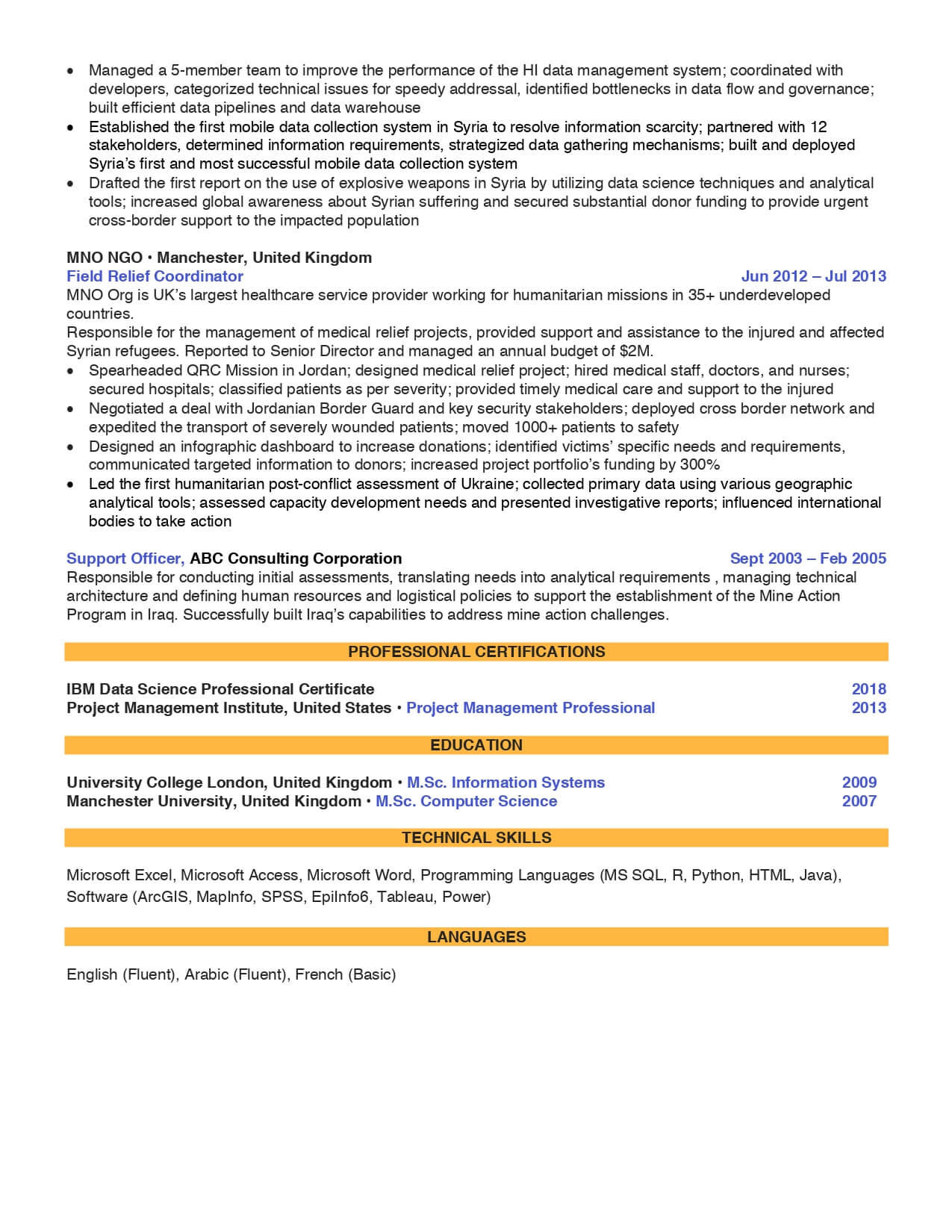 2) CV sample for a conservative industry
 Download PDF Sample | Download Word Sample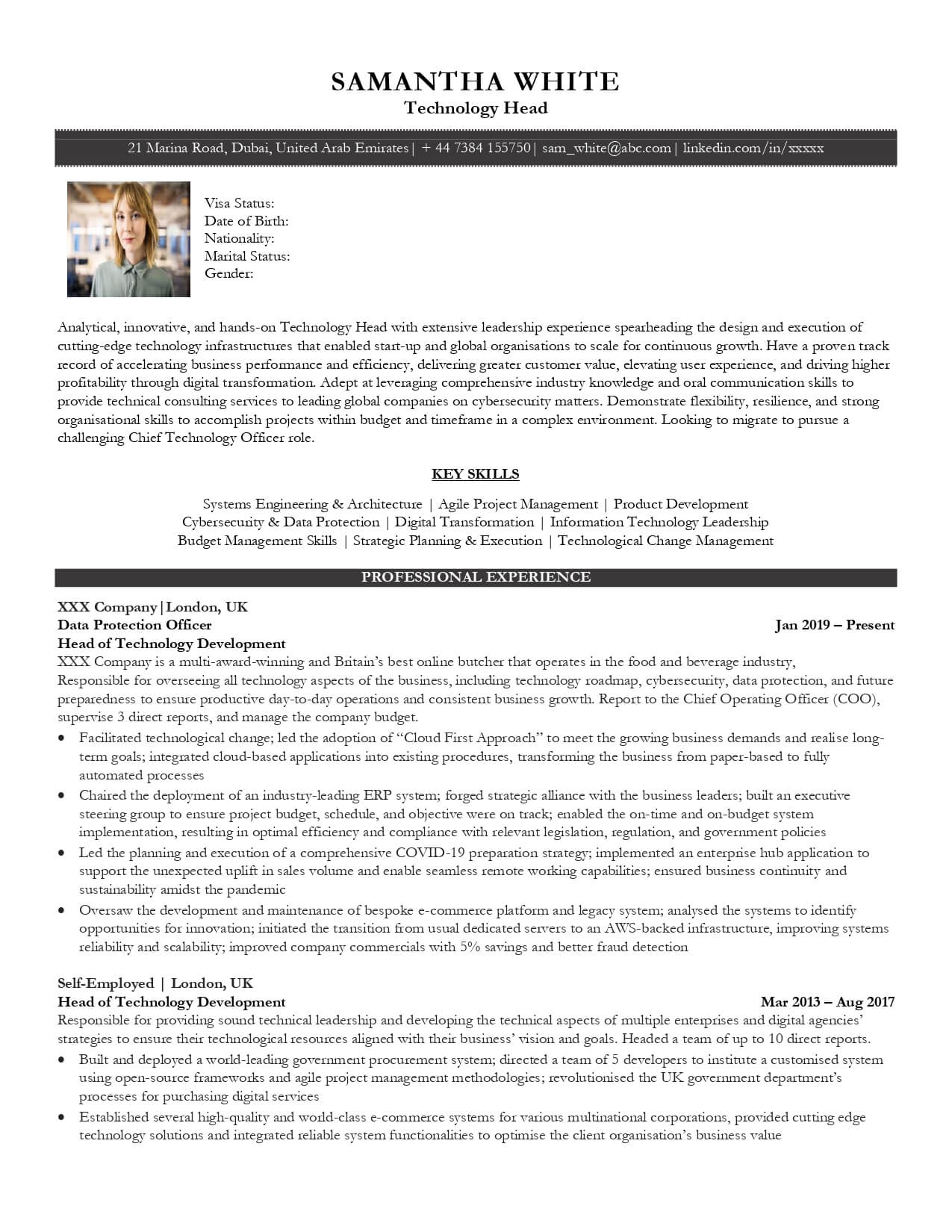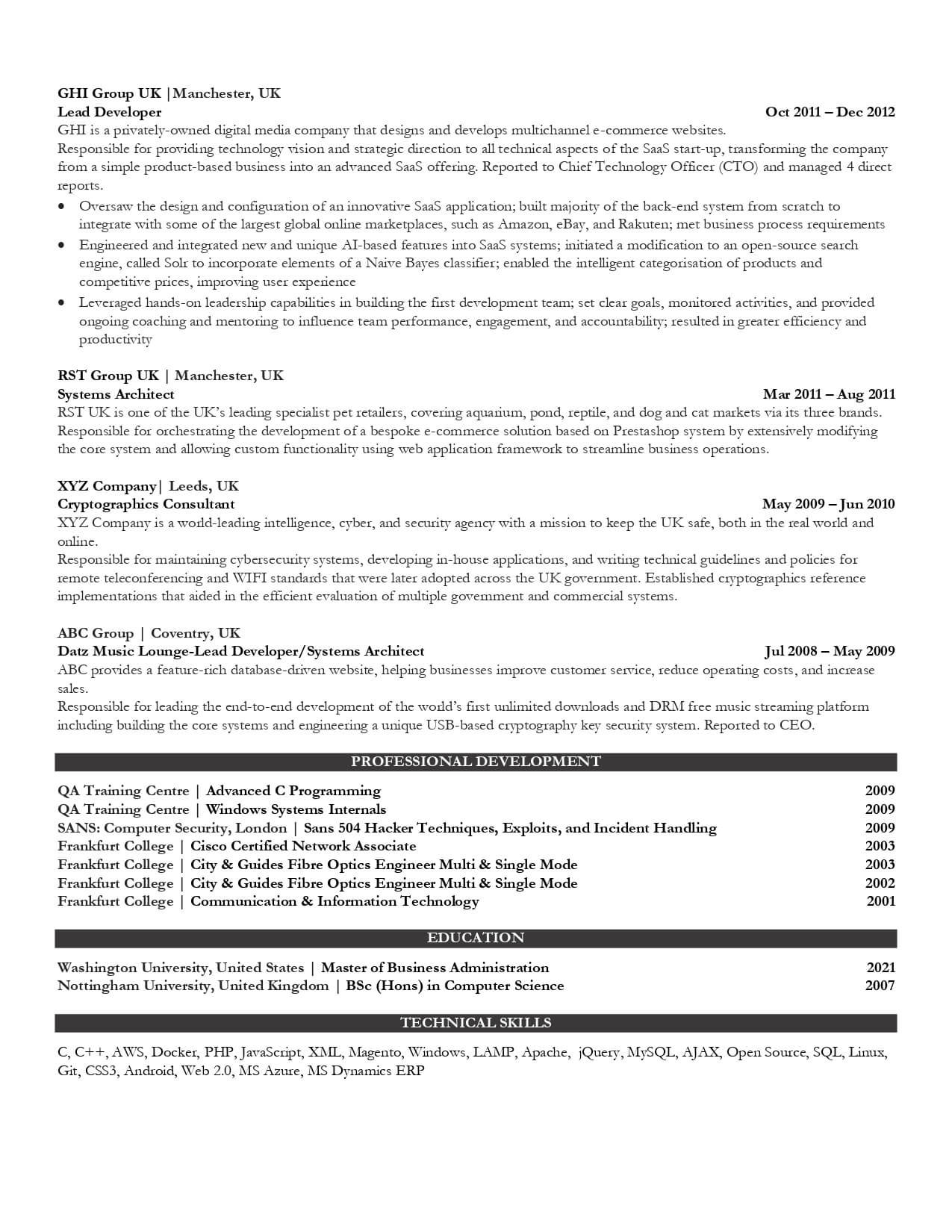 Writing a CV for the Dubai job market can be challenging, especially if it is your first time. Customizing your CV as per the local nuances and the expectations of Dubai employers is key to maximizing your chances of securing a job interview. So, if you are serious about finding a job in Dubai, do your homework and invest time in creating a winning CV. If you need further guidance or have any questions, please feel free to reach out to us.