A resume is one of the most important documents in the job application process, and it is no surprise that writing one can be challenging and time-consuming. How do you highlight your relevant experiences, skills, and achievements to stand out in the competitive job market? Job seekers around the world are increasingly leveraging the power of ChatGPT to create powerful resumes and land their dream roles. In this guide, we'll explore what ChatGPT is, how to use it for different resume sections, and provide tips on how to leverage this amazing tool. So, let's get started!
Understanding ChatGPT
What is ChatGPT?
Developed by OpenAI, ChatGPT is a natural language processing tool powered by Artificial Technology (AI) that produces logical and relevant text based on the inputs provided by the user. It is used for various applications, such as conducting research, creating content, answering questions, and assisting in tasks like resume writing and cover letter writing.
Wondering how ChatGPT can help you in writing your resume?  Let's explore some key benefits it offers:
Saves Time:

ChatGPT can quickly generate relevant text based on your prompts. It can help you save a lot of time and effort when it comes to resume writing. It can do various tasks for you, such as scanning the job description to identify relevant keywords.

Consistent text:

The AI tool ensures that any content created is consistent in style and tone, creating a cohesive document that effectively showcases all your experiences, skills, and qualifications.

 

Creativity:

ChatGPT can help fuel your creativity when you're feeling stuck. It can provide useful inputs when it comes to finding the right words or phrases and make suggestions on the content you should include in your resume.

 

Grammatically correct:

As the AI model was trained using huge volumes of well-written texts, it frequently produces content that conforms with grammar standards, helping you save time spent proofreading and editing. However, remember to not fully rely on it for grammar checks, as it may not catch all errors or may make suggestions that aren't entirely accurate.

Applying to multiple jobs:

ChatGPT can also assist you in tailoring your resume for different job applications. Thus, it can make it easier to customize your resume to match the specific requirements of each job you're applying for.
Limitations of using ChatGPT for resume writing
While ChatGPT offers numerous benefits, which can make resume writing quicker and more effective, it is important to remember that it comes with limitations. The content produced by ChatGPT may contain errors or inaccuracies, or it may not be relevant to your situation. Also, it may produce content that doesn't necessarily align with your communication style or personal voice. Thus, it's important to consider ChatGPT as a good supplementary tool for resume writing but beware of over-relying on it. Remember, human touch and personalization are important when it comes to effective resume writing and can't be substituted with technology!
What are Chatgpt prompts?
ChatGPT's prompts serve as conversation starters, typically in the form of questions, requests, and statements. Based on these inputs, ChatGPT generates responses. Thus, the output quality depends on how well you input your query. If you provide more precise information, you'll get better-targeted answers.
So, while writing the prompts for resume writing, remember the following points:
Be specific and detailed

Explain your experience in context

Ask clarifying questions in order to fill any gaps
Using ChatGPT for different resume components
Now that you've understood what ChatGPT is, let's explore how you can put this sophisticated tool into practice. In the following section, we'll explain how you can leverage ChatGPT's capabilities for different resume sections. While writing a resume, we suggest working section by section, rather than using a single prompt, for more targeted results. Let's dive in!
1) Analyze the job fit
You can leverage ChatGPT to assess how well your background and experiences correspond to the desired job role and the employer's expectations. This can provide valuable insights into what aspects you should emphasize in your resume.
Here is an example prompt:
Prompt: Can you analyze my resume and target job and highlight how my profile aligns with the role?

Here is my resume <paste resume>

Here is the target job position <paste job requirements>
Here is an example of the output generated by ChatGPT for the above prompt: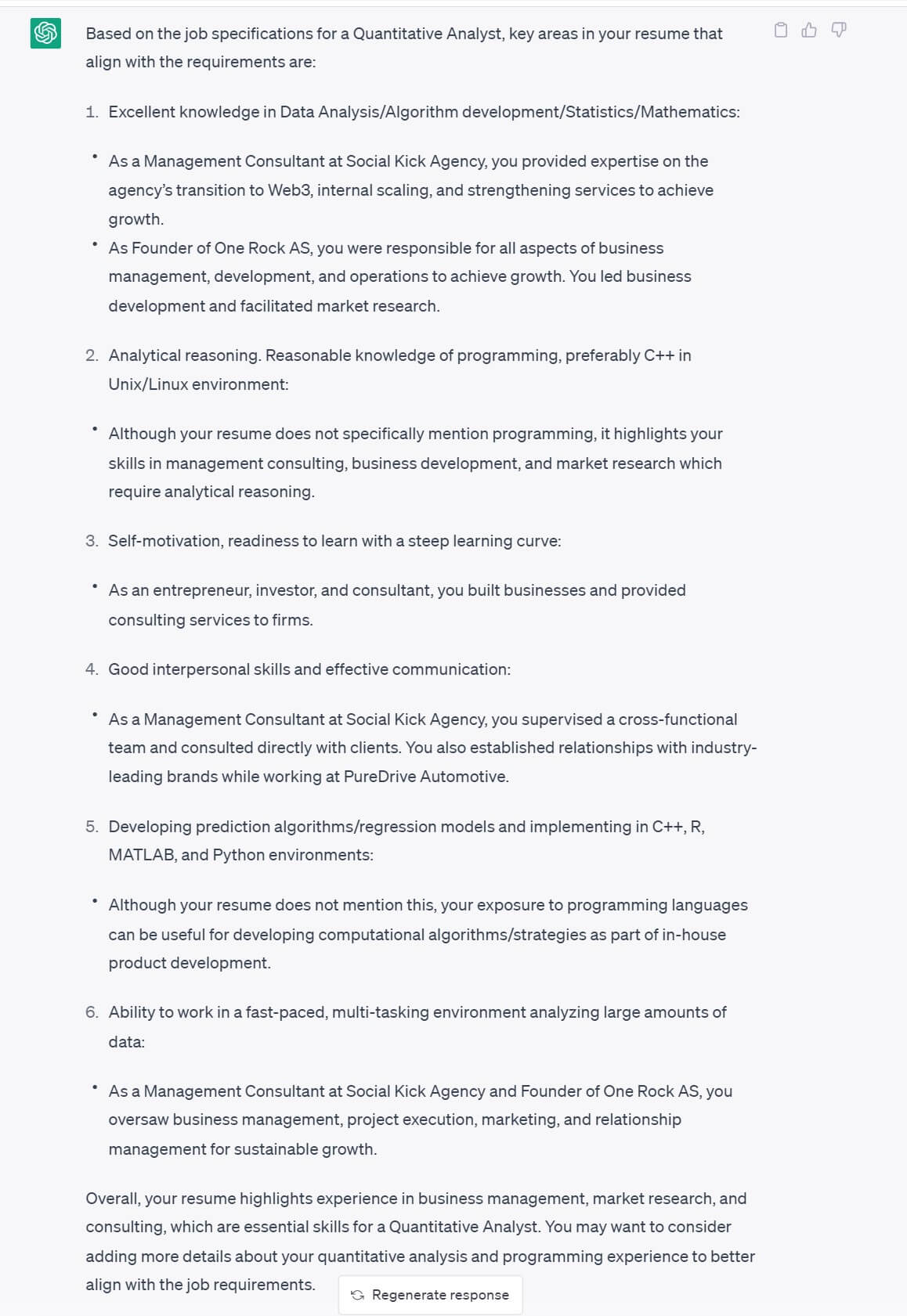 2) Create a compelling summary section
Positioned at the top of your resume, a professional summary section is an important element of your resume as it conveys the value you'll add to your employer and also convince them to read your resume further. To create an effective summary section, provide ChatGPT with a description of your experiences and the targeted job position. Moreover, it's a good idea to ask for multiple versions so that you can mix and match based on your needs and preferences. Here is a prompt to get you started:
Prompt: I am a <role> with <no of years> work experience in <describe your responsibilities, achievements, and duties>. I have expertise in <list your top skills>.

I am applying for the following position: <paste job description>.

Generate 3 professional summaries that highlight my skills and experiences in relation to the target role.

If you have an existing resume in place, you could use the following prompt instead:

Prompt: Generate 3 professional summary examples that highlight my skills and experiences in relation to the target role. Here is my resume <insert resume>.

Here is the job description <paste job requirements>
Here is an example of what ChatGPT will generate.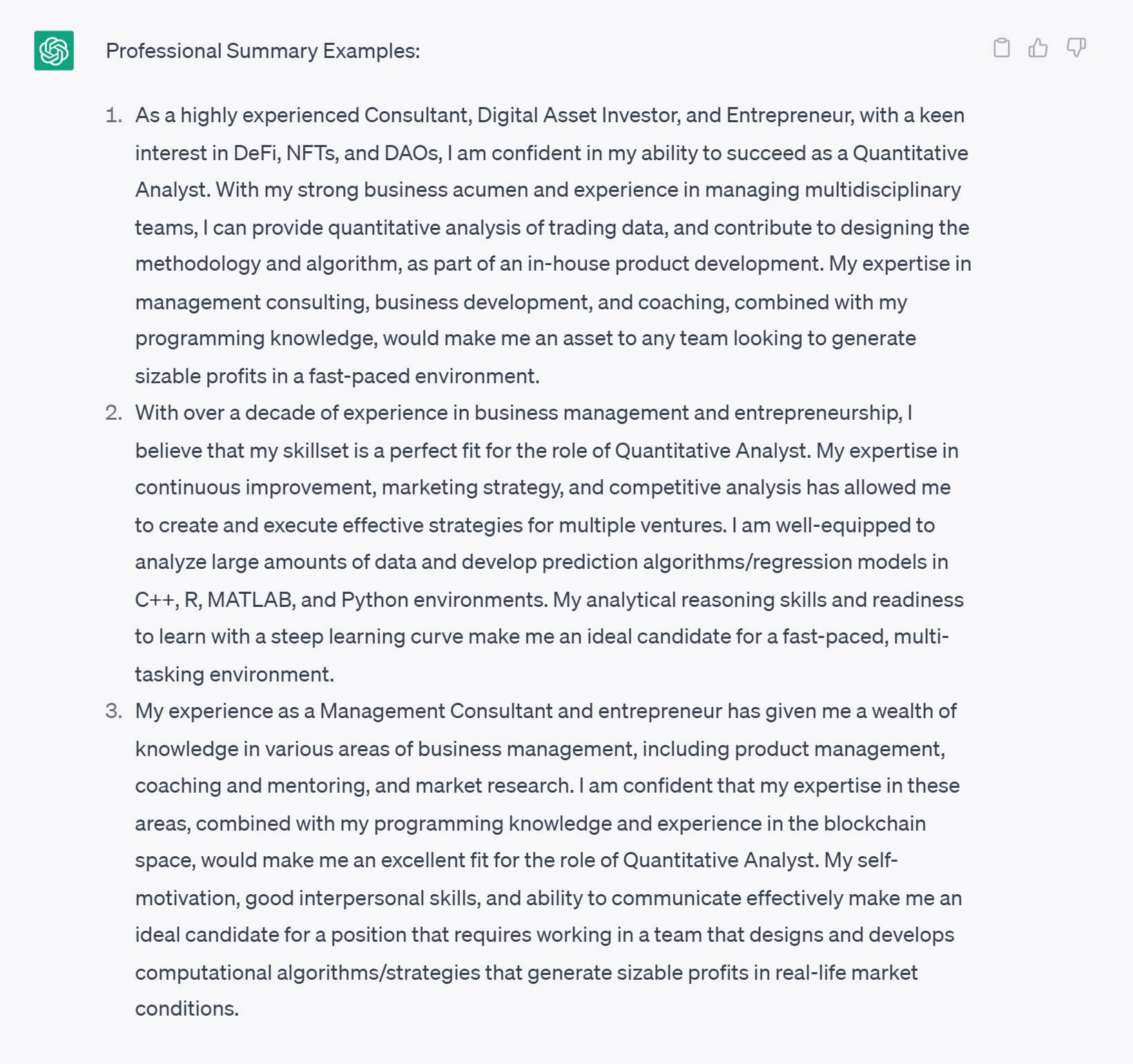 However, remember not to copy and paste it as is. You should use it as a foundational basis and tailor the content as per your requirements to ensure an effective and personalized professional summary.
3) Highlight key skills
We suggest adding a key skills section in your resume that showcases a mix of both hard skills and soft skills relevant to the target position. The section will enable your potential employer to quickly identify your strengths and abilities and match them with the requirements of the job role. To effectively use ChatGPT for this, we suggest the following steps:
Step 1: Input the job description and ask ChatGPT to identify the key skills for the target position. ChatGPT will generate a list of key skills relevant to the job role. Check the list for accuracy, and if needed, ask additional questions for clarity or more skills.
Prompt: Create a list of the key hard and soft skills for the following role <paste job description>.
Here is an example of this prompt: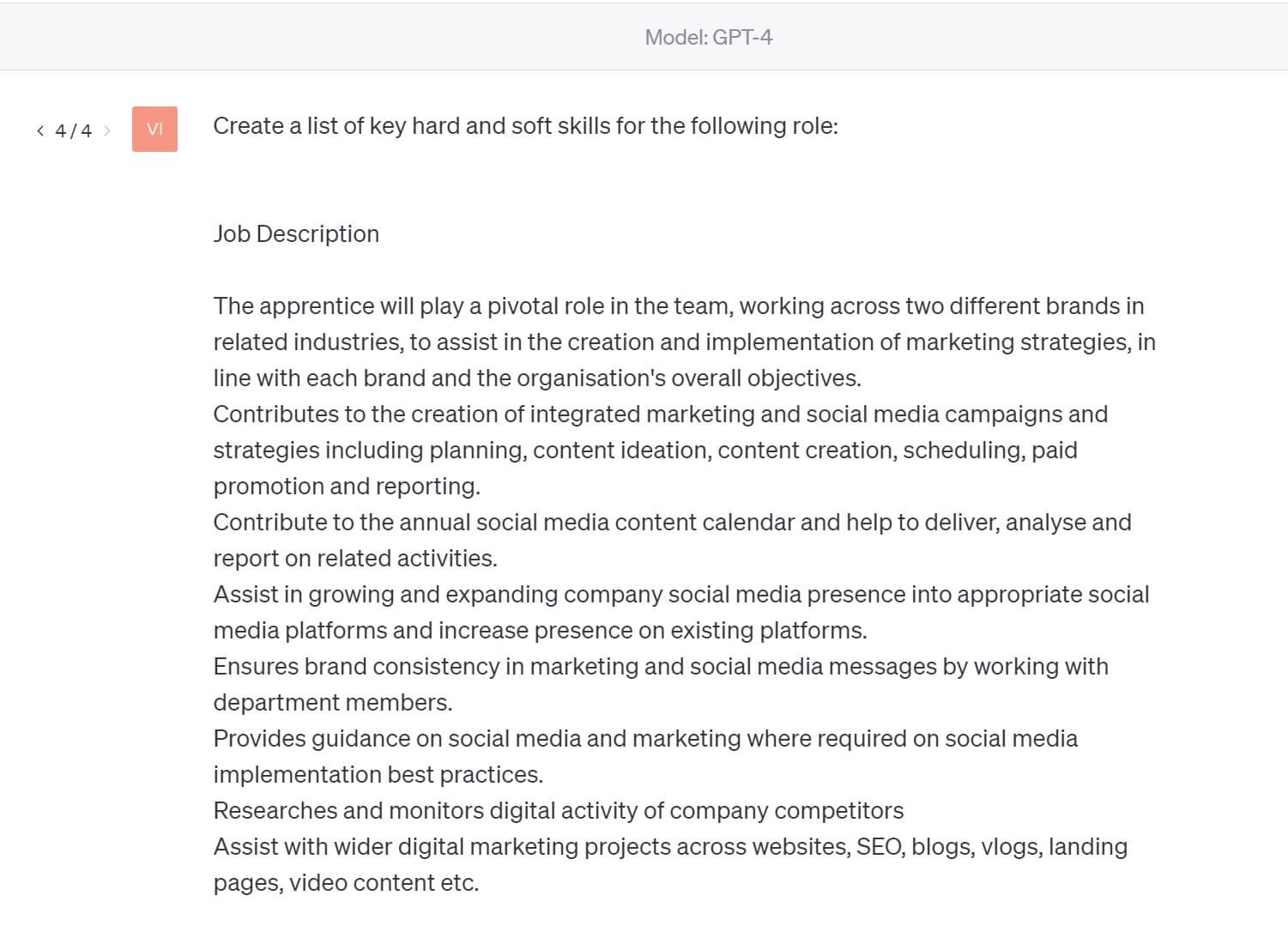 ChatGPT will generate a list of key skills. Here is an example of what it would look like: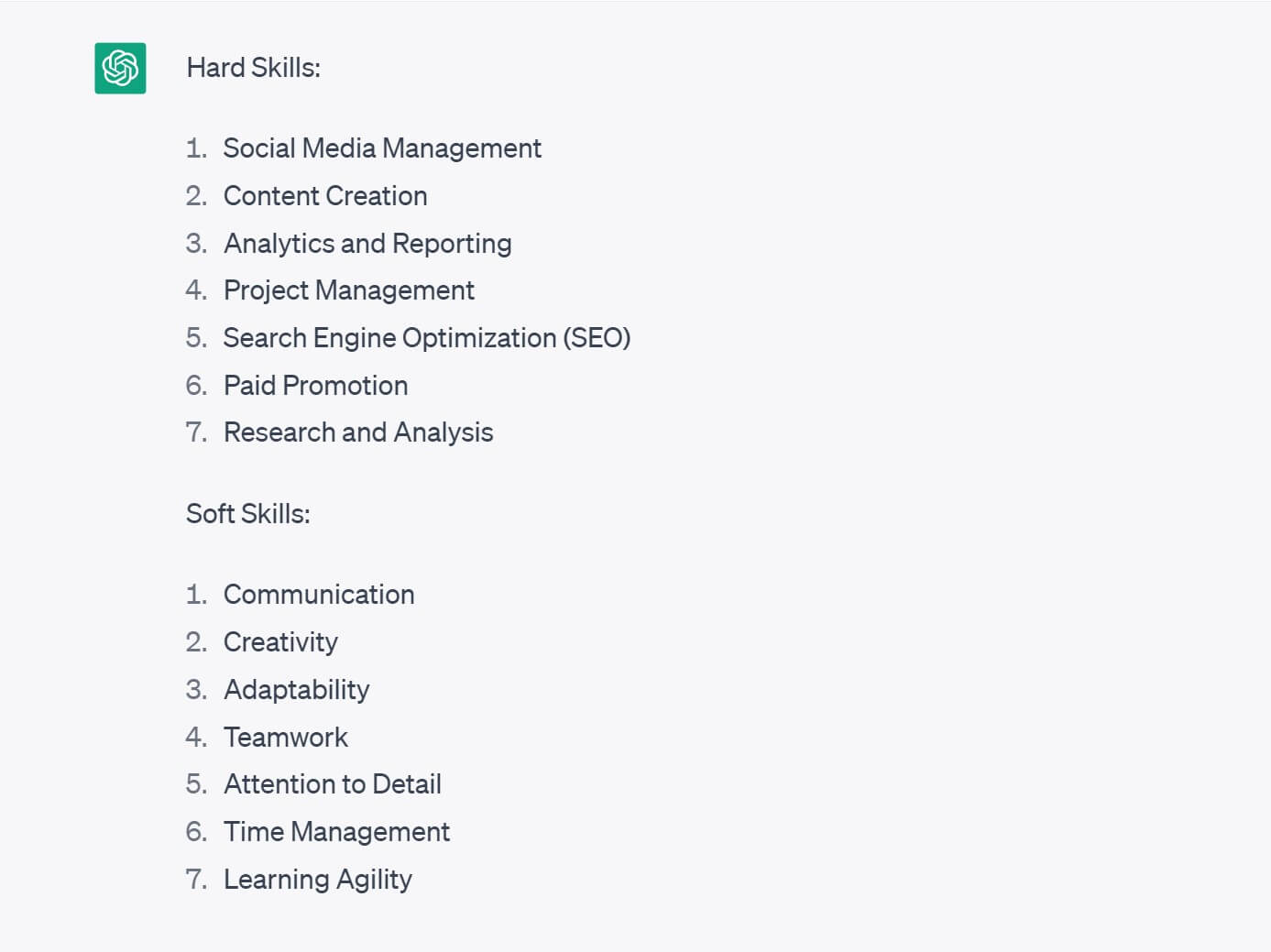 Step 2: Once your list is generated, you could choose either of the two options based on your situation:
a) If you already have an existing resume, copy and paste it and ask ChatGPT to match the skills identified above with those in your resume.
Prompt: Match the key skills identified above with the experiences in my resume <paste resume>
b) If you're writing a resume from scratch, provide ChatGPT with your background data and ask it to match your experiences to the job description.
Prompt: "Based on my background in [field], match my experiences to the skills identified above."
Here is an example of what ChatGPT will produce:

4) Focus on key professional experiences
Typically, the professional experience section is the biggest section of the resume. It is also the most significant one, as it illustrates the skills, expertise, and experiences the potential employer seeks while screening candidates. Here is how you can use ChatGPT to optimize your professional experience section:
1) Generate action verbs and phrases
Action verbs help elevate the quality of your resume by conveying information in a powerful manner. You could leverage ChatGPT to identify relevant action verbs that you could use to describe your work experience. Here is a prompt you could use:
Prompt: I am a <job title> with experience in <description of your role, responsibilities, and achievements>

Create a list of 10 powerful action verbs that best describe my experience and are aligned with the following job role <paste responsibilities of target job>
Here is an example of the ChatGPT prompt for key skills: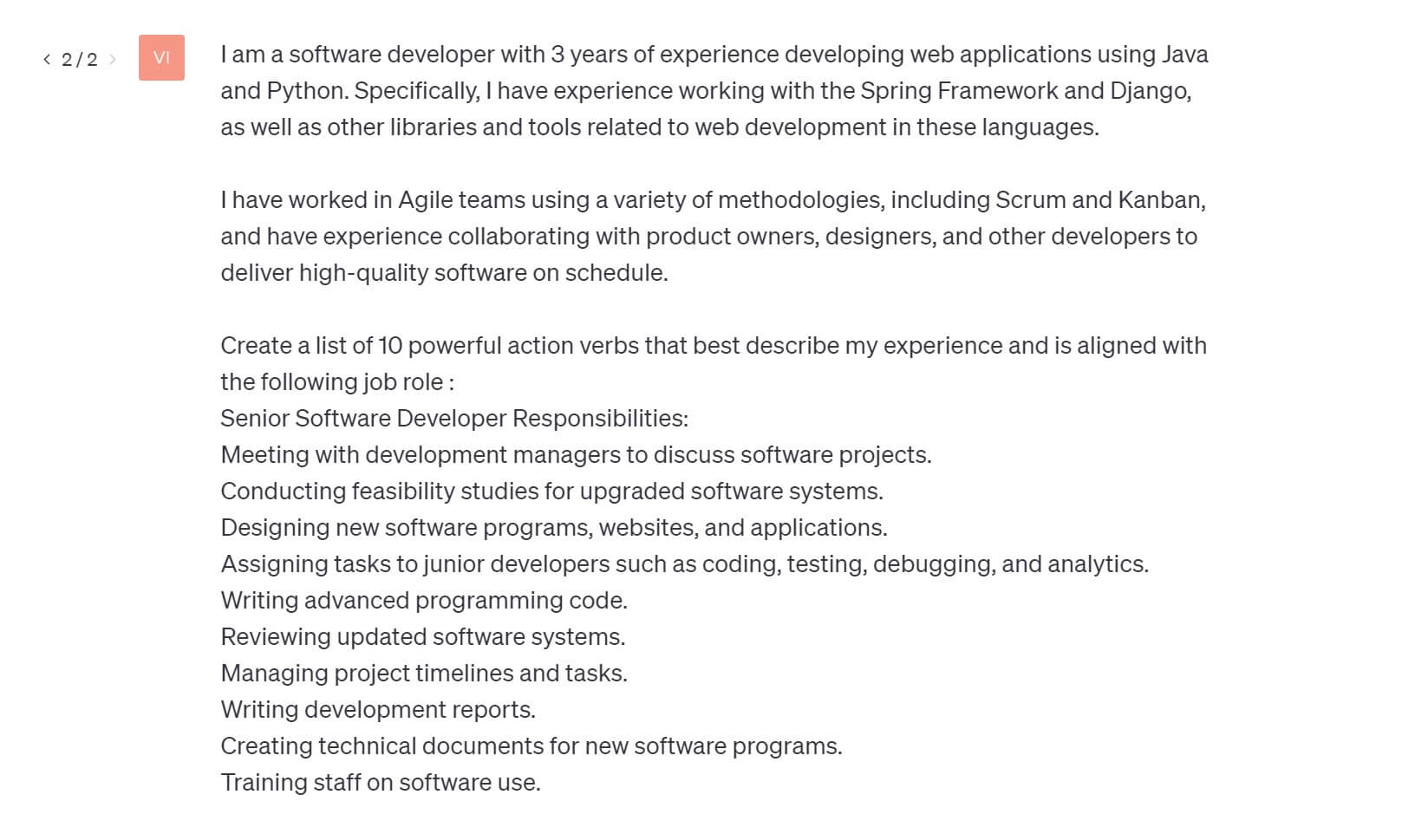 ChatGPT will produce a list of actionable phrases you could use. Below is the result produced by ChatGPT for the above prompt: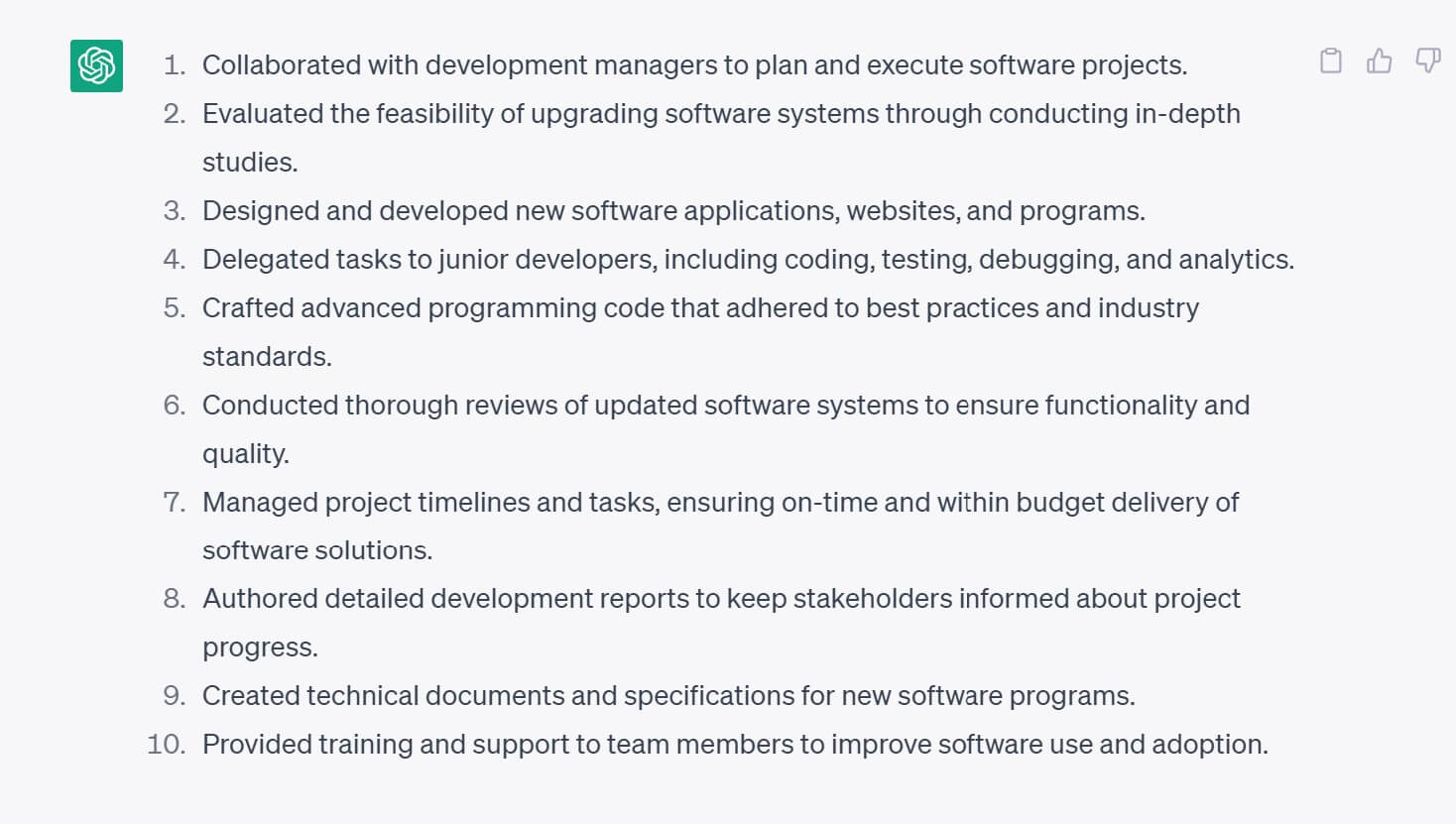 2) Using these action verbs and phrases, you can create bullet points for each position in your professional experience section. Remember to add hard numbers wherever possible to make your work history and achievements more concrete. After writing your bullet points, you can ask ChatGPT to help optimize them for greater effectiveness by using the following prompt:
Prompt: Optimize the following resume bullet point to make it more impactful, highlight quantifiable achievements, use strong action verbs and industry-specific keywords, and keep the content easy to read and concise.
Here is an example showcasing the same: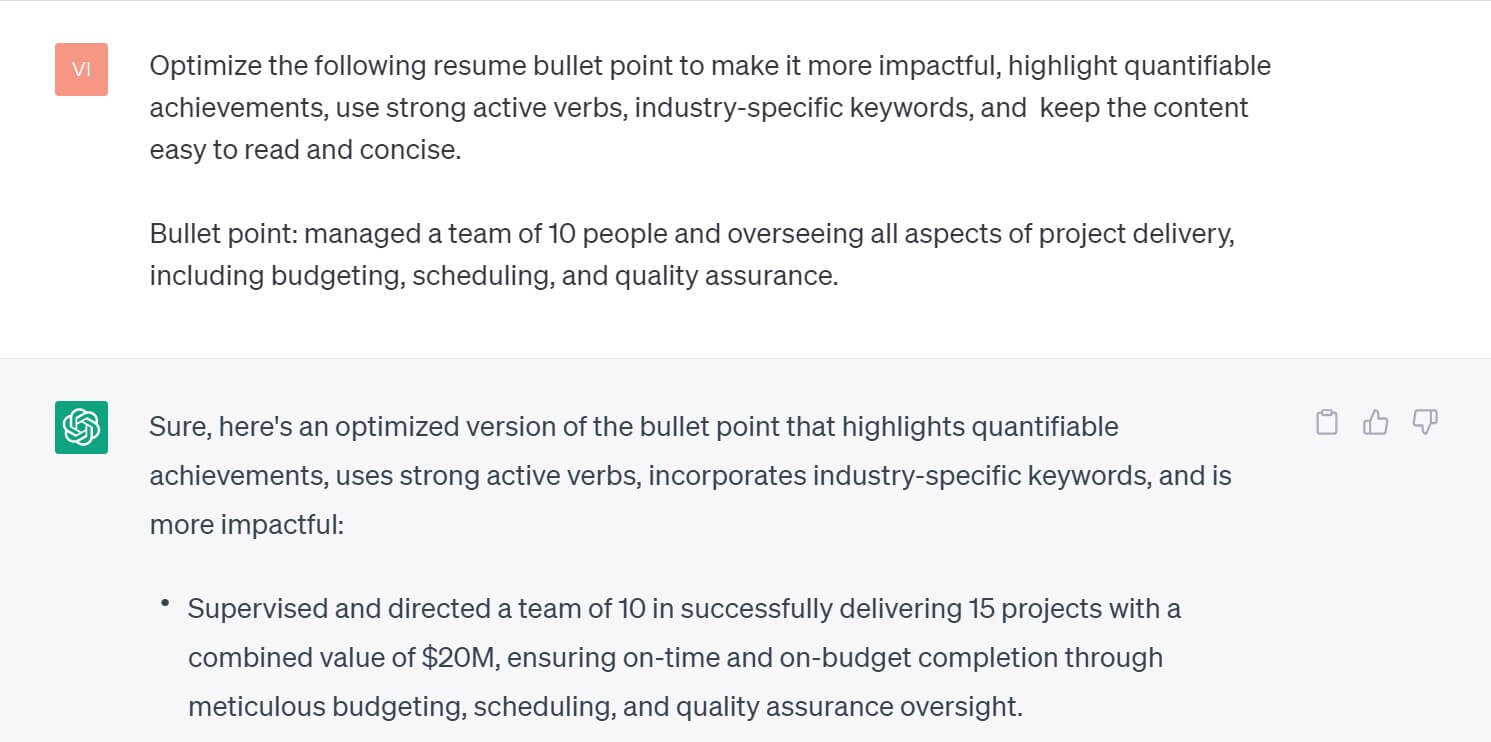 5) Emphasize relevant education
Showcasing your most relevant qualifications and credentials well in the education section is critical as it conveys to the hiring manager that you have the required expertise and knowledge for the job role. Utilize ChatGPT to brainstorm multiple ways of writing your education section. Provide ChatGPT with information regarding your educational history, such as degree earned and major of study as well as any relevant coursework completed. Then, use the following prompt:
Prompt: Show me 3 distinct approaches to present my educational background as a <insert educational history>. Provide clear, concise, and compelling examples.
Here is an example of a ChatGPT prompt for the education section:

Here is the result generated by ChatGPT for the above prompt: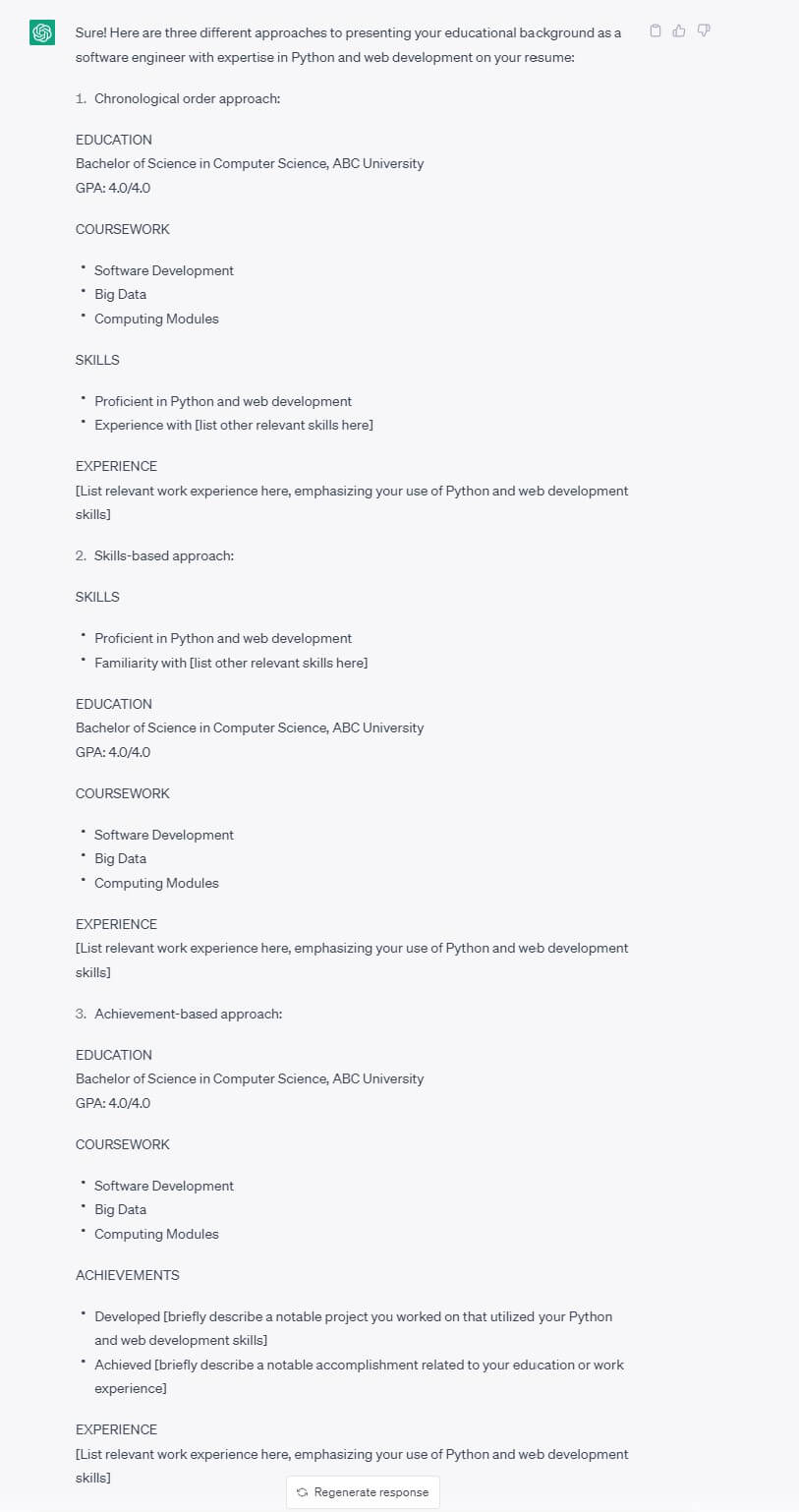 Similarly, you can utilize ChatGPT to assist you in writing Projects and Certifications, Volunteer Experience, and any Additional Sections.
How to optimize the layout and formatting of your resume using ChatGPT
We suggest formatting your resume with a simple, structured, and easy-to-read layout. ChatGPT can provide useful insights and suggestions to optimize the layout and formatting of your resume. You could seek ChatGPT's help with the following points:
General advice:

You could seek some general advice from ChatGPT on how to improve your resume's format and layout. For example, you could use the following prompt:

What are some best practices for formatting a resume for <job title> role?"

Seek feedback:

You could ask ChatGPT for feedback on specific resume sections, such as headings, professional history, or overall layout. For example, you could use the following prompts:

"Are my headings appropriate and easy to read?"

or

"Can you suggest ways to make my skills section more prominent?"

Specific issues:

If you're

facing any specific issues while formatting

or in your layout, ChatGPT can be a valuable resource to help you find potential solutions. For example, you can ask,

"How do I adjust my margins so that my resume fits on a single page?"
How to tailor your resume for different job applications using ChatGPT
While looking for a job, you'll probably be applying to dozens of job openings. We suggest tailoring your resume to the requirements of every job posting to increase your chances of landing an interview. However, we realize this can be too time-consuming and overwhelming. This is where ChatGPT can be of help! You can seek ChatGPT's assistance in tailoring your resume to different job postings by using the following prompt.
Prompt: Tailor the following resume <insert resume> by highlighting the key skills, experiences, and qualifications that match the requirements of the <title of job> role. Here is the job description <insert job description>
Here is the output produced by ChatGPT: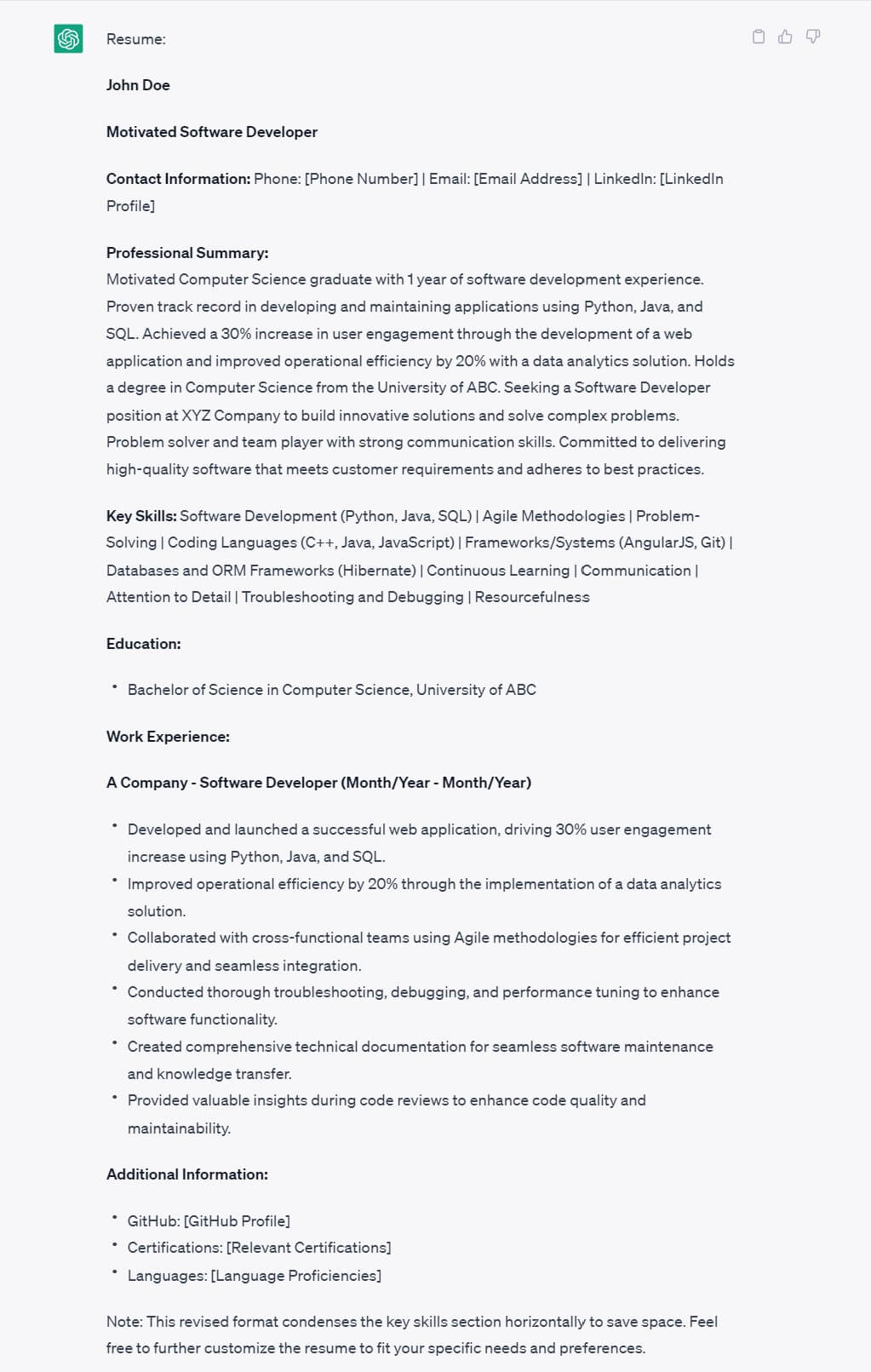 In the output generated above, ChatGPT has made the following changes to tailor the resume to the job application.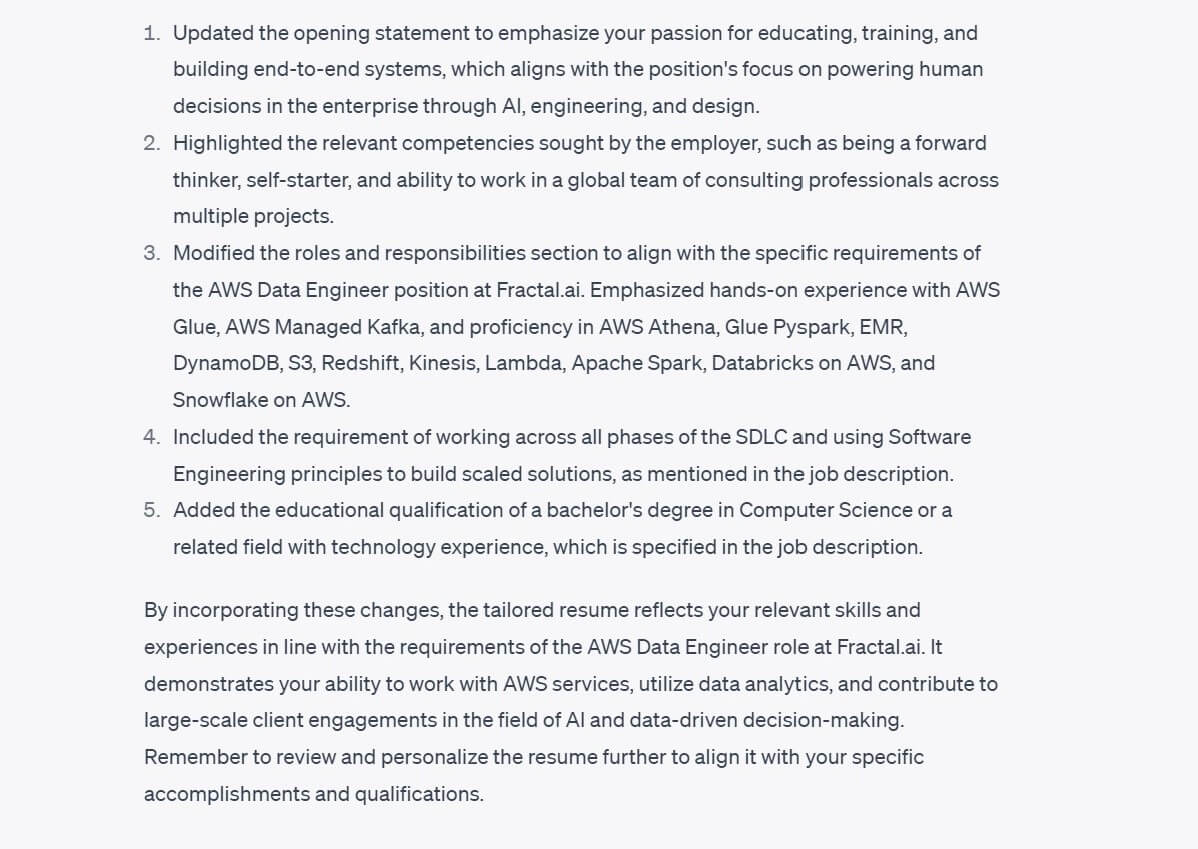 While these changes serve as a great foundation for you to work on, we suggest editing and personalizing it before submitting your job application. As you could notice in the example above, ChatGPT does a good job of reframing the key skills for the new role, but the professional summary and work experience section needs to be stronger. The professional summary section sounds robotic and lacks the cohesiveness a human writer would provide. Additionally, bullet points in the work experience section need to be more specific, lacking action statements or achievements in some instances. Taking time to tailor and enhance these sections will result in a more impressive and impactful resume.
How to use ChatGPT to review your resume
Have you already prepared your resume and are looking for some guidance? ChatGPT can be of great help to you! It can provide you with personalized feedback and suggestions on how you could improve your resume. It can act as a resume reviewer and help you ensure you have covered all the necessary sections if your resume is easy-to-understand, cohesive, and targeted, or if you've used the right phrases and words. You can also ask clarifying questions or request additional suggestions to further optimize your resume.
Here is a prompt you could use:
I need you to review my resume and provide targeted feedback on these points:

Which sections should I add to make my resume more readable?

How do I make my resume easier to read?

What numbers and results should I include in my resume?

What action verbs should I choose?

Have I used too many buzzwords, if so, how can I replace them?

Here is my resume <paste resume>

Here is the job role I am applying for <paste job description>
Here is an example of suggestions provided by ChatGPT on a resume: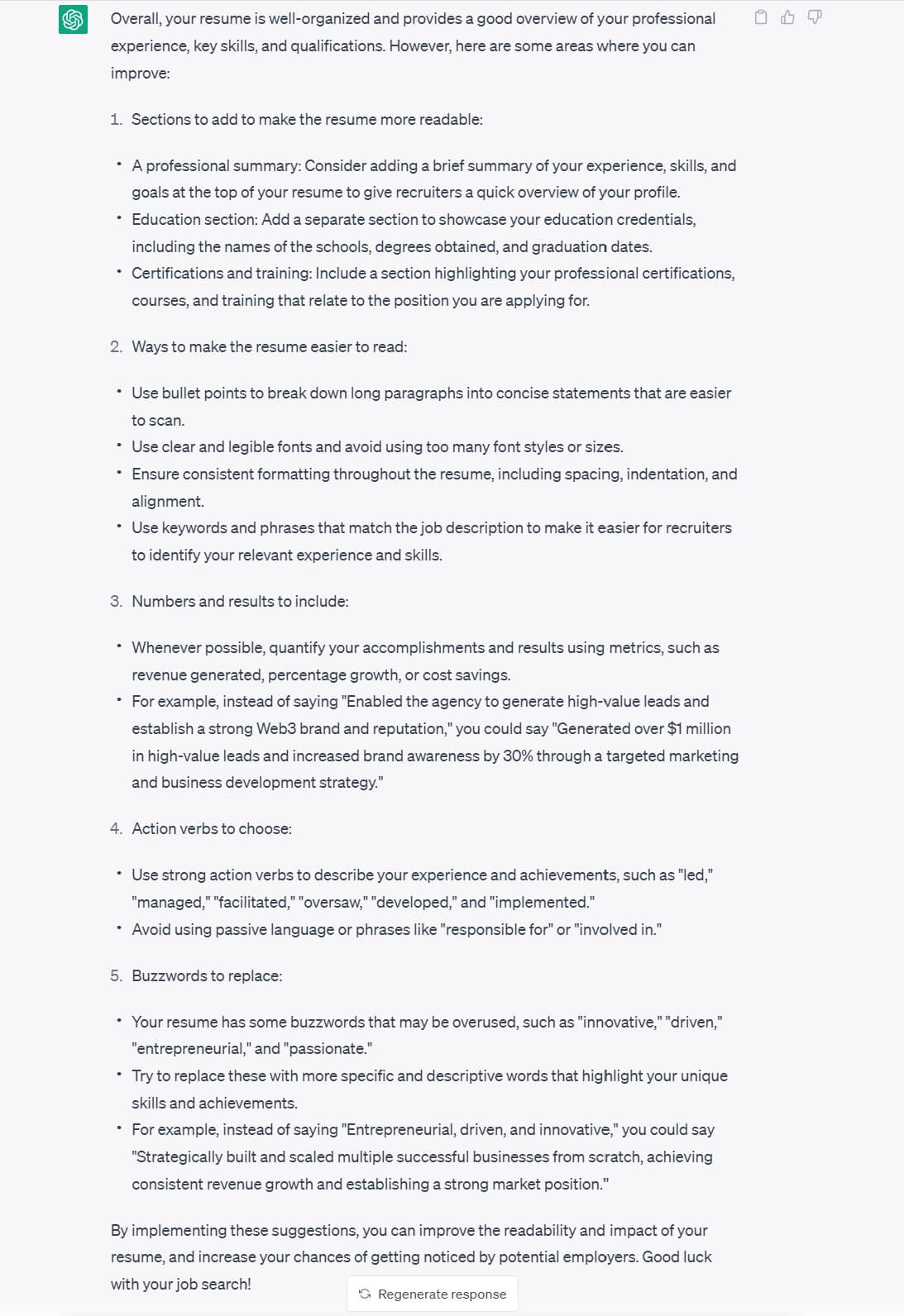 How to use ChatGPT for resume writing: Tips and tricks
Here are best practices to keep in mind while leveraging ChatGPT for resume writing:
Identify your purpose:

Before using ChatGPT, be clear about what you're looking for. Are you seeking general feedback on your resume, looking to improve a particular section, or wanting to add more keywords? Identifying your goals would enable you to develop more tailored prompts and yield specific results.

Specific information is key to personalization:

When seeking advice or feedback, provide context regarding your career goals, target industry, and any other relevant information that may assist ChatGPT in providing more tailored and accurate responses. For example, in the above prompts, we asked ChatGPT to review a specific job role and a resume to provide tailored advice.

Avoid complicated jargon:

Remember to not copy content generated by ChatGPT as is, as it may contain industrial jargon that the recruiters may not be familiar with. Ensure your resume is cohesive and easy to understand.

Provide examples:

To help ChatGPT understand exactly what you want,  give examples with your prompts. This will enable the tool to deliver more effective responses. For example, you could ask,

"Rewrite the following bullet point, using the same format, tone, and structure as this other bullet point <paste example bullet point>."

Review content for accuracy:

Sometimes, ChatGPT yields results that may be exaggerated or not entirely accurate. Thus, reviewing the content generated is important to ensure it's truthful and reflects your experiences.

Don't forget to proofread:

Before sending any material generated by ChatGPT, double-check for errors. Artificial intelligence, while sophisticated, is not always perfect.

Seek human feedback:

Before submitting your resume, ask a friend, mentor, or career coach to review your resume. It's a good idea to get a set of human eyes to review your resume for any issues.

Artificial intelligence tools like ChatGPT have revolutionized job hunting and changed how job seekers approach their job search. However, it's important to use these tools with caution. They can be a great supplement to a professional resume writer or career coach, but they cannot replace them entirely.