One of the most important marketing tools in the job-hunting process is a well-crafted resume. Many candidates focus their efforts on perfecting their resume format and style. However, in the process, they often neglect a small-yet-powerful element of the resume- the resume headline. The resume headline is a short, catchy title that synthesizes the candidate's skills, experiences, and knowledge.
It demonstrates a candidate's value proposition, emphasizing what they have to offer, what sets them apart, and how they can add value to the company. Identifying and communicating the candidate's unique value proposition is the foundation of creating a successful resume. The headline is positioned at the top of the resume, right underneath the candidate's name and contact information.
Research shows that recruiters spend approximately seven seconds on a resume before moving on to the next. Headlines are one of the first things they really notice on the resume. An attractive headline serves as a hook, enticing them to read on. Thus, writing a good resume headline is imperative for catching the recruiters' attention and setting a positive tone for the application.
1) Who Should Write A Resume Headline
All job seekers should include a resume headline regardless of their experience level. If you are a recent graduate or changing your career, you can use the resume headline to highlight the qualities that will enable you to grow in your new career. You can showcase your personal attributes, transferable skills, and proficiencies in the resume headline.  
Resume Headline Examples for Career Changers:
Customer Support Associate With a 4-Year Track Record of Receiving 98% Customer Satisfaction Rating

PMP-Certified Project Manager With 3+ Years of Experience in Delivering $2 Million Projects Timely and Under Budget
The first example is of a candidate switching from Customer support to the Sales field. The second example is of a candidate switching from Project management to a Marketing field. In such cases, when the job seekers don't have direct experience, they should focus on skills and achievements that are most relevant to the job they are applying for.
Resume Headline Examples for Freshers: 
Honors Roll Student Who Established Consulting Club in XYZ University

Computer Science Graduate with Hands-On Experience in C++ and Java
If you are an experienced professional, you will have plenty of information you would like to communicate to your potential employers. A resume headline will help you narrow down your extensive history to a central theme, making it easier for the hiring manager to gauge your candidacy. Seasoned professionals should demonstrate their most noteworthy achievements and relevant skills in the headline.
Resume Headline Examples for Experienced Professionals:
Duke-Certified Digital Marketer Proven to x4 Search Traffic in 3 Months 

CPA-Licensed Accountant With 5 Years of Experience in Forensic Accounting
2) How to Write a Good Resume Headline
a) Use the Right Keywords
The first step in the resume headline writing process is to identify the relevant hard and soft skills required for the desired job position. To do this, go over the job description of the target role and pull out the vital skills and competencies mentioned by the company. Through these keywords, the company communicates precisely who the ideal job candidate is.
Including these keywords in your resume headline will significantly boost your application. While browsing the resume, hiring managers scan for these words to determine the right fit. One of the simplest ways to appeal to hiring managers is to match your job title with the prospective job position and include it in your resume headline. For example, if a company is hiring for a 'Data Analytics Manager' role, you can use the same title in your resume headline if it applies to your profile.
b) Elements to Use in the Headline
There isn't a rigid formula for creating a resume headline.  The elements of a resume headline will vary depending on the candidate's experiences, skills, and the targeted job position. However, including certain components can help you craft a more powerful and appealing headline. Some of these include:
Skills: 

Mention concrete skills relevant to your background and the target job. Avoid using generic terms like

'motivated'

or

'hard-working'

. Instead, focus on using targeted power-packed adjectives and 

action verbs

.

Job Title: 

As mentioned before, using the job title stated in the job description can make you more appealing in the selection process. 

Years of Experience:

If relevant experience is a big plus in the job advertisement, you can choose to include this component. 

Accomplishments: 

Include measurable and definite achievements that make you stand out. You can also mention your licenses and certifications, if applicable to the desired role. 
3) Tips for Writing a Good Resume Headline
a) Less is More
The ideal resume headline is a one-liner of fifteen words or less. If you wish to expand more on your background, you can do so in the professional summary section. The professional summary section comes directly after the resume headline and could be up to seven to eight lines. However, the headline itself should be crisp, concise, and to the point.
b) Use Metrics
Wherever possible, support your writing with hard numbers. By doing so, you can create a more substantial impact on the hiring manager. You can mention details such as your GPA, years of experience, and accomplishments. We strongly recommend quantifying your accomplishments as they can especially make you stand out. Examples of quantifiable accomplishments include:
Amount of revenue generated

Percentage of cost savings made

Number of people led

Number of products sold

Percentage of success rate
c) Emphasize the Headline
We suggest using the title case capitalization style for writing the resume headline. A title case will give your headline the required visual prominence to grab the hiring manager's attention. Here's an easy tool to capitalize your title online. You can also use a slightly larger font size and bold text for the headline, but don't make it too exaggerated.
d) Tailor the Headline to the Job
For every job application, draft a few versions of the resume headline using a mix of different components (skills, achievements, experiences). Review how each one looks on the resume and sounds when read aloud. Pick the one that best describes your background and aligns well with the job description.
4) Good Resume Headline Examples for Multiple Jobs
Your resume headline should be entirely unique to you. You should tailor it to your background and the job you are applying for. However, reviewing examples of good resume headlines can get your creative juices flowing and help you craft your own impressive headline. In this section, we have compiled a list of 20 effective resume headlines across multiple sectors.
Enterprising Business Development Head Who Has Generated $12m in Sales 
Highly Driven E-commerce Manager Responsible for 55% Year-On-Year Growth
Multilingual Customer Service Associate With 95% Customer Satisfaction Rate 
Goal-Oriented Chartered Accountant With Expertise in Driving Financial Leadership
Award-Winning Writer With 125+ Publications in Leading Journals and Newspapers
Content Writer With 2 Years' Experience in Writing SEO-Optimized 2000 Words Blogs 
Strategic Project Manager With 7 Years of Experience in Managing Technical Projects
Results-Driven Sales Manager With a 5-Year Track Record of Exceeding KPIs Annually
Multilingual Travel Guide With 2+ Years of Experience in Hosting 500+ Tours 
Friendly Receptionist With Strong Interpersonal Skills and Computing Expertise 
Dean's Honors Finance Graduate With Internship Experience at Big-4
Creative Graphic Designer Knowledgeable in Adobe Illustrator and Canva 
Production Manager With a 7-Year Track Record of Boosting Productivity 
Experienced Funding Consultant Responsible for Winning Over $4M+ for Start-ups
Dedicated School Counselor With 5 Years' Experience Supporting Students K-12
Recruitment Manager With 6+ Years of Experience in Helping MNCs Hire Executives
Resourceful Operations Manager Who Brought $800k+ in Cost Savings 
Cambridge-Certified English Teacher Who Has Taught 400+ Students 
Non-Profit Director With 9 Years' Success in Raising $2m Annually for Rural Charities
Professional Tax Consultant Proven to Reduce Annual Tax Liabilities by 22%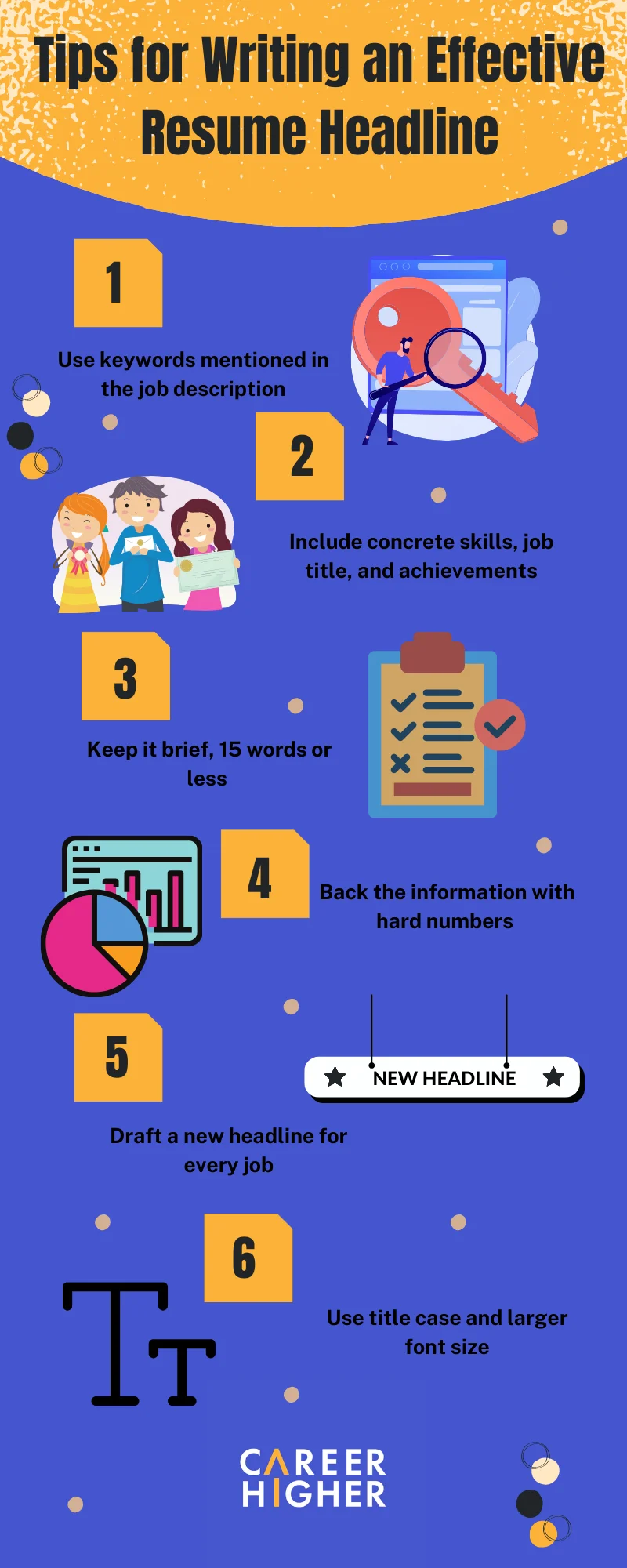 A good resume headline can get noticed by the hiring manager and showcase exactly why you are the perfect match for the job. So, make sure to write an attention-grabbing, concise, and tailored resume headline, which can make you stand out in the competitive job market. If the resume writing process is stressing you out, consider reaching out to a professional for guidance.