A targeted resume is often one of the essential requirements when applying for certain jobs, whether you're a first-time job seeker, a seasoned professional looking for a lateral transfer, or a career changer. While this is the case, not everyone finds creating an effective resume an easy task, even more so if you lack formal experience in your desired role or industry. However, this shouldn't stop you from writing one that will get you hired.
Drafting a best practice resume with no relevant work history to showcase can be nerve-wracking. You don't know where you should start or what to include. So, you may just find yourself staring at a blank document and wonder, will you even be considered for the job if you don't meet all the ideal criteria? Scary thought, right? Fortunately, there are alternative ways to demonstrate what you are actually capable of in your resume. In this article, we will list some tactics you should know to create a resume that will give you pretty good interview chances even if you don't have experience.
1. Include a professional summary
Job seekers with no experience tend to use an objective section on a resume to state their career goals and objectives. However, this is not a good decision as many employers consider this outdated and just takes up valuable space. In addition, employers already know what your objective is, and that is to obviously be considered for the position. So, adding one isn't really necessary. Remember, when applying for a job, you must focus on what you can do for the employer, not what the employer can do for you. To do this effectively, use a professional summary instead of a career objective.
As a candidate with less or no experience at all, your professional summary should describe your work ethic, educational level, relevant activities, skillset, or passion and interest. Highlight your key strengths and personality traits that add value to your application and showcase your suitability for that specific job. While doing so, make sure your statements are concise and to the point, forming a four to five sentences paragraph. Keep in mind that this is your first opportunity to compel employers, so getting it right is critical. Here's an example:
"Mission-driven and results-focused SDG Advocate with a keen interest in research, cultural policies, and education. Knowledgeable and experienced in designing methodologically sound studies and conducting rigorous quantitative and qualitative analyses to support the research and development efforts of government and non-profit institutions. An effective leader is strongly commended for the ability to facilitate effective workshops and explore new ways to further establish organizational goals. Equipped with outstanding communication and presentation skills to distill complex data sets into manageable, understandable reports for all organizational levels."
2. Emphasize your educational background and achievement
Your educational attainment is likely one of your strongest qualifications that can serve as a replacement for any industry-related experience. So, giving higher emphasis on this can greatly benefit your job application. You can do this by placing the education section just below your professional summary and key skills list instead of adding it underneath your professional experience section. This way, employers can quickly see that you are knowledgeable of your target field.
When listing your education, make sure to include all the relevant degrees you have taken or are currently taking. Mention the university name, degree title, your field of study, and the dates you attended. You may also consider listing the specific coursework that can emphasize the skills you've developed that are valuable to the role. If you have a high grade or attain special recognitions, we also suggest including them. Have a look at the examples below.

If you're taking a course that's currently in progress, this is what it should look like:

3. Add relevant experience
When you say relevant background, it doesn't always mean corporate jobs or paid employment. You must keep in mind that just because you were not paid for something doesn't necessarily mean you didn't gain any valuable business skills and experience. So, try to recall some of your previous activities that show your professionalism, interests, personality traits, and other things that a potential employer is likely to consider important.
Yes, you are right. Volunteer work, academic or passion projects, and extra-curricular activities you've done during your studies can also be considered relevant experiences, aside from part-time or temporary gigs. Not only will these help you showcase some worthwhile skills you've developed, but also some of your personal characteristics. All you have to do is choose the experience and activities most aligned with what your target job is looking for. Then list them just like how you would typically list your job experience. Include what your role was and a brief description of the actual duties you've performed.
4. Highlight transferable skills
Apparently, your hard or technical skills are limited if you don't have direct experience in your target field. This is where your soft and transferable skills come in handy. These are the competencies and attributes that you've developed from past experiences and education that can be useful across different roles and industries. You might be amazed at just how many of these skills you really possess when you sit down to write your resume, increasing your chances of being considered for the role.
However, you don't have to include every skill you can think of. To get a better idea of the ones you need to add, read the job description carefully. You will typically see the skills required in the requirements or qualifications section of the job posting. From there, you can create a list of the skills you know you have. Aside from creating a key skills section, you can also integrate these skills throughout your resume, including professional summary and experience sections. Make sure to add them only when relevant in a natural and efficient way.
5. Consider adding extra sections to add impact
When creating a resume for a job with no experience, you may feel like something is missing. Hence, you may want to find and jump on every opportunity to fill these gaps and stand out as a strong candidate. Well, we feel you. So, as a recommendation, consider adding extra sections to include everything that can be beneficial to your candidacy.
Some of the sections you could add to your resume are awards, certifications, languages, and hobbies and interests. If these can help you prove your cultural fitness and the value you can bring to the table, don't hesitate to mention them. Apart from industry-related background, keep in mind that employers are also looking for evidence that you can thrive in different workplace environments. So, adding aspects related to your target job can help you show them your potential to succeed in a certain role.
Examples of Resumes with no Experience
Here are some full resume samples you can look at while writing your own resume without experience.
1. Fresh graduate/entry-level professional looking for a first full-time job
Download PDF Sample | Download Word Sample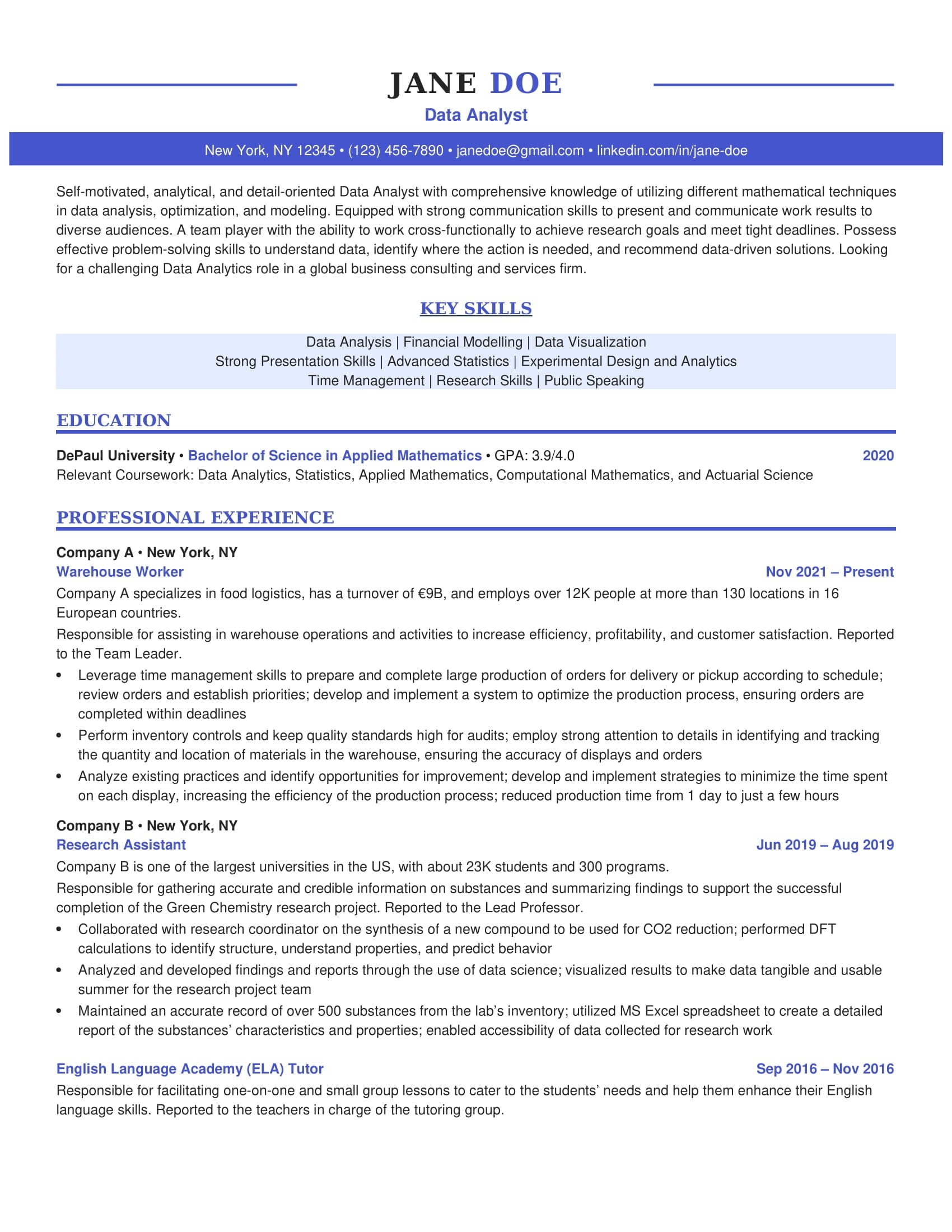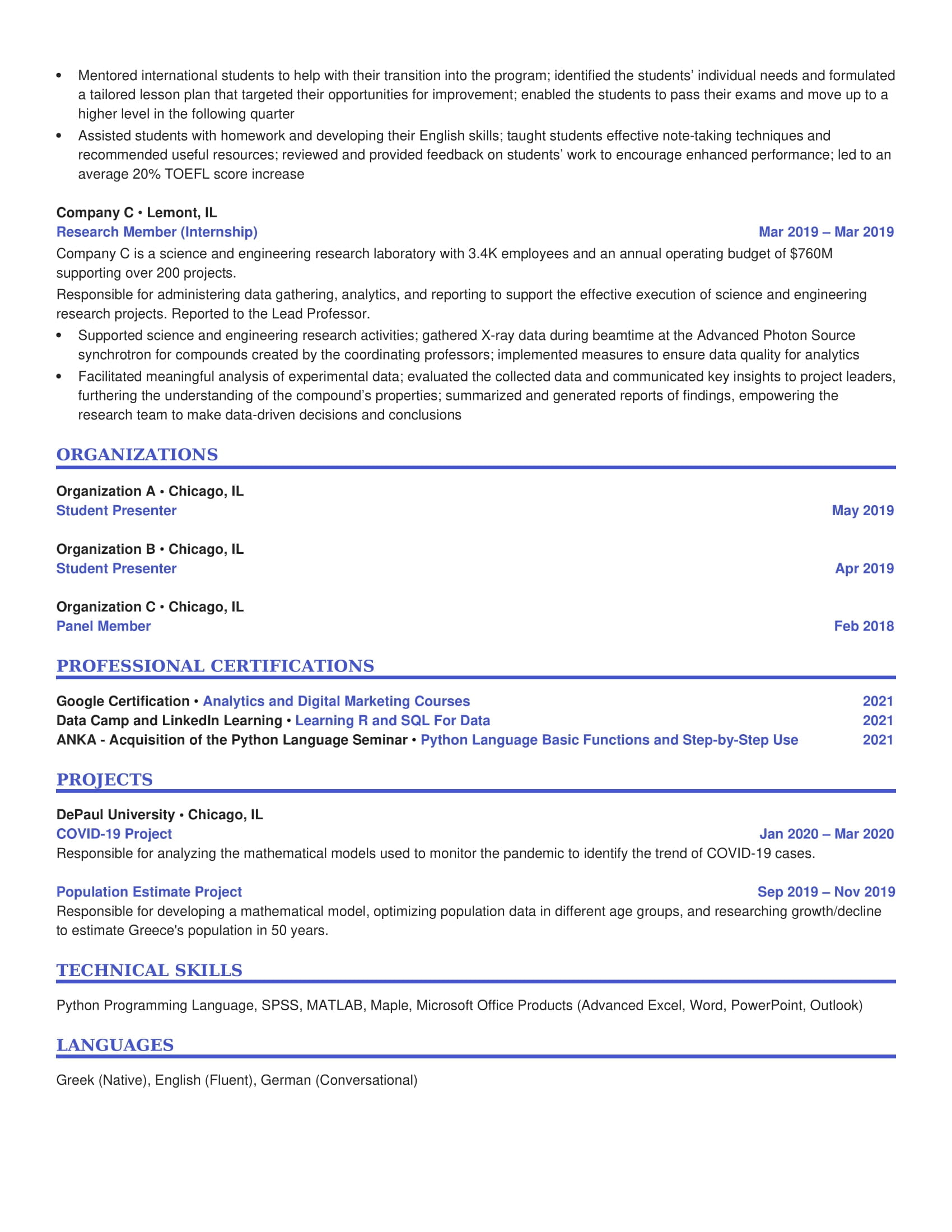 2. Career changer with no direct experience in the target field
Download PDF Sample | Download Word Sample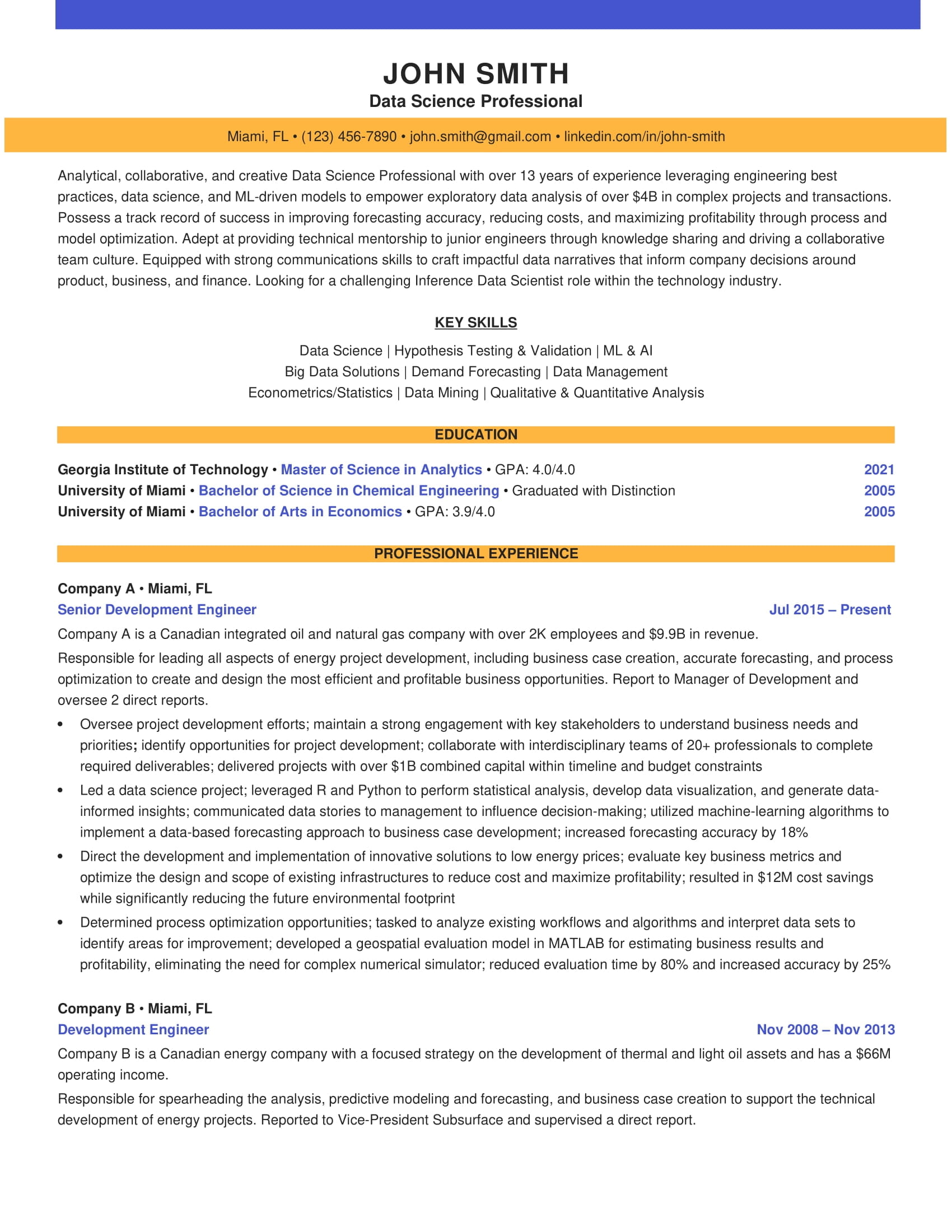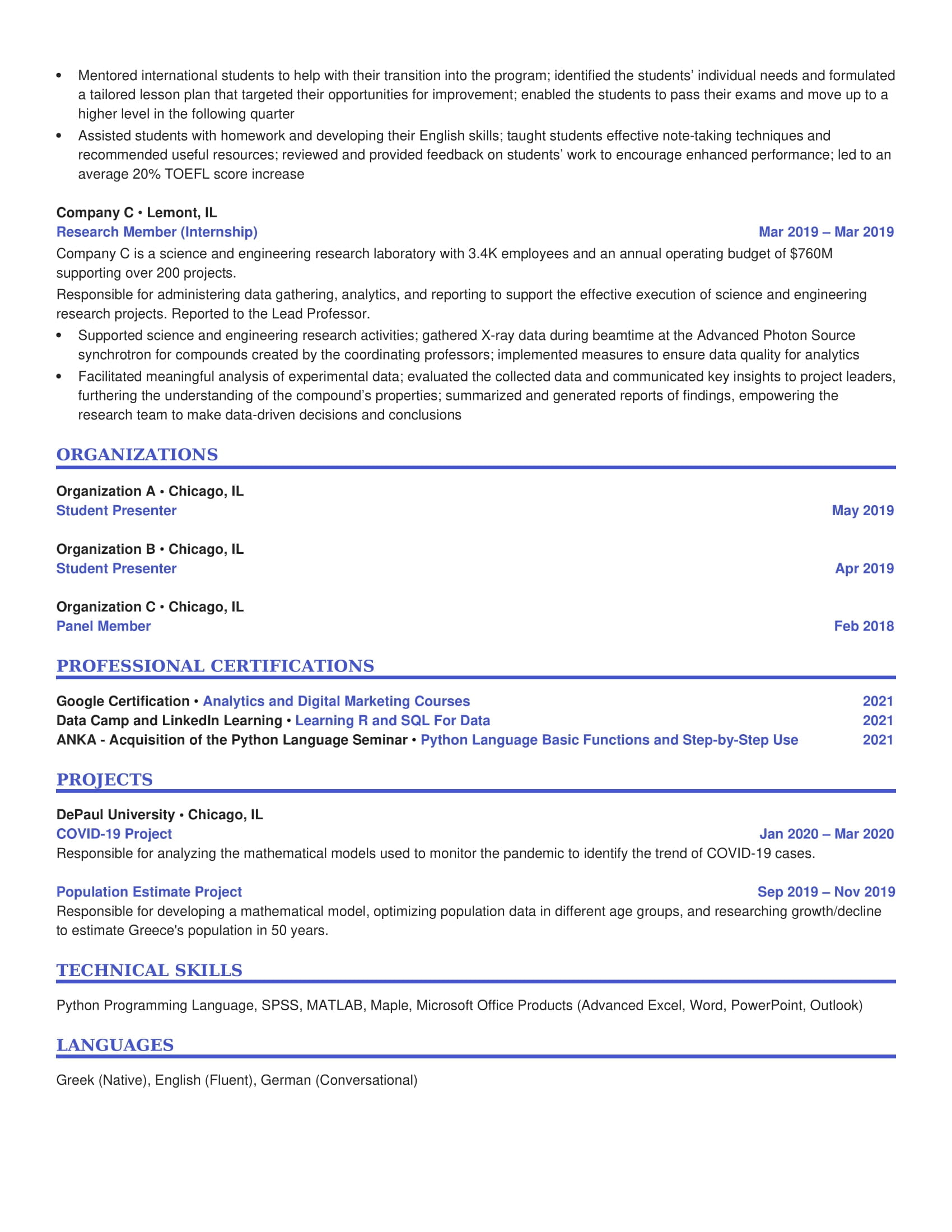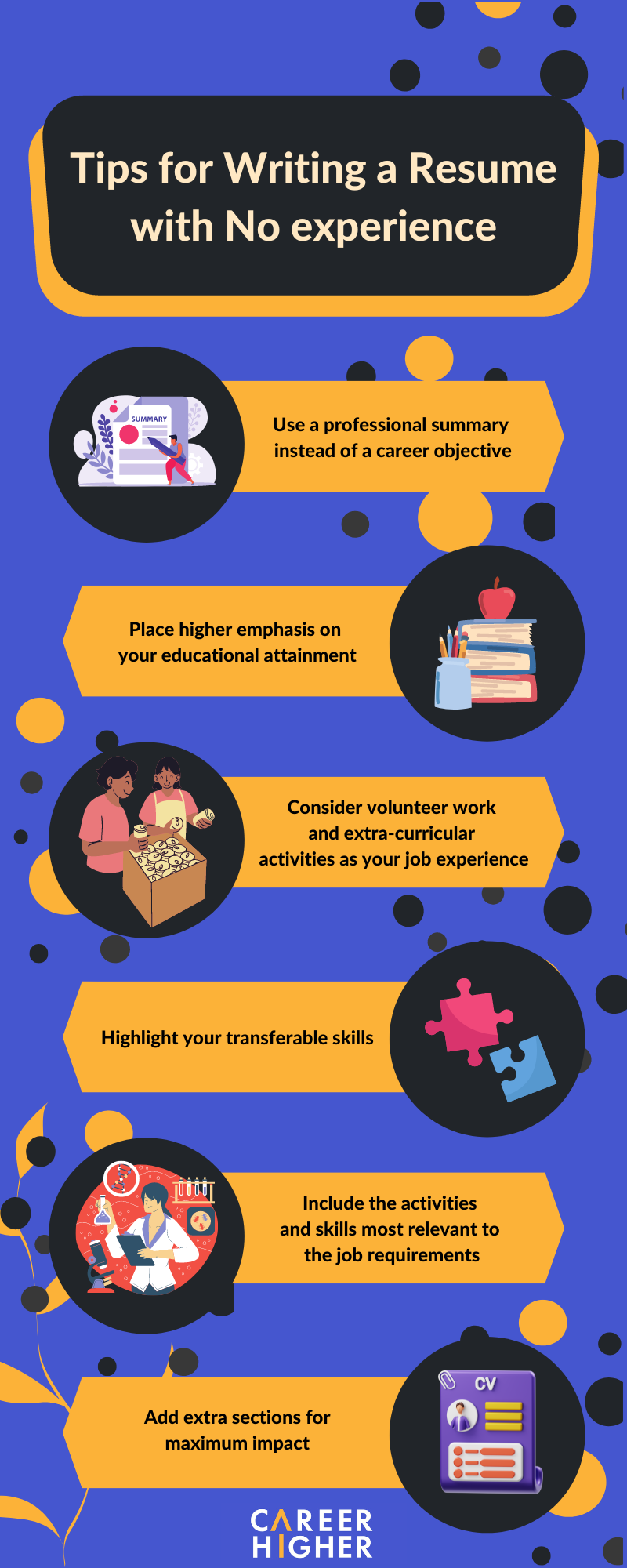 How to make a resume without experience is indeed a challenge but certainly not impossible. The tips and examples above should be enough to help you get started in creating your own resume that showcases your candidate's value proposition. Remember, the key to standing out as a candidate with no experience is highlighting relevant activities, education, and transferable skills. If you feel doubtful, we are here to support you. We're just one message away.