An infographic resume portrays a candidate's relevant experience, skills, and accomplishments in a visual manner. Rather than simple texts, this type of resume contains images such as graphs, charts, and icons that convey an applicant's distinctive professional story. If done properly, an infographic resume can help your application visually stand out from the competition. In this article, we will guide you on how you can create an effective infographic resume.
When Should You Use an Infographic Resume?
While being creative with your resume is great, you need to be mindful of when to use an infographic resume. When you're applying through job portals, this may not be suitable as most Applicant Tracking Systems (ATS) are unable to parse images. Additionally, there are industries that prefer a more traditional resume. In these cases, we highly suggest sticking with traditional resumes. Below are some ideal scenarios when creating an infographic resume could be the best way to go.
When you're applying for a job in the creative fields such as video production and design

When you're emailing your resume or handing it in person

When requested by your target employer or specified in the job post
Tools for Creating an Infographic Resume
While you may design your infographic resume from scratch, it can be a time-consuming process. To make the creation process more efficient, there are various online tools that can help. These tools offer templates that you can customize according to your preference and brand. You can also download your document and save it as a digital file for easy sharing and printing as needed. Here are some examples of the tools you can use.
Using the above tools is pretty simple. The first step is generally selecting a template to start designing your resume. This is an excellent starting point. However, these templates are typically not tailored to your target job. We recommend editing the template based on your personal brand and the target industry's culture and best practices. You can do this by customizing the colors, images, charts, icons, and graphics.
Tips and Tricks for Creating an Infographic Resume
1) Keep it clean and simple
While you are introducing visual elements, you need to resist the urge to go overboard.  Avoid mixing and matching too many random colors and bold backgrounds. We recommend sticking with a clean and simple design. Use light background, minimal colors, and streamlined infographics. This will make your resume look more professional and easier to scan for busy hiring managers.
2) Utilize Relevant Visual Elements
An infographic resume should not be a duplicate of your traditional resume. It should present your pertinent skills and experience in an aesthetically pleasing way. This can be done by including the following visual elements.
a) Photo
Contrary to traditional resumes, having a professional photo on your infographic resume is necessary.  Use a current photo with a professional headshot, high-resolution image, right expression, and appropriate attire. This would allow you to represent yourself in a way you want the recruiter to remember you.
b) Statistics
Numbers help recruiters picture the impact you've made in your previous roles. Consequently, boosting your credibility as a candidate. Make those quantitative results work for you by utilizing visual stats. These can be used to convey your skill level, number of completed projects, awards, etc. Take a look at the example below.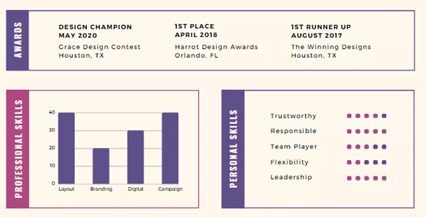 c) Recommendation
A positive recommendation by your past manager or client can help you stand out on your infographic resume. We suggest including one to two sentences of your past performance's testament. This provides your target companies with further insight into your relevant strengths and accomplishments.
d) Timeline
A timeline infographic is one of the optimum ways to communicate the key milestones of your career progression and professional growth. It will help paint a picture of your relevant experiences in the reader's mind. Here is an example of how a career timeline can be visually presented.

e) Company Logos
Rather than just listing the name of the company, you can include their official logo on your infographic resume. Don't restrict your document to just previous employers. You can also add the logos of the website that featured your work or organizations you have volunteered in, if applicable.

3) Align with your target job
Aligning your infographic resume's design and content with your target employer's culture and expectations is vital to your application's success. Hence, it is imperative to take some time to research the company to obtain an in-depth understanding of its mission, vision, products and services, branding, and market positioning. This will enable you to make an informed decision on what to include and what design to use on your document. Below are some key factors to consider.
a) Design
Traditional industries such as banking, insurance, and legal prefer simple, black and white, and conventional templates. Use a monochrome color palette for a sleek, professional infographic resume. Take a look at this

example

.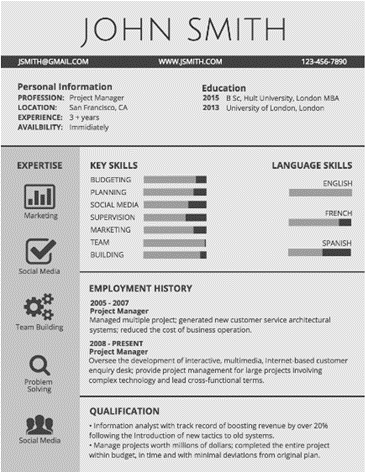 Employers in neutral industries such as healthcare, telco, and retail are typically looking for a traditional look but would appreciate some creativity. Ideally, it should not include excessive designs but strategically uses some colors. See the

example

below.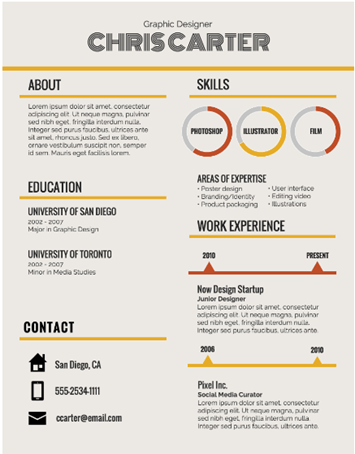 If you are applying in a progressive industry such as marketing, design, and technology, you may opt for more creativity. This can be expressed by using a more creative color scheme, varying fonts, and eye-catching background. Here is an

example

.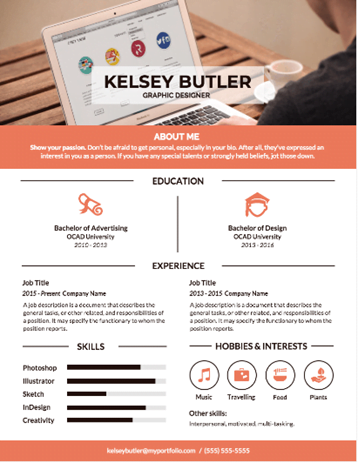 b) Content
How much or little text you use will be determined by the industry and the type of job you are applying for.  Analyze the job description to obtain an understanding of what the role requires. Prioritize key information from your background that relates to the job's requirements. Then, use this as a foundation for creating your infographic resume's structure.
Similar to how you would create a traditional resume, your infographic resume sections need to be broken down into clear categories. This makes it easy for busy hiring managers to see your relevant qualifications, optimizing your chances of landing an interview. Here are some of the sections you can include. Depending on the message you need to convey, additional sections may be required.
Header – This includes your photo, job title, and up-to-date and accurate contact information.
Key Skills – This is a list of your relevant soft and hard skills.
Achievements – This demonstrates your quantifiable accomplishments, such as cost or time saved and profits generated.
Professional Experience – This presents high-level details of your work history.
4) Proofread the content
While an infographic resume places more emphasis on visuals, it doesn't necessarily mean you shouldn't proofread the content. Errors such as typos, spelling mistakes, poor grammar or inconsistencies will make your resume appear sloppy and rushed. Hence, performing a spell and grammar check is a must. You also need to ensure that the visuals appear organized all throughout the document. To avoid formatting issues, we highly recommend using a pdf format when submitting your infographic resume.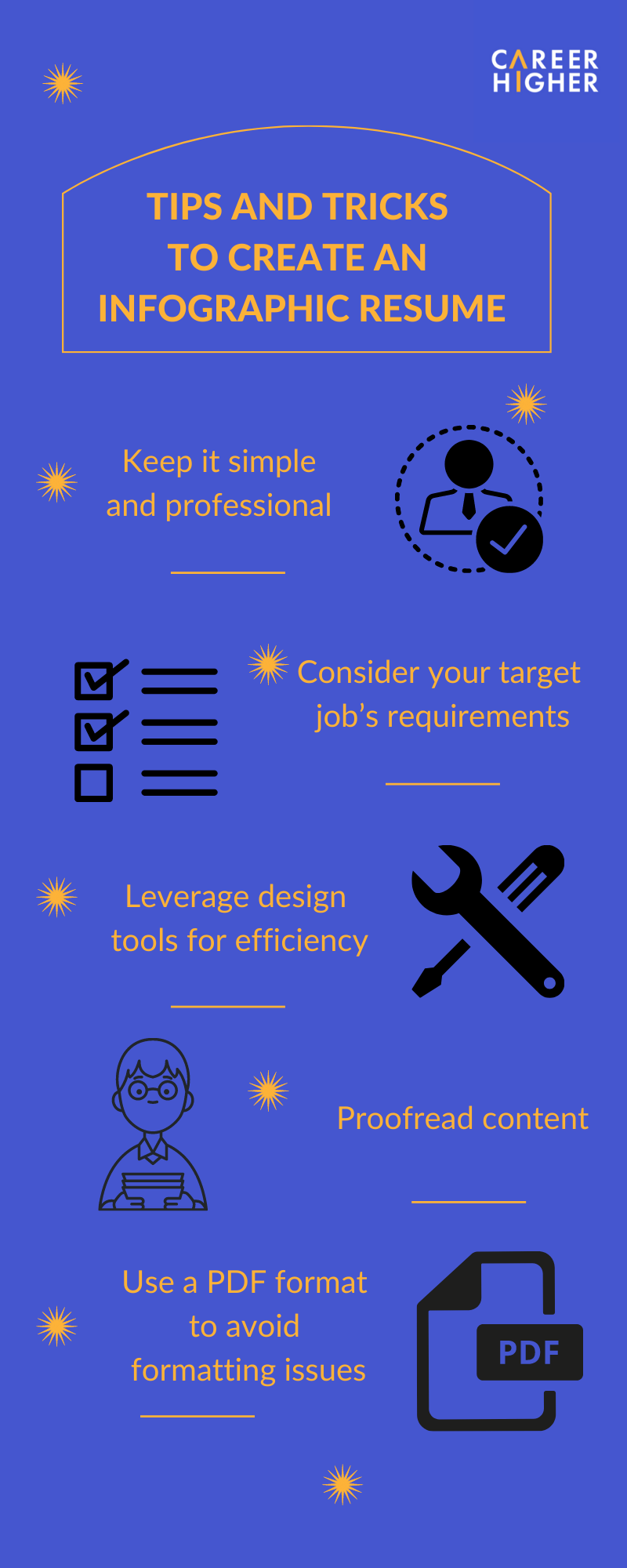 In today's competitive job market, an infographic resume is a great way to get noticed and create a lasting impression. However, you need to be strategic when using one. Consider the industry and type of job you're applying for when making a decision. This will allow you to create a fit-for-purpose document that will help you maximize your application's success.