Action verbs elevate the quality of your resume by highlighting your roles and responsibilities in a succinct yet effective manner. These are added to avoid repetition of common words like managed, led or resulted, maintaining recruiters' interest in your resume. In this article, we will look at some action verbs that you can use to highlight your expertise constructively.
Action Verbs Based on Responsibilities
This section covers action verbs based on a candidate's roles and responsibilities, followed by an example for each:
1) Leading an initiative
Effectively leading a project reflects optimum utilization of resources and teamwork. Action verbs demonstrating this allow employers to understand your core responsibilities and your capability to lead them. To create a better impression, you can use the following:
Oversee–

Oversaw the implementation of a new company-wide D&I initiative

Orchestrate–

Orchestrated the implementation of performance metrics for marketing campaigns

Administer–

Administered employee engagement initiatives

Direct–

Directed marketing campaigns in the EMEA region

Spearhead–

Spearheaded the Knowledge Management Center for the company
2) Planning
Planning is a crucial part of any experienced professional's resume. This reflects your abilities to plan and strategize initiatives to fulfill organizational goals and guide the day-to-day operations. Some alternatives that you can use are:
Devise–

Devised go-to-market strategy and key milestones

Engineer–

Engineered an innovative AI-driven solution for digitizing technical literature

Pioneer–

Pioneered web-based projects from inception through post-launch

Formulate–

Formulated keyword and bidding strategies

Design– 

Designed content strategy to align with SEO requirements
3) Bringing a change in existing processes
Improving existing processes saves employers resources, positively impacting their profitability. Thus, we recommend using words to highlight your ability to change an existing process for good. Let's have a look at some keywords you can use.
Streamline–

Streamlined the company's standard placement procedure

Upgrade–

Upgraded company's predictive purchasing and inventory management tools

Transform–

Transformed workflow system of purchase orders

Standardize–

Standardized HR policies in accordance with the governing body

Reengineer– 

Reengineered cloud computing software
4) Showcasing results
Employers are keen to understand the impact you made in your previous role. To demonstrate this, we strongly advise you to add quantifiable results to your resume bullets. Let's have a look at some action verbs you can use to reflect these results.
Outperform–

Outperformed annual market growth rate by X%

Exceed–

Exceeded year-over-year sales target by Y%

Promote–

Promoted to Head of People Operations position within a year

Surpass–

Surpassed monthly target by Z%

Earn–

Earned the title of 'Employee of the Month' for 4 consecutive months
Action Verbs Based on Key Skills
This section will cover action verbs based on important skills expected in a mid-career professional's resume.
1) Communications
Communication skills are one of the most sought-after skills in a resume. We strongly recommend incorporating these to demonstrate your level of verbal and non-verbal communication. Let's have a look at some alternate words that can be used to demonstrate strong communication skills.
Public Speaking–

Leveraged public speaking skills to represent the company in conferences

Influence–

Influenced customer buying decisions

Negotiate–

Negotiated contracts with clients

Liaise–

Liaised with agencies, creative directors, and photographers

Advise– 

Advised marketing manager on social media initiatives
2) Organizational Skills
Organizational skills are your abilities to create structure and order, enhancing productivity. These demonstrate efficient management of time, resources, and workspace. Some action verbs that you can use are:
Catalog–

Cataloged products based on shipping criteria

Monitor–

Monitored fast-track launches of international projects

Index–

Indexed guest details at the annual conference

Coordinate–

Coordinated monthly staff events

Schedule– 

Scheduled employee feedback meetings monthly
3) Leadership Skills
Leadership skills reflect your ability to take initiative and lead tasks, people, and organizations. As a mid-career professional, recruiters look for these qualities in your resume. Some action verbs that can be used to describe your leadership skills are:
Coach–

Coached team members for continuous improvement

Drive –

A professional with high agility to drive progress in a fast-paced environment

Supervise–

Supervised a team of 15 partners

Shape–

Shaped employee policies to incorporate D&I initiatives

Cultivate–

Cultivated a growth-driven culture
4) Team player
Everybody wants a team player in their teams. Thus, hiring managers emphasize this skill and look for examples in their resume. Some action verbs that you can use are:
Involve–

Involved in team-building exercises regularly

Support–

Supported the hiring manager in the decision-making process

Mentor–

Committed to empowering and mentoring teams to achieve goals

Motivate–

Achieved team buy-in by continually motivating team members

Collaborate–

Collaborated with cross-functional teams to guide them on technical aspects
5) Problem-solving skills
Problem-solving skills allow you to detect, analyze, and resolve an issue. This skill helps recruiters understand how quickly and efficiently you would be able to overcome challenges. Action verbs that you can use are:
Diagnose–

Leveraged problem-solving skills to diagnose complex business issues

Implement–

Standardized and implemented operating models

Overhaul–

Overhauled marketing strategy to strengthen the market position

Revived–

Revived existing product pipelines, enhancing efficiency

Alleviate–

Alleviated risks of poor customer experience
6) Emotional Intelligence
Emotional intelligence is your ability to identify, comprehend, and respond to emotions- yours and others. High emotional intelligence enhances quick conflict resolution and efficient decision-making. Some keywords that you can use to reflect a high emotional quotient are:
Empathy–

Empathic HR Manager with X+ years of experience

Active listener–

Equipped with strong listening skills to understand and address customer needs

Self-aware–

Use reflection and self-awareness techniques to identify and address self-performance issues

Growth mindset–

A tenacious leader with a growth mindset, effectively able to…

Relationship management–

Able to forge solid relationships with strategic partners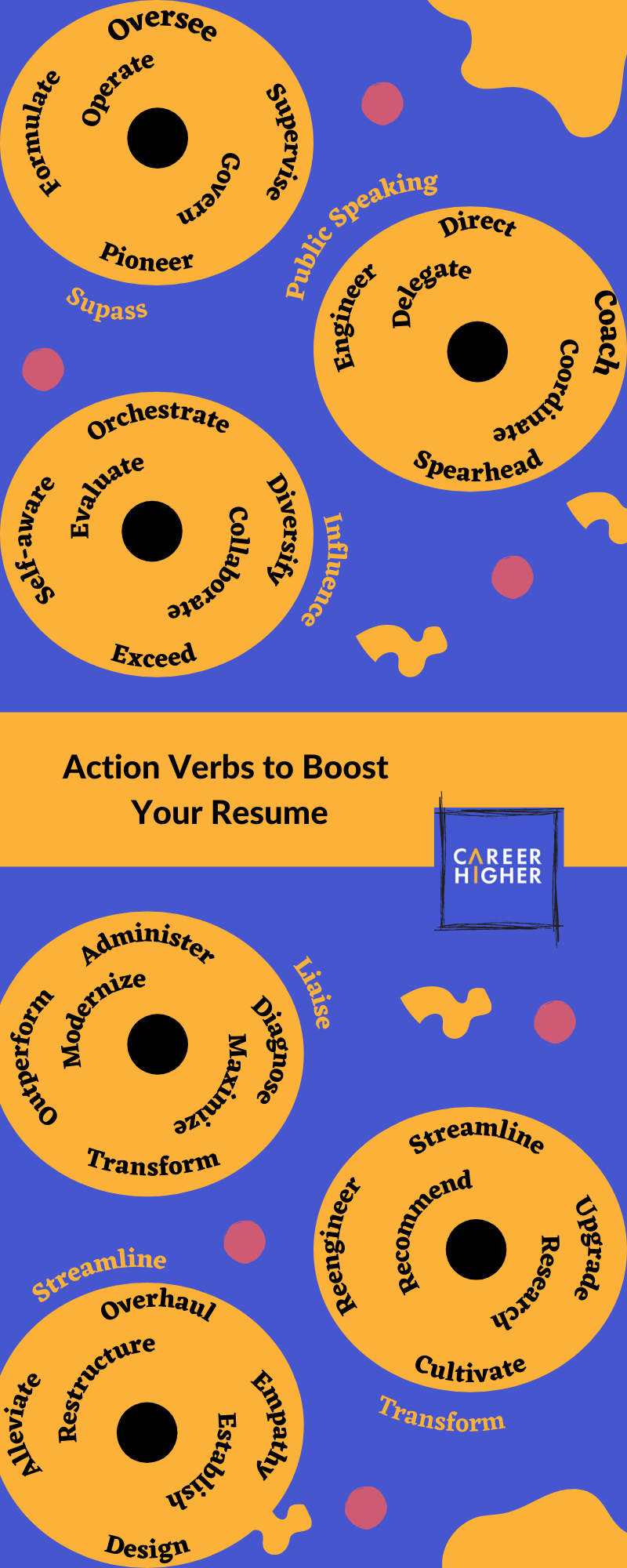 Additional Action Verbs
In this section, we will list 30 additional action verbs for you to use in your resume, irrespective of your target jobs and industries.
1) Achievements
Accomplished

Awarded

Delivered

Enhanced

Increased
2) Advised
Consulted

Evaluated

Assisted

Researched

Recommended
3) Developed
Established

Founded

Introduced

Programmed

Grew
4) Enhanced
Boosted

Improved

Restructured

Maximized

Modernized
5) Managed
Chaired

Produced

Recruited

Delegated

Diversified
6) Responsible for
In charge of

Conducted

Accountable

Governed

Operated
Sending out a bland resume with your application does not serve its purpose, impacting your chances of success. Thus, we strongly advise using action verbs to make your resume punchy and notable. If you need some assistance creating an effective resume, we are here to help you.