99% of Fortune 500 companies and many small and mid-sized businesses rely on Applicant Tracking Systems (ATS) to screen applicants. The global pandemic crisis has propelled recruiters to be more dependent on technology. E-recruitment has become the standard way for employers to attract new talents and keep them engaged.
While the hiring process has evolved to be more tech-driven, the best way for candidates to land their dream job has held steady – great resume writing! To help you structure your own, we shared resume examples that will get you hired in 2021. Now, let us explore what the key components of an interview-winning resume look like to inspire your job application in 2022. 
1) A clear list of contact information
When it comes to resume writing, listing your contact details at the top of the document is still a must in 2022. This makes it easy for the hiring team to see how they can get in touch with you to schedule an interview or provide updates about your application. Your contact information should include:
a) Name
We recommend listing your first and last name. It is typically acceptable to use your preferred name in resume writing. Remember that whatever name you decide to use, make sure to be consistent in all of your job search documents. You can write your name in either of the following formats.
Jane Doe

Janet "Jane" Doe

Jane T. Doe
b) Physical address
Although the hiring process is now mostly conducted online, including your physical address on your resume remains essential. This allows your application to be found during location-specific recruiter searches. If you're applying for a job outside your location, we suggest indicating "relocating" to communicate that you are already moving. Here's what your address should look like on your resume.
10th St. Long Island City, NY, 12345

Long Island City, NY

Relocating to Long Island City, NY

Relocating to 10th St. Long Island City, NY, 12345
c) Phone Number
Some recruiters still prefer to reach out directly via a phone call. So, make sure you provide accurate and up-to-date contact information in your resume. We recommend turning your voicemail services on to allow recruiters to leave a message when you're not available.
d) Email address
Listing your email address in your resume is a no-no. Use a personal and professional email address. Here are a few examples of what your email address should look like.
janedoe@gmail.com

jane.doe@gmail.com

j.doe@gmail.com

jane.t.doe@gmail.com

jdoe12@gmail.com
e) Links to a professional portfolio and online profile
Adding links to your professional portfolio and online profile like LinkedIn is an excellent way to complement your resume. They can serve as evidence of your competencies and boost your credibility as a candidate. However, make sure your profiles are optimized and up to date before listing them in your resume. As your email address, your profile's URL should look professional. Take a look at the examples below.
https://www.linkedin.com/in/janedoe

https://www.linkedin.com/in/jdoe

https://www.janedoe.com

https://jdoe.com
2) A Compelling Professional Summary
It's no secret that recruiters only spend a few seconds reviewing resumes. This will still be the case for 2022. So, a professional summary remains a critical component of an interview-winning resume. It provides recruiters with an overview of your qualifications and the benefits you can bring to the company. The main goal is to captivate the recruiter's interest to read further. Follow our tips below.
Highlight relevant experience, skills, and achievements 

Add keywords relevant to your target job.

Write your narrative in first-person but leave out the pronoun "I".

Limit your professional summary to five to six sentences.
Here's how it's done in practice.
"Analytical, collaborative, and results-driven Senior Consumer Insights and Analytics Manager with experience leading the development of consumer insights and implementation of custom research projects. Have a track record of success in uncovering growth opportunities, maximizing brand penetration, and improving product performance. An inspiring storyteller with excellent communication skills to build strong relationships and influence decision-making across all organization levels. Possess resilience, a problem-solving attitude, and a can-do working approach to manage multiple simultaneous research initiatives in a fast-paced environment. Looking for a challenging Global Insights and Analytics Director role within a reputable brand."
3) List of Relevant Key Skills
The key skills section remains one of the essential sections that you need to include in your resume in 2022. Doing so makes it easy for the hiring team to identify whether you have the specific competencies required for the job. It is also an easy tactic to get keywords onto your resume, which are crucial for human decision-makers and Applicant Tracking System (ATS) screening. For an interview-winning resume, you would typically need a good mix of soft and hard or technical skills.
Soft skills are abilities developed through life or work experiences. These are attributes that can be transferred to different functions and industries. On the other hand, hard or technical skills are knowledge of procedures and techniques specific to certain functions or fields. Below are some tips for creating this section.
Make sure to be specific and precise.

Divide your skills by categories – soft and technical skills.

List only the skills that are relevant to your target job.
Check these examples.
4) Reverse-chronological professional experience
Although there are various resume writing formats, reverse chronological is the most common. This remains the recommended resume format to use in 2022. With this format, you list your work experience, starting from the most recent one and proceeding backward. This makes it easier for recruiters to see all the relevant information. Additionally, this type of format works well with ATS.  When it comes to details, we recommend the following.
Include your previous employers' names and a brief description of their services, the industry they operate in, and the company size.

Use full dates that include months and years.

Describe your responsibilities and achievements using the

STAR (situation, task, action, result)

format.

Limit the number of bullet points to three to five for each role.

Focus only on the recent roles and summarize the older ones under the Additional Experience section.

Make sure you have clear job titles, avoiding creative names.
Here is an example.
5) Educational Background
The education section informs the hiring team of your background to understand your match for the role. It typically includes the school you attended, the degree you attained, completion date, GPA if high, and honors or special awards earned. Here are a few tips.
Read the job description carefully to understand whether certain educational levels are essential or unnecessary for the position.

List your education in reverse-chronological order.

Include both the abbreviated and non-abbreviated names of your education to ensure the details will be read and processed correctly by ATS.

For candidates with zero to limited experience, the educational section should be placed at the top of the resume. On the other hand, it is recommended to put the details at the bottom part of your resume.
Here's how to list completed education.
If you're taking a course that's still in progress, here's what it should look like on your resume.
6) Additional sections for other supplementary details
In some cases, the basic resume sections may not be sufficient to support your candidacy in 2022. Such situations may call for the need to add supplementary sections. Some examples include awards, languages, and volunteer work. However, keep in mind that these should only be included if relevant to your target jobs.
Volunteer experience is any work you've done voluntarily without being paid. It should be listed on your resume using the same format as your professional experience section. Take a look at the example below.
Awards are recognition of your professional work and accomplishments. These can be obtained from the school you went to, your employer, and institutions that govern the industry you work in. You can use the below example as an inspiration.
The language section details additional languages you are proficient in besides your native language. If you know multiple languages, consider how these apply to the business. If the company conducts a business internationally or the job description explicitly requires knowledge of certain languages, adding them can be a bonus point for your application. Take a look at the example below.
7) Human Decision-Makers and ATS Friendly Resume Template and Layout
When you submit your application online, your resume will interact with ATS and human decision-makers. Your document will be pre-screened by an ATS before it reaches a recruiter for manual review. During the ATS-prescreening process, your document will be converted into a standardized text format that allows recruiters to search and filter applicants. To ensure your information will be read and processed correctly, sticking with a clean and simple resume template and layout is a must. Avoid images and graphical elements such as boxes, special characters, and the like. To give you an idea of what an ATS-friendly resume template looks like, here is an example.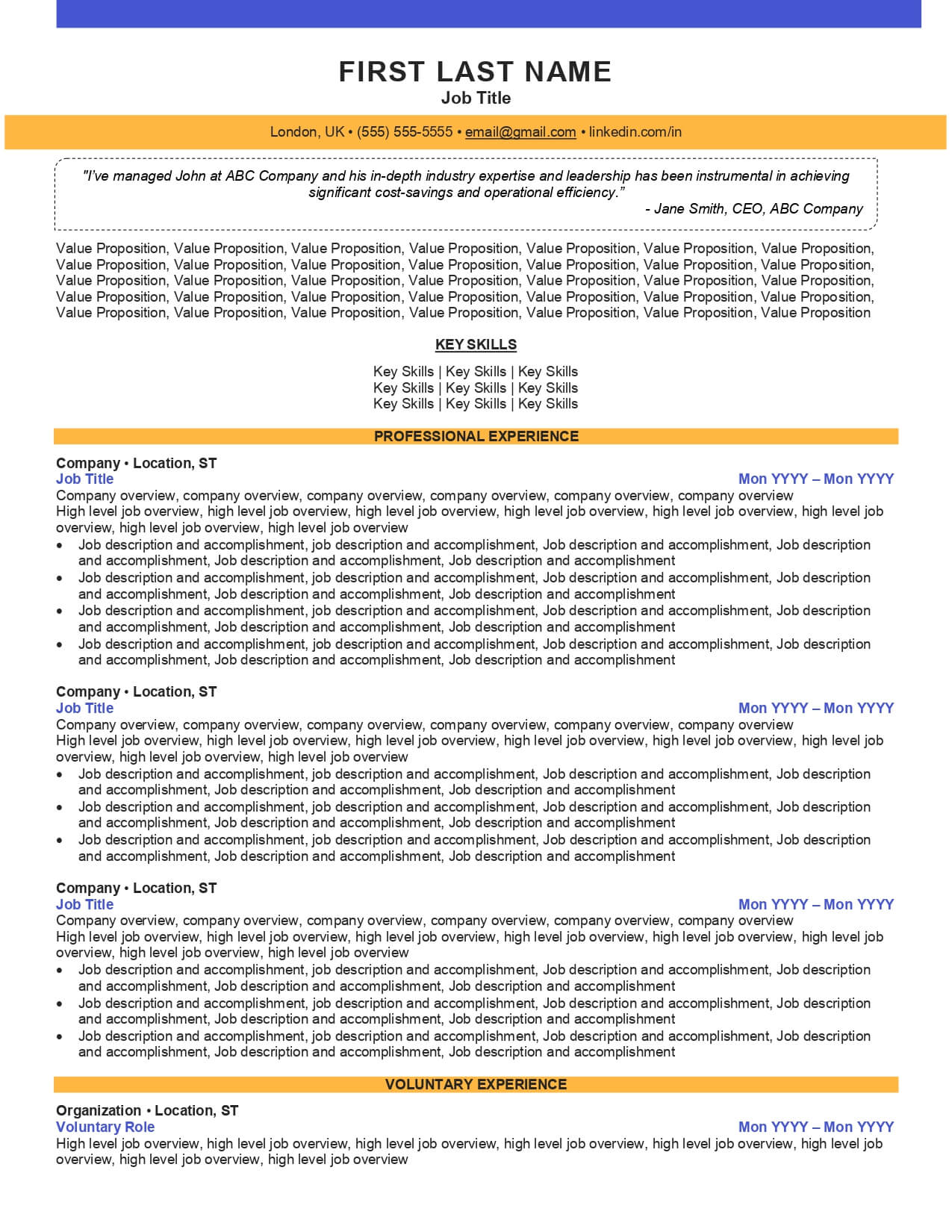 If you are emailing your application directly to a recruiter or hiring manager, you may use a creative resume template. However, make sure to still follow resume best practices when creating the content. You may use something similar to the example below.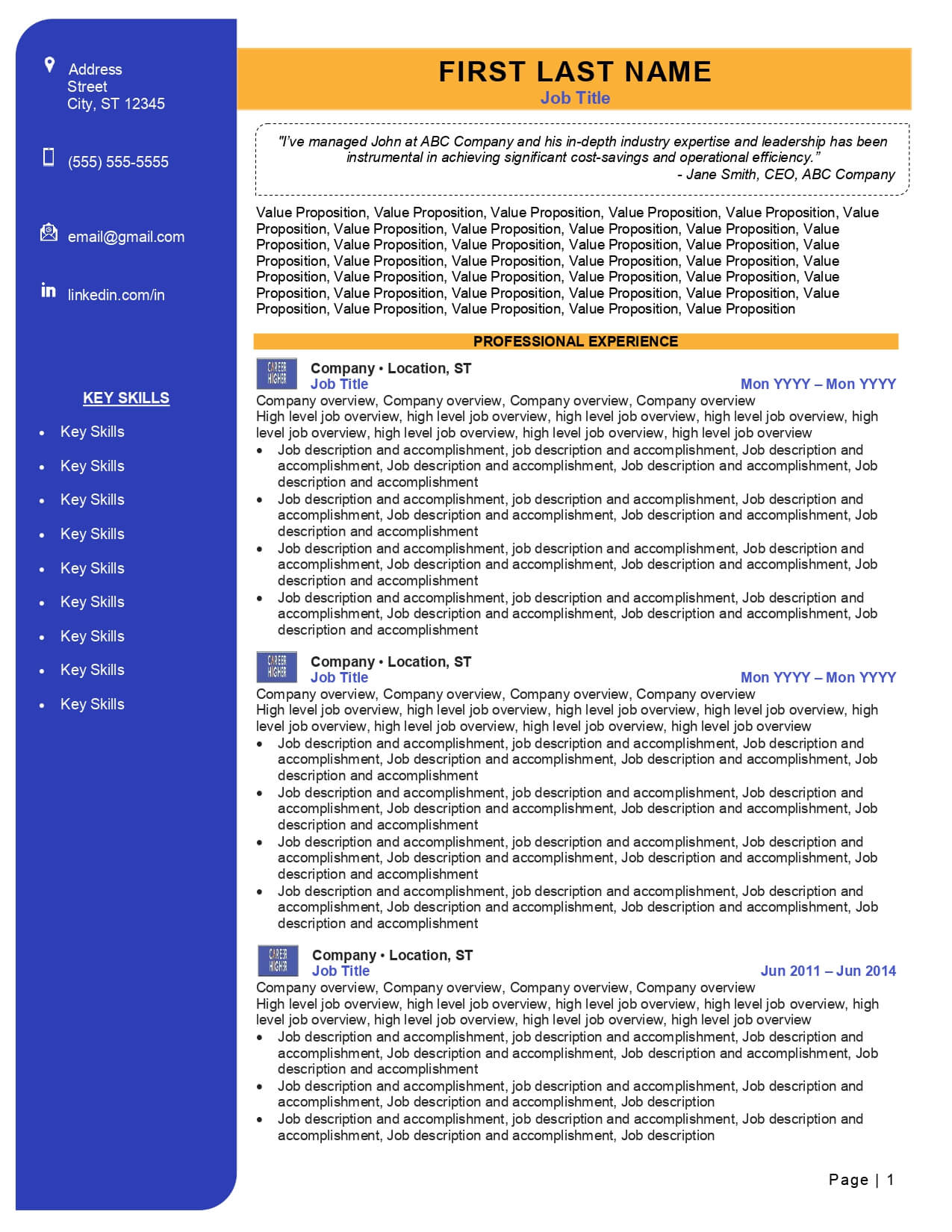 Great resume writing remains a critical component of landing your dream job in 2022. The examples we shared above convey the best practices that will enable you to impress the hiring teams. If you're still having challenges creating an interview-winning resume on your own, you can always reach out to us for help.