A strong resume is a critical aspect of a job search. It serves as a key to your target employer's door. This means your resume needs to be compelling enough to convince decision-makers that you are the right person for the job. However, for some candidates, that's easier said than done.
There are many resumes writing guides out there. While these are helpful, doing the actual writing can still be challenging. So, in this article, we will provide some examples that can serve as your inspiration for writing an interview-winning resume.
1) Contact Details
Your contact information allows decision-makers to contact you. This section is typically placed at the top of a resume. The details should ideally comprise your phone number, physical address, email address, LinkedIn profile, and link to your portfolio's website (if any). Avoid putting the information in a header, as this may not work well with some ATS.  Below are some examples of how candidates format their contact section.
Candidate A
Candidate B


At first glance, both examples above seem "harmless". The only problem is that candidate A's phone number is missing.  Assuming they're both qualified, who do you think has better chances of getting a call from a recruiter? Don't be like candidate A. Make sure that your contact details are complete, accurate, and up-to-date, like candidate B's contact section.

2) Professional Summary
Recruiters typically receive hundreds of applications in a single job opening. So, they have limited time to review each application. In fact, a study revealed that it only takes 7.4 seconds for recruiters to skim a resume for details and make up their minds about a candidate. This is where a professional summary comes in handy.
A professional summary serves as a short pitch of who you are and what you can bring to the table. It summarizes a candidate's experience, expertise, and skills. This makes it easy for decision-makers to quickly learn whether you have the skills and background the position requires.  For candidates applying for a Senior Technical Product Manager role, here are examples of what a professional summary could look like.
Candidate A
"Product Manager with 10+ years of experience in bringing strategic and tactical data-driven solutions, leadership, and maximum value to diverse technical products while focusing on business objectives."
Candidate B
"Innovative and results-focused Senior Technical Product Manager with 10+ years of experience in all aspects of product management, including strategic planning, technology operations, software development processes, and marketing. Proven track record of success in launching business viable technology products worth up to $2M. A hands-on leader adept at developing, coaching, and building teams with up to 20 members. Equipped with excellent verbal and written communication skills to interact and build consensus with diverse business stakeholders. Possess outstanding organizational skills to balance multiple priorities and meet deadlines."
Both candidates from the above examples have over 10 years of experience. While the two of them are qualified, candidate B tailored the professional summary to match the job description requirements. Additionally, relevant keywords like Senior Technical Product Manager, product management, and communication skills were included. This makes candidate B's professional summary more relatable and appealing to decision-makers.  
3) Key Skills
The key skills section includes relevant expertise that will enable you to perform critical job tasks. It provides employers with a clear view of your expertise and competency without having to weed through the entire resume. Incorporating the right skills is crucial for Applicant Tracking System (ATS) and human decision-maker screening.  Key skills may include a combination of the following.
Soft Skills

– These are personality traits and social attitudes that will allow you to fit in a workplace. Some examples include leadership, teamwork, communication, problem-solving, and interpersonal skills.

Hard or Technical Skills – These are learned abilities developed through practice and education. Product management, business development, and data analysis are some examples.
Candidate A

Candidate B

When creating your key skills section, avoid doing what candidate A from the above example did. Images and graphics don't work well with some ATS. Additionally, rating skills on a resume is a subjective method without adding too much value. So, it's best to stick with a simple format like how candidate B formatted the section. This helps ensure ATS will read your skills correctly. Identify relevant skills from the job posting and create a list of nine to twelve. If you're applying for a technical position, you may create a separate technical section like the example below.

4) Professional Experience
The professional experience section contains the most essential information about your qualifications. It typically covers 70% to 80% of a resume. This section should ideally include your previous employers' names, dates of employment, responsibilities, and achievements.
When detailing the job descriptions, it is a best practice to focus on accomplishments rather than daily responsibilities. One of the best ways to do this is by using a STAR (Situation, Task, Action, Result) format to create bullet points. This format utilizes a brief professional storytelling structure that details your main task, the key steps you took to accomplish the job, and the quantitative outcome of your work.
Let's take a look at the examples below. While candidate A's experience is written in a more brief manner, the responsibilities are too short, making it challenging for decision-makers to get a clear picture of what the role does. On the other hand, candidate B narrated the company's nature, the main purpose of the role, and relevant responsibilities using a STAR format. This saves decision-makers time doing the guesswork and connecting the dots.
Candidate A 

Candidate B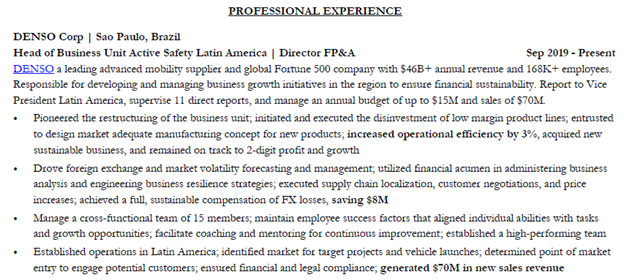 You don't need to list every single job you've had. We recommend focusing only on the recent jobs and summarizing older ones under the Additional Experience section. Suppose you have less than ten years of experience, detail only the first five years of your career. For professionals with more years of experience, concentrate on the first ten years.  Here's how you can do it in practice.

5) Education
For most candidates, the education section seems like it should be the easiest thing to write. After all, you only need to list the institution's name, degree, and years attended, and you're done, right? Well, it actually goes beyond just copying and pasting your credentials. Your education needs to be tailored to fit your circumstances.
If you have long work experience, the education is generally placed at the bottom of the resume. This should include a recent degree or education in progress, the name of the school, and years attended. For candidates with limited relevant experience, the education section is positioned before the professional experience section. In this case, additional information like relevant coursework, academic honors, and extracurricular activities can be provided. Here are some dos and don'ts when creating an education section.
Do list your education in reverse-chronological order.

Don't abbreviate your credentials, as some ATS don't recognize abbreviations or acronyms. See candidate A's example below.

Do list your credentials in clear sections, as shown by candidate B's example below.

Do include only relevant credentials.
Candidate A

Candidate B

6) Optional section for awards, languages, and volunteer work
Apart from the basic resume sections, you can include additional sections, such as awards, languages, and volunteer work. However, these should only be included if relevant to your target job. For instance, the job requires someone who has multilingual skills. Then, you can add a Languages section. If you have limited work experience, adding volunteer work can be a good idea. Below are some examples of how you can include them on your resume.



To get hired, it's no secret that you need a good resume. The key to creating one is to apply the best practices shown in our examples above. This will allow you to impress decision-makers and maximize your application outcome. If you still find resume writing a challenge to do on your own, we are here to help.