A career change can help you establish a more fulfilling career, resulting in a more desirable job and better compensation. Nonetheless, making the decision to break into a new field can be daunting. Besides, persuading a hiring manager that you are the best fit for the new job function or industry is significantly challenging.
For professionals with a background in an unrelated field, demonstrating the required skills and experience is a thought-provoking challenge. In such a case, including a cover letter that highlights your transferable skills, relevant successes, and passion for pursuing your new path would be valuable in your application. If you are scrambling to find the appropriate words to create a compelling narrative, read on to find out how you write an effective cover letter for a career change.
How to write a career change cover letter: step-by-step guide
Here is a step-by-step process for writing an effective cover letter for a career change:
1) Start with a strong opening
Begin your cover letter by greeting the hiring manager professionally by their first name. If you can't find a name, you can use "Dear Recruitment Team" or "Dear Hiring Manager".  But, refrain from adopting outdated greetings like "To Whom it May Concern".
Next, dive into your introduction. Outline who you are, what you want, and what makes you a good fit for the role. A hiring decision-maker will notice that you are changing careers, so you may subtly address the same here. The opening paragraph is your chance to grab your potential employer's attention and convince them to read further, so make sure it's engaging, relevant, and to the point.
Cover letter opening example:
Dear Robert,

I am writing to apply for the Data Analyst role, as advertised on ABC's Career website. As a CPA-certified accountant, I have spent the last two years crunching numbers at XYZ Company to ensure the data is well managed and used effectively for strategic decision-making. I've always loved numbers, and now I am excited to apply my mathematical and analytical skill set in a data analyst position. I firmly believe my experience, abilities, and passion make me a suitable candidate for the role.
2) Detail why you're changing careers
Career change often brings up concerns among decision-makers. Whether transitioning from one department to another within the same company or starting over in a completely different field, it will most likely raise doubts and questions. The hiring decision-makers will likely wonder what made you decide to take such a big step. Thus, explaining the driving force behind your career change is imperative to alleviate their skepticism.
As you transition to the second paragraph in your cover letter, share your career change story with the hiring manager to help them understand your motivation, despite your apparent lack of experience. Did a co-worker inspire you? Did working on a side project foster your passion for pursuing it full-time? Have you always dreamt of being in this industry? Be truthful in your cover letter about the reason for this change in direction. Furthermore, maintain a balance between your authenticity and professionalism, as this is critical to your application's success.
Career transition cover letter example:
Working as a graphic designer at ABC designs, I have been responsible for visualizing and creating graphics (logos, illustrations, product packaging) as per our client's needs. Recently, I worked closely with the product design team on a new project for a retail client. The experience introduced me to a new and fascinating aspect of the design world: product design. I realized how this domain perfectly combines my creativity and passion for optimizing customers' product experience. Ultimately, working as a product designer will allow me to make an impact not only on a brand's image but also on user experience.
3) Highlight relevant experiences and transferable skills
While transitioning to a new career, bear in mind that you are not starting from scratch. You may never have held a position in your desired role, but you still have many skills to offer. Regardless of your background, you've likely cultivated many competencies that are vital for the job. These should be the highlight of your cover letter.
To determine a fit based on your experience:
Invest time in understanding the role's requirements.

Identify the

top three to five required skills

and illustrate the correlation of each of these with your expertise.

Provide specific instances of how you've fostered these key skills and list your quantifiable achievements.
Featuring hard facts and figures will provide hiring managers further insight into the impact you have created in your previous role. There's no better way to demonstrate that you can navigate a new position's challenges than by providing evidence of your past experiences and successes.
Cover Letter with transferable skills example:
"Given my in-depth experience in entrepreneurship and business development, I believe I am in a great position to make significant contributions to the ABC brand. Having previously founded my artisanal clothing line, I have cultivated a comprehensive understanding of what it takes to solve challenging and unique business problems. Throughout my career, I have uncovered new business development opportunities and accelerated growth plans to maximize sales. I successfully grew my business to a $38M value and served over 750+clients across the globe within two years. I believe my experience will allow me to bring a new and unique perspective to your company, making me a great ally to have on your business development team."
4) Demonstrate passion for the new company
You might be wondering what passion has to do with your career transition. Aren't employers looking for someone who has the skills and experience? How can passion be your selling point? There's no doubt that skills and experience are essential. However, passion for a role/company is a valuable attribute that makes a difference in employee commitment and performance. As a career changer, showcasing your enthusiasm for the particular organization would help maximize the impact of your narrative in the cover letter.
We recommend taking some time to research the company and read about its mission, values, and products. The company's website, annual reports, and social media channels are good starting points for your research. You could highlight your enthusiasm for a particular company in numerous ways. You could talk about how the company's core values match with your own, bring up a specific project that excites you, or how the company's mission resonates with you. Simply stating that you are passionate about the company won't do the trick; you have to present a noteworthy narrative.
Cover letter example highlighting interest in the company:
"ABC Bank is an employer of choice to me because of the company's emphasis on diversity and inclusion. It is remarkable how the organization embraces differences and similarities, empowering its employees to reach their fullest potential. I would love to be part of a team where I can utilize my in-depth background in managing and motivating geographically diverse teams while delivering optimal results. I am convinced that the Global Manager role is the ideal match for me, as it would allow me to enhance my learnings while adding value to your Bank through my past experiences, achievements, and lessons learned."
5) Conclude on a positive note
While it's true that first impressions are important, don't underestimate the power of the closing lines. Ending on a powerful and positive note can help convince the hiring manager to call you for an interview. You can use the final paragraph of the cover letter to summarize what you have to offer.
Also, don't forget to thank the hiring manager for their time and effort. In the final lines, we suggest adding a call to action to remind and enable the hiring managers to contact you. In the end, add a complimentary close like "Yours faithfully" or "Yours sincerely" and your name.
Cover letter closing example 1:
Thank you for taking the time to consider my application, and I wish you the best of luck in finalizing the hiring process successfully for this position. You can find more information on my background, work experiences, and key skills in the top part of my resume. I am looking forward to hearing from you and having the opportunity to discuss this role further.

Yours faithfully,

Kristen Powel
Cover letter closing example 2: 
I am confident that using my entrepreneurial experience and networking skills, I can bring a unique perspective to your company and further fuel its growth. I look forward to discussing my suitability for the role at your earliest convenience. You can reach me at +474805xxxx or  johndoe@gmail.com. I appreciate your consideration.

Yours sincerely, 

Samar Singh
Tips to strengthen your career change cover letter
Here are a few best practices to help you write a career change cover letter that captures the hiring decision-makers' interest:
a) Tailor your cover letter to every position: While it may be tempting and easier to use the same cover letter for every job position, we recommend not doing so. It's vital to tailor the content of your cover letter to the requirements of the specific job role and the company you're applying to. A personalized cover letter helps the hiring manager connect the dots between your experience and what they're looking for in an ideal candidate.
b) Don't under-sell: While switching careers, you may sometimes feel anxious about not being good enough for the desired job. However, in your cover letter, avoid using negative or doubtful phrases like "I don't have past experience in this" or "My work history is lacking". Remember to keep your tone confident and optimistic. Acknowledging a career change is acceptable and recommended, but don't draw focus on your lack of experience.
c) Be positive: While you might be switching jobs under challenging circumstances, always maintain a positive tone in your cover letter. Ward off any antagonistic description of your previous job or manager. Instead, identify and talk about the aspects you enjoyed in your last role and how they correlate to your future career.
d) Use action verbs: Incorporate relevant action words in your cover letter. Rather than opting for weak or common words, using power-packed verbs can make your cover letter more impactful, positive, and enticing to read. Identify words that succinctly and accurately capture your achievements and skills.
e) Don't exceed one page: The space on your cover letter is precious. Hiring managers don't have the time to read your lengthy career change story or look at every detail about your previous jobs. Your cover letter should be engaging and crisp, and we recommend not going beyond one page. Thus, you don't need to mention your whole professional trajectory. Instead, present your narrative in a compelling way so that hiring managers want to invite you for an interview to learn more.
Career change cover letter samples
1) Career change cover letter for early-career professionals
 If you are changing fields early in your career, it is important to outline what propelled you to make the switch so early on and highlight the relevant experiences for the new role. If you have limited work experience, you could refer to your college coursework, student clubs, or internships to emphasize applicable skills. Here is a sample cover letter for an early-career professional: 
Download Word Sample | Download PDF Sample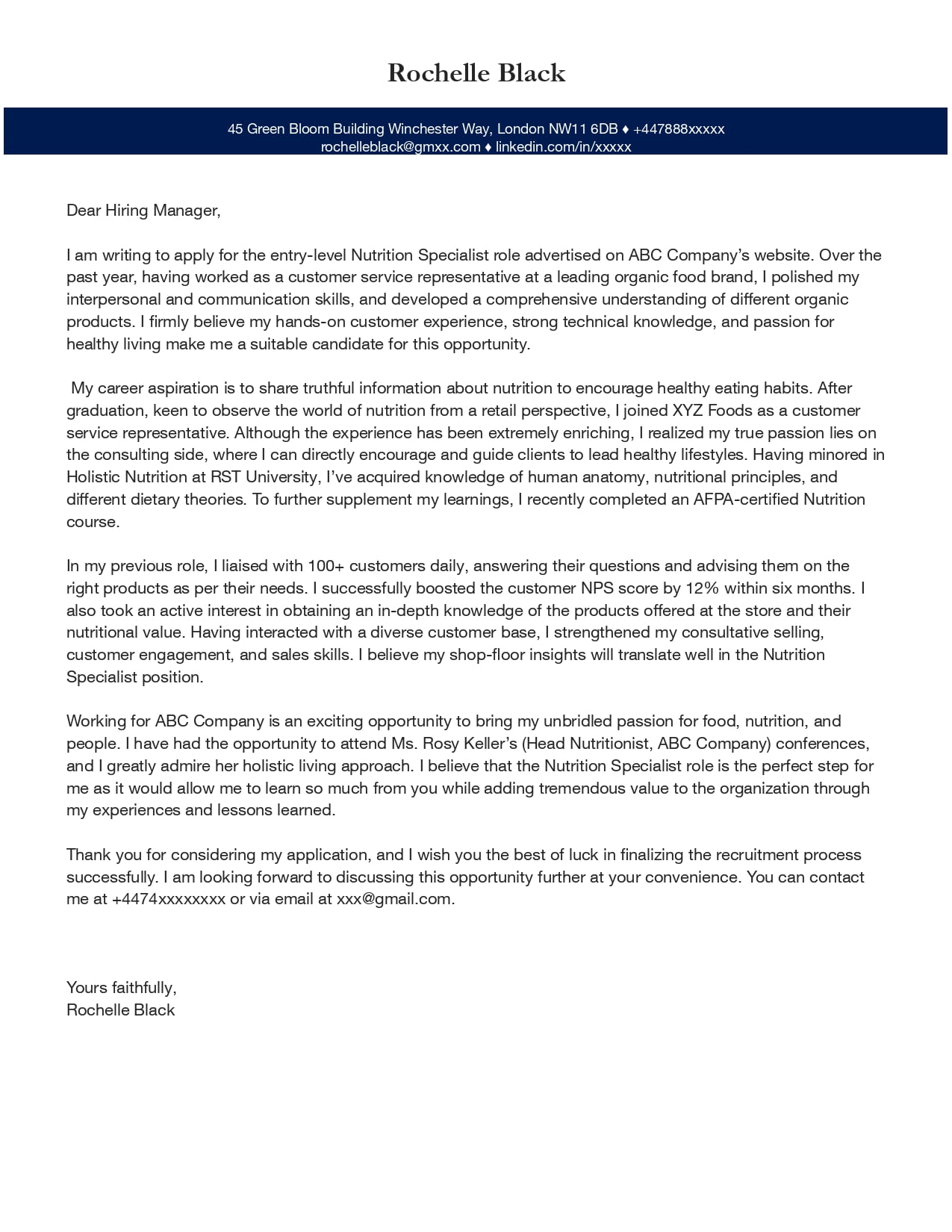 2) Career change cover letter for mid-career professionals
If you are a mid-career professional seeking a career switch, you're likely to have acquired many transferable skills in your past roles that your prospective employer is looking for. Thus, you don't necessarily have to start from scratch to enter a new field. You are likely to have many achievements at this career stage; remember to highlight these in your cover letter. Also, avoid mentioning low-responsibility positions or roles that don't relate to the target job. Here is a sample cover letter for a mid-career professional:
Download Word Sample | Download PDF Sample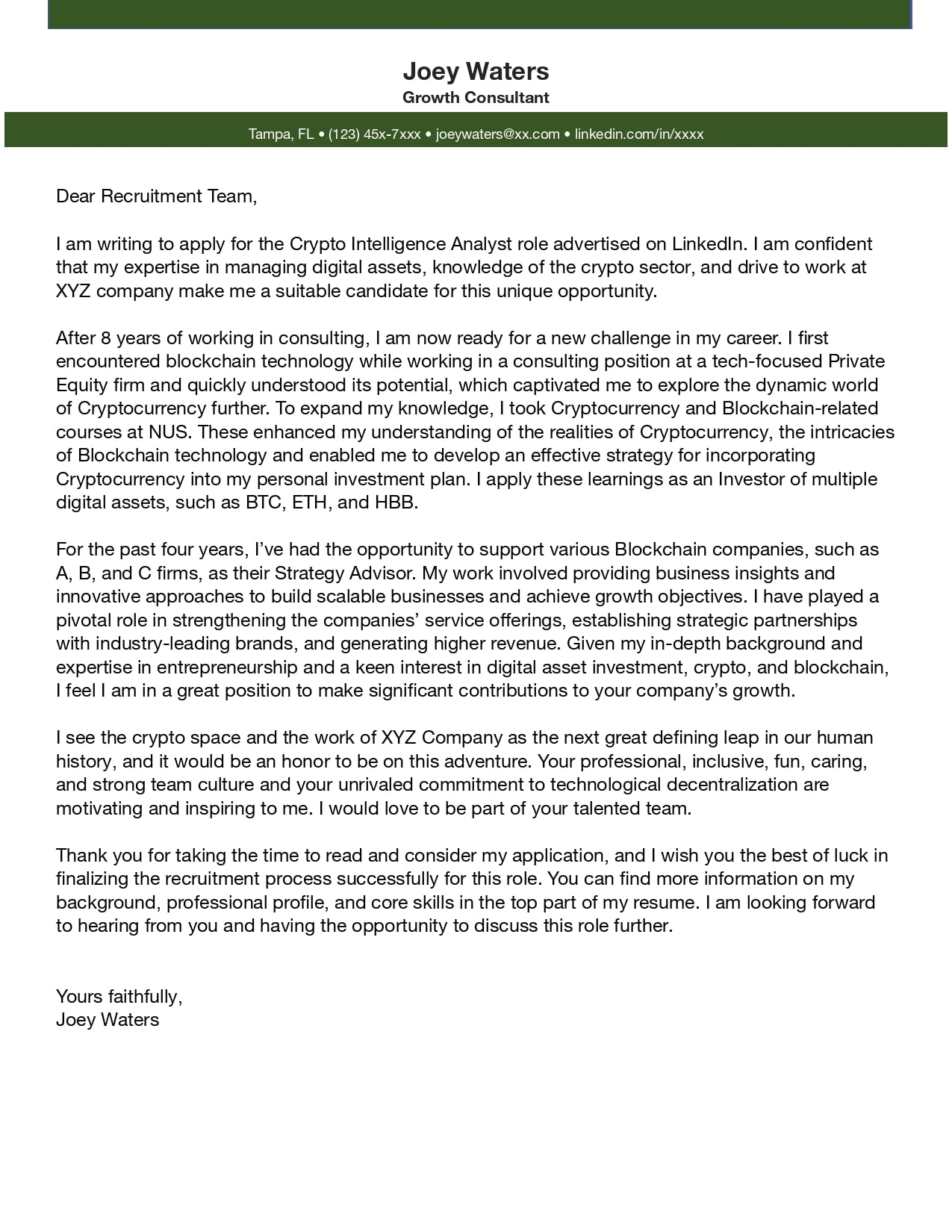 3) Career change cover letter for senior-career professionals
As a senior-career professional, the primary focus of your work is likely to be on the strategic aspects of the business, such as planning, leadership, people management, employee development, etc. The executive management skills you've fostered at this career stage are typically relevant across all industries and functions. These skills are what employers usually look for in a senior role. Thus, experiences demonstrating executive management skills should be the meat of your cover letter. Here is a sample cover letter for a senior-career professional:
Download Word Sample | Download PDF Sample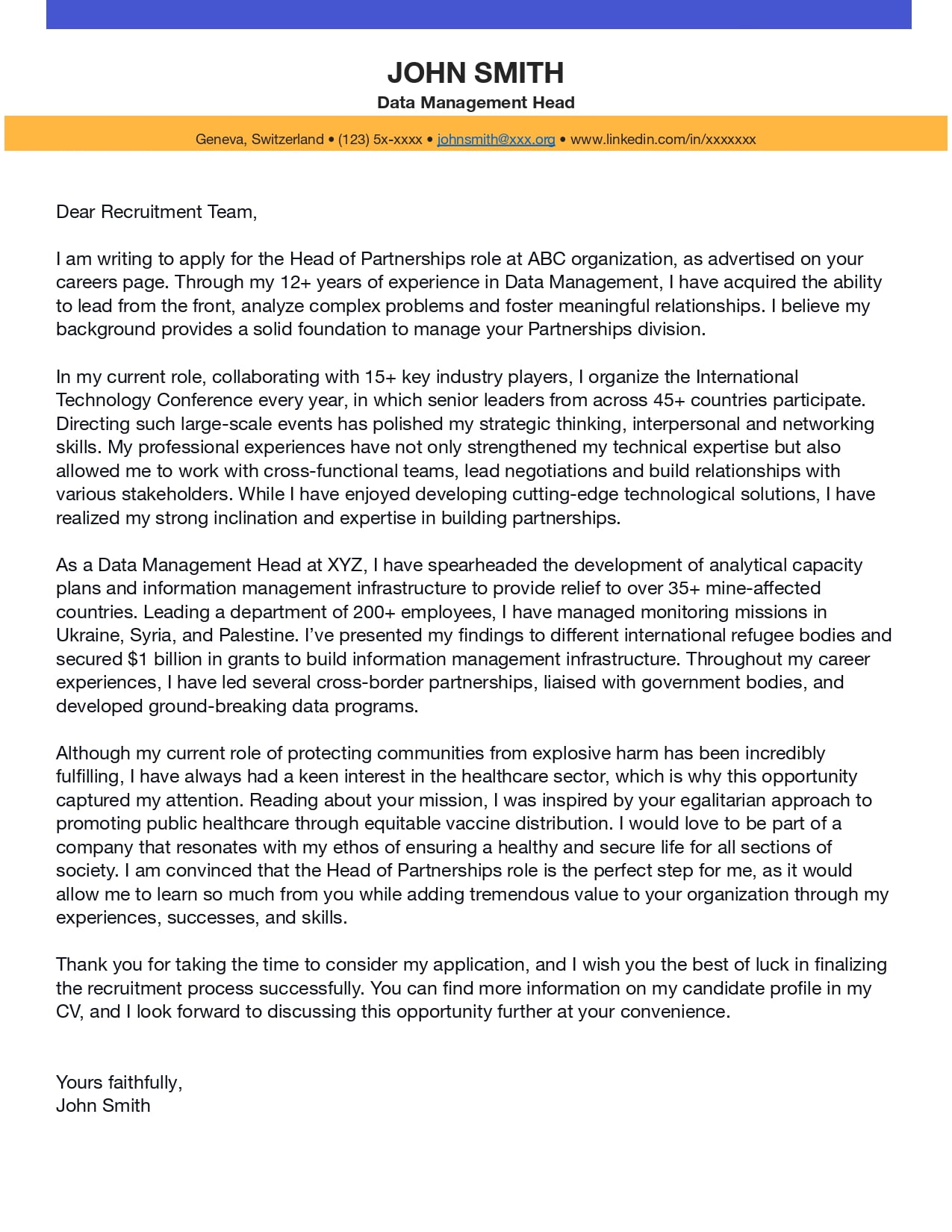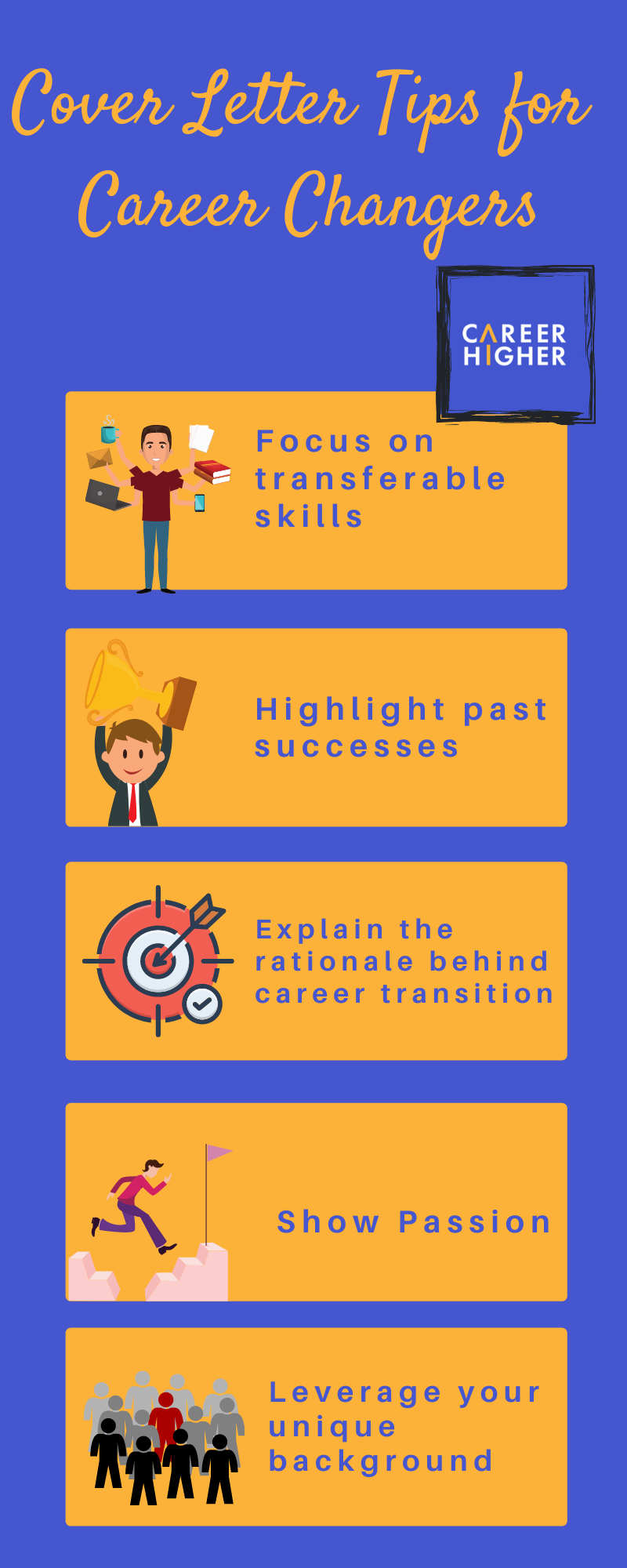 Changing professions can be tricky but not impossible. Your qualifications may be offbeat in comparison to candidates with direct industry experience. Nevertheless, you can still be in the top tier of applicants by capitalizing on your unique mix of passion and transferable skills. Use your cover letter to effectively maximize your chances of being considered for an interview. If you still find it challenging to create a compelling narrative for your career transition, we would be happy to help you with some professional support.