Applicant Tracking Systems (ATS) have revolutionized the recruiting and onboarding processes for most companies. On the other hand, this has presented some challenges for modern job seekers. If your resume doesn't include the right keywords or is not optimally formatted, ATS may not read your application properly. This means that creating a resume that will impress decision-makers is not enough. Striking a balance between writing for software and human readers is imperative.
Utilizing the most relevant keywords for each resume section is essential to help your application stand out to ATS and decision-makers. However, identifying the right keywords and using them efficiently on your own can be challenging. This is where you can leverage resume-optimization tools like Jobscan, SkillSyncer, and RezRunner. These tools use an algorithm similar to an actual ATS, analyzing how well your resume matches the target job description. In this article, we will discuss how you can utilize resume optimization tools to optimize your application for ATS.
What is a Resume Optimization Tool?
A resume optimization tool is an online software that uses Artificial Intelligence (AI) to analyze a candidate's resume against a job description. It identifies your resume's ATS compatibility and match rate for a specific vacancy. Depending on the scan results, the tool provides recommendations for improvement through formatting and word changes.
Most of these tools offer a free plan that offers multiple scans within a specified period. Prices may differ based on the features that come with the subscription. The table below shows a high-level pricing comparison of some of the resume optimization tools available online. Among these tools, Jobscan is the most popular and reliable based on consumer ratings and reviews.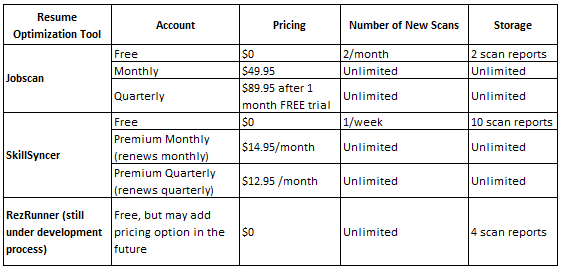 How Can a Resume Optimization Tool Help in Your Application?
Analyzing a job post and identifying what and how many keywords to include can be daunting and time-consuming. Resume optimization tools recommend the most important keywords you should add to your resume for one specific job. They also identify your resume's ATS compatibility and provides tips on how you can enhance compatibility. Consequently, helping you save time by eliminating much of the guesswork.
Using these tools is simple and easy. The first step is typically to search for existing vacancies and identify your job of interest. Then, upload or paste the text of your resume into the first box. Finally, paste the text of the job description into the second box and click Scan or Run.
Jobscan New Scan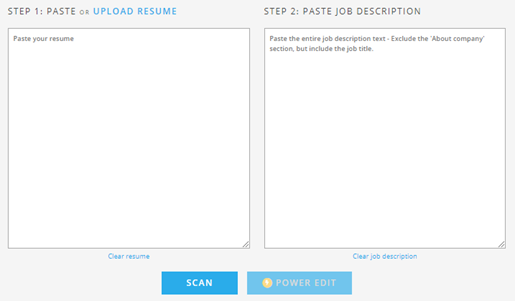 SkillSyncer New Scan

Rezrunner New Scan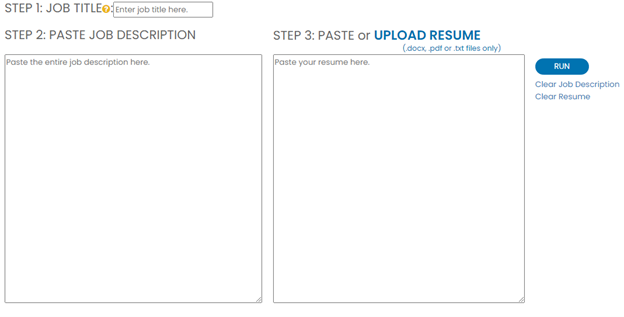 When you scan your resume against a job vacancy, the resume optimization tool will generate a report with a match rate. The score is calculated based on the analysis of your hard and soft skills, education levels, job titles, and other information on your resume. The tool also evaluates your resume's section headings, file type, date formatting, and job level match. Moreover, it includes checks based on what human readers want to see on your resume, including measurable results, industry knowledge, and words to avoid.
Scan results may vary based on the content of your resume and target job description. Generally, a score of 80% or higher is considered to be a good match rate to maximize the probability of being considered for an interview. This means your document is already optimized and no changes are needed. On the other hand, a low score implies your resume has opportunities for improvement and requires more work before submitting.
For instance, the match rate of your resume turned out to be below 80%. The tool will provide you with a quick overview of what's lacking from your document. The below examples show you have included some skills from the job description, however, there are still several missing skills on your resume. This does not mean you have to include everything. Include only the ones that apply to you, focusing on the hard skills as these have more weight in the score.
Jobscan scan report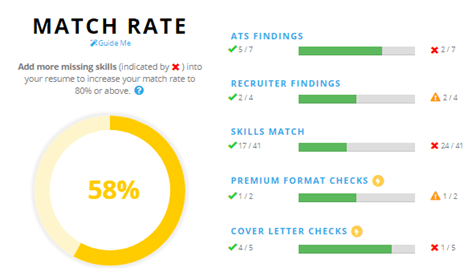 Skillsyncer scan report

Rezrunner scan report

Tips and tricks for creating an ATS-optimized resume
An optimized resume is one of the optimum ways to help your application stand out to ATS and recruiters. Resume optimization tools can help accelerate the job posting analysis and keyword identification aspect of the resume writing process. This section will guide you on how you can create an optimized resume for your application using Jobscan.
a) File Type
Most ATS support Word documents. Hence, using the Word format is highly recommended when applying through job portals. The filename should be as concise as possible, avoiding any special characters. Jobscan will identify if your document did not meet any of these requirements and provide suggestions. Take a look at the example below.
b) Resume Template or Design
When selecting a template or design for your resume, it is highly advisable to stick with sleek, minimalist template designs. This is known to be ATS-friendly, easy to read, and in line with decision-makers expectations. ATS convert resumes into text files and are programmed to read top-to-bottom and left-to-right. Hence, columns, tables, footers, headers, and images need to be avoided.

If something is off on your template or design, it will show in the Jobscan results. In the example below, Jobscan has identified that the resume consists of images. Excluding pictures, logos, or any graphics will not impact the match rate, but it will help ensure ATS will be able to read your application correctly.
c) Format
Resumes that are too dense or poorly formatted can make your document look ambiguous and unprofessional. Additionally, it may cause critical errors with ATS, hampering your application's probability of moving to the next stage. For this reason, we recommend sticking with simple, easy-to-understand, and professional formatting.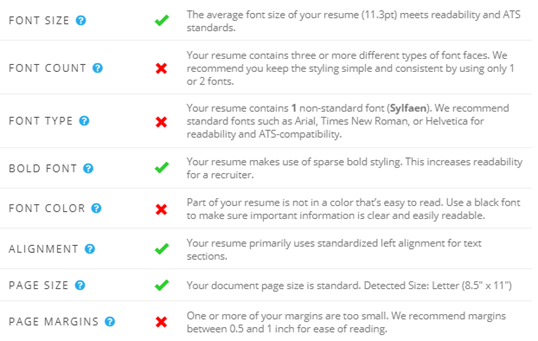 Addressing those with red Xs in the above image will not boost your match rate. However, it will help ensure your resume is well presented for both ATS and human readers. Here are some key points to consider.
Choose a font size that makes the content legible to the reader. We recommend using 9, 10, 11, or 12, depending on the font style and content volume.

Utilize a font that is simple and easy to read for both automated and manual screening. Some of the good safe choices for a resume are Arial, Times New Roman, Helvetica, Calibri, and Cambria.

Consider your resume's content and length when deciding whether to use single, double, or custom spacing. This should be used strategically to create a cohesive and easily scannable document.

Margins need to be consistent. 0.5 to 1 inch is highly recommended to ascertain readability.
d) Content
The content is the most crucial aspect of your resume from ATS and decision-makers' perspectives. The key is to customize your resume content based on the job you are applying for. However, deciding what to include can be a real struggle. In this section, we will provide some tips that will help you determine what information to include.
1) Keywords
Keywords are words or short phrases that depict specific job requirements. These are skills, qualities, certifications, and educational background that an employer looks for in a potential employee. Most ATS assess your resume based on the keywords it contains. Hence, including all the relevant and applicable keywords mentioned in the job description is crucial to your application's success.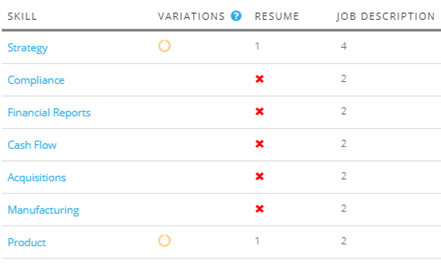 The screenshot below is an example of a skills comparison generated by Jobscan. Skills with red Xs were found in your target job description but not in your resume. It also showcases the number of times a skill appeared in the job post. For example, the word "strategy" appeared in the job description four times but only once on your resume. This entails you need to mention strategy three more times in your document to boost your match rate.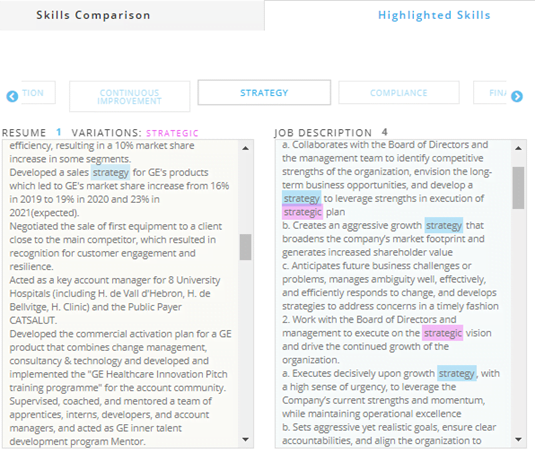 When you click on a specific skill, you will see the context in which the skill or keyword is used in your resume and job description. This will provide you with an idea of how you can use and incorporate the keyword in your resume appropriately. It is recommended to focus on the hard skills that appear most frequently in the job description as these have the most impact. Soft skills and other keywords are the least priority.
2) Quantitative Accomplishments
Adding results to your resume helps decision-makers picture the impact you have made in your previous jobs. It conveys you get things done and would potentially bring value to the company. Numbers boost your credibility as a candidate and increase your probability of landing an interview. Using a STAR method to create your resume bullet points is one of the best ways to demonstrate your accomplishments effectively. Below is an example of how the STAR format is done in practice.
Spearhead the PMO strategy development and the project management methodology (situation/task); develop essential project control systems of project KPIs including schedule management, cost control, and risk mitigation (action); increased project efficiency by X% (results)
For maximum impact, we recommend including as many quantitative results as possible. This demonstrates you are consistently committed to doing the required work to achieve the desired outcome. Jobscan distinguishes whether you have listed a sufficient number of accomplishments or you need to add more.


To help you identify your accomplishments at work, ask yourself the questions listed in this section. Doing so will enable you to reflect on your past work and provide a concise narrative that gives a fuller picture of your competencies and how you've previously put them into practice. The more specific your answers can be, the better. You may add dates, length of time, and accurate numbers whenever possible.
Did you identify a problem and solve it? What were the results?

Did you introduce a new system or procedure that made work easier or more accurate?

Did you save the company money or time? How much?

Did your efforts increase the company's profit line? By how much?

Did you increase productivity or reduce downtime? By how much?
3) Resume Sections
ATS will typically analyze your resume in sections such as Professional Experience, Education, Awards/Achievements, etc. Hence, ensuring your section headings are consistent with industry standards and distinctively presented is imperative. This allows your information to be read correctly, making it easy for busy hiring managers to scan through your qualifications. If any of your section headings are not aligned with the industry standards and decision-makers' expectations, Jobscan will let you know and provide recommendations. See the example below.

i) Information
This section should make it as easy as possible for prospective employers to get hold of you. The contact information section should include your accurate and up-to-date phone number, address, email address, LinkedIn profile, and link to your portfolio's website (if any). Some candidates tend to list their contact information inside a header. While this can make your resume look organized, most ATS cannot read content in a header. As a result, they fail to make themselves reachable.

Below is an example of how you can efficiently format your contact information section.

ii) Professional Summary
A professional summary is a short introduction of who you are, covering the main benefits you deliver in relation to your target jobs. The narrative should be a mix of your experience, expertise, and key skills, enabling you to showcase your unique selling points and impress decision-makers. To boost your match rate, you can include some of the keywords and skills in this section.
Here is an example of how you can incorporate keywords and skills in your professional summary.
"Innovative, analytical, and results-driven Head of Research & Strategy with in-depth experience in leading the production of market analysis and timely white papers that address industry trends. Proven track record of building and maintaining a competitive advantage in the marketplace through deep local market expertise, analysis, and insight. Possess strong leadership and influencing skills to develop and lead teams through coaching and mentoring. Equipped with excellent written and verbal communication skills to form an opinion on a topic and articulate it clearly."
iii) Key Skills
Matching the skills in the job posting is imperative to demonstrate to employers you possess the necessary hard skills to perform the job. This is also crucial for ATS scanning. Leverage Jobscan results to identify the top 9 to 12 hard and soft skills required by the employer. For professionals applying to technical positions, a separate technical section may be required. The number of technical skills you need to include may vary depending on the job requirements.
Below is an example of what the key skills section should look like. It is typically positioned under the professional summary section. This provides an overview of what you can do you can do without making them weed through a page of professional experience, educational attainment, and other qualifications.

Here is an example of how a technical skills section should appear in your resume. It is generally positioned at the bottom part of your document. For IT professionals, this may be placed under the key skills section.
iv) Professional Experience
Recruiters and hiring managers typically focus on this section as this is expected to include the most pertinent details of your background. This should consist of your previous employers' names, dates of employment, responsibilities, and achievements. When writing your job descriptions for each job, focus on your accomplishments rather than your responsibilities. We suggest incorporating keywords within the professional experience, allowing decision-makers to see how you've utilized the required skills in practice. Let's look at the example below.
"Led business development initiatives; utilized strong interpersonal skills in cultivating relationships with Key Opinion Leaders (KOLs) in the targeted market; identified opportunities for revenue generation; boosted revenue by 27%"
v) Education
When detailing your educational background, you need to be mindful of how the required degree is listed in the job description. If the job post says it requires someone who has completed a Master of Business Administration, you need to write it as is. Otherwise, ATS may not recognize that your educational background is an exact match to the job description's requirement.

vi) Other sections
Additional sections, such as Professional Certifications and Voluntary Experience, may be required depending on your target job requirements. These should only be included if they are relevant to the role. For required certifications, Jobscan will typically list it as a hard requirement for the job, like in the example below. Hence, we highly suggest prioritizing the skills marked as "Required".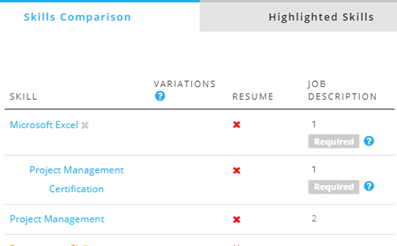 Writing an optimized resume plays a critical role in your job search. For optimum results, you need to take into account both the ATS and the recruiters that utilize them. The guidelines outlined in this article should guide you in creating an optimized resume that will enable you to gain a competitive edge over other candidates. However, if you feel overwhelmed and prefer to seek professional help, we are here to assist.
References
1) CareerHigher, 2021. Different Resume Templates by Industry. Available at: https://www.careerhigher.co/career-advice/different-resume-templates-by-industry-1764/
2) CareerHigher, 2021. How to Create an ATS-Optimized Resume. Available at: https://www.careerhigher.co/career-advice/how-to-create-an-ats-optimized-resume-1534/
3) CareerHigher, 2021. What Candidates Need to Know About ATS. Available at: https://www.careerhigher.co/career-advice/what-candidates-need-to-know-about-ats-123059/
4) CareerHigher, 2021. Best Resume Format 2021. Available at: https://www.careerhigher.co/career-advice/how-to-format-a-winning-resume-1709/
5) CareerHigher, 2021. How to Create the Perfect Resume Bullets. Available at: https://www.careerhigher.co/career-advice/how-to-create-the-perfect-resume-bullets-1576/
6) Jobscan, 2021. Jobscan Learning Center. Available at: https://www.jobscan.co/jobscan-tutorial#matchrate
7) Jobscan, 2021. What is Jobscan. Available at: https://www.jobscan.co/about